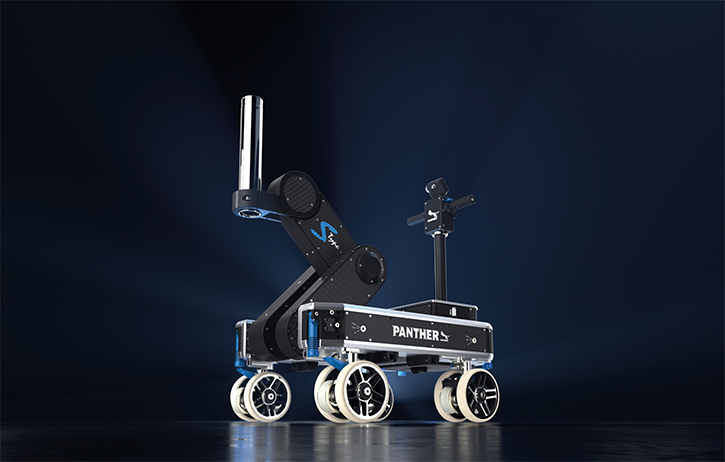 Cine Gear Expo 2019
Posted on May 24, 2019 by Alex Fice
The SoCal trade show is once again upon us. Here's our show preview.
Words Chelsea Fearnley
Sony
Sony is showcasing its Venice 6K digital cinema camera, with enhanced High Frame Rate (HFR) capabilities from the version 4 firmware update, which is scheduled for release this summer.
Visitors will be able to test HFR capture at 120fps (4K 2.39:1) and 60fps (6K 3:2) in the booth, as well as view the beautiful HFR/HDR short Daydream, created by Jon Joffin. There will also be a selection of Alpha and RX0 cameras to demonstrate their use in production environments, as well as the FS5
II, the FS7 II and the new FS7 II Build-up Kit.
Throughout the two-day expo, Sony is presenting seminars on a variety of topics, such as efficient 16-bit workflow with X-OCN files and mixing cameras in documentary production. There is also a case study on TV show Dynasty, plus a screening of the Netflix film Wine Country, which was shot on the Venice.
NBCUniversal & Cineo Lighting
NBCUniversal Lightblade and Cineo Lighting are debuting the latest model of their Standard series. The new Standard 480 has the same output, colour rending and saturated colour technology as the Standard 410, but with several innovations.
The most significant is the in-built touchscreen control environment. It simplifies local and remote operation, offering identical user control on mobile and tablet. Remote control is available via DMX/RDM, sACN/ArtNet, CRMX wireless and Bluetooth.
The Standard 480 supports single zone and patented multi-zone operation for advanced dynamic lighting effects, and several new applications will be available in coming months, including CIE colour pickers and effects recorders. The new NBCUniversal & Cineo Lighting LightBlade Edge fixtures will also be on display, combining a variable white spectrum, full-gamut colour and a suite of control options.
GFM
Grip Factory Munich (GFM) has worked hard to become one of the leading providers in the design and production of high-end camera support equipment. This year, GFM returns to Paramount's backlot with its simple yet elegant strap bracing kit.
On the stand, you will see the GF-8 Xten Camera Crane, GF-Slider System, GF-Iso Dampener, GF-Vibration Isolator, as well as other GFM rigs and jibs.
SmallHD
SmallHD set the industry standard for monitors with the 702 Bright. It was the first seven-inch, full HD, daylight viewable on-camera monitor with a compact form factor. Small HD will now display the next generation 702 Touch, with 50% more brightness and DCI-P3 colour reproduction.
The Cine 7 will also be on the stand, Small HD's Teradek Bolt-integrated wireless monitoring system with 1800 NITs, 100% DCI-P3 colour, locking connectors and wired cinema camera control software upgrades.
Filmmakers can get the Cine 7 with a built-in Teradek transmitter and can change settings such as white-balance, shutter speed and record start/stop from the daylight viewable display. Meanwhile, the monitor can send lossless HD video in up to 500ft of range.
DMG
DMG Lumière by Rosco will be showcasing the Maxi Mix for the first time in Hollywood. Maxi Mix was designed as a hybrid LED soft light to be used in studios and on location shoots, and can be rigged as a fill or key light with its all-in-one on-board controls.
Mix technology is equipped with six exclusively designed Rosco LEDs. The bespoke LEDs have opened up a vast colour spectrum, and also contain verified Rosco gels.
Quasar Science
Quasar Science returns to its roots as a pioneering motion picture-compatible LED light bulb manufacturer. The new and improved Filament LED light bulbs replicate real filaments by using LED diodes tightly packed along tiny substrates.
The six-watt A19 size Filament LED is flicker-free and compatible with most professional and consumer dimmers, and all Filament LED light bulbs can be switched between 5600 kelvins or 3000 kelvins for colour temperature accuracy.
Motion Impossible
Founded in 2014 by award-winning cameraman Rob Drewett and experienced product designer Andy Nancollis, Motion Impossible creates innovative ways to move cameras in film.
At Cine Gear Expo, Motion Impossible is transforming Stand 6 into a mini pop-up studio, where visitors can test the Agito modular dolly system with the Shotover G1 gyro stabiliser attached to it.
Visitors can also experience the M-Pro remote dolly system driving around the renowned New York City street set. On it will be the company's new Active Evo 360 gimbal, stabilising the new 11K Insta360 Titan. The M-Pro includes an upgraded drive system similar to what is found in the Agito.
On the Camadeus stand, just opposite, Motion Impossible, there is the Agito Trax on rails, and on the GSS stand, there is an unveiling of something never seen before, so keep your eyes peeled.
IDX
IDX will showcase the all- new PowerLink IPL series, its latest stackable battery solution for high-end cinema cameras. It includes two models: the IPL-98 & IPL- 150 with capacities of 96Wh and 143Wh respectively. These models will include all of IDX's latest technologies and features such as BMS, SMBus, D-Tap & USB.
With the ability to link up to four IPL-98/ IPL-150 batteries, users can create a customisable capacity while drawing power from the last battery mounted.
With travel being part of most video productions, IDX has developed a four- channel (2+2) simultaneous VL-4X V-Mount charger: compact, lightweight and convenient for those who already own IDX products. The included AC adapter can also serve as a 90W DC power supply.
Hawk-Woods
Hawk-Woods will be showcasing the new VL-MX8, an eight-channel mini V-Lok charger which allows for up to eight batteries to be charged in groups of four at 2.5A. Weighing just 2kg the VL- MX8 is small and compact compared to other chargers on the market which are a similar size offering only four channels. The VL-MX8 is designed to
complement the Hawk-Wood V-Lok Mini batteries, while supporting most existing V-mount batteries. The charger is silent during operation and allows for heat to dissipate from vents.
Teradek
Monitoring on set gets an update with the Teradek Bolt 4K; capable of transmitting uncompressed 2160P60 HDR video with zero delay on up to six receivers, it offers significantly improved image quality at 1080p and even lower resolutions.
Also on display is the Ace 500, an HDMI-only wireless monitoring system which features the same zero-delay wireless video of the Bolt range, without the extra software and hardware options.
New to Teradek RT is the CTRL.3, a three-axis wireless FIZ controller, and the MDR.X, an ultra-smart receiver. Both are part of Teradek RT's new line of cutting- edge lens control products.
Cinelab London
Cinelab is a comprehensive film laboratory and film facility in Europe, offering film processing, telecine, scanning, sound preparation services and film deliverables. Services are also provided for archive and restoration projects and it is the only film lab in the world working in all feature film formats.
Its team of highly experienced film specialists will be coming to Cine Gear Expo to meet people in the industry and answer any film related questions, but to also learn and keep up with the latest innovations. Cinelab is renowned for providing excellent client service and attention to technical detail.
Creamsource
Creamsource, formerly known as Outsight, will showcase the recently launched SpaceX on stand S302. First seen at NAB 2019, the SpaceX is representing the first replacement to its traditional tungsten counterparts.
Featuring six powerful 1200w LED engines, in an ergonomic and lightweight form factor, it offers colour rendition with a CRI value of 95 from 3200K to 6500K, and full temperature adjustment from 2200K to 15,000K with a full stop green/magenta control.
Moreover, Creamsource will be demonstrating the award-winning Micro Colour unit, and will reveal a brand-new product that promises to shake the LED market with its processing power and price point.
BEBOB
In keeping with the industry's move toward lighter and more versatile gear, Bebob will introduce its ultra-compact Vmicro (V-Mount) and Amicro (Gold-Mount compatible) 14.4V battery packs. Both mount styles feature a choice of 43Wh and 147Wh versions.
On the side of each battery is a five-step LED power-remaining indicator. Below the power gauge is a button to wake up the battery, check the power status or activate the LED light, which can help filmmakers connect the battery to the plate on dark sets. The batteries also support power data protocol from Arri, Red and Sony cameras.
To complement the rest of the line, Bebob also unveils new pocket-size micro chargers and battery plates, power bars, adapters and hot swap adapters for maximum versatility. The Micro chargers are available as two-, four- and eight-channel simultaneous quick chargers, or a one-channel D-Tap quick charger.
SUMOLIGHT
Sumolight will spotlight its new Sumospace+ lighting fixture. With an improved design, it now features an internal passively cooled power supply with no moving parts. It has 90,000 lumens in a Super 3 configuration and 200,000 lumens in a Super 7 configuration.
Sumolight will also be displaying the Sumosnap, a screwless quick release for 16mm Spigot, which is built into the Sumospace+ by default. Its new 20 ̊ lens set and battery option for the Sumospace+ will also be on the stand.
Marshall Electronics
At Cine Gear Expo, Marshall Electronics will showcase the latest 4K monitors and compact camera solutions. The company will be highlighting its new V-R241-4K Master Confidence Monitor, which features a 24-inch UHD panel with wide-angle viewing for displaying images in up to 4K.
It comes with waveform and vectorscope functions along with in-monitor displays (IMD/UMD), tally, text and timecode and includes 16-channel audio bars, closed captioning decoding and built-in speakers. The V-R241-4K supports SDI and HDMI and has multiple ports for control over Ethernet, RS422/485, RS232 and GPI.
ARRI
Arri and Arri Rental will be showcasing their latest camera systems and lighting products at a combined stand at Cine Gear.
The must-see Alexa Mini LF has been making its way around the world and will be on site at the show. Arri Rental's DNA LF lenses, in combination with the Alexa Mini LF, will be another stand highlight. The DNA LF lenses can be customised or tuned to a filmmaker's personal taste.
Winner of the iF Design Award 2019 and also on display, the Signature Prime lenses offer state of the art precision with an organic and emotional quality. Arri Lighting will be presenting Stellar, the intelligent lighting control app for a new level of control on set.
Of course, members of the SkyPanel family will be on display along with some Daylight fixtures and ballasts. The newest additions to Arri's Electronic Control System range and Pro Camera Accessories range will be on site along with the Camera Stabilizer Systems Trinity and Artemis.
OPERTEC
Visit the Opertec stand at Cine Gear Expo to see the company's newest developments, including its next generation telescopic camera cranes. The Steel Boy 14 and Steel Boy 20 are light and easy to dismantle and reassemble and are ideal for use in large and small studios.
Opertec will also show the Arm, a fully stabilised boom which guarantees smooth and stable images on even rough terrain, as well as its full-range of Gyro-stabilised heads. The premier of the unique Telescopic Arm will also take place at the show.
LCA
LCA is one of the leading suppliers of professional equipment to the film, TV, video and photographic industries. A one-stop shop for supplying lighting, grips, distribution, cables, filters, textiles, lamps and more.
The Gaffer Control will be on display at Cine Gear Expo, a year on from its initial release. Crafted by gaffers for gaffers, the controller is a compact and easy-to-use system that can connect to a series of lights to control them via Lumen radio. With more products using Wi-Fi networks on set, this isn't something that has to fight for network.
A recent software update means that users can now build their own fixture library and fixture profiles, which can be stored online and shared with others. LCA will be on a stand with LiteGear, DoPchoice and Chroma-q.
PANTHER
Panther's new S-Type dolly is continuing its tour of America, first in Las Vegas at NAB and now in Los Angeles at Cine Gear Expo. The S-Type dolly features a fully electro-mechanical system, wireless operation, detachable scissors arm, patented design with full-range technology, and unique flip-flop platform system.
The Panther Tower will also be on show. This electrically powered camera lifting system for cars is available in three different lengths up to 10ft/3m and can be operated with a standard wired handset or a waterproof wireless handset.
For even better car-shooting performances, you can see Panther's stabilisation rigs; the Mini and Maxi Shock Absorber. The ISO Dampener also absorbs disturbing bumps, but horizontally. All parts can be combined and used with Mitchell connection, Scaffold Mounts and 130-150mm tubes.
Improvements on the Precision Mono Track system (new flat sleepers and sleepers for standard tube levelling) and Precision Levelling Track system (curved tracks now available) are also part of the show.
Visit http://www.cinegearexpo.com for more information on the event!