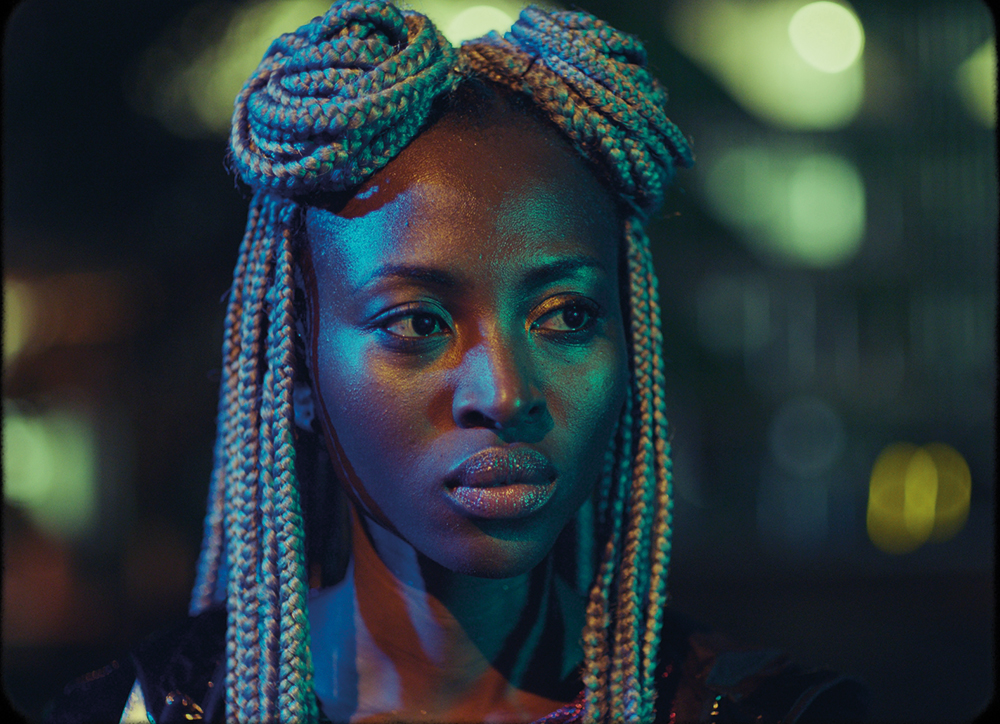 Women in Colour
As part of our series profiling women in the FILM industry, we showcase the female colourists on our radar
Caroline Morin
Job title: Colourist at WASH
Location: London, UK
Recent work: Campaigns include Champion-branded content, Adidas-branded content, Ama Lou music video and a NSPCC campaign
NSPCC campaign
"My first experience in the film industry started when I decided to move to London," Caroline Morin explains. "I started out as a runner as part of the Erasmus programme for a boutique facility in Dalston. During my spare time, I was helping the editors and quickly learned the skills of a good assistant, but my interest was always in the amazing work done by the colourist."
Initially hired as a colour assistant at CHEAT, Morin spent evenings and weekends outside work practising her grading skills to become a junior colourist.
"It is important to learn to work under pressure and long hours in this industry, but if you are motivated and know what you want, the hard work will pay off," she adds.
Morin has now moved to WASH as a colourist, alongside Jon Dobson. Wash is a boutique post-production facility in Farringdon, London, specialising in colour grading and VFX finishing.
Simona Cristea
Job title: Head of Colour at Coffee & TV
Location: London, UK
Recent work: Advertising campaigns and brand films for the likes of Superdry, Jo Malone and Balmain
Balmain Online Boutique
From a visual arts background, Simona Cristea studied Fine Art Painting at the National University of Arts in Bucharest before being recruited to learn colour grading at post-production house, Abis Studios. She next worked at Prime Focus in London and Mumbai, before becoming the first female head of Colour at Rushes. Now at Coffee & TV, she works with a lot of her old colleagues from Prime Focus.
"Historically, colour timing with film in the lab was considered more of an engineer's job, a career path dominated by men, so it's been great to see women galvanise on an international level over the past couple of years," Cristea says. "I have now had many female assistants, and it is with great joy that I have seen them become colourists in their own right, such as my colleague at Coffee & TV, Katie Dymmock."
She adds: "Always remember film is a collaborative art form and your relationships with people matter. In my experience, some of the most successful people I have met have been the nicest. There are also great organisations for women in this industry, such as 'Women in Advertising Production', 'Free the Bid', 'Good Girls Eat Dinner' and 'illuminatrix'. I actively support and involve myself with these where possible."
Vanessa Taylor
Job title: Senior colourist at Molinare
Location: London, UK
Recent work: Red Joan, Anne, Lady Macbeth, The Levelling, Calibre, The White Princess and Avengers: Age of Ultron
The Levelling
Vanessa Taylor has worked internationally on many prestigious projects over the past 20 years. She started out in online editing and visual FX before changes in technology brought her to the newly formed Digital Intermediate Department at Peter Jackson's company, Park Road Post.
This is where her passion for colour truly began. The following decade saw her grade more than 60 feature films and she has trained many colourists around the world. Recently, she joined the prestigious Molinare in London as a senior colourist. Her recent projects include Red Joan, starring Judi Dench, and the upcoming ITV drama Anne, starring Maxine Peake.
"It is hard to get started in the industry for anyone," Taylor explains. "You have to really want it, but that shouldn't put anyone off. There is certainly more of a push to promote women in recent years, and I'm doing what I can to keep the momentum up. I'm working with a lot more women in key roles these days.
Adult Life Skills, Lady Macbeth and Old Boys all had female DOPs, and The Levelling – which was written and directed by a woman – also excelled with a fully female camera department. I'm really excited by all the new stories being told from a female perspective," she says.
More details: molinare.co.uk/people/vanessa-taylor
Lauren Malis
Job title: Colourist at The Colonie
Location: Chicago, US
Recent work: It Happened Again Last Night, Our Longest Drive, various broadcast and online commercial campaigns
American Horror Story
Born and raised in Chicago, Illinois, colourist Lauren Malis has emerged as a young talent in the commercial editorial industry, expressing her emotion and artistic background in her style of colour grading.
"My love of art developed early on," she explains. "I was featured in many art gallery shows and continued to practise my craft as I attended DePaul University with a focus on digital cinema and animation. It was at this time that I began to incorporate my formal artistic training into my work."
She is known for her work as a colourist on the short film It Happened Again Last Night, winner of Best Short from the Beverly Hills Film Festival, North Hollywood CineFest and Sutter Creek International Film Festival, as well as numerous commercial campaigns delivered via broadcast and online.
Malis is currently employed by Chicago-based creative editorial and post house, The Colonie.
The Colonie is an award-winning creative editorial and post-production house with a full-service approach to creating innovative spots and cross-platform content that engages, entertains, informs and moves multiple audiences.
The Colonie was established in 2008 and is WBENC and CPUC certified, as well as a member of AICE.
Portfolio: vimeo.com/thelaurenrachel
Jodie Davidson
Job title: Colourist
Location: Technicolor, London
Recent work: The Souvenir, Rialto, The Space: Theatre of Survival documentary, and Phantom Thread
Phantom Thread
Hailing from Vancouver, Jodie Davidson joined Technicolor, London, in 2009. She worked as DI colourist on the Bafta-nominated 45 Years, on which she collaborated closely with DOP Lol Crawley. Her first DI feature was the Wachowski's blockbuster Jupiter Ascending, on which she worked with double-Oscar winner John Toll. It was Toll who brought her on to the DI after seeing her work on the dailies.
Davidson has worked with some of the biggest names in cinematography, including Emmanuel 'Chivo' Lubezki on multi-BAFTA and Oscar winner The Revenant, shot on the brand new (at the time) ARRI Alexa 65. She has also worked with DOPs such as Dion Beebe on Into the Woods, Phedon Papamichael on Snow White and the Huntsman, and most recently Paul Thomas Anderson, director and cinematographer, on Phantom Thread, a beautifully crafted movie shot on 35mm film. Other work includes the Daniel Radcliffe movie Victor Frankenstein, on which she was a dailies colourist.
More information: technicolor.com/jodie-davidson
Shanna Maurizi
Job title: Colourist at Dungeon Beach and teacher at NYU School of Film and Television
Location: New York, USA
Recent work: Sunken Treasure, Viceland's My House, Weediquette, States of Undress
My House
A professional colourist, artist and filmmaker in New York, Shanna Maurizi brings nearly two decades of background in photochemical processes and colour theory – as well as an impressive depth of technical expertise – to the colour suite.
"I come from a visual art background and so my work as a colourist is informed by an engagement with how images communicate and tell a story," she explains.
"I spent many years in darkrooms, and so I like to build LUTs with different gamma curves, and I use printer lights a lot because they are very intuitive for me. I work primarily in DaVinci Resolve on a Tangent control surface, and use Flanders Scientific for monitoring."
Maurizi's films, videos and artworks have been exhibited nationally and internationally, and her most recent film Sunken Treasure won the Art and Science Award at the 56th Ann Arbor Film Festival. She currently teaches in the School of Film and Television at NYU.
Portfolio: shannamaurizi-color.com
Ana Izquierdo
Job title: Senior freelance colourist 
Location: Berlin, Germany
Recent work: Saturday Afternoon, Ainhoa, Verliebt in Masuren, Once again / En gan til, Ku'damm '59
Ainhoa
A senior freelance colourist working across several studios, including the newly-opened Planemo, Ana Izquierdo began her career after an MA in Audiovisual Communication, Film Studies and Photography in Barcelona.
After a stint teaching colour correction at a local film school, in 2012 she moved to Berlin and worked as colorist across a variety of German and international projects. Izquierdo began her career on Assimilate Scratch and Baselight; her current set-up is DaVinci Resolve with hardware panel.
"I am really proud of the work I did together with Mostafa Sarwar Farooki for his last feature, Saturday Afternoon," she reveals. "The film has no edits, so my approach in the grade was to keyframe every single correction, which was an interesting challenge. I also enjoyed my work on Carolina Astudillo's last film, Ainhoa, that's not me. It was edited out of scanned Super 8mm material, which was a joy to grade. The result is beautiful – and it was a project mainly done by women."
Portfolio: ana-izquierdo.com
Olesya KireEva
Job title: Senior colourist at ACT3 
Location: Copenhagen, Denmark
Recent work:Gooseboy (2019, Denmark); The County (2019, Iceland); Greyzone (2018 Denmark/Sweden); The Saint Bernard Syndicate (2018, Denmark); A Sort Of A Family (2017, Argentina)
Sons of Denmark
With a portfolio of projects including Lars von Trier's Palm d'Or winning Melancholia and Nicolas Winding Refn's Palm d'Or nominee The Neon Demon, Olesya Kireeva's work has been lauded by film audiences around the world.
Following graduation from St. Petersburg State University of Film and Television with an M.Eng degree in video technologies, Kireeva began work as a tape operator, progressing to 35mm projector operator, assistant editor and mastering technician before pursuing colour grading as a career.
"My background being in engineering, I was naturally attracted to the most complex machinery, devices or software that could be found. The colour grading suite truly stood out," she explains. "So far I have been lucky enough to work with some of the most ambitious film professionals. My advice is to dare to open doors, even those you feel have already been closed. Keep learning and share your knowledge with others."
Rebecca Goodeve
Job title: Freelance colourist
Location: Leigh-on-Sea, UK
Recent work: The Bicycle Thief, Making Noise Quietly, Big Exit, Nikon campaign, Virgin Experiences campaign
King Arthur: Legend of the Sword
"Traipsing around London with printed CVs, I was knocking down the doors of Soho's finest post production houses when I was lucky enough to meet Thomas Urbye at The Look – a boutique finishing house," begins Rebecca Goodeve.
After a month of unpaid work experience, she began working as an assistant colourist across several post facilities in the city, including Technicolor where she collaborated with The Lord of the Rings colourist, Peter Doyle.
"It was in 2015 that I decided it was time to take the leap into freelance," she continues. "I found a small studio for rent in my local town of Leigh-on-Sea, bought all the equipment I needed, painted the walls 18% grey and prayed that I would manage to land some jobs. Luckily, I did!"
Having worked on both short and long form projects across the UK, including feature films such as Insurgent, King Arthur: Legend of the Sword and Bastille Day, Goodeve now regularly collaborates with the Women in Film and TV group who champion greater balance.
"My advice is never to be afraid to ask," she concludes. "Free work experience and mentoring helped me break through. Never turn down an opportunity to network, and don't underestimate word of mouth."
Jet Omoshebi
Job title: Senior colourist at Goldcrest
Post Production
Location: London, UK
Recent work: The Little Drummer Girl, Line of Duty, The Night Manager
The Little Drummer Girl
A committed industry veteran of 25 years, Jet Omoshebi began her career hanging neg as a telecine colourist in 1993. Over the following decade, she graded hundreds of music videos and commercials at London post houses Rushes, MPC and SVC.
Now a senior long form drama and feature film colourist at Goldcrest Post in London, Omoshebi's work has won numerous awards, including both the prestigious Women in Film and Television Craft Award and the RTS Award for Picture Enhancement. She regularly gives talks and workshops, and has just completed the grade on Trust, a 10x one-hour drama series for FX Channel.
"I had the advantage of starting on negative film," Omoshebi says. "I became familiar with stocks and print processes – it was such an exciting time as colour correction was just coming into the digital age with DaVinci Renaissance. I think we had one shape – a parallelogram, and it would take some years to get to a circle! I still use DaVinci Resolve today, at Goldcrest it forms the hub of our workflow."
"When I started, there weren't many female colourists or online editors in the UK, but fast forward 25 years and we have a wealth of talented women doing fabulous work in our industry."
Portfolio: jetomoshebi.com
Alexandra Pocquet
Job title: Senior freelance colourist
Location: Paris, France
Recent work: Varda by Agnès, Tel Aviv on Fire, Women of Venezuelan Chaos, Blonde Animals
Blonde Animals
Alexandra Pocquet discovered grading by chance while working at a photochemical laboratory. After nine years at Mikros Image, she became a senior freelance colourist, and is now grading short and long form shows across Europe using both DaVinci Resolve and Baselight. One of her latest projects has been Varda by Agnès, the last documentary by iconic Oscar-nominated feminist and pioneer of the French New Wave movement, Agnès Varda. Other work as a colourist includes In Our Paradise and Mrs Fang.
"Before I went freelance, I noticed there were frequently gender differences in salaries across the industry. There was also a common stereotype that women were more artistic while men were more technical," she explains. "Things are improving, but sometimes old habits die hard!"
Pocquet recommends ensuring images are graded as naturally and discreetly as possible, especially when it comes to working with skin tones.
Jax Harney
Job title: Senior colourist at CHEAT
Location: London, UK
Recent work: Puma commercial, Goldfrapp promo, Vogue Italia short, MyTheresa.com commercial
Nedbank commercial
CHEAT Senior colourist Jax Harney has been captivated by colour since a young age. Starting her career in photography at 17, she has worked commercially across the globe on numerous advertising campaigns. Working closely with photographers, she picked up tricks of the trade, how to twist colour and manipulate imagery to promote an emotion to her work.
Through photography Jax was introduced to the world of video post production and the role of the colourist . In her eyes the perfect role. She turned to the ICA's training classes and colourist trainer Kevin Shaw to merge her stills colour knowledge with motion picture.
Using Davinci Resolve as her tool of choice, she setup her own suite and began grading music promos and fashion films from a spare room at home. During this time, CHEAT were rapidly growing in East London. Through a mutual connection, Toby Tomkins (Owner and MD at CHEAT) reached out to connect and that brings us to today.
"Like many other roles within the film industry, colour has a problem with gender balance. I'm lucky to be part of a team showing support to emerging female talent. Progress is slow but change is happening. My advice to anyone starting out is to knuckle down, be a sponge for knowledge from others, have faith in your work and don't be afraid to put yourself out there. "
Jax has worked across an impressive number of campaigns, including, Toyota, Gucci, Peroni, BMW, Vans, Puma, NIKE, Adidas, Stella McCartney and Alexander McQueen, to name a few. She enjoys the challenges each new grade brings and looks forward to collaborating with people everyday.