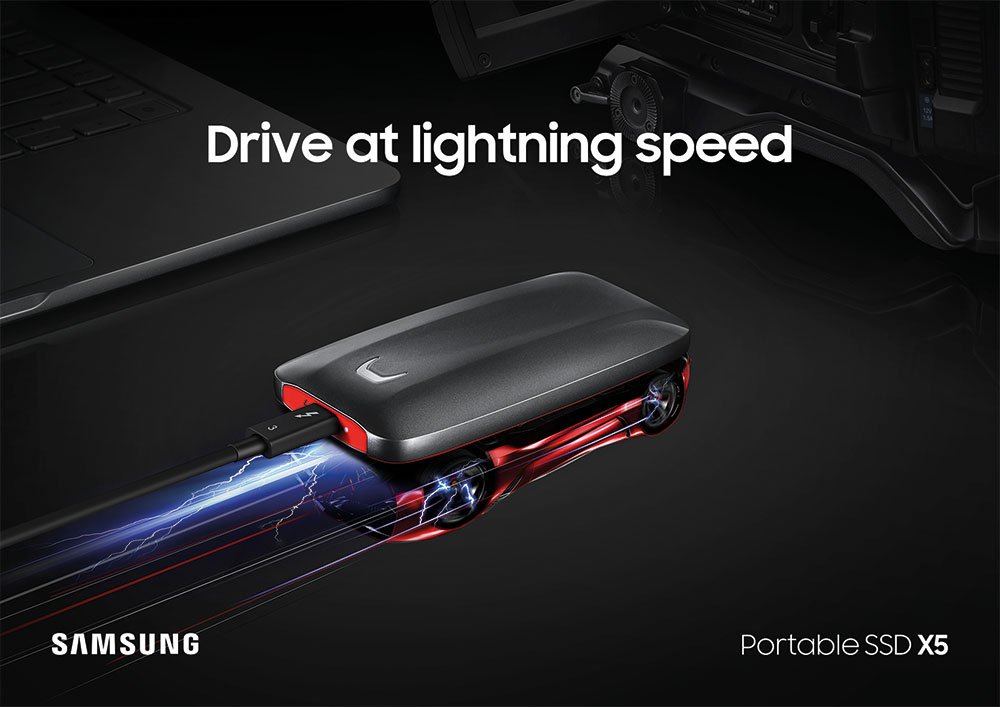 Speed Hijack
The Samsung Portable SSD X5 is known for its speed, but London Hijack's Rich Simpson was unprepared for just how much of a game changer it would turn out to be for his post-production studio
Advertisement feature
"As soon as we opened the box and connected it up, we knew it was the fastest portable drive in the building." A bold statement from Hijack's Rich Simpson and one he stands by as the Samsung Portable SSD X5 made a huge difference to the company's workflow. East London's Hijack offers an unusual combination of DIT, digital lab services, audio post, colour grading and online editorial. There are a number of areas where small, portable, very fast and great-looking storage would make a big difference within these genres of service.
Hijack has just upgraded its laptops to Thunderbolt 3 connections and so the Samsung Portable SSD X5 is a perfect complement to its existing workflow. It's also worth noting that this portable drive can only be used with the Thunderbolt 3.
When Simpson mentioned the speed of the Samsung portable drive, he was also including the RAID systems Hijack has in the studios and as part of its DIT equipment. "With this portable drive, we know its speed is the fastest our footage can possibly be moved, there is no bottleneck around it," he says.
As we have found with other users of the Samsung Portable SSD X5 when they start considering how they can use its speed, they realise it can work in multiple places and situations. "For instance, if we are dealing with multi-camera shoots, we have to deal with a lot of data coming from the cameras and usually that is high resolution data," says Simpson. "Also, our clients have their own drives and an investment in these Samsung portable drives would speed the whole process up practically overnight."
When dealing with high resolution data, Hijack found the Samsung Portable SSD X5 dealt with it quicker than anything it had used before
Strengthening weak points
Simpson admits there is a weak point within Hijack's workflow where the Samsung Portable SSD X5 would fit right in. "Without question, the weak point in our system is always the client drives. If clients started using these portable drives, it would shorten the time they spent on-set. If I showed up on-set and clients had a couple of these drives, I would be delighted.
"For instance, if we were shooting with a Red camera in 8K or Arri Raw or something data heavy, but we weren't doing a multi-cam shoot, then I would know I'm not going to have any problems copying that to the client drive," says Simpson. "I can do all my checksums onto our RAIDs and once we've got it on to our system, I would be able to copy quickly over to the Samsung Portable SSD X5. The clients would be very happy as they wouldn't need to be on site for as long as they currently are."
To speed up the process, there would need to be master and clone Samsung Portable SSD X5 drives off-loaded from the Hijack RAID drive.
Location shooting
As we have found before when we ask professionals to test out these amazingly fast Samsung portable drives, more uses for them emerge once they try them out. It was the same with Simpson at Hijack. "Another use for the portable drives has occurred to me: we get these data-wrangling type of jobs where you are carrying a couple of drives in a van and wrangling the data from different shooting locations. In those cases, because there is no power a lot of the time, you're usually having to operate with slower portable spinning disk drives. You will only get around 90MB/s on those drives so in those cases when you're dealing with a small crew on location, the Samsung Portable SSD X5 would be perfect," explains Simpson. "Again, if you were a small crew doing your own data wrangling it would be ideal. As long as you've got the Samsung Portable SSD X5, you know it's never going to be the weak point in your system. Regardless of what else is thrown at you, you know you can transfer the data as quickly as possible. We have plenty of RAID systems and we've been trying for years to get the best possible speeds out of them, but the Samsung Portable SSD X5 is the fastest transfer drive we've ever used."
Another scenario, according to Simpson, could be a production company shooting some pack shots for a commercial. "Again, not a huge amount of data to deal with in a single day. Typically, you would be using a couple of Samsung portable drives. You could then re-use the drives for all of their shoots and think about using them for everything. Their camera rushes, sound and their transcodes; these would be their master drives and would be less fiddly than using the box drives and a lot faster," he says. "A two terabyte version would be ideal just to make sure you could fit everything on to it, but the production company would then know it had the absolute fastest system available."
The Samsung Portable SSD X5 could also be used by Hijack's post side, suggests Simpson. "For example, you could put on a film digital source master, they have huge potential for that type of transfer. We would definitely use them for that purpose."
For more information, please visit Samsung's website.