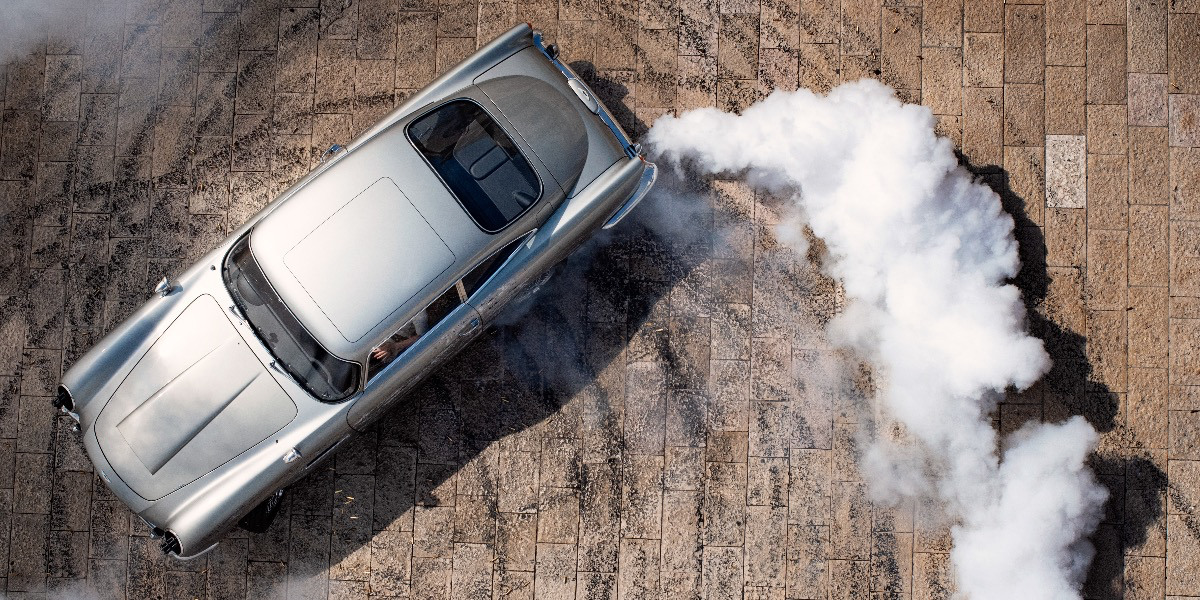 Special (effects) agent
Posted on Nov 1, 2022
Bond turned 60 last month. To celebrate, Definition asked Chris Corbould OBE – the man responsible for visual effects on 15 of the movies – to select his favourite scenes
WORDS. Will Lawrence
IMAGES. 007 logo and related James Bond Indicia copyright 1962-2022 Danjaq and MGM. 007 logo and related James Bond trademarks are trademarks of Danjaq. All Rights Reserved.
For Chris Corbould, it all began with rock 'n' roll. While still at school he secured work on Tommy, director Ken Russell's 1975 satirical operetta based upon The Who's 1969 rock-opera album about a "deaf, dumb and blind kid" who "sure plays a mean pinball". Corbould was 15, just beginning to explore film: "I was really into rock music, especially The Who, and my uncle did special effects at the time," he begins.
"During my summer holidays he asked me to come down to the set of Tommy. My initial introduction through my favourite rock band opened up this whole world of explosions and hydraulic rigs."
The world has proved an abundant professional playground for Corbould, whose career now encompasses almost 50 years and has included multimillion- pound blockbusters, ranging from the second and third Christopher Reeve Superman movies – through Alien 3, Interview with the Vampire and The Mummy to Nolan's Dark Knight trilogy and Inception (for which he won an Academy Award in 2011) – as well as an X-Men movie and a pair of Star Wars films. He has also been honoured with an OBE.
Yet, his most famous body of work comes with the James Bond film series. Corbould has worked on all of Timothy Dalton, Pierce Brosnan and Daniel Craig's 007 movies, although his first contact with the series came even earlier when he was still a teenager – courtesy of 1977's The Spy Who Loved Me, arguably Moore's greatest Bond outing.
"I was working for an SFX company at the time," remembers Corbould, "and we were subcontracted to do ski poles that turned into guns. Then Moonraker (1979) was my first freelance job. That was a wonderful experience. I was 19 and had never been abroad, yet we were off to France, Venice, Argentina, Miami.
"Then I got A View to a Kill (1985). John Richardson, the special effects supervisor, was a great mentor of mine, and he invited me to come and be part of a big sequence with the airship, which we fabricated out of steel and did the Golden Gate Bridge sequence."
Corbould has worked on every Bond film since, from The Living Daylights to No Time to Die, snatching several Guinness World Records on the way…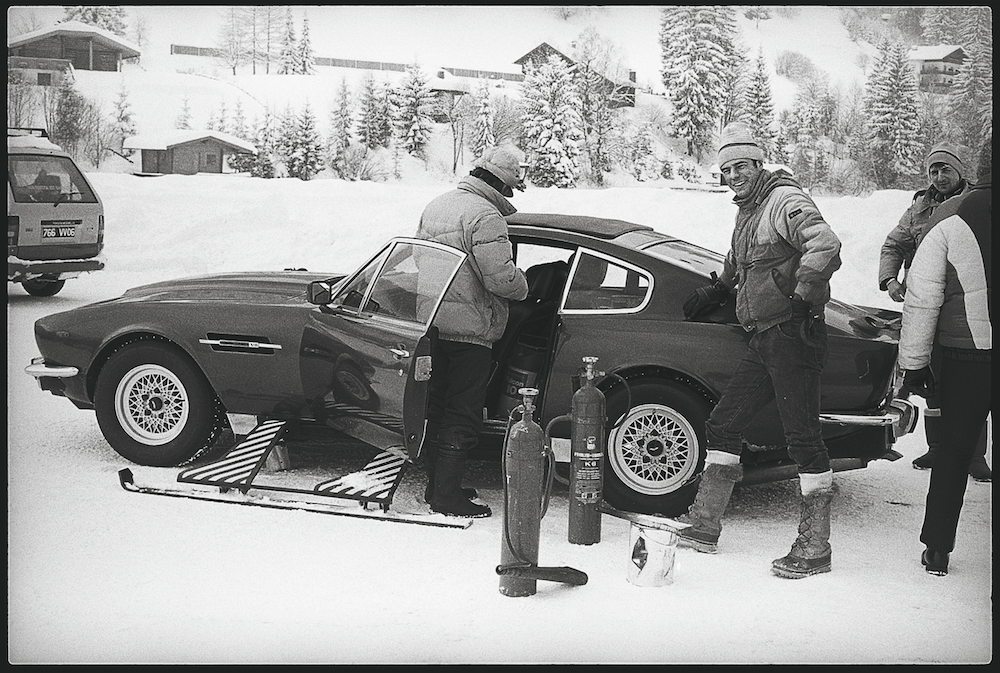 THE LIVING DAYLIGHTS (1987)
Timothy Dalton's first movie saw Bond use his 'winterised' Aston Martin to escape with Kara Milovy through the Czech mountains – and various gadgets and weapons come into play. "One of the perks of the jobs is working with these cars, and specifically the films I do, we get involved a lot with cars," says Corbould.
"This was an interesting one, starting off doing the modifications on the car – the skis that come out, the rockets that emerge from the front. We tested it and took it out to Weissensee in Austria to an ice lake there and, as usually happens with ice lakes when a film crew gets there, it wasn't frozen. We sat there for three weeks waiting for the ice to freeze.
"When we got on the lake it was quite eerie driving on ice, it creaks and groans and cracks. It's unnerving. But once you've got used to it, it's a fantastic place to drive. We were in charge of the vehicles used to take the cars to the set on the other side of the lake. We'd hare across the lake at 140mph, knowing that even if you lost it you weren't going to crash into anything. It was a wonderful period of my life."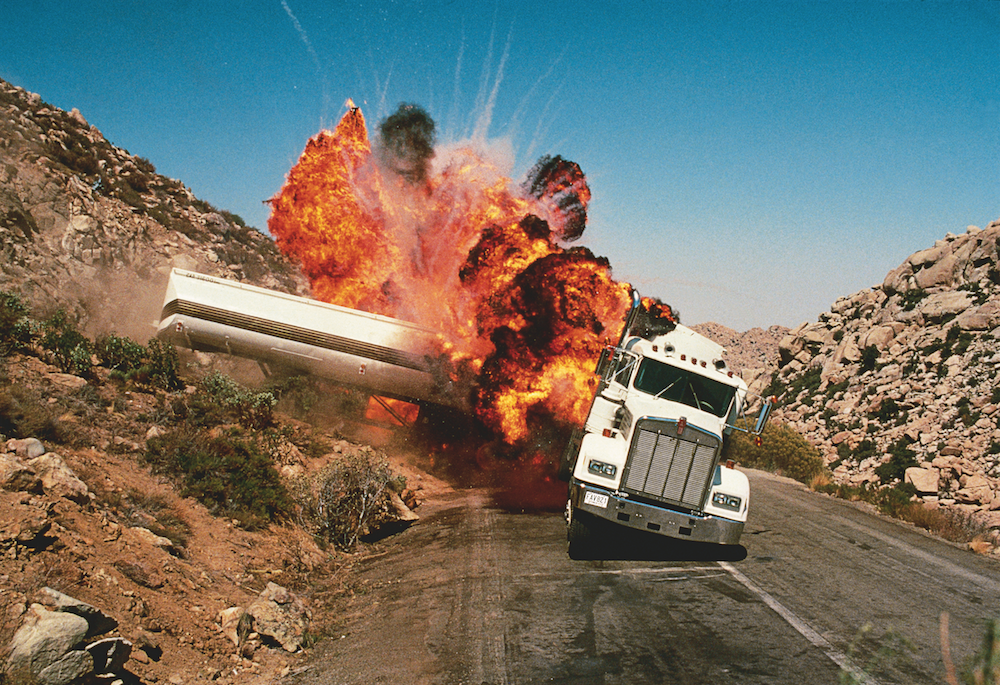 LICENSE TO KILL (1989)
Dalton's second and final movie saw Bond tackle the drug lord Franz Sanchez's smuggling enterprise, wreaking havoc with his convoy of tankers carrying cocaine, at one stage driving a tanker on one set of wheels. "I spent eight months in Mexico, with four months near the border in Mexicali," notes Corbould.
"My job started with sourcing all the tankers and tractor units. We got nine or ten, with six or seven Kenworths, and had to make them all look the same. Then we got into the rig; one tanker goes along on its side at one stage, and we weren't too sure how much the stunt guy could do. As it happened, the driver was a master. They just used a little ramp and could drive on one side for miles.
"There's also a moment where a rocket goes underneath. That was a bizarre experience. I was standing there and one of my guys behind me had a wire. We were firing the rocket down the line, and as the truck went up on its side, it was my second-in- command's cue to pull the wire tight. We've got this tanker coming towards us and he was screaming, 'Fire it, Chris! Fire it!' Eventually, I let it go, he dropped the wire and we got out the way, but it was a close thing!"
GOLDENEYE (1995)
The Brosnan Bond debut saw Corbould take on his first senior position on the franchise, as special effects supervisor. One memorable scene sees 007 commandeer a tank and drive it through the streets of St Petersburg. "There hadn't been a Bond film for six years and there had been some huge special effects movies," says Corbould. "We had to make sure Bond was still relevant.
"I knew that just doing things big doesn't really work anymore; look at superhero movies and everything blowing up on a huge scale. Different is important. A good example is the tank chase, which was really distinct. A tank chase in an urban environment, I think we really got it right with that. Part of the job I love now is thinking about what we can do that's different.
"The tank sequence evolved out of an idea of mine, and it was my job to buy them. I had to get two Russian tanks in England. When we came to travel, the agent said there was a problem at the border: one was still live! We had to weld bits here and there to make it safe."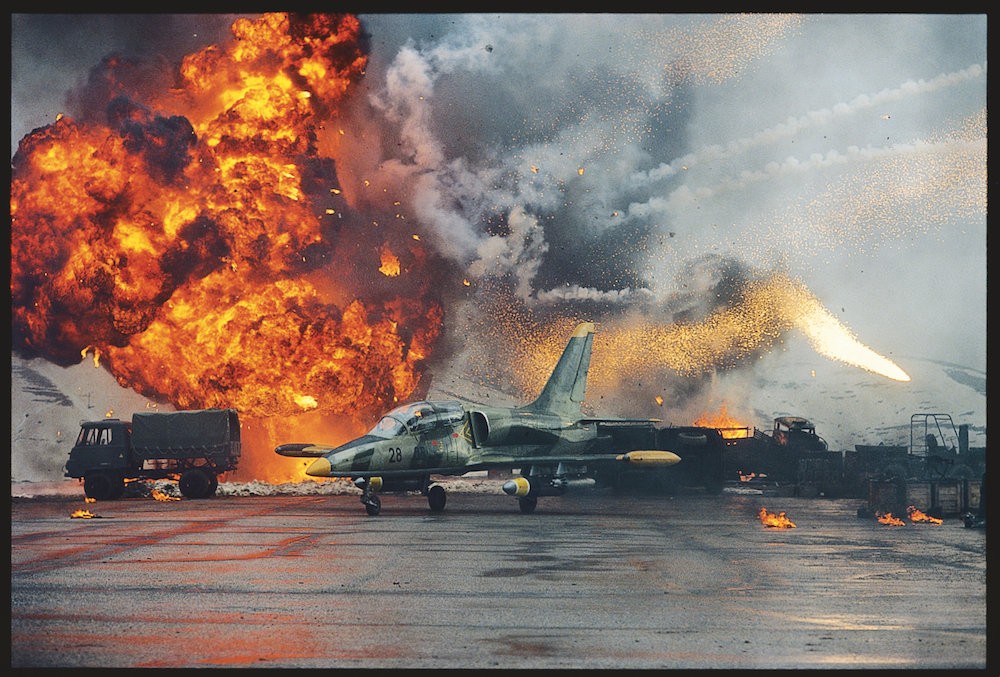 TOMORROW NEVER DIES (1997)
The second Brosnan movie showcased an enormous explosion during its pre-title sequence, which unfolds at a terrorist arms bazaar. "Before Spectre, that was probably the biggest explosion I'd done," claims Corbould. "It was the size of a football pitch. It was the first sequence we shot on the film and there was a lot involved: vehicles being blown over, the big explosion with lots of rigs, and we had to shoot it fairly quickly."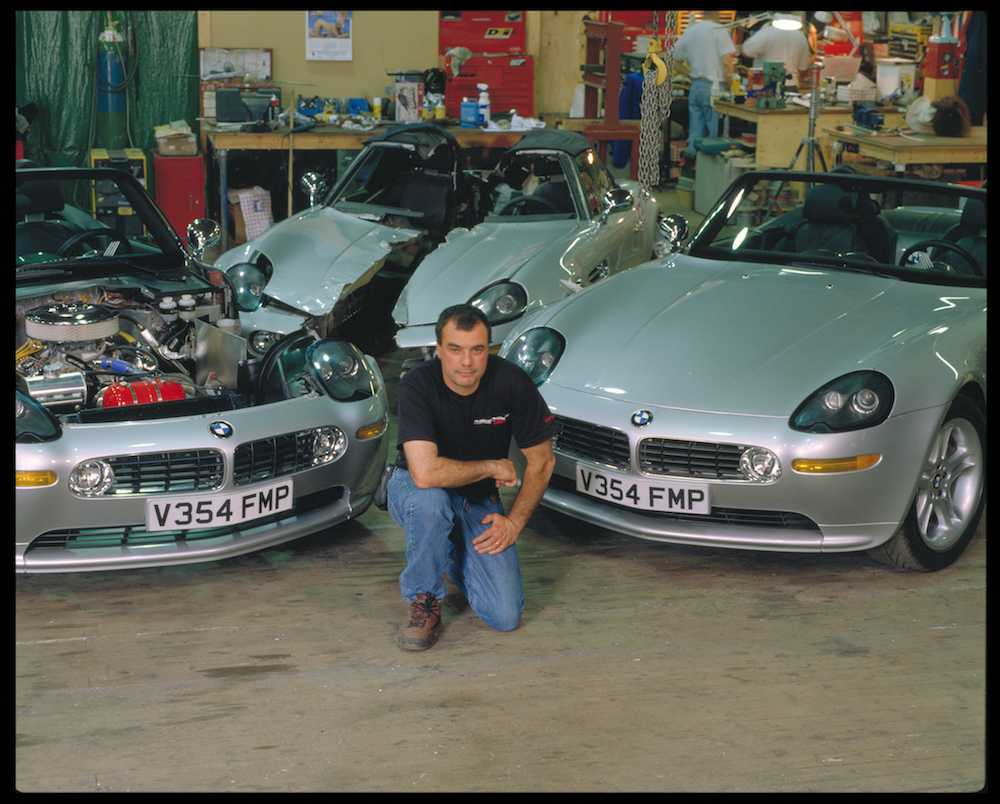 THE WORLD IS NOT ENOUGH (1999)
This MI6 outing featured a huge set piece at a caviar factory on the Caspian Sea, involving Bond's BMW Z8, which is eventually sawn in half by a helicopter wielding a huge timber-cutting saw. "I never felt the Z3 was a Bond car. But here we had the Z8. I've not seen one on the road – I think they only built 5000 of them – but it was a frightening performance car.
"A car gets cut in half by a helicopter fitted with huge saws. They built the whole set at Pinewood Studios and we had to fly this helicopter, which – for obvious reasons – couldn't be real. So, we got what was the biggest tower crane in Europe.
"Then, we could fly the helicopter on wires underneath it. It was all computerised controls and we were cutting up the walkways, the caviar house and, eventually, the car. It was tricky. We had to cut a channel through the car because the blades on the helicopter, though they look menacing, couldn't cut butter."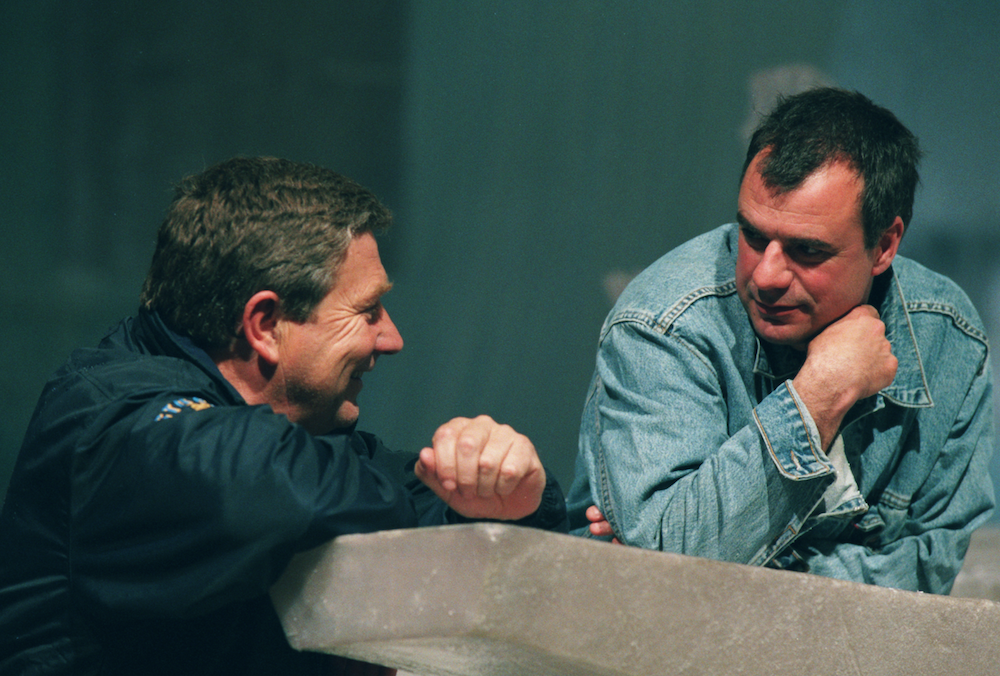 DIE ANOTHER DAY (2002)
The first 007 film of the new millennium, and Brosnan's final jaunt, witnessed the franchise rekindle its relationship with Aston Martin. Bond's Vanquish – complete with cloaking device – battled a gadget-laden Jaguar XKR on a frozen lake. "We had loads of fun with these vehicles when director Lee Tamahori decided he wanted the car battle on an ice lake.
"We wanted four-wheel- drive versions to give the stunt guys maximum traction, and so had to make modifications to the front ends of both cars. I argued against the invisible Aston Martin. I think we pushed the boundaries a little with that one, but it's in there!
"It was based on real technology being developed at the time, funnily enough, where something in the distance would have cameras and projectors. It was designed to camouflage something a few hundred yards away."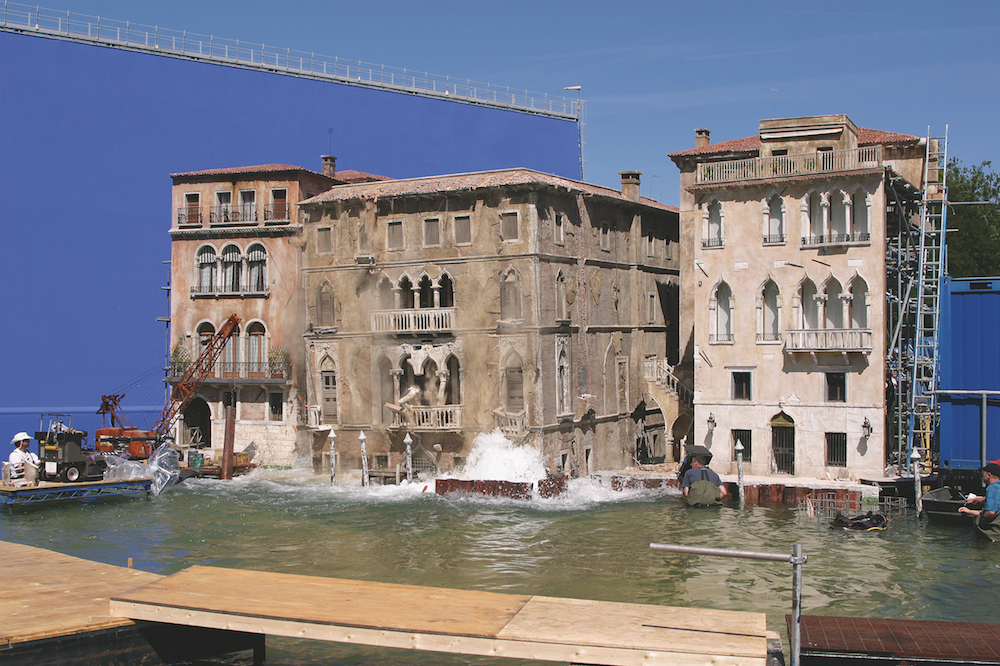 CASINO ROYALE (2006)
Daniel Craig's debut featured a dramatic climax involving Bond's new-found love, Vesper, and a collapsing villa in Venice. "We did this in two parts," explains Corbould, "with the third-scale model for the exterior. Then we had a full-size version, which was an interior four-storey building.
"We built this on a huge gimbal and the whole building had the ability to tilt 15° on either axis, then sink 20 feet into a tank of water. It was a great feat of engineering; the entire thing weighed about 120 tonnes and was controlled off a laptop.
"We had fun one day when producer Barbara Broccoli brought some studio execs around set. We were the only people there. She took them up to the top and we pressed the button. The water erupted and the building started sinking. I think one person didn't find it all that amusing, but most of them liked it."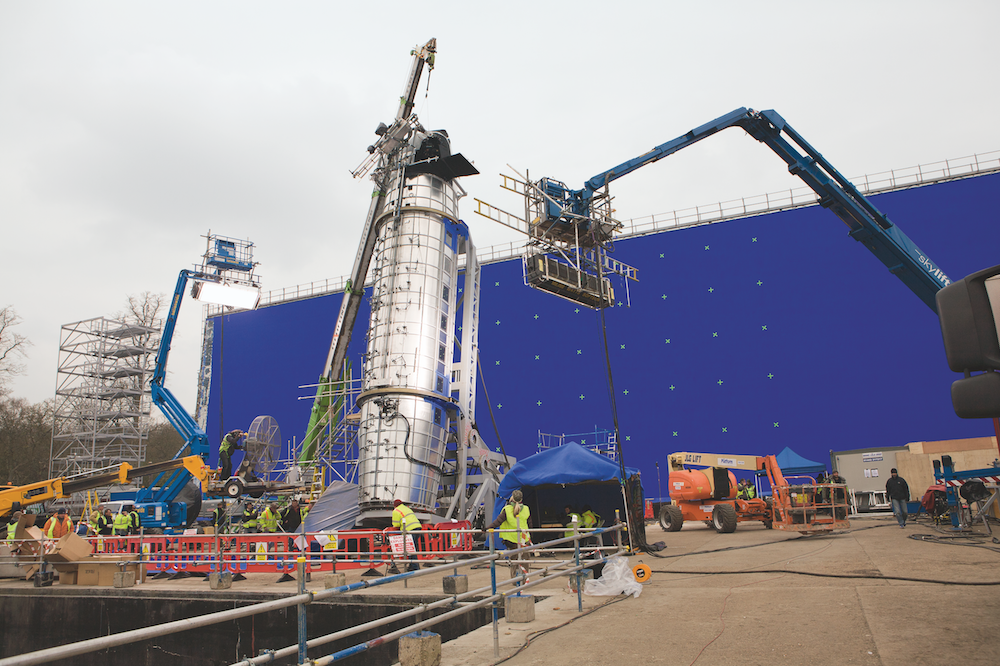 QUANTUM OF SOLACE (2008)
The second Daniel Craig film was a direct sequel, picking up where Casino Royale left off. As Bond tracks the villain Dominic Greene, he acquires a DC-3 in Bolivia and heads into the desert with Camille. When a jet and chopper attack them, Bond forces his crippled plane into a dizzying climb, which was filmed in a special rig. "We built this little rig that you can see," he says. "The whole thing is fabricated; it's not a real aircraft body and could revolve around inside."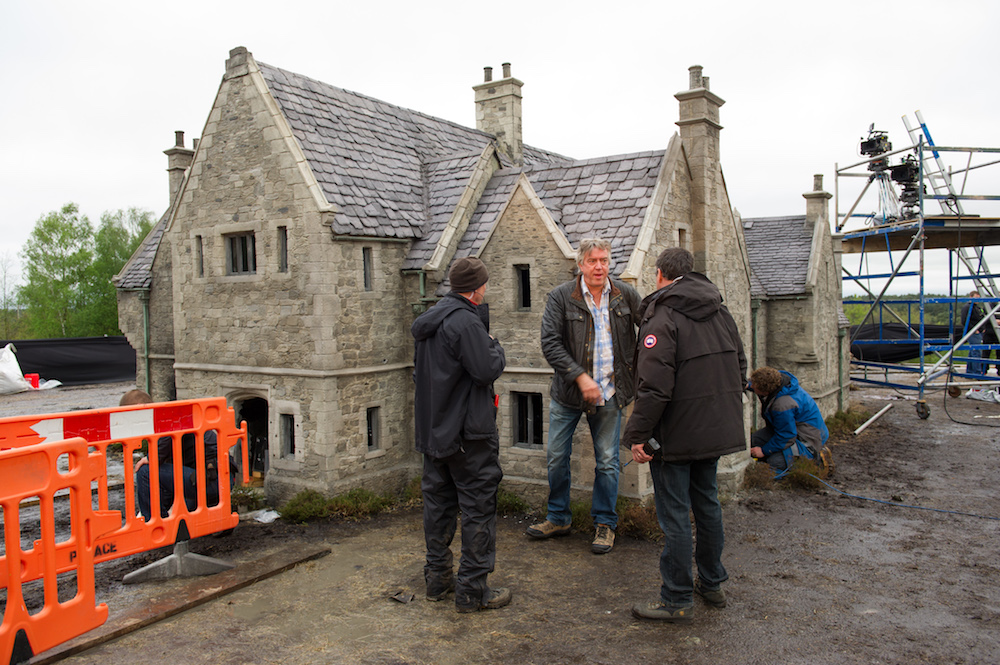 SKYFALL (2012)
The first of director Sam Mendes' two Bond features, Corbould shouldered some second unit director duties, working on the attack at Skyfall Lodge. "The helicopter approach, the strafing of the house, all culminating in the building going up and the blowing up of the Aston Martin.
"We had more discussion about blowing up the car than almost anything else on the film! There was some real emotion about that. The car we destroyed was a Porsche with some DB panels mounted on the side. The Porsche was the closest shape we could get to the Aston Martin. It's cut at the split second that the explosion takes place, so you'd be lucky to see it. The construction team built a miniature of the house and we mounted a helicopter on a track going into the building.
"I was the tube driver in that film! Sam had an actor play the driver and I was filming. We did about ten takes and Sam said, 'This is isn't working; you have to be the train driver.' I thought he was joking and it would appear in the outtakes or something, so for the first couple I did really silly faces. Then I thought I'd better do a proper take just in case. Sure enough, it's in the film. If you blink you'll miss it, but I am there."

SPECTRE (2015)
As the film builds towards its climax, Bond and Madeleine escape Blofeld's desert lair, blowing it to pieces. The explosion earned a place in the Guinness Book of World Records (a feat Corbould eclipsed in No Time to Die). "I remember when Eon put in for it, I thought, 'Oh no! I'm going to get calls from effects people all over the world saying they'd done one bigger,'" says Corbould, "we only got one!
"It was interesting, out in the desert. The great thing was there were no windows in sight and no neighbours! We could make lots of noise. It involved new tech for us. In all, there were over 200 pyro charges, in a system where each detonator was programmed through one wire and you chose when they went off.
"Usually, you'd have 200 wires. The downside was, once you pressed the button, there was a three-second delay between each explosion, when all the mini computers are talking. It's safe because either they all go or none do. You don't get that embarrassing situation where only some go.
"The problem is that we had to push the button halfway through Daniel's line, which was a bit hairy. If he got the dialogue wrong, there was no going back. Another interesting fact: there was about 8000L of fuel and 33kg of high explosives. Part of the deal was that we had to destroy everything we didn't use. So after that explosion, we went round the corner and let off 165kg – and twice as much fuel. I'm kicking myself that I didn't put it in the background."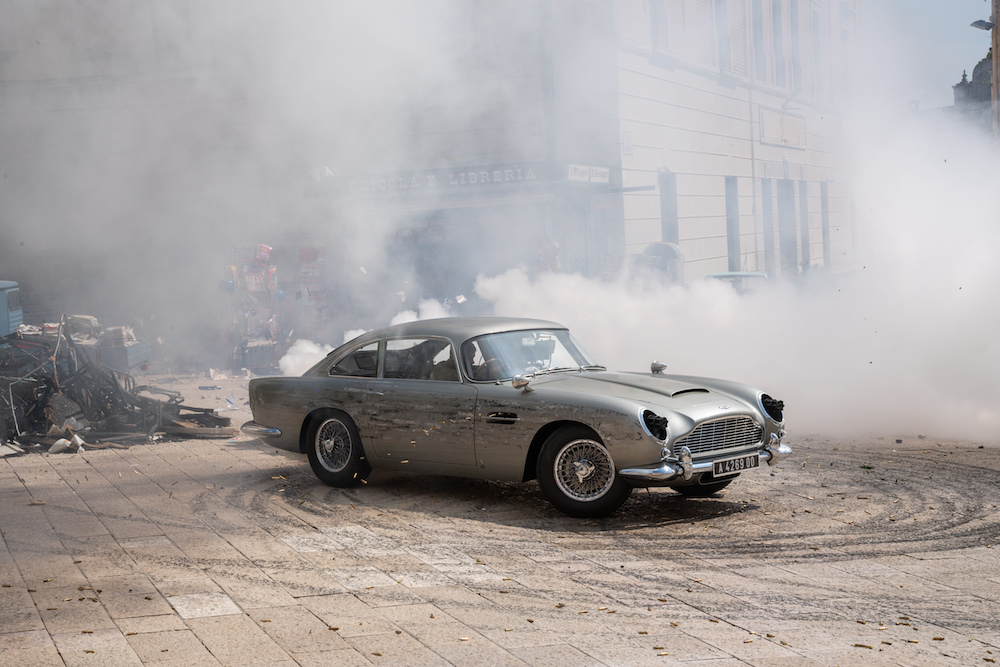 NO TIME TO DIE (2021)
The pre-title sequence to Craig's final movie has the DB5 enjoy its biggest action set piece since its debut in Goldfinger, rattling through the labyrinthine streets of the ancient Italian city Matera. "Originally, we had a big exit from where it crashed through a wall and went onto the rooftops, then burst through the roof and through rooms, and finally out the other end onto the road," describes Corbould, "but we scaled it down a little bit.
"We had a total of ten Aston Martins out there – two real ones, and two where we built a driving pod on the top, so we could get Dan inside with a British Rallycross champion driving him on the roof. Plus, we had two cars that were kitted out with all the gadgets, and then four out-and-out stunt cars that were fully roll-caged with fire extinguishers and all the stunt safety modifications.
"The climax of the scene was the DB5 racing through the streets. He ends at a square and suddenly it's T-boned by a Range Rover. Bond does this 360 and strafes the walls, then when he sees the villains diving for cover, he hits another switch and the smokescreen comes out. Daniel Craig actually did the doughnut himself. He floored it and drove, put it into a doughnut and did a complete 360 three or four times."
This article originally appeared in the November 2022 Issue of Definition. Read the full magazine here.