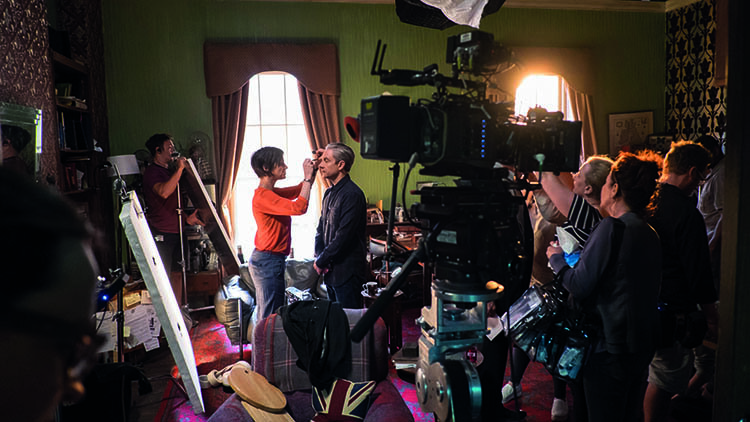 Official figures from the BFI reveal the highest spend ever on film and television production
Posted on Jan 30, 2020
The BFI has revealed that international investment in film and television in 2019 generated a huge uplift for the UK economy with £3.07 billion
---
The figures included high levels of international production investment, emphasising the UK's global reputation as the world-leading centre for film and TV production.
Cinema audiences flocked to see a combination of blockbuster films led by Avengers: Endgame and The Lion King to independent UK films such as Downton Abbey, The Favourite and Yesterday, generating a strong year at the UK and Republic of Ireland box office.
Above: The set of Downton Abbey
The market share of independent UK films at the box office in 2019 was 13%, an increase from 11.7% in 2018. When UK-made, studio-backed films that are added to the picture, e.g. Star Wars: The Rise of Skywalker, Aladdin, Dumbo and Rocketman, the full UK market share increases to 46%, the highest since records began.
The spend on high-end television and film production in the UK in 2019 reached £3.62 billion, a 16% increase on 2018
Collectively, films released in 2019 attracted 176 million admissions, a minimal 0.6% decrease on 2018, but still the second biggest year by admissions for 49 years.  Total box office revenue for all films released was £1.254 billion, just 2% down on last year.
The spend on high-end television and film production in the UK in 2019 reached £3.62 billion, a 16% increase on 2018. This is the highest year on record, showing the UK to be the world's busiest production hub and demonstrating the continued world-class excellence of UK talent, crews, VFX and production services, locations, the supportive fiscal environment created by the UK's creative sector tax reliefs and the work of the British Film Commission with international producers.  These factors play a vital role in attracting inward investment to the UK, and benefitting the UK film economy with 2019 inward investment across film and high television topping £3 billion for the first time.
Film co-production in the UK also saw a 37% uplift in spend with £34 million across 23 productions generated by films including Phyllida Lloyd's Herself, Viggo Mortensen's Falling, Brandon Cronenberg's Possessor, Uberto Pasolini's Nowhere Special, Ben Lewin's Falling For Figaro, James D'Arcy's Made In Italy, Florian Zeller's The Father, Liam O'Donnell's Skylines and Lina Roessler's Best Sellers.
Inward investment production comes to the UK from a number of different countries.  The inward investment data also reveals a notable influx of 29 Indian productions being made in the UK with a collective spend of £112 million, including Mysskin's Thupparivaalan 2, Amarjit Singh's Jhalle, Sharan Art's Galwakdi and Amrit Raj Chadha's Parauhneya Nu Dafa Karo.
Above: The industry-led jobs and learning organisation Screen Skills runs a number of schemes from 'Trainee Finder' to 'Return to Work', to supply the skills shortage resulting from the UK production boom
Domestic film and high-end television production generated a production spend of £546.4 million, a decrease of 28% from 2018.  Within this figure, domestic film showed a greater drop in spend with £174.7 million, reflecting a decrease of 45% and demonstrating a shifting industry eco-system for domestic production.  However, this picture doesn't reflect the fact that films being made by home-grown are attracting international finance and are therefore classified inward investment, e.g. Sam Mendes's 1917 and Andy Serkis's Venom 2.   For domestic high-end television production, the spend of £371.7 million represented a decrease of 14% on 2018.
Films made in the UK in 2019 for release in 2020/2021 includes inward investment films such as Cary Joji Fukanaga's No Time To Die, Cate Shortland's Black Widow, Sam Mendes's 1917, Craig Gillespie's Cruella, Antoine Fuqua's Infinite,  Andy Serkis's Venom 2, George Clooney's Good Morning, Midnight, Tim Story's Tom and Jerry, Daniel Espinosa's Mobius, Robert Zemeckis's  The Witches, Chloe Zhao'sThe Eternals, Christopher Nolan's Tenet, Will Sharpe's Louis Wain, Danis Tanovic's The Postcard Killings, John Madden's Operation Mincemeat and Tanya Wexler's  Jolt.
Nigel Adams, Minister for Creative Industries, said:  "These latest figures show that our world-leading screen industries continue to thrive, attracting audiences all around the globe. The increase in inward investment reflects the UK's acclaimed reputation as a home for fantastic talent and creativity in our film and television sectors."
For more information, click here to view and download the BFI statistics.
Click here to read our article on the UK production boom, from our January 2020 issue.