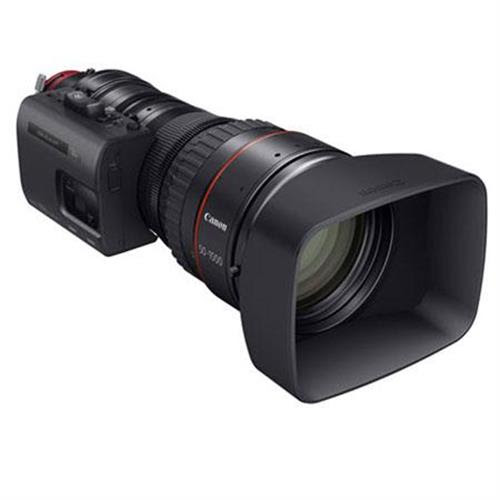 Adorama Rental to carry Canon's CINE-SERVO 50-1000mm zoom lens
Posted on Sep 9, 2015 by Alex Fice
Featuring the world's longest focal length for a zoom lens, the Canon CINE-SERVO is one of the best solutions on the market for sports, nature documentaries and other long-zoom field productions.
Adorama Rental Co. has announced it is one of the first rental houses in the US to carry Canon's newest camera lens, the Canon CINE-SERVO 50-1000mm Ultra-Telephoto Zoom Lens.
The CINE-SERVO lens was recently used to capture once-in-a-lifetime shots of David Byrne's star-studded production, Contemporary Color at the Barclay's Center in Brooklyn. The production featured artists including Nelly Furtado, St. Vincent, Ad-Rock and Money Mark, Ira Glass and Nico Muhly, Zola Jesus, Tune Yards, Dev Hynes and more. Celebrating the traditional American art form of colour guard with a modern musical spin, the artists were accompanied by 10 high school colour guard teams from across the country. In order to capture specific shots of the production, the team needed a long zoom.
"As a DP, it was an incredible experience to work with the ARC team lead by Daniel Gurzi [managing director at ARC]. It was much more of a collaboration than a traditional rental house relationship,"says Jarred Alterman, the director of photography for the "Contemporary Color" video shoot."Daniel was involved very early on with the project and was gracious enough to indulge my film references. We were trying to mimic a very long zoom from Pink Floyd's Live at Pompeii that starts from the top of an ancient Roman coliseum and lands onto a small stage where Pink Floyd is playing. We couldn't pull it off with the zoom lenses we had, but when Daniel got his hands on the new Canon CINE-SERVO with its built-in 1.5x extender, we were able to pull off the incredible move. We were so happy with the lens that we moved it down to the floor on one night to capture close-ups of the artists on stage from a distance."