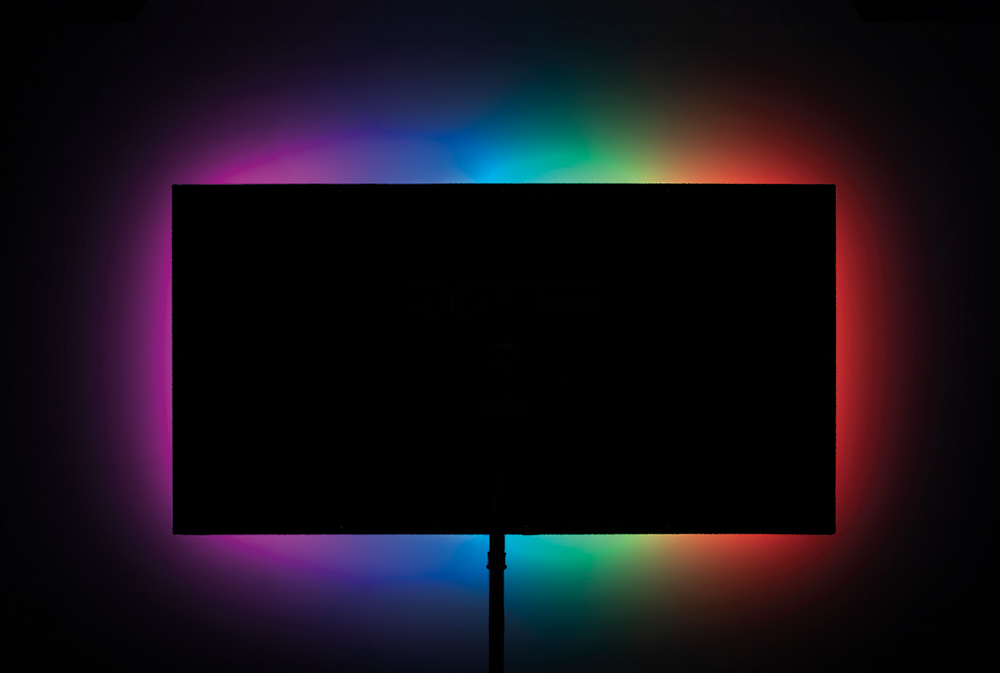 Light bringers
Posted on Aug 6, 2019
There's nothing like a major equipment trade show to bring out the latest lighting technology. This is what we found at the NAB Show
---
The Astera Titan Tube in action – and in plentiful supply – at a conference venue
Words / Phil Rhodes
LED lighting is no longer a special case. The days when manufacturers struggled to achieve a reliable white light are over, and full colour mixing is increasingly normal, with advanced control systems including wired and wireless control from lighting desks and cellphone apps. At the same time, higher power levels are becoming available, so LEDs can start to replace ever higher-powered conventional lighting. Perhaps the largest option on the planet appeared at NAB as Mole exhibited the hugely powerful "20K LED" (actually a 3KW device, presumably equating to a 20K tungsten). LED has arrived.
"The days when manufacturers struggled to achieve a reliable white light are over"
Another company dedicated to pushing up power levels is Hive Lighting, whose 575W Super Hornet has a fraction of the Mole's power but is still one of the most powerful point-source LEDs around. The prototype wasn't run for long periods in Las Vegas, but a more final example is scheduled to appear at Cine Gear where it will take pride of place among Hive's selection of hard lights. The company started out making lights using light-emitting plasma technology, and while the LEPs are still available it has become best-known for LED PARs. Hive's products are unusual because they combine two things: first, they are not examples of the soft light panel that's most often associated with LED lighting, and second, because they offer full colour mixing. No price was posted for the Super Hornet 575.
Fiilex
The Fiilex Q8 Travel bi-colour LED light is optimised for controllability
Sticking with hard light, Fiilex has been selling its flagship Q8 Travel light since early last year. At 320W it's a little less powerful than the (unreleased) 575W Hive, but Fiilex's light concentrates on producing tuneable white light output, not colours, a choice which potentially redresses the balance a little. It still offers both adjustable colour temperature and green-to-magenta shift, and is therefore capable of closely matching inaccurate LEDs, ageing HMIs or changeable daylight.
As an eight-inch Fresnel, it's optimised for controllability rather than the sheer brightness of a PAR, and the Q8 Travel is certainly controllable with conventional cutting and shaping tools thanks to its compact emitter array. The trick, as with Hive, is packing all those watts into a small light source, so it can cast sharp shadows without catching fire. That's some clever design, and at $3000 (£2300) it works out to around £7.20 a watt. Fiilex also offers the Matrix II RGBW, a simple, almost open-faced 320-watt "punch light" clearly designed to illuminate bounce or diffusion, but with full colour mixing.
"LED lighting was first popularised as flat panels with arrays of individually lensed emitters creating a sort of projecting soft light"
Litepanels
LED lighting was first popularised as flat panels with arrays of individually lensed emitters creating a sort of projecting soft light. Litepanels remains a leading manufacturer of flat panels, and its Gemini range was first discussed at the end of 2017. The upscale 2×1 (the numbers are, roughly, size in feet) offers full colour mixing and draws up to 350W in competition with things like Arri's Skypanel S60C. LED lighting is popular because it can often be battery powered, and while it's theoretically possible to battery-power anything, 350W is a very large load for average batteries. The recently announced 1×1 (again, roughly size in feet) is a 200W light, representing a slightly better power-to-size ratio than its larger cousin and is slightly more practical for battery power. At £1950, the Gemini 1×1 offers about £9.75 a watt, or 60% the cost of a comparable Arri.
ARRI
Arri's Skypanel range now runs from the S30 through the S60, the S120 (approximating the layout of a Kino-Flo) and all the way up to the enormous S360-C. Kilowatt-plus power draws are a reasonably recent option in the world of LED lighting, and the 360's 1500W represents a lot of light. The Skypanel range is also notable for being available both in full colour mixing and, in RP-suffix models, remote-phosphor. Keeping the sensitive phosphor away from the heat of the LEDs makes for longer life and better colorimetry, though it precludes tuneable colour and is offered only in -30 and -60 products. Recent months, for Arri, have really been about the Alexa LF Mini, but the big S360 remains almost uniquely powerful. At something over £15,000, each watt of output costs about £10.
Cineo, which has as history of producing respected remote-phosphor panels, has recently focussed on its collaboration with NBCUniversal for the Lightblade. The first Lightblades were, as the name hints, in similar form factor to fluorescent tubes, and can be banked to create a 4x4ft, one-kilowatt array that retains the individual tubes' ability to mix colours and can create chasing effects, perhaps to simulate the pass of light for a studio-bound car interior. Similar power levels and capabilities are packed into half the space in the LB800, a 900W light that's noticeable because it doesn't look like a Star Trek hand prop – it's built of steel plate and bolts, like the lights of the 20th century, and gives an impression of simplicity and toughness that's sometimes missing from LEDs. Cineo lists the LB800 at $11,000 (£8500,) or about £10.50 a watt.
At the more compact end of the scale, BB&S has just launched the full colour mixing version of its Area 48 series. The company has been known for very high colour quality and was among the first to start talking about the improved Television Lighting Consistency Index, or TLCI, a more exacting standard of colour quality measurement than CRI. The Area 48 Colour is built on much the same platform as the company's earlier lights, and is rated at 160W. With its roughly 14.10in silhouette, it's one of the denser lights available in terms of watts per size and weight, though at $3295 (£2500), or nearly £16 a watt, it's not the least expensive option. It does, however, offer supremely good colour quality in both colour and white modes. With a product range including the 180-watt Force 7 backend for ETC Source Four barrels and lenses, as well as the tube-style Pipeline, BB&S can cover a lot of bases.
BB&S has launched a full colour mixing version of its Area 48 series (above); more Astera Titan Tubes in use (below)
"Phosphor conversion of saturated-colour LEDs is an emerging technology, especially for the blue channel"
DMG
It would be easy to assume that a colour mixing light only really needs three channels. After all, video monitors (including giant video walls which are actually made out of LEDs) can mix a wide variety of colours from red, green and blue, and they look fine. Essentially all colour-mixing LED lights use at least four, though, and Rosco DMG's Mix series uses six. The Mini, SLI and now Maxi Mix lights are flat panels, with the largest 360W device, at 1200 by 360mm, approximating the layout of a four-tube fluorescent fitting. The mid-sized, 200-watt SLI lists for £1700 and offers a keen £8.50 a watt, an attractive price for something involving some rather clever technology.
Rosco DMG (in common with several other companies) uses LEDs emitting what the company calls lime green and amber, which are presumably phosphor-converted LEDs. Illuminating a green- or amber-emitting phosphor with a blue LED creates green or amber light with a smoother, more consistent spectrum that's less likely to cause unexpected problems when used to illuminate brightly-coloured objects. Phosphor conversion of saturated-colour LEDs is an emerging technology at the time of writing, especially for the difficult blue channel, but something to look out for as it can put the final buff on good colour performance.
It's possible that Astera has leveraged this technology in its hugely flexible Titan Tube. The Titan seems intended for advanced effects work, built like a four-foot fluorescent tube but broken up into 16 pixels with inbuilt effects and individual addressability. It is possibly the only device here not to include a white-emitting LED, and is described as having "mint" and "amber" emitters – presumably phosphor-converted, and good enough to mix a satisfactory white with a TLCI in the mid-90s. While the Titan might be used in huge numbers on a gameshow set, it's also good enough, and flexible enough with the company's comprehensive smartphone app, to go out on music videos or even as a straightforward keylight. At around £525 apiece, depending on quantity, the Titan Tube works out at £7.30 a watt and it is hugely flexible.
For people needing an LED tube without the special effects capability, Quasar Science has now become now a household name. While the company doesn't quite have a product to match the multi-pixel flexibility of Astera, the Q-LED Rainbow series offers full colour mixing, with the four-foot, 100W version still marked "available 2019" on the company website. Quasar has long provided a lot of conveniences for people keen to replace the fluorescent tubes of old, and the option to use mains or DC power and wired or wireless control are useful ones whether the tubes are zip-tied into an old Kino-Flo housing or duct-taped into a corner. The 48-inch, fifty-watt option lists for $600 (£458) or £9.16 a watt.
Litegear
The LiteDimmer Plus from LiteGear is the perfect companion to the LiteMat
With the exception of Hive and Fiilex's products, everything we've talked about so far has been a soft light. Some manufacturers offer accessories designed to rig their lights into larger, more powerful arrays, and gaffers find themselves building similar arrangements using parts from the truck. What's being emulated here is a larger soft light source, something that even now is often done with a big light and diffusion or bounce. A more direct solution to that – and a crafty bit of lateral thinking – is offered by very thin, lightweight panel lights such as Litegear's LiteMat. It's one of a few things light enough to be rigged into a frame without needing a light to drive it, becoming almost a self-emissive diffusion or bounce. It has the sort of output that would normally require a huge motivating light source on conventional diffusion.
Back in March, Litegear announced the Spectrum version of its ultra-lightweight panel, and at the time of writing was offering reservations. Available in five versions of various shapes and sizes, with the largest at 200W currently reserving for a down payment of US$500 on the $4500 (£3440) price tag. If £17.20 a watt seems steep, consider that it's naturally more difficult to cool LEDs that aren't mounted on a sheet of metal, which limits power density compared to conventional soft light panels. Either way, the power and time saving over a conventional diffused HMI set-up is huge.
Finally, consider one of the most traditional lights in filmmaking. Spacelights are often used in vast numbers and with the tungsten-halogen version pulling 6KW apiece, they are expensive to run, both in terms of electricity and the resulting air conditioning load, the generators and the tons (literally) of heavy cabling, and the crew and time to lay it. LED spacelights are a huge time and cost saver, and Sumolight's 500W Sumospace, at around £3863, is designed to take the load – well, 11/12 of the load – off the electricity network. At £7.72 a watt, it's well-priced, and flexible – the name is perhaps a little misleading because the same hexagonal lighting unit works just as well with its interchangeable lenses as a large-aperture spotlight. It has even been rigged in groups of seven to create a super-powered version of that projecting soft light we first saw at the dawn of the LED age.
At 3500W, Sumo's seven-segment array is, even if only in gestalt, the most powerful LED light we've considered; possibly the most powerful LED on the planet. The whole industry's gains in sheer power perhaps represents something of a coming-of-age for LED. Big numbers are also available from manufacturers such as Lightstar, whose Dino-style arrays reach up to 2160W and at under £3 a watt are hugely cost-competitive. Not only does it make upscale shoots cheaper, it makes smaller shoots possible, and so helps out productions of every scale which, in the end, is why LED technology is a good idea to begin with. Now much of it can often be controlled from a cellphone, and now colour quality is largely a won war, it's getting really hard to argue with.
"The whole industry's gain in sheer power represents a coming-of-age for LED"