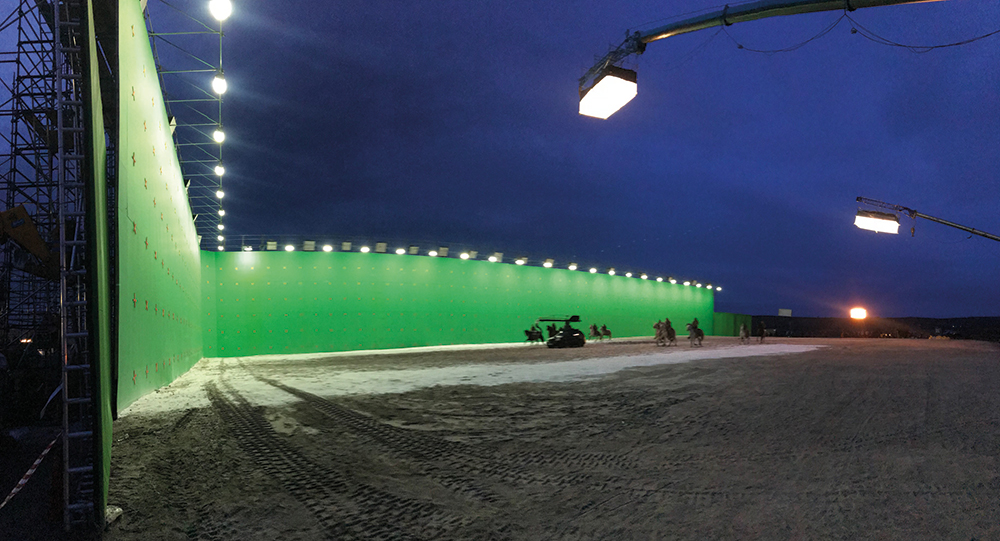 Game Management
Posted on Aug 2, 2019
Now the dust has settled on the finale of Game of Thrones, it's time to look back at the technical story
---
Words Julian Mitchell / Pictures Pictures HBO / Fabian Wagner / Jonathan Freeman
When the two American producers David Benioff and DB Weiss first read George R R Martin's novel, A Game of Thrones, their enthusiasm to turn the books into a TV series lead them to HBO, and resulted in a pilot shot on film. This unaired pilot was apparently not well-received, but it was reshot on digital with many changes to the script and characters – and finally morphed into episode 1 of the first season. The rest is a murderous, humorous and generally horrible history that we all know and – mostly – love.
Technically, the story of Game of Thrones from this stuttering start was one of investment in the image. As the series picked up plaudits and audience, investment was made to making the series into the VFX epic that Season 8 has given us. The episodes settled into a pattern, with certain directors chosen for certain types of drama; battles were someone's forte, while more wordy episodes attracted others. Cinematographers were then matched to those directors and ADs.
"The Arri Alexa was the first camera where cinematographers felt confident it was a pretty comparable camera system to film"
Definition interviewed two of the Game of Thrones DOPs, Jonathan Freeman and Fabian Wagner. Freeman shot nine episodes of the series – the first in 2012, up to Season 8's finale – while Wagner shot eight episodes, from 2014 to two of Season 8's episodes, including the 'storm in a teacup', controversial The Long Night episode – but more on that later.
© Fabian Wagner
Jonathan Freeman, one of the cinematographers for Game of Thrones, hard at work on Season 8
Gear choice
For Jonathan Freeman, the biggest technical advance for Season 8 was the use of virtual reality in creating and changing virtual sets before they were even built. (There is more on this in 'Game of Thrones With Help From VR' on page 40.) But previous seasons have always shown a certain amount of consistency in the choice of equipment. Freeman explains: "On Game of Thrones, we have always used the Arri Alexa camera. The original pilot was shot on film, and there were a certain number of people – including the cinematographer Alik Sakharov – who wanted to carry on using film. However, HBO encouraged the production to at least test the Alexa camera, which they did, and realised that it was pretty darn good – which was my response, too."
He continues: "The Arri Alexa was the first camera where cinematographers felt confident it was a pretty comparable camera system to film. Then, of course, you got the benefits of digital cinematography, which are more challenging for film. For our show, with the turnaround for VFX and everything else like location work and trying to find a film lab (which is impossible), we would not be able to do it without digital. Certainly, the look of the show would not have been so strong without the Alexa."
As a result, Game of Thrones was shot almost entirely using the Arri Alexa, with Cooke S4s as the prime lenses and Angénieux for the zooms. Although this combination was cemented in Season 1, Freeman admits: "Different cinematographers did different things in terms of filtration. Some of us didn't use any filtration except for the odd occasion, others experimented with Pro-Mist and a couple of other things. But the main thing for the cinematographers was that we worked together. It was a very unique process, where you had more than one cinematographer working on the one project." (Now not so unique, considering Netflix and Amazon Prime work practices.)
For The Long Night, DOP Fabian Wagner had to come up with a rig for Arri SkyPanels that he could pull down during wind and bad weather © Fabian Wagner
Augmented reality in thrones
Lady Lyanna meets the zombie giant
In a scene from The Long Night in Season 8, an 11-year-old Lady Lyanna Mormont is grabbed and killed by a White Walker giant. To visualise the scene on set, the production used Ncam to position the CGI. Ncam can place an augmented reality CG asset in the scene, helping production to gauge the scale of the scene so the framing makes sense.
Eric Carney, the on-set VFX supervisor, explains: "Ncam allowed us to play back an animation of what the giant's performance would be, that was synched to the camera."
The camera operator was then able to see the giant's proper scale on the set, enabling them to operate as if they were seeing the real thing in front of them.
Flipping teams
Recalling the teamwork required to shoot the series, Freeman says: "It was inspirational to see how other cinematographers worked with the same actors as you had. I think there were 12 cinematographers for the whole show, but maybe up to five for a season. Our production manager, Bernie Caulfield, was the one who figured out a way for all these cinematographers to work together. The basic idea was that there was always a cinematographer and a first AD assigned to one director. That nucleus team then jumped between two units, between shooting in Belfast and one of the nine locations. They scheduled it so you had two full units running simultaneously, and that core team then jumped back and forth between the two units. So, generally speaking, you completed your episode with the same director and same AD."
A typical pattern involved shooting in Belfast for two weeks after scouting in Spain, before then flying back to Spain to prep some more, while another team flipped locations. "If we were down for a couple of days, we spent the time prepping for more of our episodes," explains Freeman. "The net result was that we were extremely well prepared, as we had much more prep time than we would normally get. But it was literally like prepping for a feature. Because you're leapfrogging, you also have other nucleus teams. For example, the episodes 3 to 4 team and episodes 5 to 6 team would be shooting simultaneously."
Freeman says: "We shot ten-hour days and hardly ever went over time, which was so the crews wouldn't get burned out. That also meant the ten hours we did work, we walked in and knew exactly what we had to do. It was a very efficient system, and the only thing that stopped us was the weather."
Beyond the Wall – Episode 6, Season 7
Freeman shot the Beyond The Wall episode in Season 7, which was directed by Alan Taylor. The battle scene involved a dragon and zombies on a simulated lake (shot in Northern Ireland in an old quarry concreted to look like a lake). "The production design made the concrete look like ice, so we could use something in-camera," explains Freeman, "but there was VFX and SFX used as well. VFX also created a set extension above the lake, especially when we shot low."
He adds: "It was complicated; we were shooting in winter, but I got lucky for two weeks with consistent cloud cover. We barrelled through it, as I was worried the sun would come out and I would have to shoot around it, which is what happened."
Freeman explains that the crew always had two cameras, and by Season 7, each unit had a 44-foot MovieBird crane with them all the time. "So it wasn't a question of having to book a crane for, say, three days. We had it there when we needed it, so we didn't need to compromise. Only a show with a fair amount of money can do this, but it's equally expensive to send some equipment back just to have it sent out again when you need it next."
For Beyond the Wall, an old quarry in Northern Ireland was transformed into a frozen lake, complete with zombies and a dragon. This required production design, as well as VFX and SFX
The Long Night – Episode 3, Season 8
Cinematographer Fabian Wagner shot The Long Night episode – and walked into a storm of social media trolling, with fans complaining about the darkness on screen. This is the streaming world's dirty little secret: the way broadcasters restrict the data rates for huge shows like Game of Thrones. Of course, the customers who see banding and compression noise in dark scenes blame the creator and find people like Wagner on social media and abuse them.
But Wagner was philosophical about it: "I'm not someone who thinks he is above criticism. I'm very happy to be criticised and very happy to admit my mistakes. What's been annoying about this specific complaint was that I had said in another interview that some people can't tune their TVs properly, and probably watch things in the wrong environment and in the wrong conditions. Which is a fact no one can argue with. Some people are just unaware of how you can enhance your viewing through your television. My emphasis was on 'some' people, which obviously angered people."
He continues: "The main thing was that the way I shot it was a creative decision to shoot this episode this way. It was something I was always sure of and also proud of. The way we did it enhances the episode. It's a shame people became nasty and personal. But I think a bit of controversy and polarisation is a good thing. I consider cinematography an art form, and it can be controversial. We always said that it would be boring to see this army of the dead – we wanted to not see it."
"A bit of controversy and polarisation is a good thing. I consider cinematography an art form, and it can be controversial"
To light the battle scene in The Long Night, Wagner used large banks of Arri SkyPanel softboxes. He explains: "I wanted to control them from the floor, and because of the changeable weather, I had to come up with a rig that would allow me to fly those boxes as much as possible, but were able to be pulled down during windy conditions."
From Season 2, Game of Thrones had two units permanently available, but for Season 8 it changed: "This season a single unit used three cameras. The director Miguel Sapochnik and I had started working together on the Hardhome episode in Season 5, and we work very well together. What we decided in Hardhome was that I would operate the third camera for that specific sequence of the massacre. We also did the same for Battle of the Bastards in Season 6. What we did this year was to carry it on by shooting four cameras on The Long Night, with me operating the fourth camera."
Love or hate it, there's no doubt Game of Thrones pushed the boundaries of what was previously thought possible for a TV show. For that, we will always be fans of this fantasy saga.
Fabian Wagner was DOP for The Long Night, which was controversial as a result of the atmospheric lighting design
Game Of Thrones with help from VR
The producers were very keen to help out the production with the aid of VR and modelling
As an option for all the production teams in Season 8, virtual reality previsualisation was encouraged in order to design sets and shooting scenarios virtually before any sets were actually built or finalised.
DOP Jonathan Freeman enjoyed this new way of prep, as he explains: "This was introduced by our brilliant production designer, Deborah Riley. She had seen this work before and she was very inspired by it, so she suggested that we tried it for Season 8. I had a couple of critical scenes that required set extensions and set recreations. Myself, Dan and David (DB Weiss and David Benioff), and the directors of the finale were able to step into a virtual set before it was even built."
He points out: "Working virtually in this way allowed the directors and cinematographers to literally walk into existing spaces in virtual reality. So we could walk around in this virtual space and then take screenshots to use as storyboards, which we'd eventually use to implement our previs. But it also allowed us to suggest changes in the design of the set, such as extending a wall, pushing a wall back or structurally changing things to make the shot better; that works for practical set building and VFX set design extension." He adds: "The system allowed us to be very specific in the design of the sets, and it also provided us a great opportunity to imagine what a sequence would look like."
© Fabian Wagner
Normally, the crew uses blueprints and elevations, or concept art, to create inspiration and help them figure out shots. "Then you use a storyboard artist and get it 'kind of' right. But in the end, it was never quite the same," says Freeman. However, with VR, it's possible to create a photo board that can eliminate the need for a storyboard.
Freeman explains: "Storyboarding can take anywhere from three to six weeks and, in some cases, we were able to skip this process using VR. Also, the VR had a direct link to the previs tools, so it made it much quicker for the previs to be put together, as there were references or markers in the model that had camera information. Every single shot that we photoboarded, for example, was recorded in the previs. You could then recreate the shot in half the time and continue with their animation. It was really, really effective. It not only saved us a lot of time, but was also extremely inspiring."
© Fabian Wagner