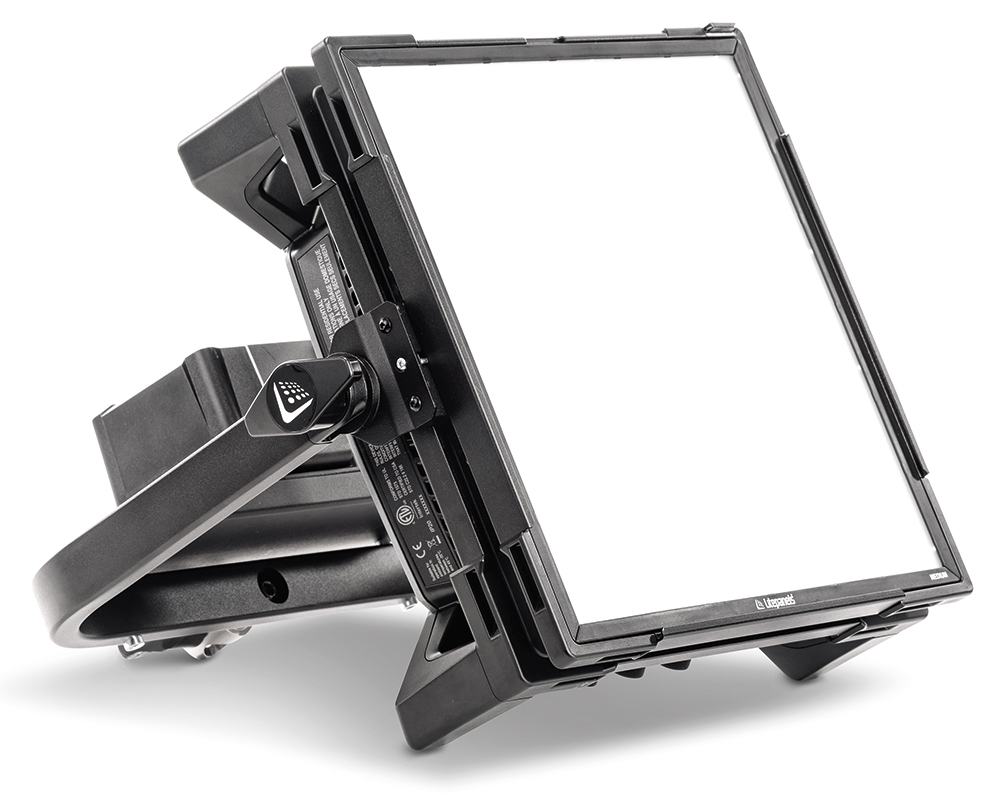 Litepanel Gemini 1 x 1 soft panel
Posted on Jul 24, 2019
Litepanels has introduced its smaller version of the 2 x 1 Gemini LED light, but half the size doesn't mean only half the features
---
The new 1 x 1 soft light has four modes: CCT mode for daylight and tungsten with fine tuning; HSI mode to create colour in the 360° colour wheel; Gel mode to dial up gels, and Effects mode for creative lighting effects. PRICE £2340/$3067
Words Phil Rhodes / Pictures Litepanels
Litepanels was among one of the first manufacturers to offer LED lighting. Since then, solid-state light has evolved from fixed colour through to variable colour temperature, and now full colour mixing – something offered by Litepanels in its Gemini range. An evolution of the 2 x 1 Gemini is the latest addition: a 1 x 1 soft panel that's around half the size, but, at 200W, a little more than half the power of its predecessor.
The design of the Gemini 1 x 1 separates the LED array and control panel, maximising space for heatsinking between the two. LED lighting design is equal parts colour control and heat management, and problems with cooling can provoke more fan noise or even colour problems and reduced lifespan. The Gemini is fan cooled – as any light of its power and size would need to be – but that generous heat sink allows noise to be kept very low. It's hard to tell if the fan is running at full power, but under test (in the UK in early April) it was barely audible at a couple of feet, even in an otherwise silent room.
At a bit less than five and a half kilos, the 1 x 1 Gemini is not noticeably heavier than its competitors
Form Factor
A mains power supply, with captive output cable, is bolted into the yoke. This keeps everything together, but does mean that anyone walking around with a battery-powered light will generally be carrying the (unused) mains power supply around, too. This is a choice; separate everything and it's flexible, but takes longer to set up and wrap, because there are more individual parts involved. At a bit less than five and a half kilos, the Gemini 1 x 1 is not noticeably heavier than most of its competitors, and lighter than many, even with the power supply, so it really isn't a problem.
Connectors for comms and control are on the top. Litepanels' control system for the Gemini range offers CCT mode, which produces tuneable white light, plus several adjustable colour modes and a selection of effects such as firelight, vehicle strobes and lightning. The controls are continuously rotating encoders with some programmed acceleration, so that one click means a 1% or 10% adjustment, depending on how fast the control is turned. In CCT mode, colour temperature (in 10K steps) and green-magenta bias are adjustable. As with almost all LEDs, the last few percentage points of intensity show visible steps, at least from the on-board controls. DMX was not tested.
Light quality and accuracy was characterised by measuring a total of 63 data points. Seven colour temperature settings between 2700K and 10000K were each metered for colour temperature, TLCI and output at one metre, each at 5%, 50% and 100% intensity.
Quality of light
White quality is excellent, with no TLCI measurement below a 92 encountered at minimum colour temperature and maximum output. TLCI generally increases with higher colour temperature, while the Gemini is slightly more powerful at medium colour temperature, with a peak of around 5700lx at 4200K. This is common for colour-mixing lights that blend various LEDs to achieve variable colour temperature; in the middle of the range, more of the LEDs will be active. These good numbers are maintained in HSI or RGBW modes; wind the saturation down to zero, and the white quality remains as good as in CCT mode.
"Colour temperature accuracy is best at the lower end of the range"
Colour temperature accuracy is best at the lower end of the range. At 2700K selected, output measured 2828K – an error of about 19 mireds and roughly equivalent to a barely-visible one-eighth CT blue filter. At higher selected CCTs, such as the 6500K that might be required to match an overcast sky, the error becomes slightly larger, with a measured 6220K. This is a more visible error, and the light did not exceed 9320K at the 10000K setting. It's worth pointing out that this represents a mismatch between the displayed colour temperature and the actual colour temperature; white quality remains good, and visually matching different light sources is possible. It's really just instrumentation drift that won't affect most use cases.
Green-magenta shift reads out in units of -100 to +100, which seems to represent a full plus or minus green filter. At 5600K, the output is at 0.336, 0.343 on a CIE 1931 diagram, essentially on the black-body curve, exactly where it should be. Applying full minus green moves the output to 0.336, 0.277, nicely at right angles to the curve.
In the CCT mode, colour temperature is in 10K steps
"The Gemini 1 x 1 Competes With Products Like Arri's Skypanel"
Competition
The Gemini 1 x 1 competes with products such as Arri's Skypanel S30-C, with about the same power and controllability. The Skypanel is almost 50% heavier and almost 50% more expensive, and Litepanels' spectral quality is perhaps a fraction better. The light has a lot of sophistication that a documentarian or news camera operator might consider overkill, but it's not so much about variability for its own sake; it's about matching. Natural light varies, of course, but different manufacturers' lights may produce a different daylight for every day of the week and just matching key to fill is even more complicated now than ever. The Gemini can be matched to tungsten, HMI, another LED from any manufacturer, or really more or less any light source. That's an increasingly normal requirement, and one the Gemini fulfils in a fairly high-density package.
TITON Battery power
There's a popular perception that LED is somehow more suited to battery power than other lighting technologies. That's not necessarily so – a 300W HMI may be heavier and more expensive, but it is just as easy to battery power as a 300W LED. The Gemini can run at up to 90% output from a single battery, or full power from two. Both Anton Bauer and Litepanels are part of the Vitec group, and a pair of the new Titon 90 batteries, which include nice extras such as a USB output and communications with compatible cameras to display remaining time. The Titons were supplied together with Litepanels' own twin V-lock battery mount. There's a clamp to attach the mount to a stand, and the whole arrangement connects to the same three-pin XLR connector as the mains power supply.
The Gemini can run at up to 90% output from a single battery