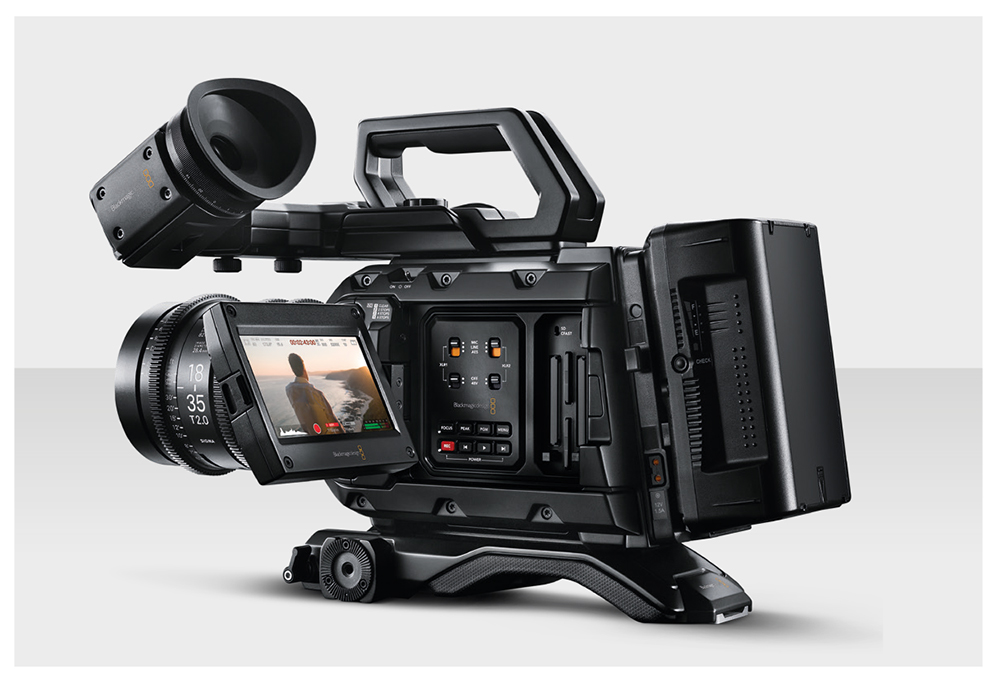 New Generation
Posted on Jul 25, 2019
The new generation Blackmagic Ursa Mini Pro G2 is a solid step up with its fast frame rates, Raw shooting and affordable price
---
The new Ursa Mini Pro G2 is fully implemented with BRaw and offers some usable high-speed options
Price £4845/$5995
Words Krishan Parmar / Pictures Blackmagic Design
Take a great-value camera capable of shooting Raw, speed it up so it has frame rates to embarrass just about anything else on the market, add some of the very latest spec and colour science… but keep the list price the same. That's the formula that means the new Blackmagic Ursa Mini Pro 4.6K G2 is one of the best-performing, most affordable cinema cameras you can buy.
The camera shares the same user-friendly controls as the older-model Ursa Mini Pro, but this next-generation model benefits from fast new electronics and a new Super 35 4.6K HDR image sensor that gives up to 15 stops of dynamic range. The old data-hungry and largely unpopular CinemaDNG Raw has gone, and has been replaced by the faster Blackmagic Raw. And best of all, this allows the camera to shoot in up to 300fps.
The camera can be fully controlled remotely
High-speed breakdown
For full-sensor 4.6K images you can go as high as 120fps, while windowed 4K DCI and 4K maxes out at 150fps and windowed 2K DCI and 1080 HD gives the headline 300fps, all while shooting in Blackmagic Raw. When recording in ProRes 422HQ, this drops to 4.6K 80fps, windowed 4K at 120fps and HD windowed 240fps. That HD speed of 240fps is as fast as cameras like the Sony FS5 which is universally praised for its high-speed work and is a favourite of sports and wildlife shooters everywhere. But the Sony can't do it in ProRes422 HQ, only in its weaker internal codec.
"The camera really comes alive while using Blackmagic Raw"
So it's while using Blackmagic Raw that the camera really comes alive, unlocking not only the highest frame rates but also the highest-quality images, extensive metadata support and highly optimised GPU and CPU accelerated processing. You can even edit it on a MacBook Pro laptop, especially if you plug in one of Blackmagic's eGPU accelerators which start at £599/$699. Other manufacturers also make similar products.
Blackmagic Raw allows you to retain the advantages of working in Raw, such as the flexibility to adjust white-balance and rescue highlight and shadow detail as well as controlling sharpening precisely. But while many Raw formats choke up workflow as they are very large, the Blackmagic solution is to make the formats very easy to ingest and edit in the free full version of DaVinci Resolve Studio software that comes with the camera.
Of course, there is a learning curve for using any software and also for learning how to get the best out of the files. But the DaVinci software makes this as painless as possible. Like the rival Apple ProRes Raw, Blackmagic Raw is a more efficient codec than CinemaDNG and can be treated like a conventional ProRes codec, albeit one with higher quality and ultimately more control.
If you're still shooting HD, and a lot of people are, you can get 300fps
Rolling shutter
The readout from the sensor is also much faster than on the older model, so rolling shutter has been reduced. This artefact often rears its head in fast pans when using slow motion, where background objects can lean. But the Ursa Mini Pro G2 handles this well. Provoke it with whip pans and you can still freeze frame and see some bending of course, but in normal use it's not a huge issue.
The new sensor and faster processing means Blackmagic Design has also been able to come up with a new Generation 4 Colour Science which is where the camera really shines. Even if the fast frame rates don't grab your attention, the improvement in colours will, especially in skin tones.
This is helped when shooting the 12-bit Blackmagic Raw which is designed to provide the maximum amount of colour data and dynamic range. But you can also tell the difference when shooting in ProRes, too. The colours are lifelike and punchy but not oversaturated or 'digital' looking. It performs like a far more expensive camera.
The camera now also allows you to embed 3D LUTs into Raw clips. A new LUT settings control in DaVinci Resolve makes this easier than ever and takes the guesswork out of shooting in Raw. You can also choose standard video-like codecs or flatter, filmic gammas in the menus.
Shooting in Raw in contrasty light and exposing to retain highlight detail, the hidden shadow detail is incredible and you can really draw it out in post with hardly any noise.
With an expanded ISO range of 200 to the new high of 3200, it's a stop faster than the older camera was at launch. The original Ursa Mini Pro had its ISO range put up to 3200 with a firmware upgrade and the G2 also has this benefit. But it is still not a low-light monster. The Ursa Mini Pro G2 might not be the ideal camera in very low light but excels under controlled lighting or in natural daylight, especially contrasty conditions of full sunshine.
Menus are the usual very helpful Blackmagic kind, accessed through the touchscreen
ND filters
Also new on the G2 are improved ND filters with IR compensation, in two, four and six stop range, designed to match the way the camera processes colour and evenly compensate for both far red and infrared wave lengths to eliminate IR contamination. Unlike Sony's variable ND filter system which is electronic, the G2 uses the traditional optical filters that move into place when the ND filter dial is turned. The results were always neutral, but we never had any issues with the filters on the older-generation camera anyway.
"Build quality is burly, rugged – the same as the previous Ursa Mini Pro"
The final new feature is the USB-C slot on the left side of the body, so you can plug in a large-capacity SSD for external recording. If you are just using an SSD via a cable, this means the screen on the left side has to be open, and the SSD just dangles from its cable unless you concoct some sort of cage and rig. A more elegant solution is a Blackmagic SSD Mini Recorder which clips onto the rear of the camera. We didn't get to try one, but it looks like a sensible option although it does add a bit of bulk.
If you want to record internally, there are dual CFast 2.0 recorders and dual SD UHS-II card recorders, which you select with a small toggle switch. CFast cards are essential for full resolution Blackmagic Raw 12-bit recording, while UHS-II SD cards are can record Blackmagic Raw 8:1 or 12:1 for Ultra HD and regular HD files. Fast SD cards are obviously cheaper, but CFast 2.0 cards are dropping in price all the time as more cameras are starting to use them.
Recording internally is to CFast 2.0 cards and SD UHS-II cards
In use
In terms of build quality and using the camera, the rest is the same as the older-generation Ursa Mini Pro. Which means it's burly, rugged, well-designed and has a great touchscreen and menu system that's easy to use and navigate. It's a world apart from the complex and convoluted menus some camera manufacturers insist on using.
The left of the camera has a backlit LCD screen showing record timecode, frame rate, shutter angle, aperture, white-balance, ISO and iris along with a battery indicator, card recording status and audio meters for monitoring levels.
The left control panel has lots of separate control switches including a high frame rate button. When we tested the pre-G2 model we said our only niggle is that when the LCD screen is folded out, it does hinder access to some of the controls. Unfortunately, this is still the same.
The 4in touchscreen is bright and useable outdoors, although not great when viewed from oblique angles. Its relatively large size means you can get away without an external monitor a lot of the time. For studio use, Blackmagic sells a 7in studio monitor or you could use one of the many aftermarket options.
The touchscreen has tabs at the top of the screen to let you select what group of settings you want. Then just tap and you can adjust settings like white balance, shutter angle and audio levels using sliders so you can tweak them easily. It's a shame the screen doesn't give the option for large waveforms to help you nail exposure. A histogram, zebra, false colours and peaking are available, but it's not the same experience as the full suite of viewing tools on external monitors.
Blackmagic says the internal audio circuitry has been improved and sound quality is definitely excellent. Some users thought the Ursa Mini Pro was not the best for audio as there could be a minor delay and the amps were not optimal. We had no issues with the new G2 version.
There is a 12G-SDI out connector, HD-SDI monitoring out, two LANC inputs, timecode in and reference input; it will record continuous incoming timecode. There is a D-Tap connection to get power to the camera but we used Blackmagic's V-lock adapter plate. We also added the optional OLED viewfinder; for use on the shoulder as an ENG camera, it's an essential buy, as are the shoulder mount kit and handgrip which feature a shoulder pad, 15mm rail attachments, a quick-release tripod mount and rosettes on both sides.