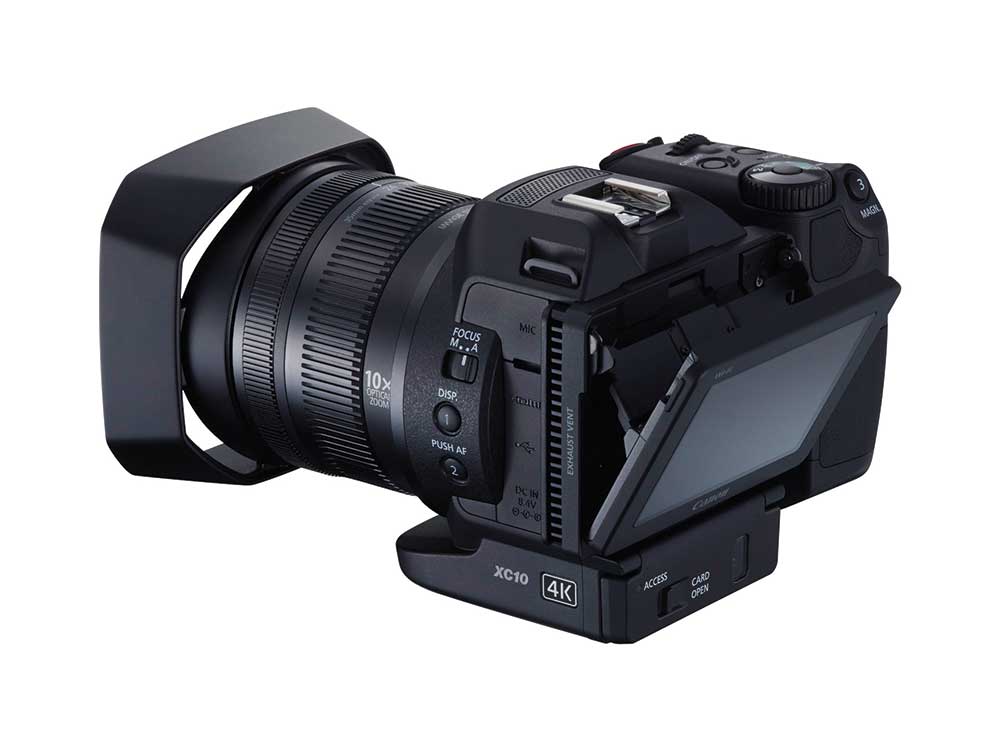 REVIEW: Canon XC10 4k Hybrid Camera
Posted on Sep 8, 2015
The new Canon XC10 4k Hybrid camera.
ADAM GARSTONE has been smitten with the new Canon XC10 4k camera but he's not sure why. It is odd but in a good way and it even mimics Canon Log. Perhaps then not the bride but a plucky bridesmaid.
On the face of it, Canon's new XC10, 4k UHD camcorder is a bit of an oddity. It has a unique form factor – a sort of genetic hybrid of a tiny C100, an entry level DSLR and a Handycam – and a whole load of high-end features. But it has fixed lens and a 1" sensor, when people are queuing up to buy Micro Four Thirds or full frame cameras, with interchangeable lenses, from Sony and Panasonic.
When you pick one up, however, opinions start to change. The XC10 is just so darn cute.
It really does look like a tiny C100. There is the same, lipped footplate, side grip, assignable buttons on the left hand side and LCD screen on the back. There is no EVF, but the camera comes with a loupe that clips securely to the LCD. Even the general finish is very much that textured black that Canon does so well. It feels, simultaneously, both light and solid.
The solidity extends to the feel of the controls. The buttons are all reassuringly firm, the locking exposure mode selection dial is positive as are the finger dial near the run/stop/shutter button and the UI joystick. The hand grip rotates freely, without detents (save the one at the 'normal' position), yet has enough friction to stop – and stay – exactly where you want it, as does the LCD, solidly hinged to allow for low and high viewpoint shooting.
The XC10 is a UHD (3849×2160) 4k camcorder with a fixed zoom lens (27mm to 270mm, 35mm equivalent, when shooting video) that can also shoot 4000×3000 pixel stills – whereupon the lens becomes 24mm-240mm. The lens aperture ranges from f/2.8 to f/5.6 over the zoom range, with optical image stabilisation, and a handy 3 stop ND built in.
That 1" sensor has a modest 12 stops of dynamic range, and none of the fantastic dual pixel autofocus of the camera's bigger brothers. Still, the contrast detection AF performs as well as you would expect, locking on high-contrast subjects within a second or so. The lens has a mechanical manual zoom ring and an electronic manual focus ring (of the endless encoder type). I prefer the focus to be coupled directly to the optics – it just feels better that way – but most other video cameras in this price bracket take this approach and it works well enough. The mechanical zoom makes it a bit hard to control smoothly.
The camera records 25p, 4k (UHD) material onto a CFast 2.0 cards using a 305Mbps, 8 bit 4:2:2 version of the new MXF wrapped XF-AVC that is in the C300 MK II. You also get full HD recording at up to 50p, 50Mbps or 50i, 35Mbps (H.264 long GOP) onto SD (Class 10) cards. Interestingly, you have to record HD (and stills) to the SD card – there isn't an option to use the CFast – so you'll need both types of card fitted if you want to use all the formats.
It's worth noting that there are two versions of the camera. The 'PAL' version only does 4k at 25p, however, the 'NTSC" version will do 29.97p and 23.98p. I would be pretty sure that this is just a marketing limitation – it seems a little mean that we, in the PAL world, would have to buy another camera to shoot 24p.
On the back of the camera is a hinged 3" capacitative, touch screen LCD, with just over 1 million dots. The loupe fits nicely to the eye (well, to my eye anyway) and covers the full screen with a bit of distortion at the edges. It's a shame that it isn't possible to swing it away to use the touch screen – it's either on or off – as the touch screen is excellent and a quicker way of changing functions than using the menu button and joystick. Focus is assisted by peaking and viewfinder magnification, but I still got a few shots mildly out of focus – with the Canon Log 'Look' selected (see later) viewfinder contrast is so low that peaking doesn't really peak and even the zoom isn't much help.
The grip on the right of the camera has a good range of controls, including that joystick under your right thumb, the exposure mode selector, click wheel for parameter adjustment (e.g. aperture mode), an assignable button (focus magnification by default) and the run/stop/shutter button. It's not built for someone with giant mitts, but I found it reasonably comfortable, and its rotation made a lot of sense with the articulating LCD.
The two assignable buttons on the other side of the camera default to enabling the on-screen data display and Push AF for a quick fix of autofocus when you're in manual focus mode. I found it more useful to assign them to the ND filter and focus peaking – your mileage may differ. As well as the AF/MF switch, there is a small vent exhausting air drawn across the camera by the quietest fan I have ever (not) heard. I could only tell it was running by sticking the camera in my ear. Just in case you've stuck the camera in your sound recordist's ear, the fan can be set to turn off automatically when the camera is rolling.
There is basic timecode support – the camera generates TC and outputs it over HDMI but you can't lock the camera to anything – and 2 channel, 16 bit 48kHz audio from the built-in mic, or a 3.5mm stereo jack. The XC10 has Canon's browser based WiFi remote control built in.
We didn't have time to do a full battery of resolution tests, but mid-aperture at mid-zoom produced an average centre MTF50 of 1218 (LW/PH). MTF20 is the closest measurement to the old analog "TV Lines", which Canon quote in the XC10's specifications as "1600 or more" – we measured an MTF20 of 1798, which is pretty good. There was a barely measurable amount of chromatic aberration – and none visible during our tests – hinting that there is some digital correction going on in the camera.
And this translates into very good looking images. They don't quite have the gorgeous, filmic tonality that the XC10's bigger cousins have, but they are detailed and rich nonetheless – perhaps just a bit more 'camcorder' than 'Kodak Vision 3'. The camera has a variety of 'Looks', including one which mimics Canon Log – optimising dynamic range for grading. In this mode, the sensor's 12 stops were enough to record rich detail in shadows and highlights on a sunny day in Britain's glorious summertime (OK – so not that sunny).
In manual exposure mode, the camera allows you to set ISO from 500 to 20,000 (the various Auto exposures will reduce ISO down to 160) and noise performance is excellent, certainly up to 3200 or even 6400. Above that, chroma noise starts to become intrusive and I would consider it for emergency use only.
At around £1270 plus VAT, or £1595 plus VAT with a bundled 128GB CFast card and reader, the XC10 is more expensive than a Panasonic GH4 body but cheaper than a Sony Alpha a7R Mk II – and, as a video camera, it handles better than either.