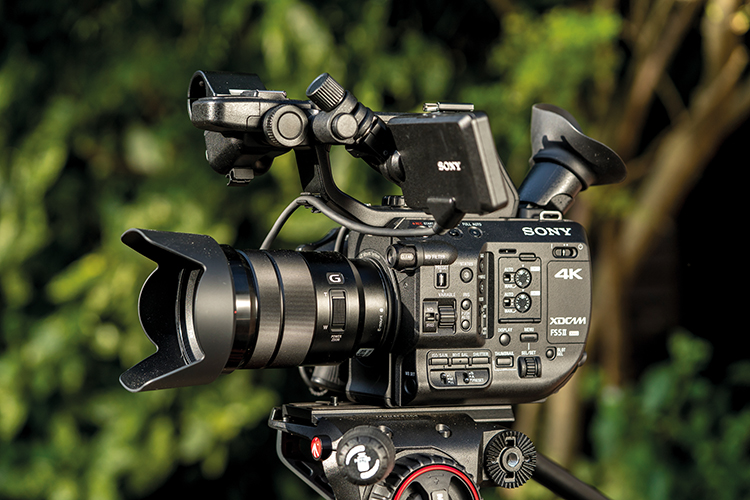 Review – Sony's Indie Winner
Posted on Feb 18, 2019 by Julian Mitchell
ABOVE On the outside, little has changed from the original FS5 – but as the saying goes: it's what's inside that counts…
The FS5 II gets upgrades, including some previously paid-for options, to make it even more attractive as a do-it-all workhorse for independent filmmaker
Words & Pictures: Adam Duckworth
Sony has enjoyed huge sales with the FS5 cinema camera, and no wonder. It's about half the bulk and a significantly lower price than the FS7 II, yet has the same Super35 sensor and E-mount, and writes to cheap SD cards. It can be rigged up as a full-size cinema camera or stripped down for run-and-gun use.
Compare and Contrast
Of course, there's a reason the FS7 body is more expensive – it outputs higher-quality images at higher bit rates, with lots more colour information. The FS5 codec may not be the ultimate in quality, but that didn't bother many clued-up filmmakers who invested £520/$499 in Sony's Raw firmware. This enables the option to output full-size Raw footage from the SDI port to an external recorder. You can also simultaneously record HD footage to your FS5's memory card (for an instant backup) and 240fps to an external recorder, without buffering, plus four seconds of 120fps footage in 4K, which is buffered. It's like the FS7 – but faster.
A second £568/$499 HFR firmware upgrade also allows the camera to record 120fps continuously in HD. So that's a cool grand or more on top of the camera price, but for many it was worth it to squeeze the ultimate quality out of such a small package.
Mark II
Now Sony has revealed the FS5 Mark II, and on the surface there are few changes. The most obvious is that the camera is cheaper than the FS5 was a year ago, and comes with the Raw and high frame rate upgrade free as standard – a big saving. Externally, the only difference is the new badge and the black (rather than silver) ND dial.
If you don't want the expense and hassle of recording Raw externally, the camera also has a new colour processor that makes images recorded internally look far more natural. It's based on the algorithms from the full-frame Sony Venice cinema camera, and it makes a big difference. You can't upgrade the original FS5 to do this.
For pure quality you'll still want to use the Raw output, and will need a monitor/recorder that offers support, such as the Convergent Design Odyssey Q7+ or Atomos Shogun Inferno. The Odyssey is £1560/$1495 and needs a further purchase of a ProRes licence for £750/$999, compared to the Atomos at £1350/$1295, which includes ProRes. For Final Cut Pro X users, the Atomos can convert Raw files to the new ProResRaw format.
SSD
You also need to budget for an SSD to record onto, which can easily cost £200/$250 for a 480GB version that's fast enough to cope, and a dedicated card reader. Add an SDI lead and, potentially, Atomos' own HDMI cable if you want to use the recorder for HD recording. (You'll also need some sort of small ball head to attach it to the camera, as well as batteries and a charger for the Atomos.) So it's a significant investment, but you get a seven-inch monitor/recorder and lots of memory space. You'll need it, as recording Raw or converting Raw from the camera to an editable format like ProRes or ProResRaw takes up vast amounts of space.
For example, if you record XAVC-L UHD (3840×2160) internally at 30fps in 100Mbps, an hour of footage takes up roughly 60GB of space. If you were shooting it in Raw 4K at the full size of 4096×2160 at 30fps, the data streams at 3GB/s, so an hour would fill 1.5TB of hard drive space. If you shot at the maximumof 60fps in 12-bit 4K DCI output, then it would be even more. That's why it makes sense to use a recorder to convert to a ProRes format, which uses up less space and is faster to edit (plus ProRes Raw gives the most flexibility in getting the look you want). It enables the Sony FS5 II to give results that were inconceivable just a few years ago, especially for a camera at this price.
But the FS5 II is also an ideal small-package camera for those who don't want to shoot in Raw, as the new colour science is definitely a step ahead of the original camera. Sony claims that it's down to the colour science borrowed from the Venice, with rich mid-range colours, far more natural facial tones and a softer tonal look.
Specification
Sensor: Exmoor Super35 CMOS
Formats: XAVC, QFHD: MP4 AVC/H.264, 4:2:0 Long profile; XAVC HD: MPEG-4 AVC/H.264 4:2:2 Long profile; AVCHD: MPEG-4 AVC/H.264 AVCHD format compatible, Raw
Frame rates:
1-23.98/25/29.97 QFHD,
1-23.98/25/29.97/50/59.94/100/120/200/ 240/400/ 480/800/960 HD
Max Bitrate at 24p: 100Mbps
Storage: 2x SDXC slots
Mount: Sony E
ND: Built-in variable ND filters plus 4-stage optical ND
Output: HDMI, 12G SDI
ISO: 500-6400
Weight: 830g/1.83lb
For version 2 of the Sony FS5 there are minimal cosmetic changes, a black ND dial is one.
"Externally, the only difference is the new badge and the black ND dial."
Performance
In use, the camera is a step ahead of the old FS5, with skin tones an obvious improvement. It was very noticeable in a direct comparison between the new Sony and current FS5, which we have used for more than a year.
The footage from the Mark II is far more natural and useable straight out of camera, while the original FS5 is more contrasty and harder to get right in grading. On both, it's essential not to overexpose or the colours become very surreal when you try to pull back the exposure.
There are nine additional Picture Profiles, some specifically designed for S-Log2 and S-Log3, and even one to give a DSLR-style look. To many, this is bold and over-saturated, but it may suit your workflow.
In use, the FS5 II retains all the great features of the original, such as the built-in variable ND filter. Dial in one of the three filter settings, or set the camera to variable and change the ND value via a wheel. In this way you can choose shutter speed and aperture then dial in the correct exposure by turning the ND filter.
For super slow motion, there are frame rates up to 960fps, but at low quality. It shoots 240fps in HD but the FS5 II only lets you record up to eight seconds of action, which it then has to buffer. The new HFR settings mean it can record 120fps internally with no waiting – a real plus for action shooters. There's still no waveform monitoring: for that, an external monitor is a bonus.
The upgrade doesn't change the fact that the new FS5 is a very capable camcorder.
Raw advantage
The FS5 was hugely popular, but it needed about a grand extra spending on it to get it Raw compatible and shooting high frame rates continuously –  and even then the internal codec wasn't that robust.
The FS5 II may look like a lacklustre upgrade, but it comes with the Raw and HFR built in, and the Venice colour science means its internal codec is far more useable with much better skin tones. It gives an improved cinematic look, and there are built-in picture profile options if you're after contrasty and bold results.
Here you have a small, light and relatively affordable camera. Adding on accessories, such as an Atomos Shogun Inferno, boosts quality and flexibility you can only get from Raw.
We said that the FS5 was the ultimate affordable camera that can be stripped down to a very small package or dressed up with an external recorder into something that gives incredible quality, with all the benefits and complexities that brings. The FS5 II is even better and no more expensive – that makes it a real winner.