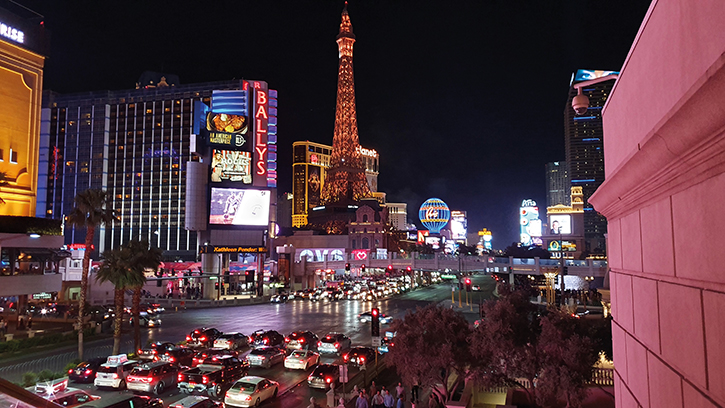 Vegas Daze NAB 2019
Posted on Apr 26, 2019 by Alex Fice
The visitor numbers might be down at this huge broadcast show, but the organisers have been quick to react with a date change for next year – but we still had a great show.
Words: Julian Mitchell
For those of us involved with the NAB Show every year (over 100,000 of us), it came as no surprise that, next year, the exhibition part of the show is sliding back a day to start on Sunday. The show organisers want the weekend warriors to catch their day at the show – probably meaning the gigantic tech crowd from
LA who have to go back and join their car parade queues for work on Monday. This way, they also get Saturday night in Sin City.
But why has the juggernaut tech show changed things this way? I would chance a guess. If you've ever visited the acquisition halls on Thursday you already know: it's very quiet, and all you can hear is the tapping of exhibitor's feet as they wait for customers. To give this decision some credence, if you visited the halls on Wednesday of this year's exhibition, you could also see the crowd thinning out. It was also pretty cold that day, so you can't blame the sun for keep them away. So why are the crowds down?
Your guess is as good as mine, but we're not alone and not far from the truth when we blame the internet for almost everything. On a positive note, we can see that, this year, Cine Gear Expo has a bumper
turnout of exhibitors and, after the slight scare of having to move the show, we're looking forward to being back in the village atmosphere of the Paramount backlot.
THE SHOW
With such a huge exhibition to cover,Definition chose to keep mainly to the Central Hall with a few excursions elsewhere – mostly the cavernous South Halls. One of our first visits was to ARRI, where we wanted to spot the very new Alexa Mini LF. Arri's large format version of its hugely successful S35 Mini was dropped (in a news way) only a couple of weeks before the show.
As you can imagine, getting close to the camera after such a short introduction was difficult so apologies for our snap (far left). As it turns out, the crowds getting close to the camera must have known something: two days later, there was no camera, as it had an appointment in Korea and had left the building.
"Two days later, there was no camera, as it had an appointment in Korea."
BLACKMAGIC DESIGN had its usual pre-show press conference and, again, as usual there was lots to talk about. First was Resolve 16. The headline news was the introduction of a new cut page. CEO Grant Petty, who presents these conferences to camera for the global streaming market, described the discovery that editing in Resolve had become slightly 'button heavy' – as in, there was too much to go through to get a basic edit done. He introduced a new cut page to streamline this and mentioned that basic editing in Resolve 16 was more like a linear experience now. There were many more new Resolve features, but check the Blackmagic website for these. What is very exciting is Blackmagic's first own edit keyboard; a must for all Resolve editors.
Grant Petty of Blackmagic Design announces a new edit keyboard for Resolve 16
Also new on the stand was a new battery accessory for the Pocket Cinema Camera 4K; if this had been a room full of this camera's owners, there would have been a few shouted 'come on's and 'you got it'. This camera, although brilliant, is known for less than great battery management. There was also something new on the
CANON stand – and something beautiful at that; the new large format Sumire lenses. There are seven new lenses, which have the same focal lengths as the existing CN-E range: 14, 20, 24, 35, 50, 85, 135 (with the same apertures values as well). Wide open, these lenses are superb for skin tones. The lenses were described as having a 'gentle softness', but they are still very sharp. The fall-off from focus to out of focus is lovely, and the bokeh is described as like a 'cat's eye', meaning oval-shaped, basically. According to Canon, the lenses have character and personality, encroaching slightly on Cooke's usual go-to label. The design, then, is not to go for total sharpness and resolution, but to add 'personality'.
The new Arri Mini LF camera before it was whisked off to Korea on its world tour
All I can say is that they looked magical, and I urge you to try one out. Most of the lenses are 1.3 and the rest are 1.5s, but the 135 is a 2.2. Each of the lenses cost the same: USD$7410. The first ones out are the core set of the 24, 50 and 85 – and they'll be around from August this year.
Light manufacturer, the newly named CREAMSOURCE, had a new light, and if there was an award for best industrial design, it would have won it. The new SpaceX light uses the same core technology from the previous Sky lights, but it has now been compacted down and made much easier to grab, but it's still 1200W. The very obvious new thing is the addition of optics on the front of the light that snap on and off. At the moment, the optics take the throw from around 115 ̊ to about 50 ̊. There will be new optics available soon.
Another lighting company, CINEO, was also showing a new light. In fact, it was showing the core element of the LightBlade Edge series, which has been co-developed with NBCUniversal. The individual Blade can operate as a stand-alone fixture, but it's the modularity that is sure to attract lighting designers. The LightBlades are integrated in the mounting system to create the Edge 160 (two blade) and Edge 320 (four blade), which deliver 10,000 or 20,000 lumens of brightness. More news from NBCUniversal is its move into the UK production scene, with rental offices being set up at Elstree.
Cooke's partnership with The Pixel Farm makes total sense when matchmoving with lens data
The COOKE conversation was one I was looking forward to. We saw Les Zellan at the BSC Expo in London and he promised some news about Cooke's /i technology that retrieves lens data for use as positioning information for VFX. Cooke teamed up with The Pixel Farm, which is well known as the maker of PFTrack, a matchmoving product that basically corrects camera tracking.
Cooke at BSC promised something new for the /i Technology lens data ability. Feed in Cooke's lens data and PFTrack will save you time and money by preparing the track ready for creative services.
As production changes, the need for better communications changes with it. It was with this thought in mind that we saw a very interesting streaming product on the DEJERO stand. The CuePoint server works with the company's EnGo streaming engine, acting as the main transmission. The CuePoint server branches up to eight lower resolutions streams to, for example, tablets or other computers. Imagine how helpful a stream would be for a production; costume could get a live feed, as well as continuity and six others. There is hardly any delay, but the resolution tops out at 720p. You can have maybe four of these feeds and then four at 540p, or other combinations.
The LightBlade Edge series tube light from Cineo Lighting and NBCUniversal
DMG, the lighting company, has now been part of Rosco for nearly two years. The buyout gave DMG the resources it needed to expedite the arrival of the LED colour products that we saw this time last year. DMG also had a great interface, and now has an app for colour control. For the NAB Show 2019, there was news of new firmware to add another 50 gels and also allow zone control of two different halves of the Mix lights, giving you a variety of motion effects. DMG was also showing how you can gang the lights together with up to ten Mix lights acting as one source. Before Rosco's buyout, DMG were known for his kind of gaffer- inspired grouping of lights.
DOP CHOICE is a light accessory company that needs to monitor what is current in that industry. As we know, tube lighting with colour is proving to be very popular, as it gives productions indirect light in small places and direct light when grouped together and with colour. At the stand, DOP Choice showed a number of ways to protect and diffuse that light. There were single tube holders, multiple tube holders and honeycomb diffusers. This stuff is well made and easy to use – essential for today's lighting.
FILMLIGHT was at NAB, with colourists galore on the super sleek stand. But we were there to hear about the new update and see the new Blackboard – or the 'reboot', as they were calling it. This is a slab of futuristic tech with better screens, a bigger tablet, simpler connectivity and a low price. Baselight v5.2 was on show, but with glimpses of 5.3 with full Alpha channel support and ProRes Raw decoding as part of the top-line features.
JVC's stand was full of products that ticked the box: 4K, streaming, HDR, low price. The new GY-HC550 and 500 were on the stand and offer 4K, 10-bit recording to SSD, with streaming up to 20Mbps with live streaming of 1080 HD at 50p. The 4K native monitors include the flagship DT-U31Pro with HDR monitoring through HLG and built-in 3D LUT management.
JVC's new HC550 camera with superb streaming abilities
NCAM TECHNOLOGY has an abundance of ideas for the virtual world, but for the NAB Show 2019 there was only one message: clean and sophisticated camera tracking. Ncam Reality 2019 was unveiled at the show, with uprated camera tracking that is much quicker and works beautifully with Ncam's Unreal Engine plug-in. Demostration highlights included the ability to pull focus from the background to the keyed figure and back again – mind blown – and also you can see lens artifacts, like flaring, through Unreal Engine 4. The new camera bar is faster to set up and is also faster when running with a 300fps performance.
Ncam's Reality 2019 camera tracking and keying
RED is low-key at NAB – it saves its exhibition budget for Cine Gear, which is its home patch, with its film studios only a block away. Having said that, there were some important demos; one of those was a private demo of their Ranger camera to Netflix, which we managed to crash (and I'm still not sure how). A demo of 8K playback on a laptop was available legitimately to us and showed how NVIDIA had managed to rewrite the CUDA code inside the software so that 8K playback was more of a smooth operation through GPU acceleration. Watching the GPU struggling without that is what the user base has now, and then with CUDA seeing GPU coming down from 100 to around 35% was impressive, especially when you realise that the graphics board is off the shelf (an ATX Geforce 2080 in this case).
"Bolt 4K is the industry's first zero- delay HDR wireless video transmitter."
SCHNEIDER was showing off its new range of graduated ND filters, which are based on how actual light graduates. Not all ND filters are designed this way. Batches of these filters from Schneider take weeks to make, with the coating on the inside and laminated glass on the outside.
SONY was showing its family of 4K and 6K cameras, including the Venice, which has evolved hugely since its inception at the start of last year. There were demos of the current software and some glimpses of the next version, which is dominated by the multi-frame options.
TERADEK's big announcement was the Bolt 4K: the industry's first zero-delay 4K HDR wireless video transmitter. This is a full 10-bit 4:2:2 transmission up to 1500 feet. There's a whole new radio inside of the Bolt 4K, so you're getting about eight times more reliable signal than the previous generation managed. There's better image detail and colour reproduction and, uniquely, Teradek has put Bluetooth inside to synch with a new app for iOS. This has a spectrum analyser inside, so you can see all the noise in the environment before you start transmitting. You can also use the app to pair your transmitters and receivers. The silicon that's inside is from Amimon, which is used by Arri for its wireless camera. Teradek, as part of Vitec, now own the company, so will have this technology to itself while still supplying Arri.