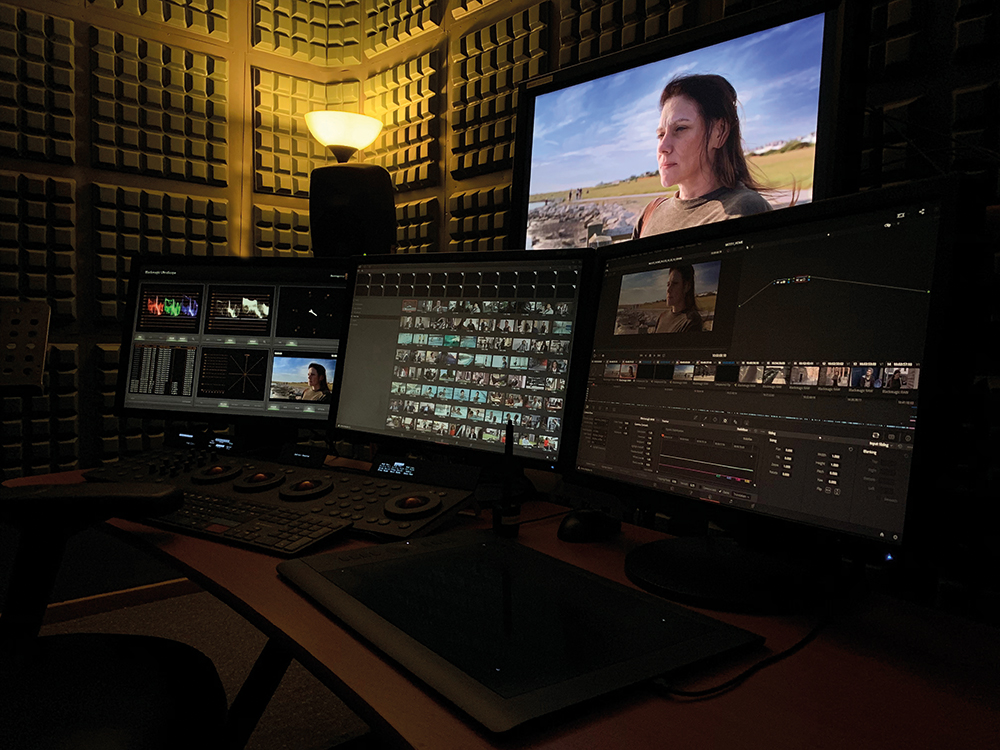 The surge of software
Posted on Nov 7, 2019
The power and low price of modern software and the grunt of modern workstations have allowed young creatives to dream of starting their own post studios
---
Words Julian Mitchell / Picture LA Productions
Blackmagic Design's hero software package DaVinci Resolve is ten years old this year – and the company is celebrating the moment by launching another version. This is the 16th iteration and Resolve continues to be available as a free download. Resolve 16 encompasses editing, grading, audio and VFX, but isn't recognisable as a piece of software that is given away (they are usually rubbish anyway). The company's marketing director, Simon Westland, remembers when the price was decided: "It was important for us, if this was a free download, to make Resolve be the best it could be. It couldn't operate like it was free. DaVinci came from being a colour correction tool and is still the number-one tool for that, grading many Academy Award-winning movies."
Being a freebie enables Blackmagic to publish how many times Resolve has been downloaded: seven and half million. So there is no doubt it is the most popular piece of software in the pro video world, but there are no published records of which discipline people use the software for.
The paid-for version of Resolve, DaVinci Resolve Studio, is $299 – a similar price to one year's subscription to other NLE software. It gives you everything in the free version, plus DaVinci Neural Engine features, multi-user collaboration, stereoscopic 3D tools, dozens of ResolveFX and FairlightFX plug-ins, HDR grading, film grain, blur and mist effects.
The new collaboration features are perhaps the most interesting in Resolve 16, as they open the software to growing edit and VFX companies. Just add your workstation of choice and research media servers, depending on the programming, add media, furniture, master and client monitors and you could be looking at a multi-seat edit, grading and possibly VFX suite for under $10,000. The free version is locked to a single GPU, so there is no expansion available, but the licensed version is for multiple GPUs. It's more for facility and production company use.
Blackmagic Design's DaVinci Resolve 16 software in action
Other software
Around 20 years ago, editing systems were over £100,000, which is a huge contrast to the price of DaVinci Resolve. However, the ten years of Resolve are scattered with such important moments, like when the system stopped being a Linux-only entity, which was the case when Blackmagic acquired it. Back then, it needed something like a supercomputer to run it on and it only worked with one file format: DPX. It was quickly taken back to being run on Windows and made compatible with other company's file formats.
Of course, there are other NLE softwares; Adobe, perhaps, has come the furthest with its Premiere Pro Creative Cloud product. In fact, at the recent IBC 2019 show, the company was showing its 8K demo and some new AI engineering powered by Adobe Sensei, its AI and machine learning technology. It's called Auto Reframe and it looks intelligently to reframe and reformat video content for different aspect ratios, from square to vertical to cinematic 16:9 versions. Auto Reframe uses Adobe Sensei to accelerate manual production tasks "without sacrificing creative control", claims Adobe. Through Adobe Sensei, it is leveraging over a decade of AI and machine learning capabilities built into Adobe products.
Avid has many layers to its products, but Media Composer is still there: the backbone throughout all the editing levels it has. MC now comes with Ultimate, which includes a bundle of additional software, and PhraseFind and ScriptSync are included, enabling you to phonetically find the right clips and best takes. There is Avid's suite of colour grading tools and IMF packaging capabilities with Symphony,  as well as integration with MediaCentral, iNEWS and ENPS workflows with NewsCutter.
Storage
Recording media for edit, grade and VFX suites is a huge subset, and goes from the single over-2GB/s SSDs to high-performing spinning disk drives and servers. A recent walk around IBC 2019 put flesh on those bones, with companies like Elements Media Storage not wanting to talk money, as all of its storage solutions are tailored to the customer, from full SSD-filled servers to more local drives. Its NVME and PCI Express SSD servers offer a 20GB/s performance – so aimed at high-end VFX customers with lots of edit suites connected. The lower-priced solutions include StorNext and its own edit features. Further down the scale are companies like G-Technology and LaCie. LaCie was talking about its new Rugged SSD line, with the higher-than-2GB/s performance, but its line includes solutions from two-bay drives up to full media servers. The 2big, 6big and 12big drive systems are all Thunderbolt 3-enabled, apart from its 5big, which is Thunderbolt 2.
The LaCie 2big, 6big and 12big Thunderbolt 3-enabled hard drives
Workstations and Furniture
Your workstation is obviously the centre of your world and there are always new products from Dell, HD and Apple to look at, but don't forget those independent companies like Scan, who has just released its newest Evolve series product.
Last but not least is the furniture: very important for staff morale and visiting clients. AKA Design is well known for its exquisite designs and has been working in the post-production sector for over 25 years. The company has seen the shape, size and usage of modern editing suites evolve exponentially. Also, the increase in the number of picture monitors – and the decrease of rack equipment – means there's more room for clients to sit with the operator during a session. Where rooms were once specifically designated for online, offline and grading, these disciplines now merge into the same suite. This means flexibility within the space is key and the introduction of sit-stand edit desks has now become the norm.
With this new working practice in mind, AKA Design has released two desks called the ProView and the ProCreate. The ProView is a 2m multi-use desk for editing, audio, grading and gaming. The ProCreate is a sit-stand desk at 3m long, and can hold all of the controllers, Grade 1 monitors and audio monitors required, with three operator positions.
The desks are flat-packed and can be assembled on site with basic tools. They come with a variety of options, including finish, monitor stands and arms, keyboard trays and Bluetooth iPhone height adjustment, so they can be personalised.