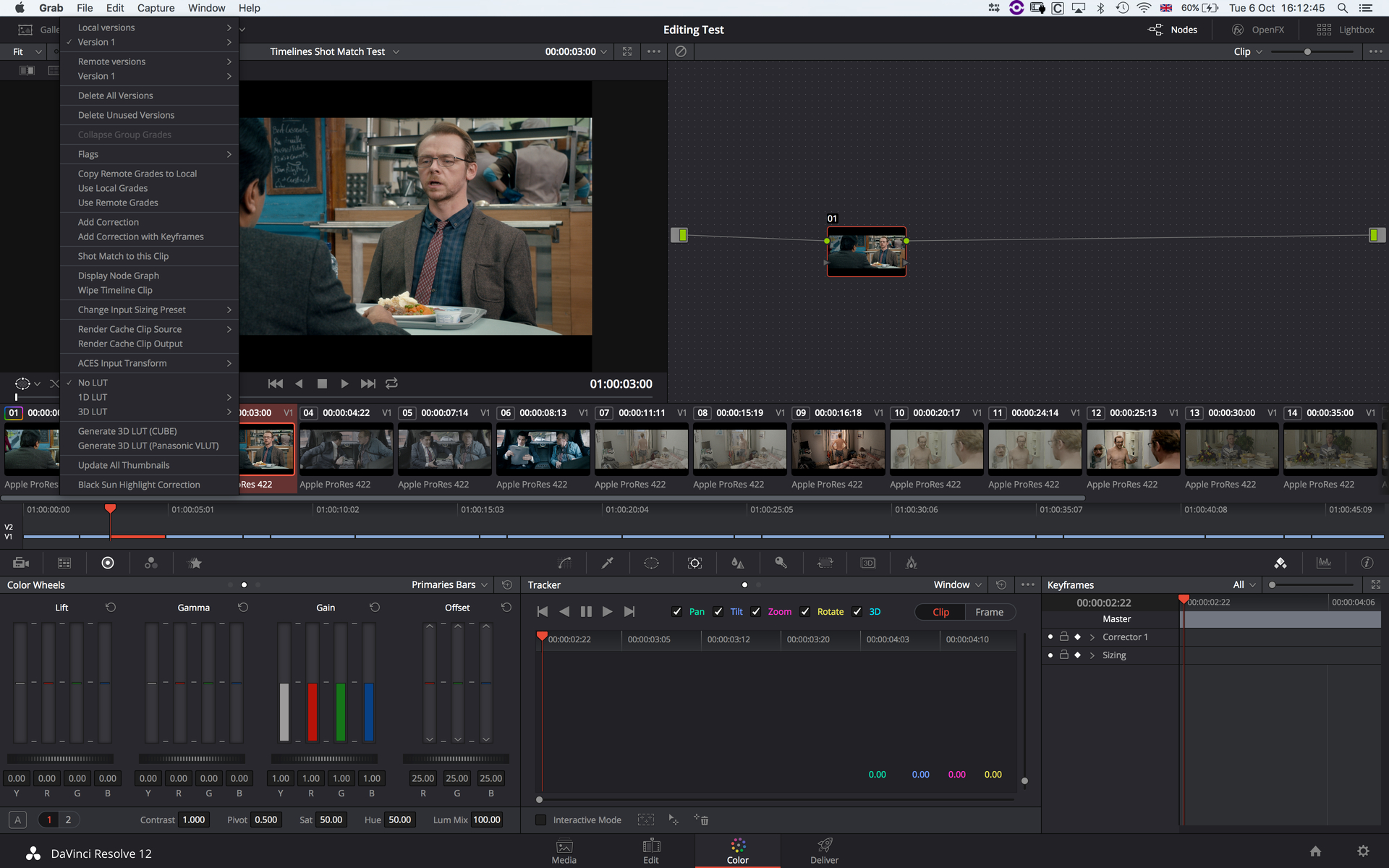 BMD Resolve 12 Update Extends Editing Tools
Posted on Nov 12, 2015 by Alex Fice
Blackmagic Design today announced the immediate availability of DaVinci Resolve 12.1 which adds features such as remote rendering, 10-bit viewers, new editing and colour correction tools.
DaVinci Resolve 12.1 lets editors select clips when using the blade tool, extend freeze frames, use faders on generators and titles, perform negative timecode offsets, filter clips more efficiently, media manage groups of selected timeline clips, sort bins and footage more easily and create better filters for smart bins. Customers also get improved subclip support with Final Cut Pro 7 XMLs and improved audio rendering of audio transitions.
For colourists, DaVinci Resolve 12.1 adds the ability to colour correct nested timelines and to decompose compound nodes along with new manual keyframe options for Power Windows, support for 3D stereo decision lists version 0.25, filtering of keyframed clips, the option to copy flags and markers when performing ColorTrace and more.
In addition, the free DaVinci Resolve 12.1 update adds support for native display profiles on Mac OS X El Capitan, along with the option to enable 10-bit precision in the on screen viewers. That means customers using the new iMac with Retina P3 Display will be able to see more colour, detail and dynamic range than ever before.
What's new in DaVinci Resolve 12.1
Remote rendering on DaVinci Resolve Studio
Support for native display colour profiles on OS X
Preferences option to enable 10-bit precision on viewers on OS X 10.11 El Capitan
Ability to select clips when in blade mode
Support for faders on generators and titles
Ability to extend freeze frames from the start of the edit
Ability to media manage selected clips on a timeline
Ability to perform negative timecode offset in clip attributes
Improved support for sub-clips from FCP7 XML
Improved rendering of audio transitions (cross-fades) and audio faders
Auto scroll during timeline item resize
Improved sorting in media storage and media pool
Support for smart bin filtering based on clip type
Ability to move clips and timelines from a smart bin view
Support for moving files to the trash instead of deleting them permanently when using the media manager on both Mac and Windows systems
Ability to delete multiple projects and folders in project manager
Ability to decompose a compound node
Ability to grade nested timelines
Ability to filter clips based on whether they have keyframes
Ability to manually keyframe power windows in frame mode even without tracking
Ability to freeze the current frame on an external matte
User option to copy flags and markers when performing ColorTrace
Improved ACEScc support
Support for stereo decision list (SDL) v0.25
Support for RED SDK v6.0.4
Support for embedding timecode in audio output