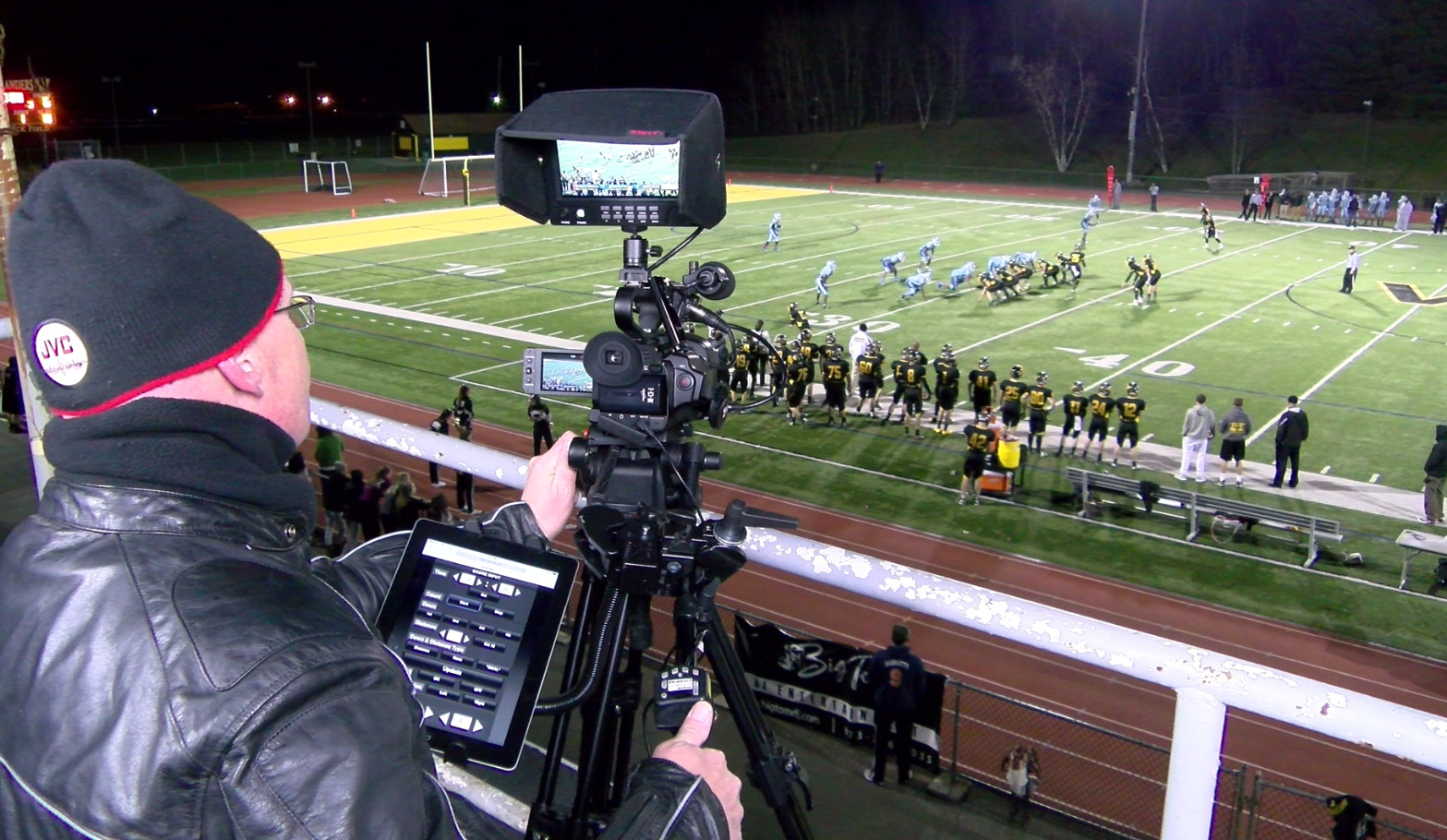 New JVC Camcorder Has Built-In Score Overlay
Posted on Dec 14, 2015 by Alex Fice
The overlay for sports coverage on JVC's GY-HM200 SP camcorder.
From the US side of JVC comes this GY-HM200 SP camcorder with embedded score panel. Designed for single-camera local sports coverage, the camera produces a real-time score overlay on recorded or streamed video output without the use of an external CG and production switcher.
The GY-HM200SP can receive score information directly from a mobile device connected wirelessly to the camera. It will also be possible for the camera to interface directly to the sports venue's own scoreboard controller through a wired or wireless interface. The camera includes basic layouts to cover a wide variety of sports, but JVC will also be able to customise the overlay with the names and logos of teams.
Beyond its built-in graphics overlay, the GY-HM200SP includes all the features of the GY-HM200. It has a 1/2.3-inch BSI CMOS imager and integrated 12x zoom lens with optical image stabiliser and 24x dynamic zoom in HD mode. The camera records 4K Ultra HD, 4:2:2 Full HD (50 Mbps), and SD footage, and a new 70 Mbps mode records 4K footage in smaller, more manageable files on economical Class 10 SDHC/SDXC memory cards. The built-in HD streaming engine with Wi-Fi and 4G LTE connectivity allows live HD transmission directly from the GY-HM200SP to the ProHD Broadcaster server powered by Zixi, Wowza Streaming Engine, other hardware decoders, and content delivery networks (CDNs) like Ustream and YouTube. Other features include dual XLR audio inputs with built-in phantom power that are mic/line switchable, an integrated handle with hot shoe and dedicated microphone mount, and SDI and HDMI video outputs.
The GY-HM200SP will ship in January 2016.
The camcorder rigged up with a Tablet sending the graphics to the camera's output.