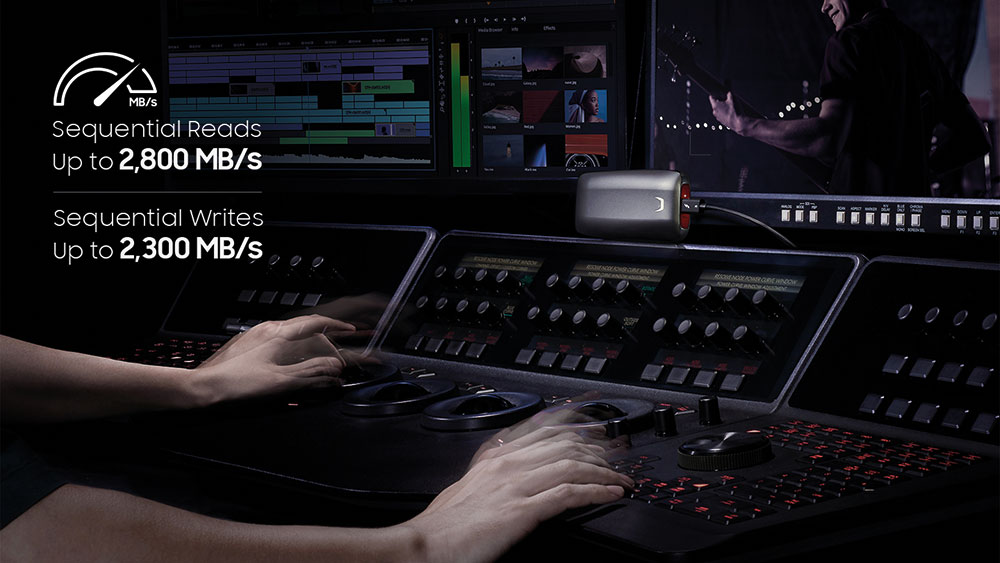 Reach Your Resolution
Posted on May 2, 2019 by Julian Mitchell
CVP creates weekly videos of the latest pro video gear, requiring a fast drive, such as the Samsung Portable SSD X5
ADVERTISEMENT FEATURE
The Samsung Portable SSD X5 is the answer for those seeking new ways to manage the increase in resolution, as international reseller, CVP, found when it started filming marketing videos in 8K
With the upcoming 2020 Summer Olympics being widely broadcast in glorious 8K resolution, the acceptance of shooting, editing and distributing in this new resolution increases. A global event like
the Olympics focuses the mind of all content producers as new higher resolution cameras are launched on to the market in time for next year.
Content increase
As a major international reseller, CVP has to not only test the new equipment that comes its way, but produce marketing material, which increasingly includes videos.
Having the means to be able to manage resolutions like 8K and beyond is no longer a luxury but a necessity, which is why CVP's Joe Cannon was keen to test the new Samsung Portable SSD X5.
"We are producing videos every week and for most of what we shoot, we are working with Raw formats in resolutions up to 8K," explains Joe. "It's got to the point where even some of our simpler YouTube videos require an onerous workflow, which relies on highly capable and efficient tools, such as the portable drive from Samsung. The less bottlenecks your system has, the smoother your workflow becomes. A key part of this is how your media is handled.
"When we are editing our projects, we rely on SSDs to make sure our read and write speeds can keep up with our processing speeds, especially when we are dealing with projects with multiple layers of data-intensive videos. A lot of the time, these have to be portable SSDs for all the occasions we are editing on the go, and while we have seen big benefits with working from portable SSDs, we have still been limited by ours using USB 3.1."
Enter the SAMSUNG PORTABLE SSD X5
A key takeaway from previous reviews of the Samsung Portable SSD drives is that the users achieve almost instant speed increases in their workflow – and it was the same for CVP's Joe when he began using the Samsung Portable SSD X5.
"We have been able to massively increase our read speeds by using the Samsung portable drive," he enthuses.
The Samsung Portable SSD X5 also offers a Thunderbolt 3 connection, another plus for Joe.
"Where we can, we have always favoured the use of Thunderbolt due to the higher transfer speeds, but consequently there are fewer devices that support Thunderbolt," he says.
"Now that our main workstations have Thunderbolt 3 [as do many newer devices], we have been able to utilise the incredible high speeds that the Samsung Portable SSD X5 can achieve, with our 1TB version being enough capacity to fit multiple projects on and in a form factor that is still very manageable and highly portable. I'm always a fan of tools that don't hog my limited desk space," adds Joe.
Speed king
The Samsung Portable SSD X5 read/write speeds of 2800/2300 MB/s are 5.2x/4.5x faster than a portable SSD with SATA interface and 25.5x/20.9x faster than an external HDD. The Samsung portable drive also lets you transfer a 20GB 4K UHD video from your PC to the drive in just 12 seconds.
All this speed in a form factor that measures only 119 x 62 x 19.7mm, weighs just 150g and – perhaps more importantly for mobile recording and editing – is self-powered. For Joe and his CVP marketing videos, speed is probably the most important element in production and he thinks he's found his perfect media partner for speed and form factor.
"Speed is important to us; the faster everything around us performs, the more efficient we can be with our time and the less compromises we need to make," explains Joe. "We are constantly transfering projects from one device to another, sharing hundreds of gigabytes of footage, and the Samsung Portable SSD X5 drive has made this process at least twice as fast for us."
He adds: "Whereas previously we would tend to use our external (USB 3.1 Type-C) SSD drives for transferring files or use them as portable 'working drives', we now find ourselves editing projects straight from the Samsung Portable SSD X5 drive, which is hooked up to our workstations, due to its ability to keep up! It's a seriously impressive device at a relatively modest price."
The arrival of the Samsung Portable SSD X5 is perfect timing for the increase in high-resolution video in the professional video world. While the new standard connection of Thunderbolt 3 has dovetailed perfectly. If you have a Thunderbolt 3-enhanced workstation, then a Samsung Portable SSD X5 is a perfect partner*.
*The Samsung Portable SSD X5 is compatible with Thunderbolt only and the T5 is compatible with USB 3.1
more information: