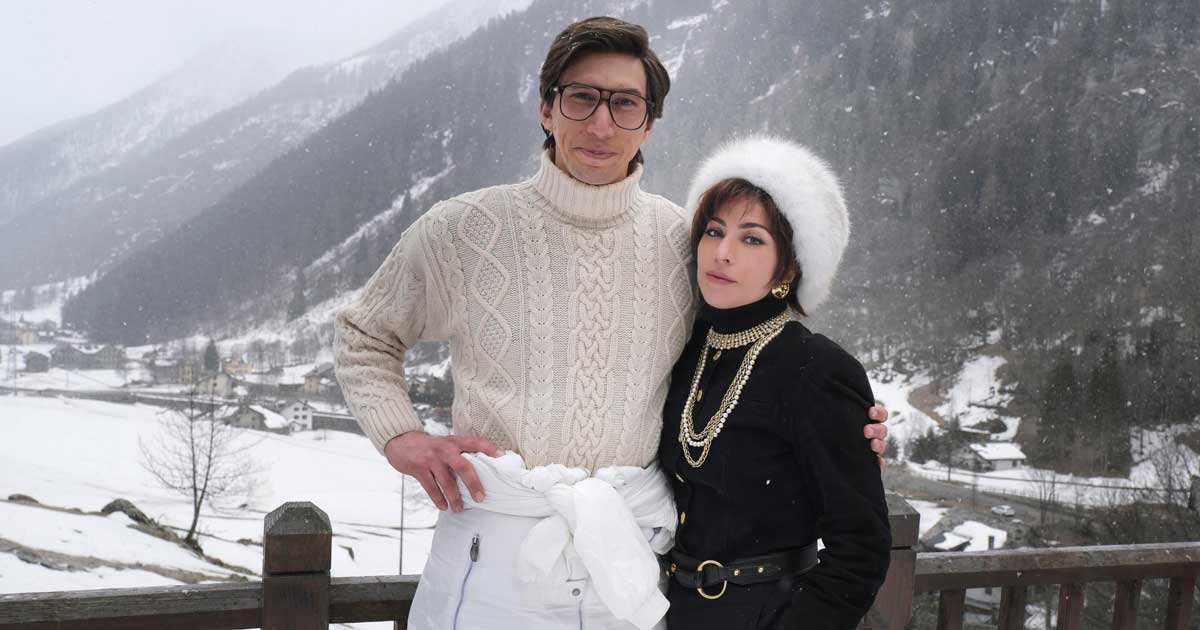 The dark side of fashion
Posted on Jan 14, 2022 by Alex Fice
Through use of costume, lighting and locations, House of Gucci captures the whirlwind world of the famous Italian family – bringing to life a tragic tale
Words Chelsea Fearnley
House of Gucci is a Succession-esque tale of greed, deceit, murder and glamour. Inspired by Sara Gay Forden's 2001 book of the same name, the film is a truly astonishing account of what happened when socialite Patrizia Reggiani (Lady Gaga) entered into the Gucci dynasty and was eventually charged with the murder of former husband Maurizio Gucci (Adam Driver), after he traded her in for a younger woman. Brandished the 'Black Widow' by tabloids, Reggiani is a character so full of venom, you'll have a hard time believing she isn't fictitious – but she is real, as is her Gucci legacy.
It is a story that Giannina Facio had envisaged for over a decade. She is the producing partner, muse and wife of Ridley Scott – and unlike Reggiani, Facio and Scott were keen on keeping this business outside of the family. Her approaches towards other directors were nonetheless unsuccessful and once filming had wrapped on The Last Duel, which also starred Driver, Scott conceded. Driver had expressed enthusiasm at the prospect of playing Maurizio, but it was Gaga's interest in Reggiani that had the legendary director convinced. Since the success of A Star is Born, the singer has become an acting powerhouse in her own right, and Scott had no doubt that her portrayal of Reggiani would be magnetic.
Joining this stellar cast and crew – also from the set of The Last Duel – was DOP Dariusz Wolski. His role in House of Gucci, however, took less persuading. "I've known Ridley for years, and we've collaborated on many projects – I forget the exact number." (It's eight, soon to be nine, with production on Kitbag already under way.) "We have an attuned understanding towards the visuals, so working together is easy. This film, in particular, was fairly simple because it's contemporary – The Last Duel, on the other hand, was set in the medieval period, so the detail to all the sets and costumes was more exhaustive."
A bite out of history
Wolski doesn't say this to discredit the work that went into making House of Gucci. This is a film that cuts through a slice of real history, and everything had to be perfectly faithful to the era and, of course, the style. Costume designer Janty Yates was even given access to the Gucci archive, although those in their intimate circle have since been critical of the production. Patricia Gucci, Maurizio's first cousin, told the Associated Press that she was "truly disappointed" by it. "They are stealing the identity of the family to make a profit and increase the income of the Hollywood system. Our family has an identity, privacy. We can talk about everything, but there is a borderline that cannot be crossed."
Scott dismissed this in an interview with Today, citing their chequered past: "You have to remember that one Gucci was murdered, and another went to jail for tax evasion, so you can't be talking to me about making a profit. As soon as you do that, you become part of the public domain."
Although Yates had exclusive access, only two ensembles are archival: one is the double G shirt and leather skirt, seen when Reggiani is served with divorce papers. The other is when she purrs "our name, sweetie", and is aptly dressed head-to-toe in Gucci; a double G tunic and flared trousers, while talking to her husband about counterfeits jeopardising the brand's reputation.
Gaga does not repeat a single look – it's estimated there were 60-70 outfits for her alone. Yates made around 30 dresses, 20 suits, various shirts, skirts, trousers and half a dozen coats. For the runway recreations, which included the 1984 Versace and 1995 Tom Ford shows, associate designer Stefano De Nardis made everything from scratch – and this likeness to history was extended to lighting. "We very carefully watched clips of these shows to create a verbatim imitation of what they were like back then. I would even say that we did the Versace show a little better, because the lighting wasn't as great in those days," Wolski jests.
He adds: "Everyone did their homework, but especially Lady Gaga. She watched documentaries about Reggiani, read newspaper articles – but didn't speak with her. She was cautious that their meeting would cloud her performance, because Reggiani would have wanted Gaga to portray her in a way that would suit her. Gaga wanted to tell the truth, not make her look good."
Time capsule
The film spans three decades, from the heady disco seventies, to the culturally rich nineties. It also takes place in numerous cities, including New York, Milan and Rome. Even Studio 54 serves as a hook, with Reggiani dancing under a strobe light in the trailer – it unfortunately doesn't make it into the movie, but Wolski recalls shooting the scene with incredible nostalgia. "A lot of the cast and crew, including myself, remember being there; so we were all arguing about our own memories of how it should be depicted," he laughs.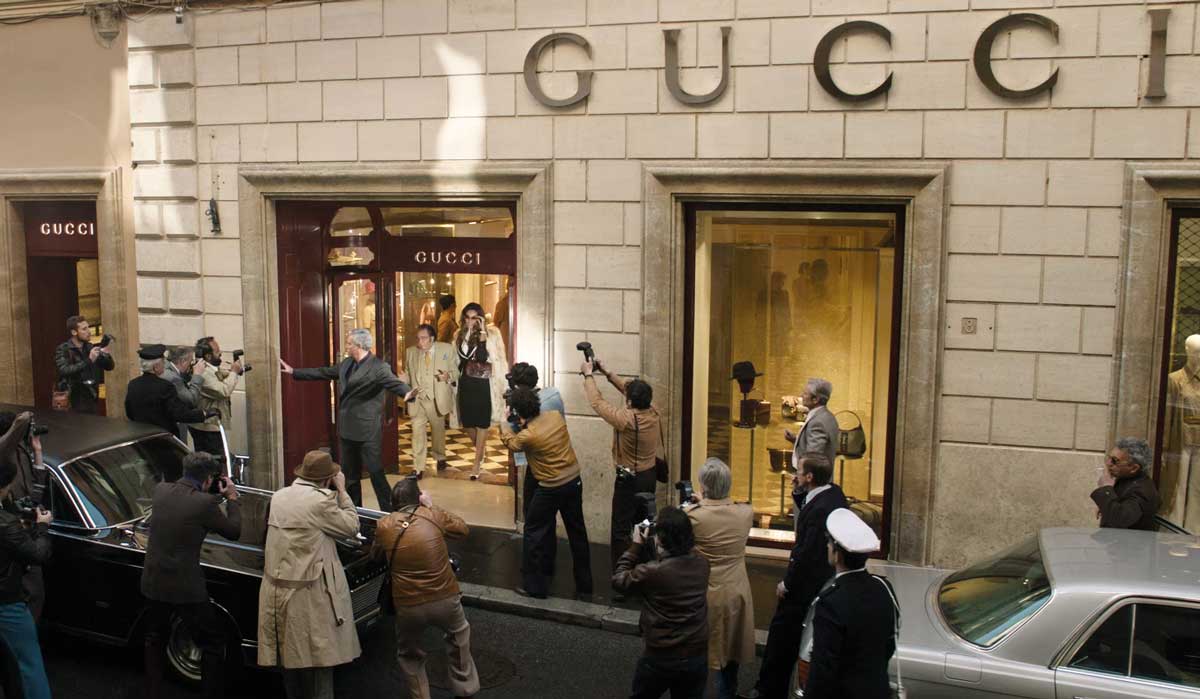 The film spans three decades… it also takes place in numerous cities, including New York, Milan and Rome. Even Studio 54 serves as a hook
Milan features as itself, as does Rome – but sometimes, the two double as each other and were used together to recreate New York. This required quite a bit of VFX work, particularly since The Big Apple looked very different in decades past, and plates had to be fashioned from a mixture of old and new footage. "There were three key New York locations: Patrizia and Maurizio's apartment, the Gucci store and Times Square," explains Wolski. "We found a modern apartment in Milan with a large terrace that we wrapped in green screen to emulate the Manhattan skyline; and then for the Gucci store, a big space in Rome. The interiors were a set design, but the exteriors had to be green screen – and this was quite tricky, because the original New York Gucci store was in an iconic location, on the corner of 57th Street and Fifth Avenue. For Times Square, which was the hardest to recreate, we went back to Milan, as it has more modern architecture than Rome."
The wilds of Gressoney, in the Italian Alps, doubled as the lavish St Moritz. It was there, in the little Italian ski resort, that Lady Gaga took refuge during last year's winter lockdown. Wolski adds: "All the exteriors were shot in Gressoney, but we used a stage for the cabins; the Swiss ones are so uniquely quaint that they had to be built. But this was the only stage we used in the entire movie."
Read the full article here.