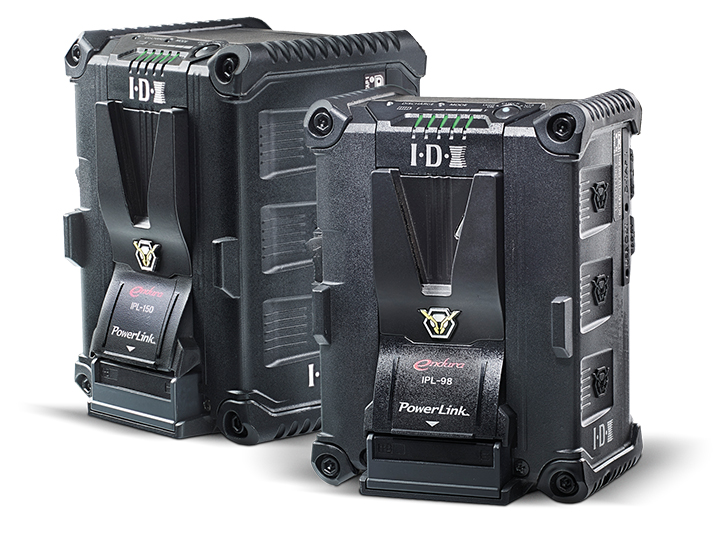 NAB SHOW 2019
The world's biggest event covering the latest in film is upon us once again. Here's our preview of some of the exhibits.
Words: Chelsea Fearnley
ARRI
The big pre-NAB Show announcement is the new ALEXA Mini LF. The original Alexa Mini was the surprise hit of the original Alexa camera series and naturally ARRI wanted to repeat its success in the large format world.
The ALEXA Mini LF uses the same sensor as the ALEXA LF. This is the ALEV 3 A2X sensor, which has the same photosite size and type as the Super 35 ARRI digital cameras. The electronics of the Mini LF (sensor board and processing boards) are different from the ALEXA LF, in order to meet the size, power and cooling requirements of such a small camera. While this does not affect image quality, it does affect the maximum frame rate achievable in the different recording formats.
Unsurprisingly the ALEXA Mini LF has the same dimensions as the ALEXA Mini, except for the media bay on the camera left side. The current prototypes weigh in at 2.6 Kg/5.7 lbs for the camera body with LPL lens mount and 800g/1.7 lbs for the MVF-2 viewfinder.
The new Mini has a voltage input range from 11 V to 34 V. Therefore, it can be powered by any 14.4 V on-board battery as well as by 24 V on-board batteries. The camera has a power draw slightly higher than the ALEXA Mini, estimated currently at around 65 W when recording ARRIRAW at 24 fps with the MVF-2 viewfinder connected.
The ALEXA Mini LF supports one new recording media, the small Codex Compact Drive 1 TB. It contains one industrial SSD (no RAID) in a tough enclosure and the drive's full capacity of 1 TB is available for ARRIRAW and ProRes recording. The drive will be formatted by the ALEXA Mini LF in the UDF format for ARRIRAW and ProRes. Therefore, both ARRIRAW and ProRes can be recorded onto the same media without reformatting or switching drives. The drive is capable of a sustained write rate of 8 Gb/s. ARRI will also use this media for future cameras.
BLACKMAGIC
Blackmagic is showcasing its second-generation URSA Mini Pro, which now includes a Super 35 4.6K sensor (15 stops of dynamic range) and can shoot at up to 300fps. The new USB-C expansion port also allows for direct recording to external disks.
Blackmagic will also have its Pocket Cinema Camera 4K on the stand, but with a new function: support for Blackmagic Raw. This update – available for free download through the Blackmagic website – provides all the benefits of Raw with the ease of use, speed and files sizes of traditional video formats.
Blackmagic has also announced a new PCIe capture card with four independent HDMI 2.0b input connections and an update to its DeckLink 8K Pro will enable its four 12G-SDI connections to be used independently. Additionally, an update to the Blackmagic Duplicator 4K will add long-form recording.
ARRI
>> arri.com 
Celebrating over a century in the film industry, Arri is showing its range of digital cameras, including the long-awaited LF large format camera with the new range of Signature lenses, designed for exclusive use with the new camera.
Arri is also displaying its wireless system, high-end lenses, professional camera accessories and growing stable of lighting, including the latest SkyPanel S360 LED light. Products include the Alexa 65, Alexa SXT, Alexa Mini and Amira cameras, Master Anamorphic lenses and SkyPanel, L-Series and M-Series lights.
TERADEK
 >> teradek.com 
At the NAB Show, Teradek is showcasing the latest in zero-delay wireless video systems: the Bolt XT. The XT combines great wireless performance with smart design to give cinematographers incredible flexibility on set. Real-time 1080p60 video offers pristine image quality, and powerful software features, like a built-in 5GHz spectrum analyser and 3D LUTS, allow professionals to monitor the feed with complete confidence.
The Bolt XT receiver features a newly-integrated NATO rail, while the transmitter includes an Arri Pin-Loc for fast and easy mounting on set. Available battery plates include Gold or V-mount for the Bolt 1000/3000 XT, as well as Sony L-Series or Canon LP-E6 plates on the Bolt 500 XT. Bolt XT is compatible with all third-generation Bolt 500, 1000 and 3000 models, as well as the 703 Bolt, 10K and Sidekick II units.
BOXX TV
>> boxx.tv
Boxx TV is esteemed by the filmmaking industry for making affordable, high-performance wireless video transmitters. Meeting the latest demand of its patrons, it will be demonstrating its new solution for delivering higher-quality content in real time. The solution will facilitate sub-frame 4K wireless video transmission and promises to delivery low latency. It also operates in the license-exempt spectrum, making it affordable to all.
Boxx TV will also be showcasing its Atom range of HD wireless video solutions, which are now complete with time code and record trigger on all systems. Included in this range is the Atom Transmitter, which now offers an SDI loop and HDMI input. This is ideal for camera operators using Steadicam, portable field monitoring and UAV video links. The Atom solutions can be used to broadcast a signal to an unlimited number of receivers without pairing requirements, meaning it's also possible to extend the array of the system using specialised antennas.
RED
>> red.com
Red cameras are famously modular, but the company's new rental-only piece eschews this approach with a unitary camera design. The Red Ranger was requested by the Red Authorised Rental House and is one of the first 'all-in-one' cameras for rental in the high-end cinema camera market.
Designed to be grabbed and ran with, the Red Ranger is fully configured. It includes integrated I/Os, with three SDI outputs – one of which can be used independently from the other two feeds. Other features include support for a wider input voltage (11.5-32V) and there are two 24V and two 12V power outs. The camera also supports large power sources and is available in V-Lock or Gold Mount variants. To manage heat and reduce noise on-set, it includes a large diameter fan with a slow rotation.
In addition to 8K Redcode Raw at up to 60 fps Full Format, the Ranger also captures to Apple ProRes or Avid DNxHR. As is to be expected, the new camera also includes Red's modern, HDR-capable colour management system, IPP2.
QUASAR SCIENCE
Quasar Science is exhibiting its new A-LED medium screw base lamps, available in 6 watt A10 and 10 watt A21. Single colour temperature options include 3000K and 5600K. Also new is the Switch 10 watt A21 model, which includes 3000K and 5600K diodes in one bulb. Improvements include better colour accuracy, an improved dimming curve and instant on. The bulbs are flicker-free and dimmer compatible with high colour rendering. The Quasar Science booth is in the central hall at C10248.
JVC
>> jvc.com 
JVC will present its range of connected camcorders with its new Connected Cam technology. This includes a new communications engine  for optimised image processing and IP performance in advanced models. It delivers improved streaming performance and features Zixi error correction and SMPTE 2022 forward error correction for reliable transmission.
Models in the Connected Cam range include the GY-HC900, a 2/3-inch HD shoulder mount camcorder, which is ideal for news, sports and live event production, and the GY-HC500/ HC550, which offer a combination of image quality, IP capability and handling. The new GY-HC500 and GY-HC550 offer a high-sensitivity one-inch 4K sensor and recording at 10-bit 4:2:2 at 50p/60p frame rates to SSD media using the ProRes codec.
SMALLHD
>> smallhd.com
SmallHD's FOCUS line has only ever been constructed from a five-inch display. At NAB, SmallHD is premiering its first seven-inch touchscreen monitor, the FOCUS 7. Although the screen has 1900×1200 resolution, it can accept up to 4K 30fps signals and has 1000 nits of brightness and 323 pixels per inch.
The FOCUS 7 lets you navigate through the menu via touchscreen display and is equipped with OS3 software enabling, quick-customisable professional tools. It has two Sony L-Series battery slots and can provide power output to small mirrorless cameras via a compatible cable. Other peripherals include a SD slot for LUT and still frame libraries, headphone jack, Micro USB port and full-size recessed HDMI.
FIILEX
 >> fiilex.com
The NAB Show will see Fiilex focus on its high-end, high-output LED fixtures, namely its Q8 Travel and Matrix II RGBW. Both of these lights draw 340W of power and emit more light than comparable 1K Tungsten fixtures. The Q8 Travel features an eight-inch Fresnel with a wide spot/flood range of 12 to 60 degrees. Settings include adjustable colour temperature, magenta/green shift and low dimming without flicker
or colour shift.
The Matrix II RGBW punch light marks Fiilex's first foray into the world of full-colour LED lighting. It blends the light of four Dense Matrix LED arrays through an integrated diffusion layer, resulting in a powerful, soft LED source. The Matrix II RGBW is compact, customisable and includes a unique snap-on fresnel. It also comes to the NAB Show with new effects modes and gel presets.
BEBOB
>> bebob.de/en
In keeping with the industry's move toward lighter and more versatile gear, Bebob is introducing its ultra-compact Vmicro (V-mount) and Amicro (Gold Mount compatible) 14.4V battery packs. Both mount styles feature a choice of 43Wh, 98Wh and 147Wh versions, each with the lowest weight and footprint in its class. Ideal for cameras, viewfinder monitors and other on-set power guzzles, the Vmicro and Amicro batteries offer all the standard features you might expect, plus several Bebob innovations.
On the smart side of each battery is a five-step, colourful LED power indicator, which monitors battery life and, below the power gauge, is a push-button to wake up the battery, check the power status or to activate the LED light. This nuance can help filmmakers connect the battery to the battery plate on dark sets. The batteries also support through-the-finder power data protocol from Arri, Red and Sony cameras.
To complement the rest of the line, Bebob is also unveiling its new pocket-size micro chargers and battery plates, power bars, adaptors and hot swap adaptors for maximum versatility.
COOKE OPTICS
Cooke's success is largely built on the basis of doing what the filmmaker needs. It has over a lifetime of experience in the filmmaking business and, despite the years, this still remains at the heart of the company. At the NAB Show, Cooke is unveiling never-before-seen lenses from its S7/I spherical, Panchro/i Classic and Anamorphic/i Full Frame Plus ranges. Its new Anamorphic/i Full Frame plus range is available with SF coating, enabling an exaggerated flare, giving yet more choice to filmmakers.
Cooke is also presenting the latest version of its /i3 Technology metadata system, which provides detailed lens data to VFX and post-production teams to help speed up the editing process. The /i3 firmware will now run distortion mapping, which is not just a theoretical measurement of spherical lenses of a particular focal length, but of the specific lens in use. Sony is currently working to integrate /i3 into the Sony Venice large format camera.
CANON
>> canon.com
Canon is showing off its expansion of 4K and HDR solutions. Products include the new EOS C700 FF, EOS C200 and a range of high-end lenses such as the CN E18-80mm T4.4L IS KAS S and CN E70-200mm T4.4 L IS Cine-Servo lenses, as well as professional reference display monitors.
The EOS C200 is the first Cinema EOS camera to feature Cinema Raw Light format. It's been designed to take the complexity out of delivering high-quality footage, with benefits including an advanced AF system that provides reliability and accuracy when shooting 4K, and a high-quality LCD panel and Dual Pixel CMOS AF.
The CN E18-80mm T4.4L IS KAS S and CN-E70-200mm T4.4 L IS compact Cine-Servo lenses take advantage of 4K, offer integrated control and effortlessly switch between several subjects in a single shot.
SONY
>> sony.co.uk
Visitors to the NAB Show are able to experience Sony's next generation, full-frame motion picture camera system, the Sony Venice, most recently used to shoot political thriller Official Secrets and the Netflix series Sex Education (see our previous issue). It includes the recently released firmware version 3.0 (and upcoming 4.0), as well as its Extension System (CBK-3610XS), which is currently being used to shoot the Avatar sequels.
Sony is also showcasing its wider range of solutions, designed to support filmmakers. The versatile FS7 II camcorder is on display alongside the compact 4K FS5 camcorder. While the latest BVM-HX310 TRIMASTER HX monitor is also on stand with the 16.5-inch TRIMASTER EL OLED critical reference monitor, the BVM-E171.
IDX
>> idxtek.com
At NAB, IDX is announcing the release of its latest stackable battery solution. The IPL Series includes the IPL-98 and IPL-150 high-load batteries, with capacities of 96Wh and 143Wh respectively. These models will feature all the latest IDX technology, including the V-Torch LED light, which makes the batteries easy to mount in dark environments.
No battery is complete without a charger. With travel being a large part of most video productions, IDX developed a four channel (2+2) simultaneous VL-4X V-Mount charger, which is compact, lightweight and convenient for those who already own IDX products. The included AC adapter can also serve as a 90W DC power supply. IDX is also showing the recently released DUO-C150 (143Wh) and the robust CUE-D300.
SONNET
Sonnet is showcasing its Thunderbolt 3-to-PCIe card expansion systems, which enable users to connect professional PCIe cards to any computer through a Thunderbolt 3 port. This will include its Echo Express systems, which can accommodate one, two or three powerful cards.
Sonnet's portable external graphics systems, the eGFX Breakaway Puck Radeon RX 560 and eGFX Breakaway Puck Radeon RX 570, are also on the stand. These support a range of desktop GPU cards and offer improved graphics performance when used with thin and light laptops, or all-in-one computers. Also spotlighted are the new SF3 Series Pro card readers.
ZEISS
>> zeiss.com
At the NAB Show, Zeiss is showcasing a large portfolio of full-frame lenses, including the new Supremes, Cinema Zoom CZ.2 range and new Compact Prime CP.3 XD range. Thanks to their interchangeable mounts and full-frame coverage, these lenses are believed by many filmmakers to be as close as it's possible to get to the ultimate future-proof investment.
The Zeiss Cinema Zoom lenses feature exquisite optics in a robust, durable package. Affordable, flexible and offering the highest quality, the Zeiss Cinema Zoom lenses are an invaluable addition to any film set. Meanwhile, the new Zeiss CP.3 and CP.3 XD lenses offer the perfect combination of high image quality and reliable usability. They exhibit the clean, crisp characteristics Zeiss is known for, together with groundbreaking lens data technology in the XD versions, designed to speed up and simplify the workflow on-set and in post-production.
Litepanels
Pioneers in LED lighting for the film and broadcast industries, Litepanels raised the bar in colour ability and accuracy with the introduction of the Gemini 2×1 Soft RGB-WW LED panel. It delivers full spectrum, precision daylight and Tungsten light with no flicker at any frame rate, shutter angle or intensity, with the ability to dial in any colour in the 360° colour wheel and a wide selection of creative lighting effects. The quick to rig and easy to control Gemini has quickly become a must-have for lighting designers and filmmakers whose creativity knows no bounds. At NAB 2019, Litepanels is unveiling the newest addition to the Gemini RGB-WW range, a light that promises all of the Gemini features in a more portable, lightweight and low power-draw form, which Litepanels says will be the ultimate no-crew lighting solution for image-makers on the go.
LiteGear
>> litegear.com
On opening day at NAB, LiteGear is taking pre-orders for the highly-anticipated LiteMat Spectrum. Its most capable LiteMat ever, the LiteMat Spectrum brings patented full colour control, expanded Kelvin temperature range, plus/minus green correction and DMX pixel control to the ultra-thin light fixture.
Not to be outshone, the LiteMat Plus is getting two new LiteDimmers, the DC200 Duo and the AC400 Duo. These feature a two-channel mode, dual manual control, wired and Lumen Radio Wireless DMX and OLED display, and are compatible with all LiteMat Plus and LiteTile Plus systems.
LiteGear's hero product, the LiteRibbon, is also getting an overhaul with the introduction of the LiteRibbon Cinema Series. With staggering CRI and full spectrum colour, the Cinema Series is 40% brighter than the previous VHO Pro LiteRibbon. This LiteRibbon joins the Cinema family of unified colour-space products that includes LiteMat S2, LiteMat Plus and LiteTile.
DMG
After the success of the MINI & SL1 MIX, DMG Lumière by Rosco is showcasing its latest edition to the award-winning MIX range, the MAXI MIX. Measuring 120x35cm, it weighs 8kg and outputs 360W of power. MIX technology won four awards in 2018, including first place at Cine Gear Technical Award in Light Technology and first place for the CINEC Technical Award.
MIX is equipped with six unique LEDs that bring Rosco colour to a portable LED fixture. It has opened a vast colour spectrum for filmmakers and includes flawless white quality and verified Rosco gels. MIX can be controlled by the free myMIX app (available to download now) where you can mix, save and share your creations. You can also capture a colour using your phone camera and send the captured colour to the light.
BB&S Lighting
If dead-on colour and natural skin tones are what you need, look at the Area 48 Color. The Area 48 provides colour accurate illumination in both white light and RGB. With a range of 2500K° to 10,000°K colour temperature. Area 48 Color delivers 13,000 Lumen output (compared to a 1500W tungsten soft), and draws just 160W. It operates flicker-free and silent (fan-free design), and is totally free of the colour shift inherent in most panel fixtures even while dimming from 100% to zero. It projects accurate, soft output with 105° dispersion. An on-fixture touchscreen is provided for control, including plus/minus green and plus/minus magenta settings. Users can also operate via DMX/RDM.
For a cylindrical form factor check out the Pipeline Reflect line. These skintone-accurate Remote Phosphor Pipes with integral reflectors offer optimal control, increased output (10W draw/foot delivers 1500 Lm at 1m) and dispersed light spanning 120° with minimum spill. There is no colour shift or flicker.
Users can choose from 3200°K/4300°K/5600°K in either Singleor double Pipe versions in lengths from 1' to 8'.
Ncam 
Ncam Technologies will reveal the latest version of itscamera tracking solution, Ncam Reality 2019.0, on booth C9144 at this year's NAB. This major new release includes 87 new features as well as significant system optimisation for improved performance and enhanced capabilities.
New features include:
Support Extreme Camera Bar (additional Extreme Camera Bar purchase required)

Black Magic Design DecLink SDI video card support

Offline camera bar calibration refinement that provides improved tracking quality

Remote support for camera bar recalibration

Enhanced performance with large volume environments

Vignette reduction during lens calibration

Handling of vintage anamorphic lenses

Import lens calibration using OpenCV

Export of real-world coordinates via SDK
Nic Hatch, CEO, Ncam, said, "This new release offers smart and efficient solutions to many of the common challenges faced by AR users, as well as providing a raft of new features that will greatly enhance AR projects, whether for VFX pre-visualisation, virtual production, or for live, real-time broadcast graphics. We're excited to demonstrate these new capabilities at NAB and show visitors what is now possible with photo-realistic augmented reality graphics."
Ncam will also release an update to its Unreal Engine and VizRT Unreal Engine plugin, which now supports UE 4.21, the latest build of the Epic Games Unreal Engine.
For more information visit the website.