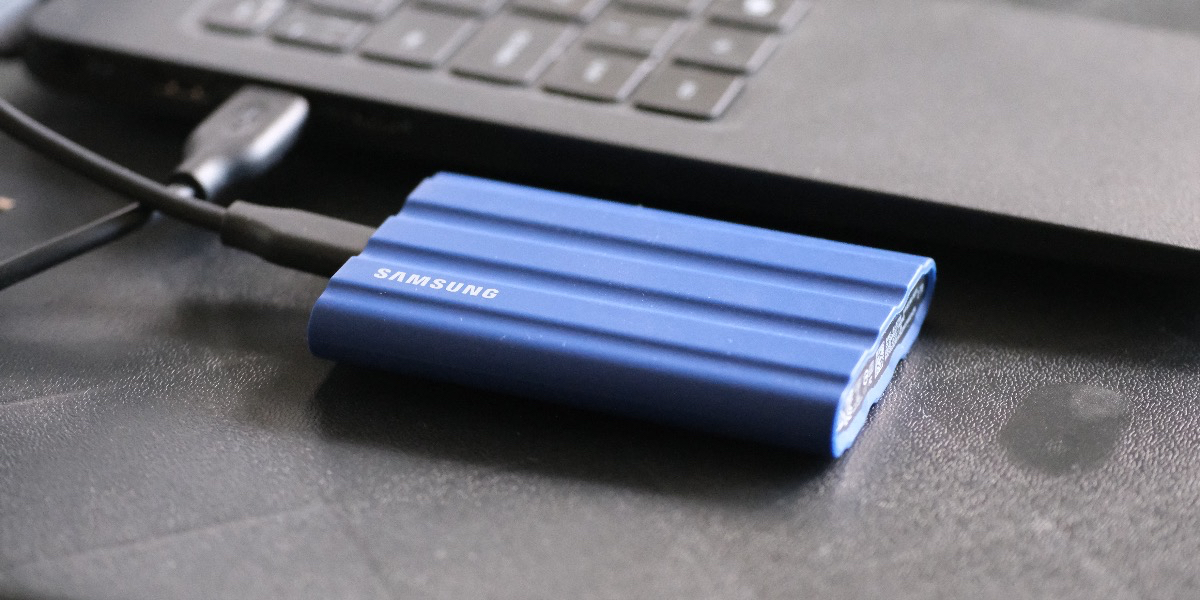 Samsung: Closing the creative divide
Posted on Sep 27, 2022
Post-production specialist Iain Rogers puts the might of the Samsung Portable SSD T7 Shield up against truly demanding files – and finds technological harmony
Advertisement feature
Technology is evolving at an astounding rate. Each new development forges an even better deliverable – but with that comes the demand for new compatibility. While the camera remains the beating heart of production, surrounding tools must advance in step. It's a dance post-production specialist Iain Rogers knows all too well.
"I must admit, when I was contacted for my most recent job, editing together a new showreel for a director/camera operator, I felt a little bit of dread. She had recently purchased a camera, brand new to market. Her intention was to showcase the camera's capabilities, alongside her own. I wasn't sure my computer's internal storage was up to the task. When the Samsung Portable SSD T7 Shield arrived, I was delighted. The timing couldn't have been better."
As a freelance creative working predominantly remotely, the edit began as they often do for Rogers – with delivery of the files. Given the size of the digital payload and his client's desire for confidentiality, he arranged for footage to be sent physically.
"On smaller productions without a data handler or runner, a more direct approach is needed. I send files on SSDs back and forth in the post often. It's why durability is my first essential. The Samsung Portable SSD T7 Shield is the most durable drive I've used, its rugged casing and drop resistance give extra peace of mind.
"The fact that it's so small is another huge benefit," Rogers continues. "I work away from home often, being able to carry all I need with ease is really valuable."
At just 98g and 13mm in depth, the Samsung Portable SSD T7 Shield's hardiness is even more astounding – but it doesn't stop at impact resistance. With an IP65 rating, the SSD is also capable of keeping out moisture and dust.
"Those features aren't just for adventure filmmakers halfway up a mountain," Rogers jests. "I welcome the assurance that a spilled drink or rain shower won't corrupt any of my files, wherever I am."
Making quick work
Beyond physical features, speed was the most significant challenge of this project.
"The footage I was working with was astoundingly high-resolution and shot at huge bit rates. I'm confident any old drive couldn't have handled them," he explains. "I connected it and worked directly from it, saving my machine the processing power. It all went perfectly smoothly."
As any filmmaker knows, technical setbacks are never just technical.
"I was working to a tight deadline, so fast turnaround and huge, 2TB capacity were key – but that was only part of it. It was down to me to piece these showcase sequences together. I couldn't have done that without seamless playback. My reputation as an editor is on the line, maintaining a creative flow is fundamental.
"Once I'd selected clips, I thought working in the editing timeline would pose more of an issue for the portable drive, but I had no trouble. Through colour grading and some simple visual effects, everything was as good as could be."
The Samsung's speed is the simple result of advanced design. Utilising USB 3.2 Gen 2 and PCIe NVMe technology, respective read and write speeds of 1050MB/s and 1000MB/s can be harnessed.
Throughout, the drive is kept cool by a high-tech rubber coating and advanced thermal control software, solving the degradation and overheating that comes from moving big files. In transfers, editing and external recording, users can expect fewer delays and more time for creativity.
"Given the nature of the showreel, I had to export the finished edit in the same 8K it was recorded," says Rogers, adding his final thoughts on speed. "That's significant, but once again it was very efficient, thanks to the Samsung Portable SSD T7 Shield's performance. I wasn't even forced to use a proxy workflow."
All in all, this post-production specialist's process was revolutionised. One successful edit and happy client later, it's certainly won him over.
"Housing such technology in a compact, durable body is impressive enough. In my case, the Samsung Portable SSD T7 Shield was up against the challenges posed by one of the most advanced cameras a consumer can own. To handle it so well is astounding. I'm confident it will adapt to whatever comes next," Rogers closes.
Visit the Samsung website for more information.
Appears in the October 2022 issue of Definition. Read the full magazine here.