The Korean wave
Posted on Mar 25, 2022 by Alex Fice
How K-dramas and K-films became so loved in the West
Words Chelsea Fearnley
Korean entertainment has taken off in the West, but it's been popular in the East for years. K-dramas, in particular, were a main motivator for the Korean wave, or hallyu: a term coined by Beijing journalists in the late nineties as they discussed the rising popularity of Korean cultural imports. While most sources point to What is Love? as the genesis for hallyu, with the 1991 family drama ranking second in China's all-time imported video content, others say it was Star in My Heart or the broadcast of 1992 series Jealousy.
Since then, K-dramas, K-films and K-pop have made their way across the globe, but their success has a surprising political history. After the Korean War, dictator Park Chung-hee was encouraged by the US (which still had a presence in the country at the time) to invest in the rapid industrialisation of South Korea. But the media and entertainment industries were still ignored or heavily censored by the regime.
It wasn't until Park's assassination in 1979 that South Korea started to change. Throughout the eighties and nineties, the country began cultivating its cultural imports as it modernised, and corporations like Samsung seized the opportunity to invest in filmmaking. Samyang Optics, which was founded in 1972, also started exporting its lenses overseas. In 1994, a South Korean government report was published, suggesting that one blockbuster (the example given was Jurassic Park) could single-handedly equal the sales of over a million Hyundai cars.
It was a profitable venture that became attractive after the shattering 1997 Asian financial crisis, when South Korea suddenly faced economic troubles, followed by a deluge of international bailouts. At his 1998 inaugural address, President Kim Dae-jung said, "We must pour energy into globalising Korean culture… tourism, the convention industry, the visual industry and special cultural commodities are a treasure trove for which a limitless market is awaiting."
Essentially, with that speech, hallyu was born.
To help it develop, the government subsidised arts industries, providing funding and benefits to conglomerates as an incentive to promote dramas, films, entertainment, video games and music. Two decades later, in 2019, Korean cultural exports netted $10.3bn, an 8.1% increase from 2018. This was undoubtedly bolstered by the increasing popularity of K-dramas on streaming services like Netflix, which is available in over 190 countries.
Before streamers, K-dramas expanded outside of Asia, most notably with the success of 2003 historical series Jewel in the Palace. The global sensation harks back 500 years to the Joseon dynasty, based on the true story of a girl named Jang-geum. She was the first female, supreme royal physician in a time that boasted a rigidly hierarchical, male-dominated social structure. Tackling the country's own political turmoil and ideas of gender, the series sparked interest in other historical K-dramas, such as Empress Myeongseong.
Then, in 2021, Squid Game landed. Luring in 111 million fans a month after its debut, the dystopian thriller became one of Netflix's most popular series to date. Underneath all the hype, it resonated deeply for its takedown of capitalism. In the series, indebted people play children's games for the chance to win a cash prize, and are killed if they fail. It satirises our money-obsessed society, a theme also powering the plot of multiple-Oscar-winner Parasite. The 2019 black-comedy thriller, depicting the desperation of poverty in Korea, made movie history. It took home the award for best picture, alongside best original screenplay, best international feature and best director.
Compelling content
Despite political roots, it is the engrossing storytelling of Korean cultural exports that have contributed to their longevity. Taking on socio-economic issues and universal themes of family, friendship and love, K-dramas and K-films offer parallels that echo across geographical borders. Jewel in the Palace, with its lack of sex and violence, even made it to Middle Eastern countries such as Egypt, Turkey, the UAE, Iraq, Qatar and Saudi Arabia – which often reject Western programming for its explicit content.
Similarly, in more isolated parts of the world like North Korea, bootleg copies of South Korean dramas are increasingly smuggled into the country. And, as expected, hardly a day goes by without Kim Jong-un or state media railing against "anti-socialist and non-socialist" influences spreading into his country. But at a time when the North's economy is struggling and diplomacy with the West is "spurious", it's likely this act of censorship is nothing more than a paddy to instate some authority over its youth.
Minari, which also addresses the failures of capitalism by confronting the elusive American dream, received critical acclaim comparable to Parasite. It didn't take home best picture at the Golden Globes following a controversy around classification, but did win best foreign film. At the Oscars, Minari's cheeky, but wise grandmother Youn Yuh-jung won best supporting actress – the first-ever Korean acting winner. Writer-director Lee Isaac Chung was overflowing with praise for his cast, which included The Walking Dead's Steven Yeun, as well as the less-recognised eight-year-old actor Alan Kim, who will win over your affection in his role as David.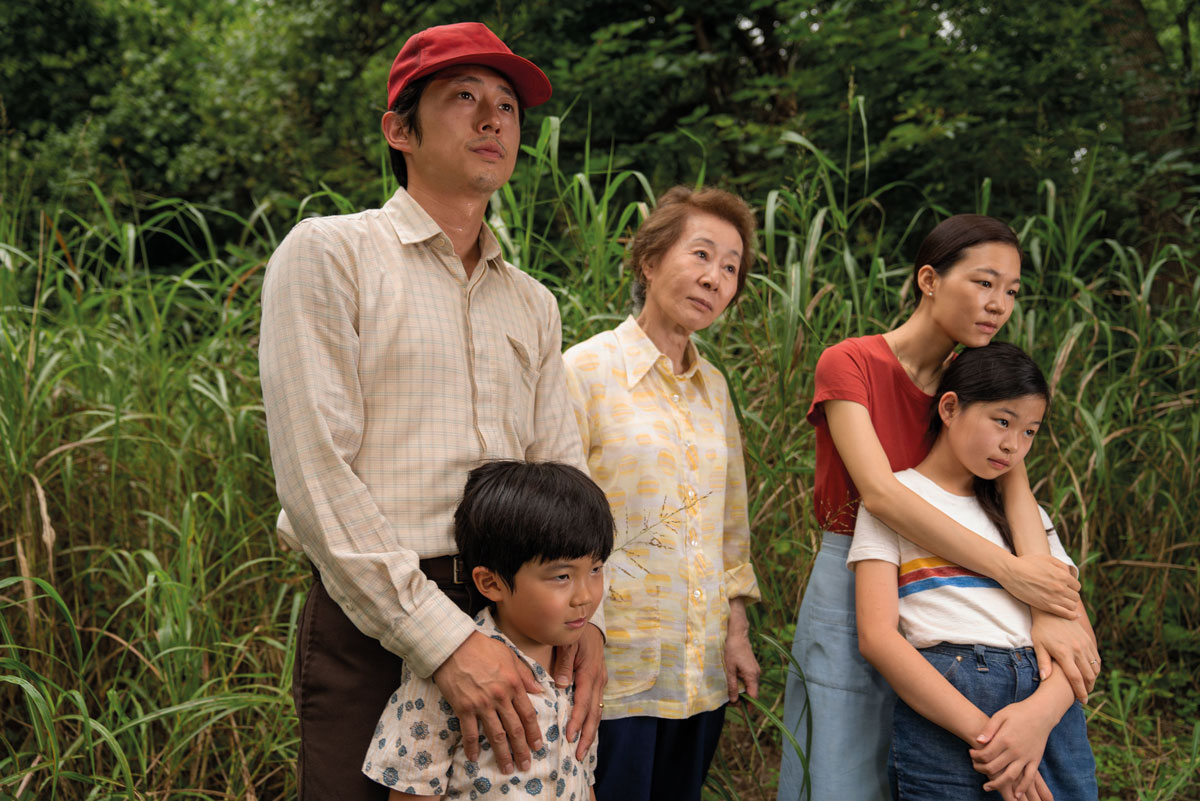 For Chung, it was Han Ye-ri – who plays Monica, the anxious wife of Yeun's fervent Jacob – that offered the most understated performance. Han navigates the tricky, emotionally nuanced territory of being an immigrant in the US, grappling feelings of guilt and identity loss, without the outsized performance Hollywood often tends to revere.
As well as captivating the hearts of fans across the globe for being well-written, emotionally enchanting and skilfully performed, Korean films and dramas are particularly aesthetically pleasing. Part of the reason is that they demand high-value production budgets. Two decades ago, when there were only three major broadcasters in South Korea, the average drama series cost 36.5 million Korean won per episode. In 2021, that rose to a staggering 700 million Korean won. If we're including streamers, that average will surely be higher.
When period drama Mr Sunshine first aired on tvN in 2018, a benchmark was set: production costs surpassed one billion won per episode. When Netflix broadcast it internationally a couple of months later, that increased to 2.2 billion, conveying to the world how serious this global entertainment conglomerate was about breaking into the Korean market. Mr Sunshine's production was soon matched, with the 2019 fantasy series Arthdal Chronicles costing three billion won an episode. Later, it was beaten again by Netflix's Suriname, a six-part crime drama which reportedly commanded 5.8 billion won for each instalment.
It's unsurprising, then, that the production value of K-dramas on streamers is still increasing – Netflix, especially, is famed for its tough policy on 4K capture, ambitious on-location shoots and visual effects demands. Hellbound, its newest Korean hit, cost a more-than-respectable 3.3 billion won per episode. The series includes fantastic CG elements for its monsters, which would have accounted for a large sum of the budget. In terms of popularity, Hellbound has exceeded Squid Game as the most-watched series on the streaming platform, with an estimated 142 million households in 94 countries tuning in. Of course, we'll have to watch this space, with Squid Game director Hwang Dong-hyuk revealing that a second season of the show is on its way; there could well be a battle for top spot.
It seems the popularity of K-culture will only continue to flourish, and we at Definition are excited to see how it adapts, shaped by the outside influence that's given it worldwide recognition. If there's one thing Korean programming does well, it's combining elements of East and West to generate mass appeal. Even if you don't understand the language, or struggle to see past the one-inch barrier of subtitles, the content is compelling enough to steal the hearts of film and TV fans everywhere.
Can't get enough of K-culture? Check out our article on Squid Game here.