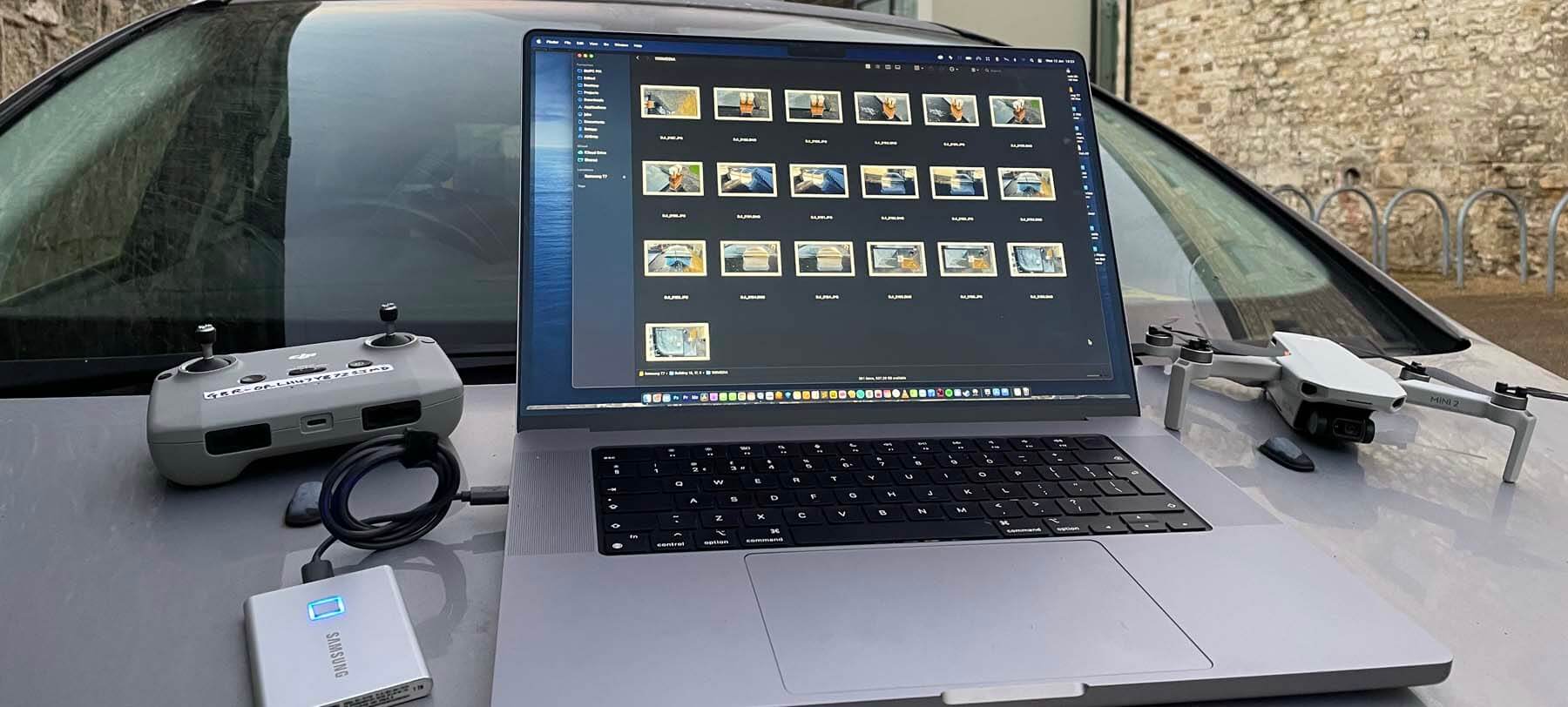 Samsung: High-flying storage
Posted on Mar 1, 2022
Collecting soaring aerial footage, transferring files in a race against the sun and producing a 4K edit with ease… all in a day's work for Jake Mobbs and the Samsung Portable SSD T7 Touch
Advertisement feature
As a freelance post-production specialist for around a decade, and skilled drone cinematographer, Jake Mobbs has seen his fair share of technological evolution. Editing and colour grading primarily on behalf of nationwide brands, he's also well versed in high standards. Ahead of a challenging shoot and edit, he took possession of the Samsung Portable SSD T7 Touch, to maximise its potential.
"It was one of the toughest days I've done," says Mobbs, fresh from the field. "We flew the drone at 13 different locations, which meant being completely meticulous about where we would be, minute-by-minute.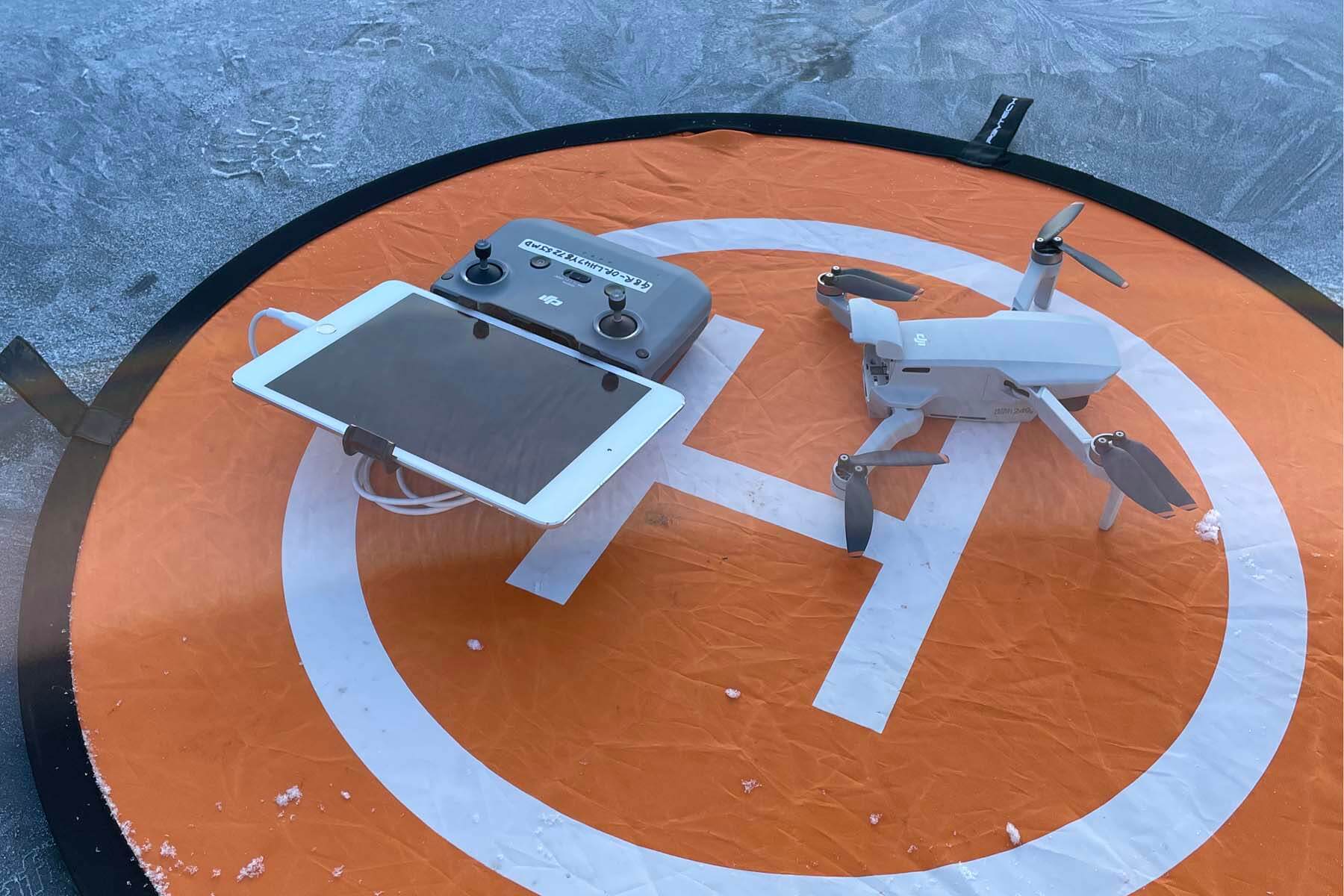 "I'd fly, collect the stills and video, then sit down with my client to review them together. Of course, that requires loading the files onto a laptop. With the Samsung portable drive, transfer speeds were exceptional – and so was the review. Loading Raw photos and scrubbing through 4K footage can be slow. This time, it was smooth, which is always a professional look."
In large part, this was thanks to the Samsung Portable SSD T7 Touch's USB 3.2 Gen 2 and embedded NVMe technology – read and write speeds have been clocked at 1050MB/s and 1000MB/s, respectively. It was enough to blaze through 30GB of aerial footage "seamlessly".
A long-time user of the Samsung Portable SSD T5, Mobbs was certain of the newer model's potential.
"In the past, I've been able to record 6K video directly onto my Samsung, then plug it straight into my laptop and begin the colour grade. It's amazing, and I'm certain the Samsung Portable SSD T7 Touch handles this even faster."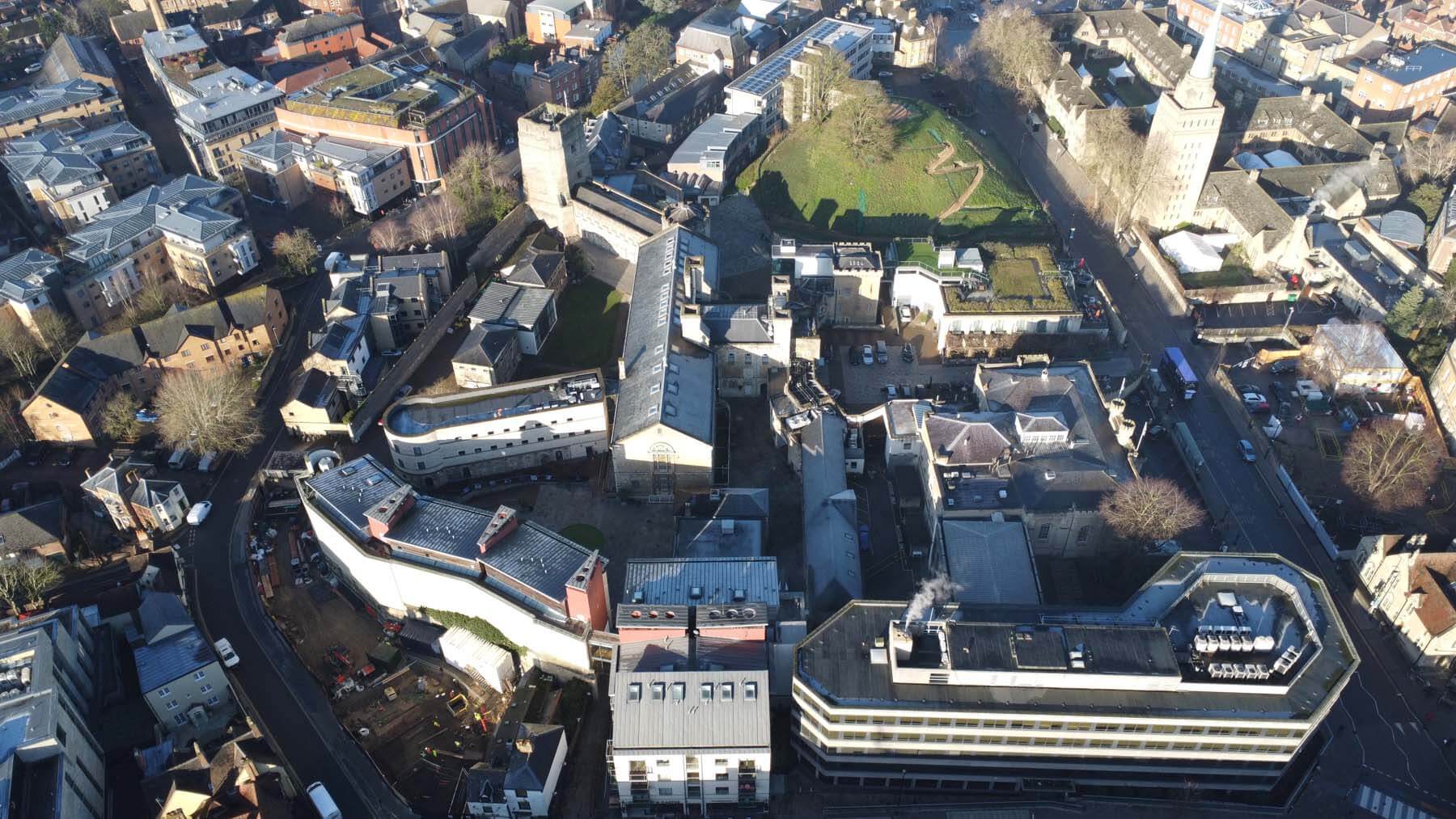 Despite the lack of ultra high-definition cinema cameras on this project, working with advanced editing software on the go is never a trivial demand.
"I began post-production work on the footage immediately, directly from the Samsung portable drive – there was no waiting around. Cutting and playback happened in real time. It's external and portable, but in terms of performance, felt like using my machine's internal media."
As far as specs go, the Samsung Portable SSD T7 Touch is astounding.
It has up to 2TB of lightning-fast storage, is sized little bigger than a credit card – and weighs less than 60g. Despite all the impressive technology housed within, its physical presence wasn't lost on Mobbs.
"One of the standout moments for me was realising I could carry the Samsung in my shirt pocket. All I had, going from location to location, was my tiny drone, the portable drive and a laptop. You don't want a bulky storage device in these situations – and certainly not one that draws power from the mains."
Bigger doesn't mean better when it comes to durability, either. While spinning disk drives may corrupt at a knock, the Samsung Portable SSD T7 Touch has no moving parts. And its tough aluminium body can withstand drops up to 2m.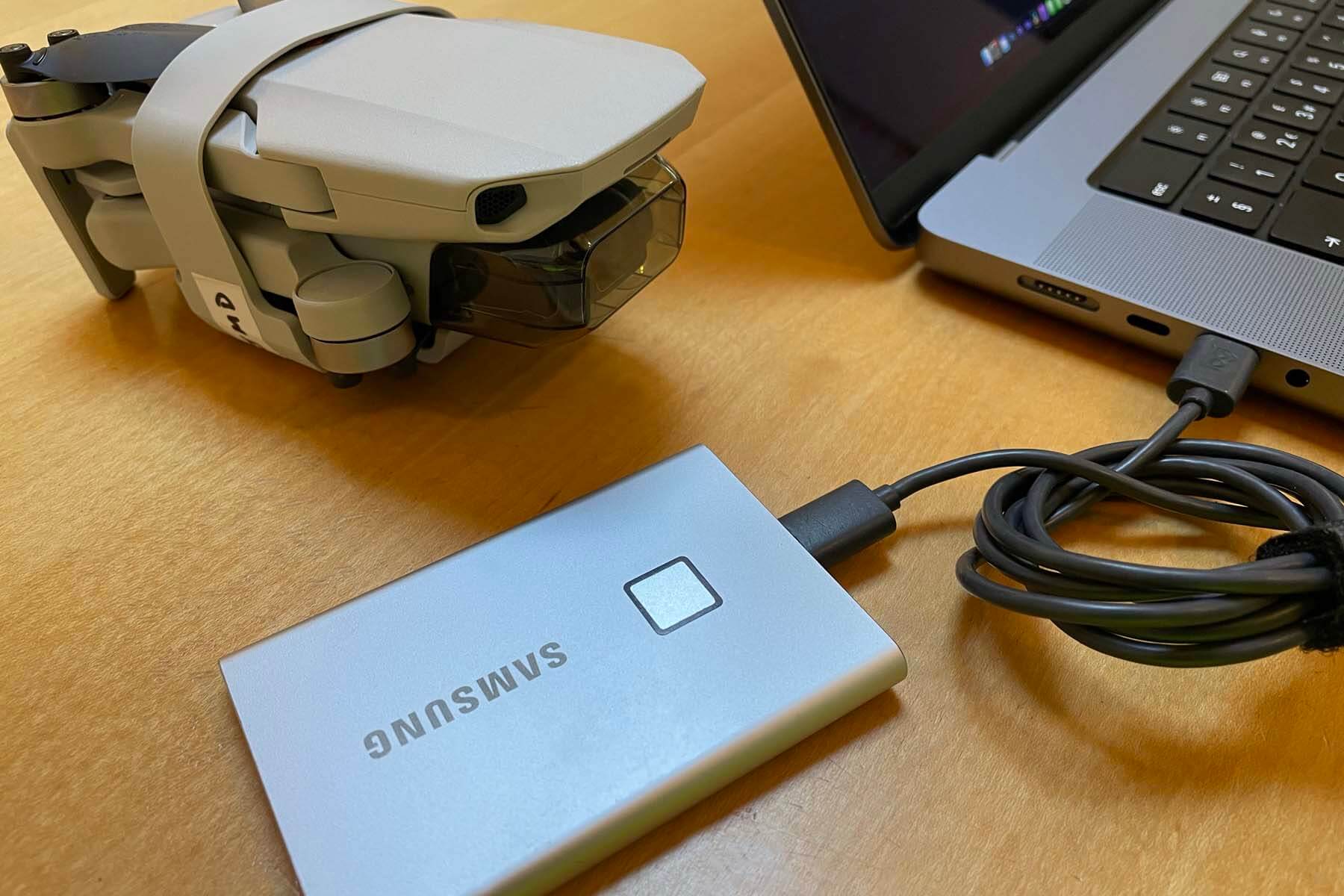 Protection isn't a one-dimensional challenge, though. Data must be kept safe on all fronts. With AES 256-bit encryption, there's plenty keeping unwanted eyes off your footage. All it takes is a touch of your finger – a unique feature that managed to swing Mobbs in its favour.
"At first, I thought the fingerprint scanner may be a bit of a gimmick," he explains. "Thinking further, I realised it could be very useful. You never want to forget a complex password and get locked out. Also, if I want to securely add the fingerprint of a client, I can."
After thorough use of the Samsung Portable SSD T7 Touch, what is yet to come has Mobbs the most thrilled.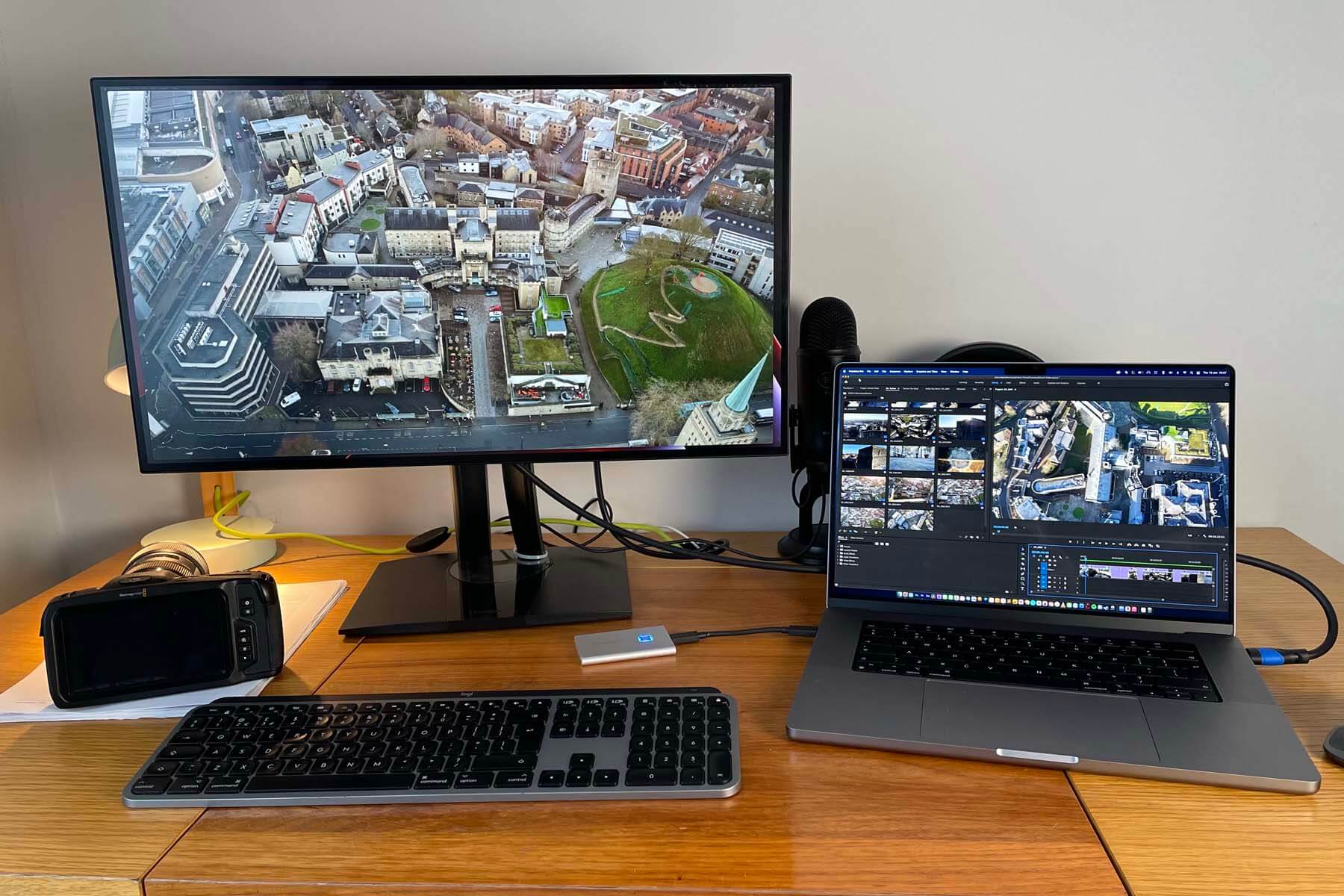 "Currently, I'm working almost entirely remotely. Like many, I would like to retain an element of that post-pandemic. Internet transfers are limited, so I've been trying to work out a way to pass files between myself and clients without worrying about big packages or damaged data. This solution means I can comfortably take on huge projects.
"I used to have a sizable collection of large drives," Mobbs continues. "Now, the dream is a fleet of Samsung Portable SSD T7 Touch drives: to work on, send back and forth, and archive projects – freeing up precious space in the home office."
Visit the Samsung website for more information.