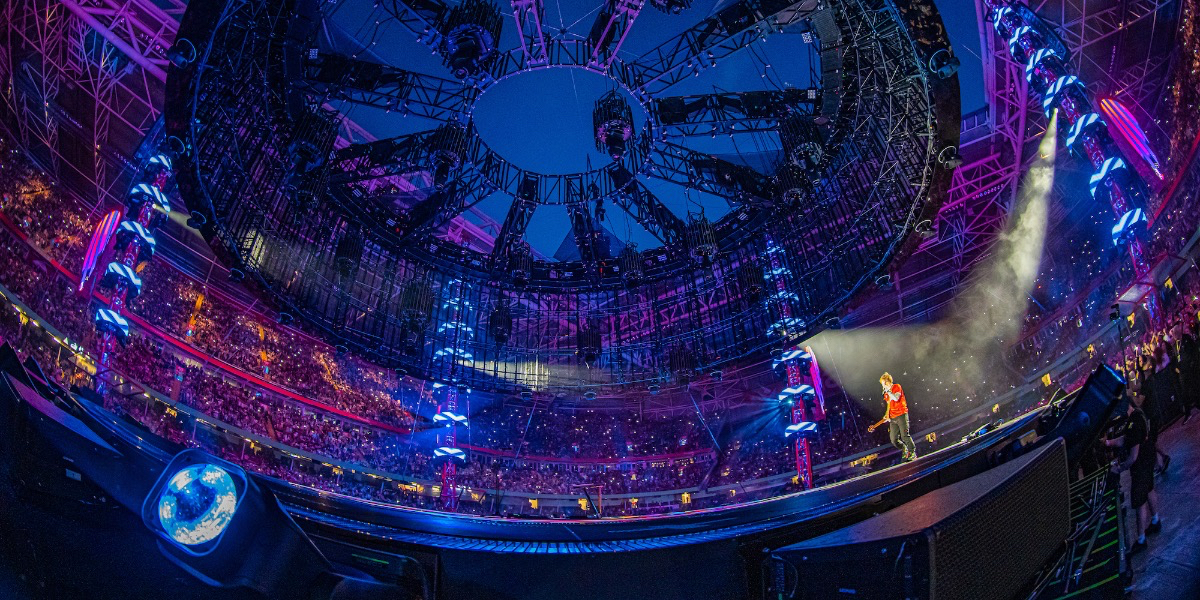 CVP: Man vs machine
Posted on Nov 1, 2022
Crew goes robotic for one of the world's biggest stars
Advertisement feature
Phil Mead is a video director at Colonel Tom Touring (CTT) with the enviable job of going on the road with Ed Sheeran. His big break came most unexpectedly, when he was working as head of electrics at Lighthouse, Poole's Centre for the Arts, back in 2010.
"A show designer by the name of Mark Cunniffe came into the theatre and asked me if I wanted to go on tour and work on concerts instead," Mead recalls. "At that point, I'd spent six years at the theatre. The time had come to explore – and further my opportunities."
Having worked as a lighting tech on several tours for the likes of Stevie Wonder and Sir Elton John, Mead was offered Sheeran's + (Plus) Tour in 2011. Cunniffe wanted to introduce video and lighting; Mead was charged with looking after both.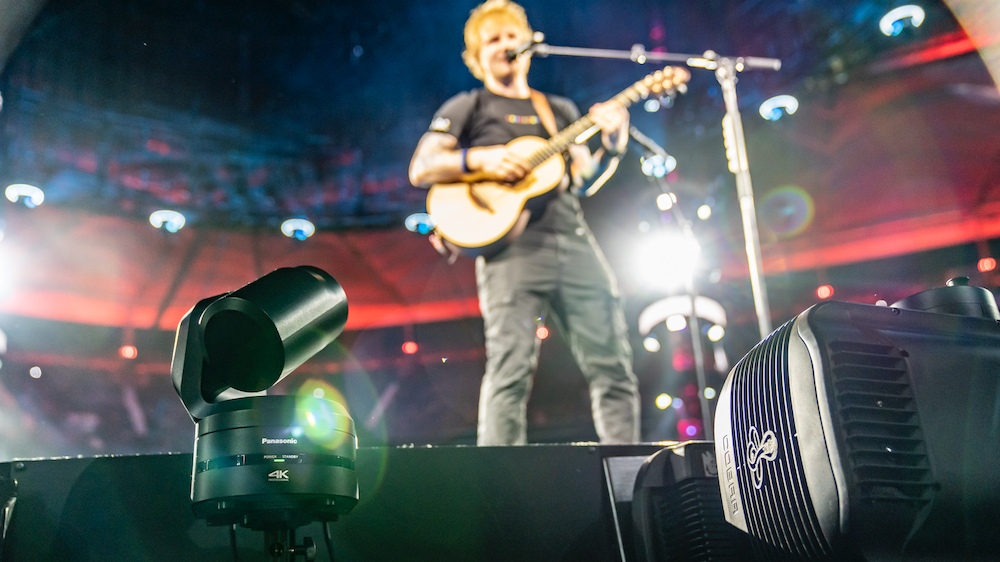 DOING THE MATHS
The team needed to raise its game for the next project, because the job involved producing video for one of the world's best- selling artists, on the big screens arranged all around him.
"The + Tour design became heavily dominated by video screens, so we took on a video director with some cameras to do it justice," he adds. "I was the head of video/ engineer on that tour."
On the following campaign, the ÷ Tour, the show designer used a video installation that wrapped around Sheeran. This started in arenas, but was designed to scale up to larger venues. "We introduced IMAG screens and scaled up the height of the stage installation for stadiums," says Mead.
However, it was on Sheeran's current Mathematics Tour that the team behind the scenes decided to push the boundaries even further. This time, not only did they challenge the skills of the people involved, but pushed the abilities of the technology at their disposal to the limit.
"The tour production team didn't want to see any camera operators out front," he says. "Everything had to be streamlined, to blend in and give the audience a clean and immersive in-the-round experience. That's not a problem when you're filming Sheeran on a normal end-on stage, but this was in the round. We knew that a camera crew with long lenses and sports jackets out on six masts was going to break that design brief."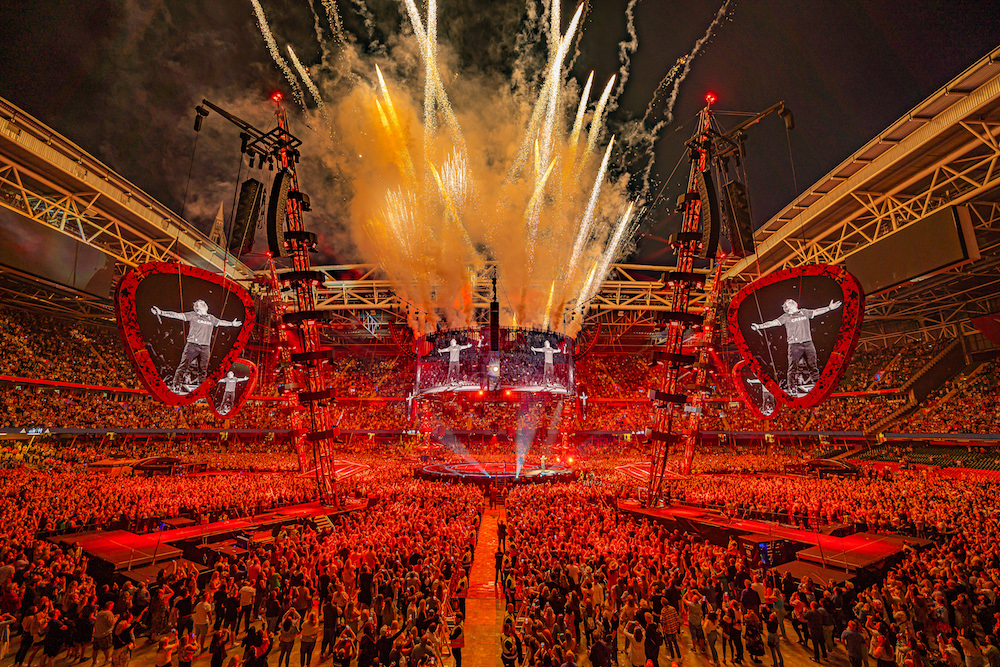 THE NEXT STAGE
Mead and his team had some big decisions ahead, namely how it would work with no operators allowed near the stage.
"In previous tours, we used four Bradley Engineering Camball 3s and three Sony broadcast cameras, but that was no longer an option," he insists. "The obvious answer was to expand the robotics."
Mead decided to look at a mini pan–tilt–zoom (PTZ) camera: "The two options we had were a small-form-factor PTZ, or to go down the lines of using a broadcast head on a PTZ, which would be remotely operated," he explains. But there was no such dilemma for Mead when it came to sourcing the kit and asking for advice.
"We'd been using CVP at CTT to service our lenses," Mead says. "We've got a lot of Canon lenses with Sony broadcast heads. CVP is just a great one-stop shop in terms of its purchasing power – due to its clients. Service is great, both pre- and post-sale. If anything unexpected happens, the team will deal with it and turn things around very quickly. I'm very happy with their attention to detail."
Its customer service prowess was evidenced when Mead's team went to the video equipment specialist for this project. The crew was introduced directly to Ben Arlow and Alistair Brierley from Panasonic Connect – set up by Michael Groom, the account director at CVP.
"The Panasonic team came down to our warehouse in Wiltshire for a demo day," Mead adds. "We looked at two high- end PTZs. One was a Panasonic UE100, which we tested at the facility with some basic shooting. Then the UE150, which I love the look and size of – the fact it's all networkable with fibre options is a huge plus on this tour design. The UE150 also has a 4K to FHD crop – that got me thinking how we could use one camera and get two live shots of Ed from one position."
With the kit ready to be deployed, the team was about to do something outside its comfort zone. Although the kit was exciting and new, Mead says it was 'very daunting' to just use robotics.
"It was hard work for our operators on the tour, when you take the discipline of a front-of-house broadcast cam with a box lens and replace that with a tiny robotic camera," Mead says. "When operating a broadcast camera, you are at one – every muscle is engaged to move it and operate the zoom and focus. This was now a plastic joystick and rocker switch."
If reviews of Sheeran's tour are anything to go by, the team hit all the right notes.
Visit cvp.com for more information.
This article originally appeared in the November 2022 Issue of Definition. Read the full magazine here.