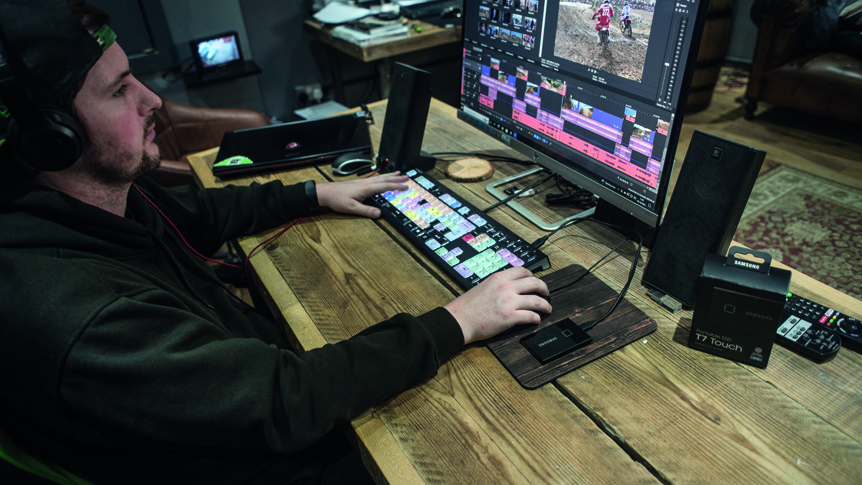 Samsung: Off-road storage
Posted on Oct 31, 2022
Motorsport filmmaker, Max Hind, gives the Samsung Portable SSD T7 Touch a rugged run-out. The SSD's speed, durability and size is a winning combo in the race for best media
Advertisement feature
Any location can take its toll on a creative's tools, but certain environments push kit to new limits. In the action-packed world inhabited by Too Fast Media Group, demand doesn't get higher. Headed up by Max Hind, the studio provides creative offerings within the motocross scene.
"We cover some of the UK's biggest events and produce videos for leading motorcycle brands. Social media representation is in greater demand than ever, which is a very high-output environment," Hind explains. "We also run one of the largest off-road motorcycle YouTube channels in the world, which has become a significant part of our business.
"We began as hobbyists in the days of analogue video. Tape and dirt bikes do not mix," he laughs. "When everything went digital, it transformed things. We've grown with the technology."
Years in, Hind has a challenging workflow running like clockwork. Hours of action in the field are followed by a quick offloading of files, then a masterful edit.
"We shoot on cinema cameras, which means stripping data from memory cards regularly. We transfer that data to a hard drive, take it back to our studio, then upload to our main machine, which we edit off. We've been using old-fashioned hard drives – primarily because we never delete the files off them and save each one as a long-term backup."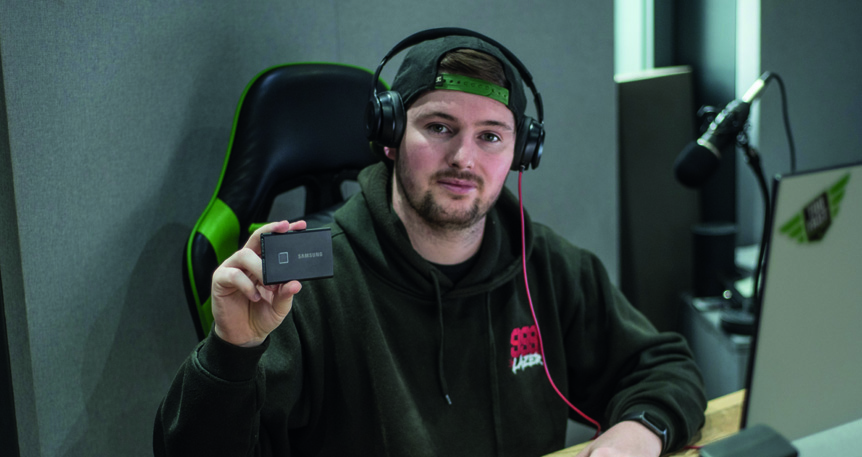 It's a cost-saver, but inevitably, there are risks. The moving parts of HDDs are prone to breakage. Going beyond an SSD's simple lack of moving parts, the Samsung Portable SSD T7 Touch is housed in a durable metal casing, providing shock resistance up to two metres.
"We work as safely as we can – and only once have we had an instance where we dropped a drive; it was from less than a foot, but it still broke. We were able to have the data recovered by professionals, but it's a long, costly process. That experience makes the Samsung all the more appealing."
A tool that can survive the process is Hind's most baseline requirement. Next in line for consideration is speed.
"Our computer's internal storage is SSD, which is perfect for editing, but to have an external version for file management is very exciting," the filmmaker notes. "With our machine, we're limited to USB 3.0, but at its maximum USB 3.2 Gen 2 potential, the Samsung Portable SSD T7 Touch is capable of 1000MB/s write speeds. I timed the downloading of the same set of files on both the Samsung and our HDDs. The newer technology was significantly quicker, handling 3GB of footage in 28 seconds – and that's with our limited interface."
In fact, the Samsung Portable SSD T7 Touch is up to 9.5x faster than many hard drives. Exceeding even its own write speeds, sequential reading can stretch to 1050MB/s. The secret lies in the SSD's advanced design, with embedded PCIe NVMe technology.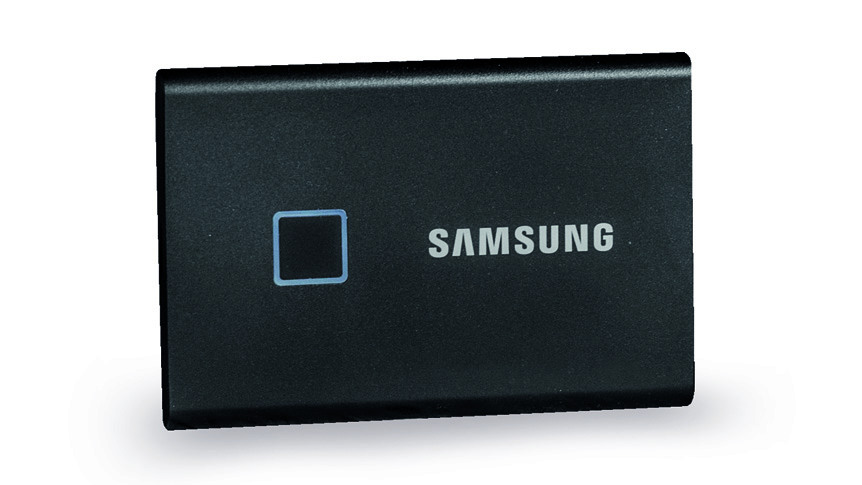 "Having the speed to keep up with the files our camera outputs is important," Hind adds. "I think, as time goes on, it will likely become even more so."
When transfers are done, the drive's job is not over. Physical protection is met by equally sturdy digital security. Backed by AES 256-bit encryption, confidential files of all kinds can be accessed at the touch of a finger. Up to four fingerprints can be added, with the option of standard password input.
One final, pleasant surprise for Hind was the Samsung Portable SSD T7 Touch's size. Housing 2TB of storage in a 58g body, it's far lighter than most.
"I wasn't expecting it to be so small," Hind admits, impressed. "We work in a lot of run-and-gun scenarios, and we travel often, so the smaller the drives, the better.
"On a track day, we'll be carrying multiple cameras and lenses, a tripod, a drone, action-sports cameras, plus a laptop to transfer and review footage. It's important that we're not hugely encumbered around the racetrack. Size is definitely a consideration for every bit of kit we purchase."
The Portable SSD T7 Touch has given Hind quite the introduction to the world of external SSDs. He's gone straight in with the cream of the crop, but is the appeal enough to draw him away from old habits?
"It's clearly a quality product," he states. "You can tell a great deal of thought has gone into it. To compare it against the drives we use, it really demonstrates its value. It's the most secure, it's much faster and we're less likely to lose data. For certain jobs in the field, where its attributes are crucial factors, it's something we're very interested in exploring further."
Visit the Samsung website for more information.