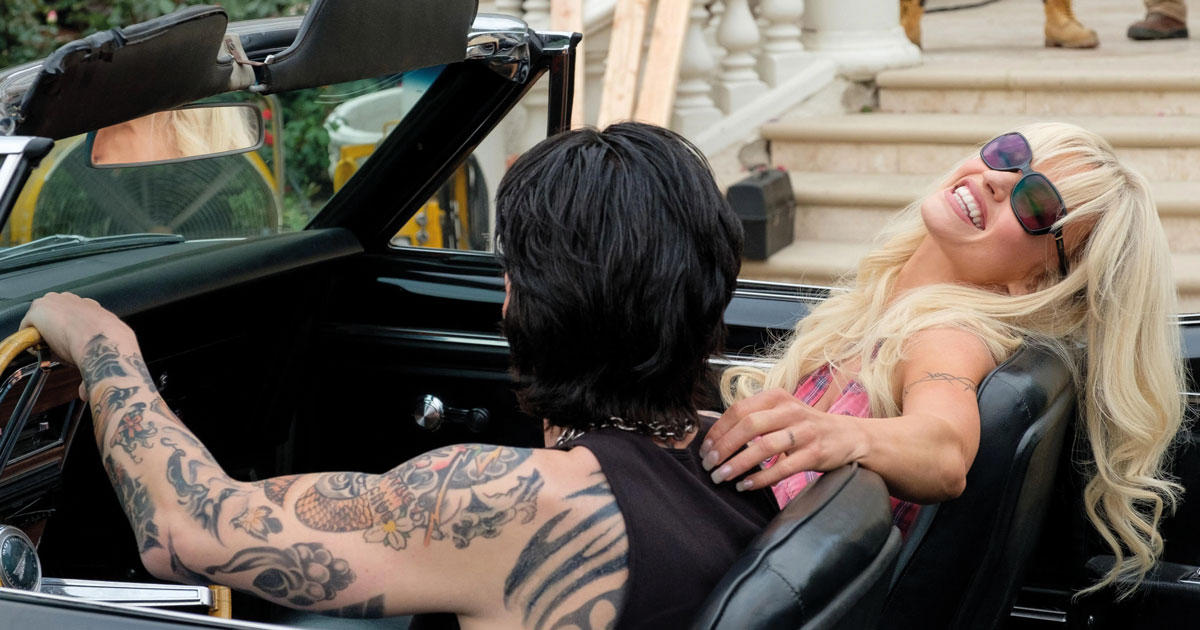 Sex, Lies and Videotape
Posted on Apr 27, 2022 by Samara Husbands
Hulu's Pam & Tommy is a production roller-coaster of celebrity passion and crime. Divided between a predominantly female set of directors, we break down how each one stepped up to the plate
Words Verity Butler
Raunchy, gripping and salacious, Hulu's latest dark comedy, Pam & Tommy, kicks off as a whirlwind example of the frivolity of a celebrity lifestyle. However, this is tainted by a complete loss of any sense of privacy – especially for a woman already seen as a global sex symbol.
Rather than a simple biographical piece focused on the relationship between Baywatch star Pamela Anderson (Lily James) and Mötley Crüe drummer Tommy Lee (Sebastian Stan), the plot centres on a driving character – the constantly out-of-his-depth carpenter Rand Gauthier (Seth Rogen), who takes vengeance on Tommy Lee when he is fired without pay. He does so by stealing, manufacturing and selling the couple's sex tape online. 
The leaking of such tapes has become common in the 21st century, but this was an early example of one going viral via the internet. This is wittily emphasised by the characters' lack of knowledge or understanding of what the 'web' actually was – it had only existed for less than a year at that point in the story.
The mid-nineties era is also heavily present in the show's sets, wardrobe and music. We are undoubtedly in 1995, especially when watching Pamela and Tommy meeting, getting high and married, despite having only known each other for 96 hours.
This eight-part series was divided up between an eclectic handful of mostly female directors – their individual styles reflected subtly by the final product of each episode.
Start with a bang
The first three episodes were taken on by Australian-American director Craig Gillespie. Most known for I, Tonya and Cruella, his approach could be described as a model of precise extravagance.
This style suits the series perfectly. Trombone shots are in abundance, as Tommy locks eyes with Pamela in a sultry nightclub; making it feel as though you are both watching in the third person, but also locking eyes with the pair of them yourself.
We personally embark on the journey of Tommy's crazed pursuit of Pamela. Following her after one meeting to Cancun, partying two nights away together on drugs, and ultimately ending up on a beach with her in a white bikini saying, 'I do' – four days after meeting. All 100% historically accurate, the introduction undoubtedly reels you in with its flamboyance. 
Standout elements of Gillespie's contribution are the slow-motion sex scenes – Tommy having held off until this point because he 'does things by the book'. They quite literally depict the climax of this four-day relationship and subsequent marriage. But what Gillespie also manages to achieve is a portrayal of how Pam and Tommy see their relationship – an exciting, Bonnie and Clyde-style romance – while trying to ground the audience with the ridiculousness of this fantasy. 
Tommy's conversation with an animated version of his penis also helps.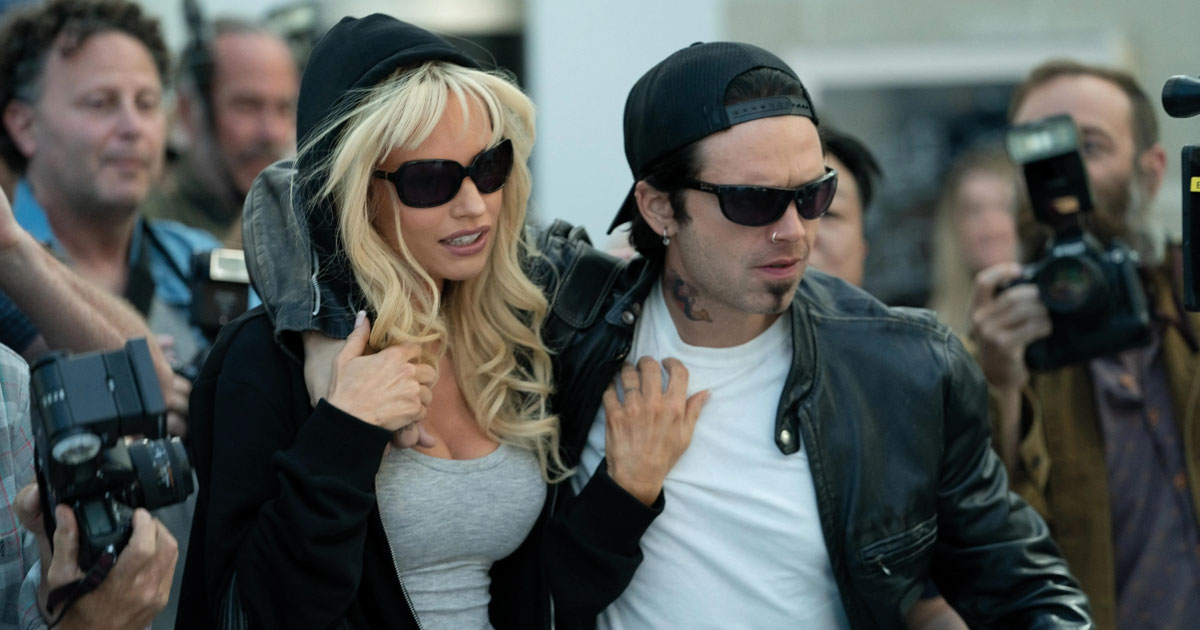 Rampant sexism
Episode 6, Pamela in Wonderland, is the only one taken on by director Hannah Fidell. Known best for A Teacher, she delivers a vulnerable lull in the series with this 27-minute section. A huge shift in tone surfaces, as we see Pam lifted onto a pedestal, providing an overview of how she has ended up in the glorified spotlight we still see her in today.
Where preceding episodes are centred around the Seth Rogen character or Pam and Tommy's tumultuous relationship, this one stands on its own as a bridge to the series' conclusion.
There are constant jumps between past and present, helping to construct an understanding of how Pamela perceives her situation – offering a clever reflection on previous experiences. A prescient moment is the flashback to her arrival at the Playboy Mansion – from her first photo shoot, to her meeting with Hugh Hefner.
But we witness a contrast, following her evident unhappiness on the set of Baywatch, where she never has any lines and is controlled by men, with every shot below the neck of her legendary red swimsuit. We see a liberated Pamela instead, allowed to be herself entirely. This is highlighted by a montage sequence of Lily James standing by a window and gradually gaining confidence, ultimately taking control of the shoot herself.
What makes this episode stiflingly tragic is that it leads to Pam and Tommy's deposition – taking place for their lawsuit to go through – where she is forced to watch the entire sex tape in a room full of male lawyers, in order to 'verify her identity'. Notably, Tommy doesn't have to.
The crisp and harsh colours of the boardroom setting are a brash ripping of the Band-Aid from Pamela's warm and vibrant life story. The mirage of her wonderland is more than shattered.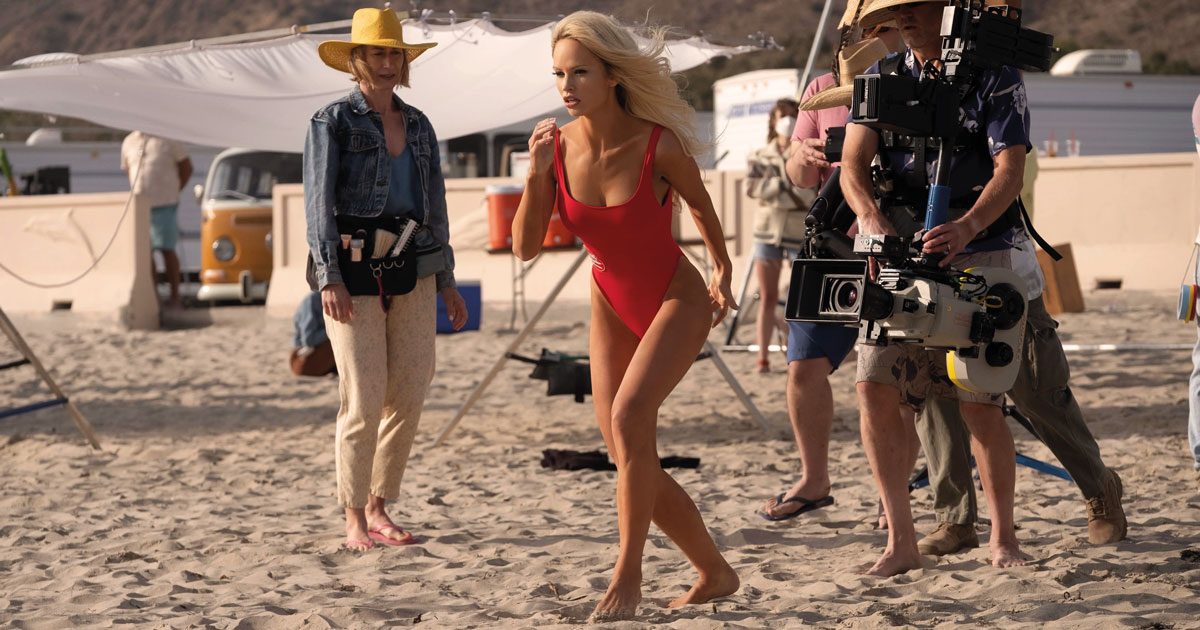 A viral catastrophe
The fifth episode, and the concluding one, were directed by Gwyneth Horder-Payton. With a reputation for TV shows that have male characters struggling with issues of violence, including The Shield and American Horror Story, a character like Tommy Lee made her a perfect fit.
Focusing not just on the final shift in the relationship between Pam and Tommy, we also see the momentous, inexorable rise of the internet. This is illustrated when the couple realise that the problem has gone beyond Gauthier's website, where copies could merely be ordered online and shipped to people – what they are truly fighting is the unstoppable force of the web.
Slowly panning from Tommy's horrified realisation of the fact that the tape can now be streamed online for free, to the brick-like original Apple Macintosh computer fuzzily stating in block capitals, 'The Pamela Anderson sex tape: watch for free!', heightens this final moment of defeat for the pair.
Horder-Payton's approach to the denouement of the show also pays gentle homage to what was said to be the truth behind their relationship. The closing shots detail Pamela having her 'Tommy' knuckle tattoo modified to say 'Mommy', following by her standing up, smiling softly to herself, glancing at a poster of Tommy on the wall – she looks on lovingly. A nod to the fact that, although the two ended – and on terrible terms – to this day, they claim to be the love of each other's lives.
Sensitive storytelling
Completing the triumvirate of female directors, with two episodes, is Lake Bell – who is also enjoying an extensive film and TV acting career.
While many people have criticised the show for regurgitating the sex-tape controversy, Bell understood more than most what she was taking on. In 2014, photos and videos of dozens of celebrities were leaked online, in what was called 'Celebgate' – including some from Bell's wedding night.
"This was an opportunity to humanise someone who was exploited," Bell said in a recent interview. "I felt protective of how Pamela was portrayed."
Pam & Tommy not only reflects on a story of glamour, crime, romance and comedy; it acts as a celebration of female talent in the production world. It brings to the table new cinematography approaches when it comes to ethically depicting a delicate topic – but with a tastefully humorous alacrity.
Pam & Tommy is available to stream on Hulu and Disney+.
This feature originally appeared in the May 2022 edition of Definition Magazine.