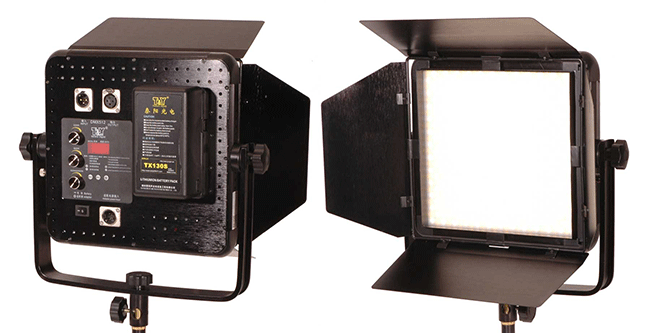 New Bi-colour LED Panel for under £300
Posted on Jul 11, 2014 by Alex Fice
A new bi-colour unit LED light for under £300
The TY-600 is a new dual colour LED light panel, distributed in Europe by Ianiro International. As a 40W cool running system with manual and DMX dimmer, the light can be used close to the talent for completely controlled results.
A bi-colour unit, TY-600 gives users the option to set the colour temperature while its CRI in excess of 90 gives accurate results. This portable unit can be used as a key light either in the studio or on location, with AC or battery power connectors giving users the option to use the panel in any situation. The built-in DMX dimming system can be daisy chained allowing a control desk to manage multiple lights centrally. As with the manual dimmer, the DMX can vary the output from 0 – 100%.
"Few panel lights have this level of versatility." Said Nick Allen-Miles of the distributor Ianiro International. "Dual dimming systems, dual colour LEDs and a dual powering system add up to a lighting solution that puts the user in full control. It's a high quality all-rounder at a very keen price."
The system's environmental credentials are strong: power draw is low and the stable LED array can be expected to last for well over 100,000 hours.
TY-600 retails for around £299 excluding Vat, complete with barn doors and a carry case.  The LED light is available now from resellers across Europe. For more details contact Ianiro International