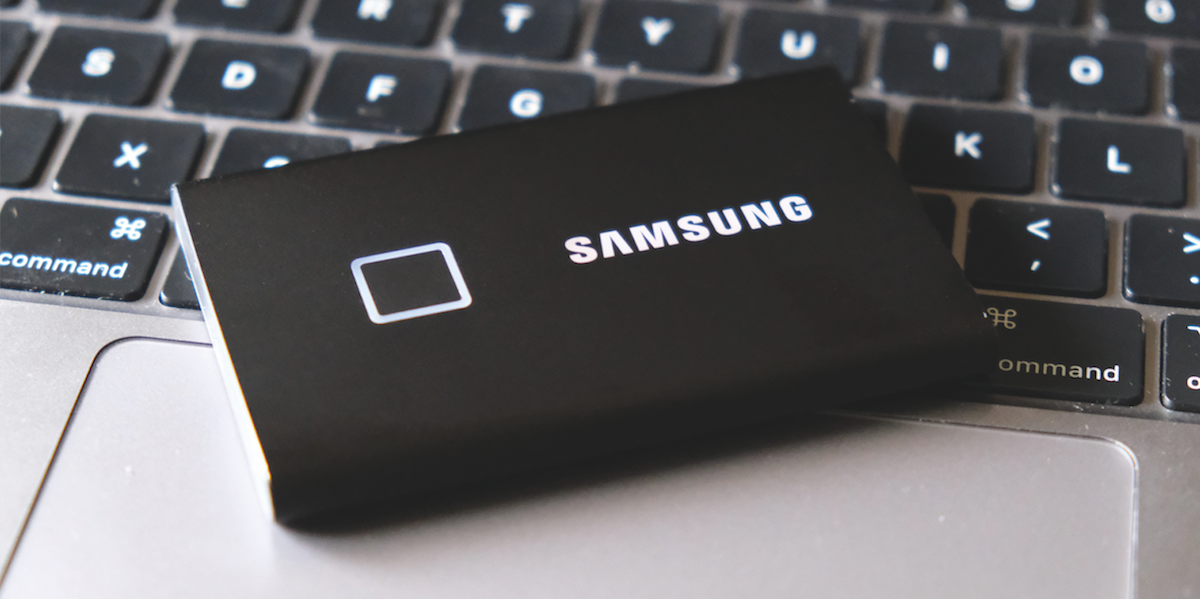 Samsung: SSD amplified
Posted on Feb 28, 2023
On a music video shoot, end-to-end filmmaker Scott Harvey turns his storage up to 11 with the Samsung Portable SSD T7 Touch
Advertisement feature
Long, high-energy days, a mountain of creative tools, rapid turnaround of assets – that's the nature of Scott Harvey's genres.
"I specialise in music videos and sports," he begins. "I spent 2022 travelling Europe, creating content for a world champion speedway rider. When I'm in the UK for the off-season, I shoot music videos, handling pre-production, filming and editing, so I suppose I'm a jack-of-all-trades."
Tasked with producing a new video for a London-based rock band, Harvey made a considered addition to his kitbag. Old hard drives were left behind – replaced by the powerful Samsung Portable SSD T7 Touch.
"Thankfully, I've got plenty of memory cards, so never need to strip footage during a shoot," Harvey explains. "But, it's the first thing I do when I wrap. As many filmmakers can attest, footage may look great on a camera's LCD, but the real test is seeing it on a large monitor. It's an important part of the process – and not usually quick.
"I couldn't get over the rapid transfer speed of the Samsung Portable SSD T7 Touch. I moved 200GB of footage in just a few minutes – that would normally take half an hour! It was so fast, I thought I couldn't have moved the whole day's worth of files in such a short space of time," he laughs. What Harvey was experiencing was a jump between outdated storage and a cutting-edge portable SSD. With respective read and write speeds of up to 1050MB/s and 1000MB/s, the Samsung Portable SSD T7 Touch is close to 10x faster than many external HDDs. But the creative knock-on goes further than crucial moments saved.
"Comfortably using the resolutions and bit rates I want is a game changer," Harvey explains. "I thought data-heavy workflows were the problem, not the devices I was using to store and transfer files. I've been editing video straight off the portable drive, which is as smooth as butter."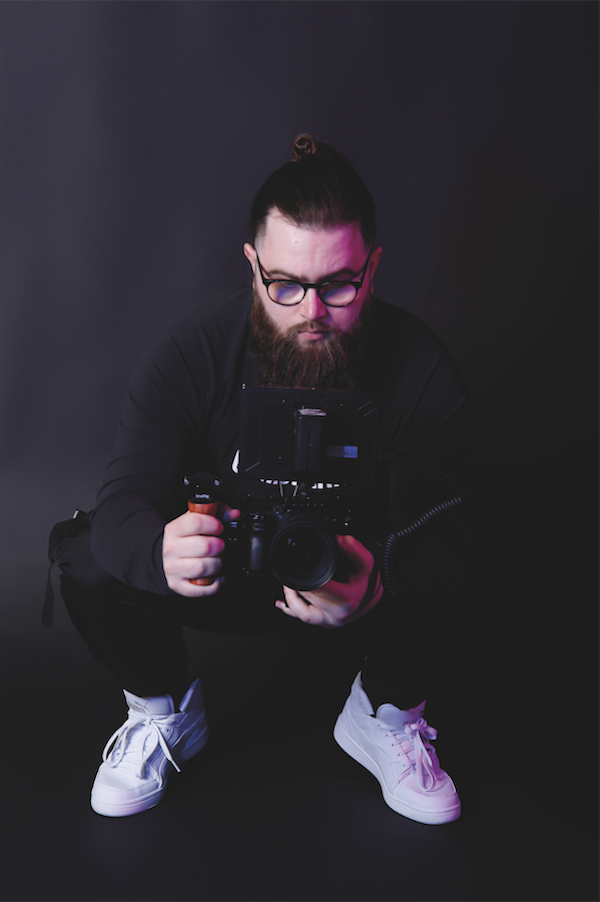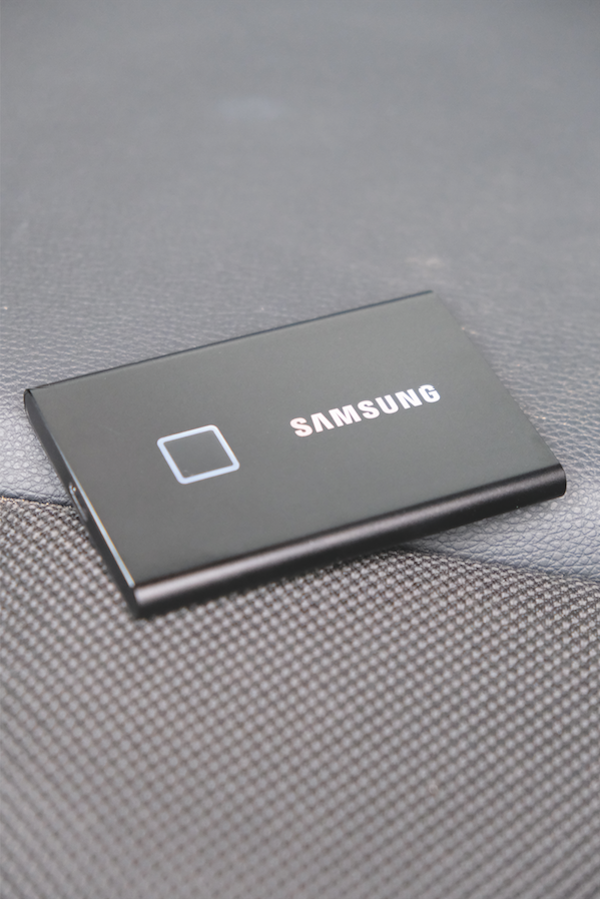 TAKE ME OUT | At 85mm in length and 58g in weight, the Samsung portable drive is ideal for those on the move
When there is limited time to produce a final cut, but standards are high, delays simply can't happen. Storage that works as hard as you can't be overvalued. Having poured 40 hours in over a handful of days, security is at the front of Harvey's mind.
"You'll protect this level of time investment with your life," he notes, "so the portable drive's durability is very welcome."
With no moving parts and a tough aluminium housing, it withstands drops up to 2m. But physical security is only half the equation: the Samsung Portable SSD T7 Touch is designed with a fingerprint scanner, backed by AES 265-bit encryption and surrounded by a status-driven LED.
"You never know who's picking up a drive on-set and clearing it thinking those files have been stored elsewhere. If I have sensitive footage, there's an extra layer of security between it and anyone else."
You'd be mistaken for thinking such a high-spec portable SSD would come with a size compromise. Its stylish body measures 85mm in length and weights 58g. Due to the extensive list of kit Harvey requires for music videos, that's an important factor.
"I consider size with every product," he says. "Moving so much equipment all over is one of the hard realities of the job. On shoot days, I've got bags full of lights, cameras, lenses, modifiers, gimbals, smoke machines – you name it. It's all essential kit, so having a small and compact portable SSD that fits in your pocket is amazing. The Samsung Portable SSD T7 Touch is about a third of the size of previous hard drives I've used, but infinitely quicker."
With his off-season coming to an end soon enough, and life on the road beginning once more, Harvey is envisioning the mighty portable drive's potential in perhaps even more challenging circumstances.
"I'm looking forward to taking it out on the next speedway tour. We are travelling constantly and only get short stops to shoot behind-the-scenes content, which often needs to go straight out on socials. I know that the usual 15-minute transfers will be done in a few minutes, which is huge in this context," he concludes. "I want a whole set of Samsung Portable SSD T7 Touches now, just for the speed alone. Time is money."
Learn more at samsung.com.
This article appears in the March 2023 issue of Definition. Read the full magazine here.