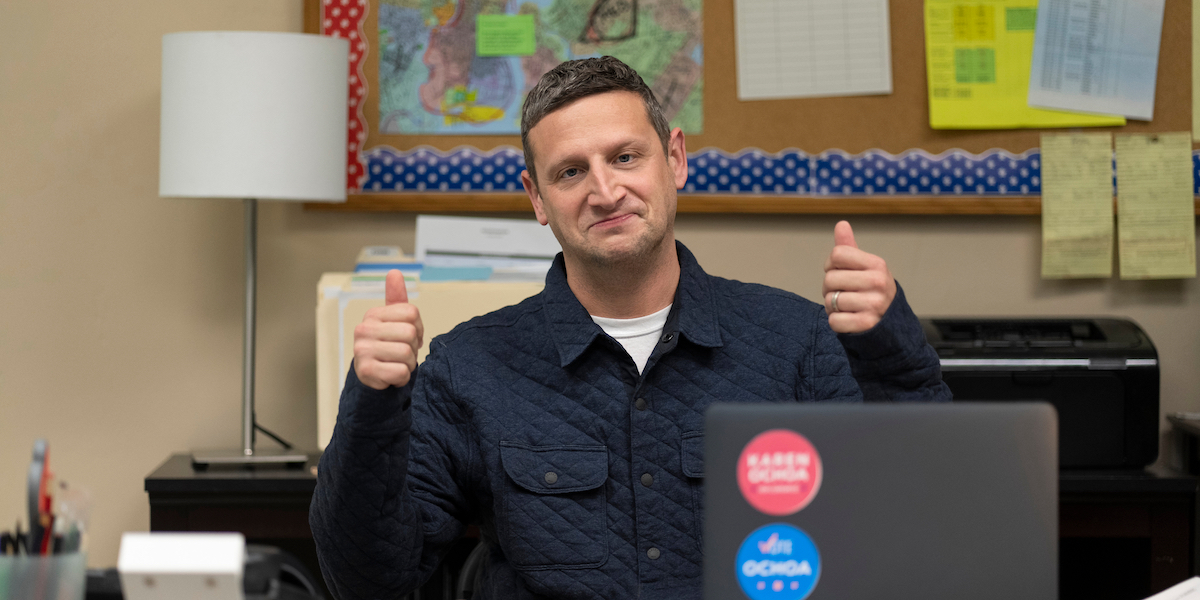 I Think You Should Leave
Posted on Jul 27, 2023
The DOP for popular sketch show I Think You Should Leave explains the challenges of shooting a hit run-and-gun comedy series in a matter of days
WORDS Robert Shepherd | IMAGES Netflix
Saturday Night Live (SNL) has been a major launching pad for talent since its inception in 1975, with many comedians, actors and writers getting their big break through the sketch-comedy show.
The list of graduates includes Eddie Murphy, John Belushi and Chevy Chase, to name but a few. Three others that have been added to that exalted list in more recent years are Tim Robinson, Zach Kanin and Akiva Schaffer, who joined forces in 2019 to create the popular Netflix sketch show I Think You Should Leave with Tim Robinson.
If you're a fan of The Office, Curb Your Enthusiasm or Veep, then this is a cringe comedy for you. The majority of sketches centre on individuals committing humiliating blunders in either work or social environments. Instead of owning up to their mistakes, they adamantly try to persuade everyone that they are accurate and those around them are erroneous. The show heavily relies on uncomfortable humour with elements of absurdity. It also integrates moments of toilet humour that are frequently turned on their head in unanticipated ways.
Now in its third season, the sole cinematographer Markus Mentzer is again working with Schaffer, with whom he first joined forces on the cult American music mockumentary Popstar: Never Stop Never Stopping.
While it's obviously good news that Netflix has seen the sense in investing in a third season, Mentzer is acutely aware that the show needs to keep reinventing itself if it's to live up to its reputation.
"When the first season came up, I was thrown into the mix," he recalls. "I knew they worked to a super-tight schedule in a run-and-gun style. For all three seasons I actually stole from Popstar quite a bit because we shot most of that on zooms as a faux documentary. There was loads to shoot for that film in a really short amount of time, and Akiva wanted to approach this show in the same way. So we did – 90% of the show is shot on zooms. But you're not always necessarily seeing in-camera zooms or corrections, depending on what aesthetic a particular script called for. We used zooms for the speed; we weren't swapping lenses between set-ups. So in that sense it's like old-school TV."
Those familiar with the series will know that the camera is mainly handheld. This also helped to facilitate the quick pace at which the crew needed to shoot.
"One of the benefits we got from this season was that we used the new Angénieux Optimo Ultra zoom lens on both cameras," Mentzer explains. "Those zooms have a more prime feel to them, especially when you put it on the Sony Venice. In that sense, we didn't compromise anything for sketches that required a more traditional, dramatic prime-lens look versus scripts that had a documentary feel."
Happy with the aesthetics, Mentzer and his team still had to navigate a punishing schedule.
"The challenge was the actual speed," he remarks. "We had over 300 pages of dialogue to shoot in 24 days across 50 locations around LA, with about six hours of shooting time per sketch. The biggest thing was trying to get the crew moved around from place to place – as 95% of the show is shot on location. So gear-wise, we had to keep ourselves as small as possible so we could move quickly. Less is more.
"What speeds us up the most from a shooting perspective is being able to pre-rig locations, so we can leapfrog from one set to another. With a tech scout, which wasn't always a given, we could pass on lighting plans to our two-person rigging crew. We only lit with LEDs on house power for the majority of the shoot, but being able to rig lights overhead in advance let us move around the set more freely, speeding up our day."
This article appears in the August 2023 issue of Definition. Read the full story here.