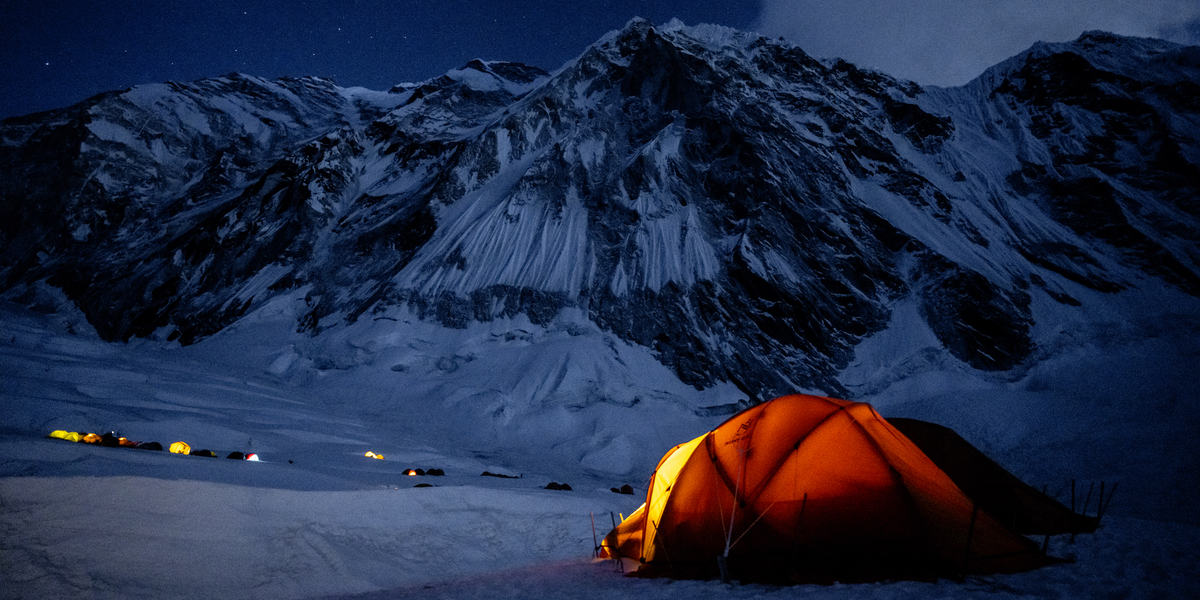 Finding Michael: Searching for closure
Posted on Apr 28, 2023
Reality TV star Spencer Matthews went to the world's tallest mountain in the hope of finding the body of his late brother Michael
WORDS Robert Shepherd | IMAGES Disney+ & The Matthews Family
Before you ask, this is not a light-hearted production story about a title character or tritagonist from a series of Disney animated films – there will be no curious and impressionable clownfish or blue hippo tangs with anterograde amnesia. Shine TV's Finding Michael charts the very real and emotional journey of reality TV star Spencer Matthews (Made in Chelsea) as he searches for the remains of his late brother, who summitted Mount Everest in 1999 at the age of 22, but never returned.
Of course, making such an intimate, personal and sensitive documentary in some of the world's harshest conditions requires a lot of thought and preparation. At the same time, it needs to look special. The brief from executive producer Tom Hutchings was for Finding Michael to have a hybrid approach – to look like a cinematic feature but not lose the 'scratchy ob-doc' feel.
"From the very first time I spoke to Tom, he said: 'This is a feature doc; it needs to be big and we need to push the envelope of what we're doing – we want it to look amazing,'" explains DOP Rob Taylor. "We had all those goals, but we had to do it up Mount Everest. I've filmed at altitude before; you take the most lightweight camera you can, letting the mountain dictate how you do things. What we tried to do on this is maintain a big vision, whether we were up Everest or not."
That said, the team 'didn't scrimp on kit', and the bulk of the gear for the trek was carried up by six Sherpas and a couple of yaks. When it came to choosing kit, Taylor informed Hutchings that he had a Sony FX6 and Red Gemini.
"He said he wanted to use the Red," says Taylor. "I asked if he was absolutely sure he wanted to do that up Everest. He said yes. The scope of it was such that we wanted to use the best cameras we could. We wanted it to look amazing and didn't want to cut corners in any way. I bought some bits to make the Red work as a shoulder camera better."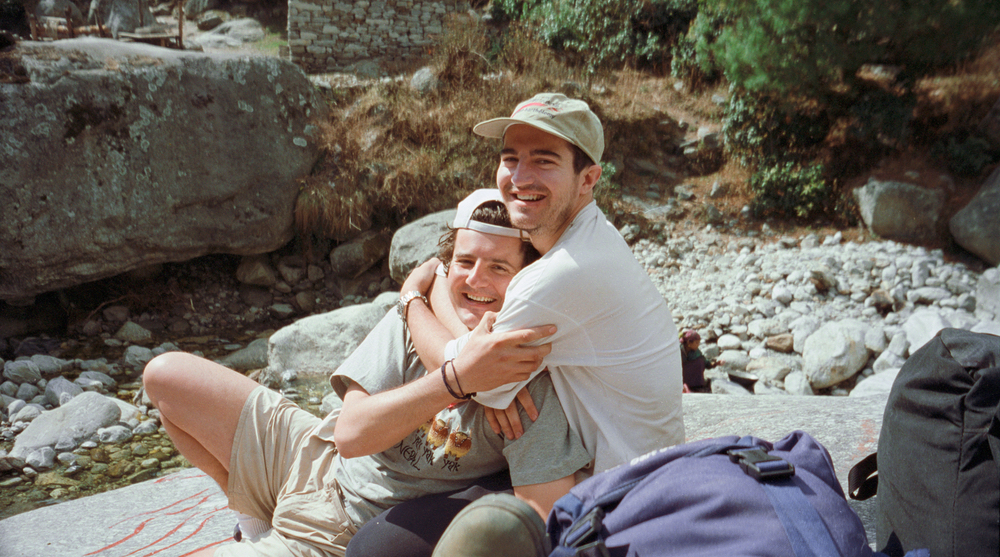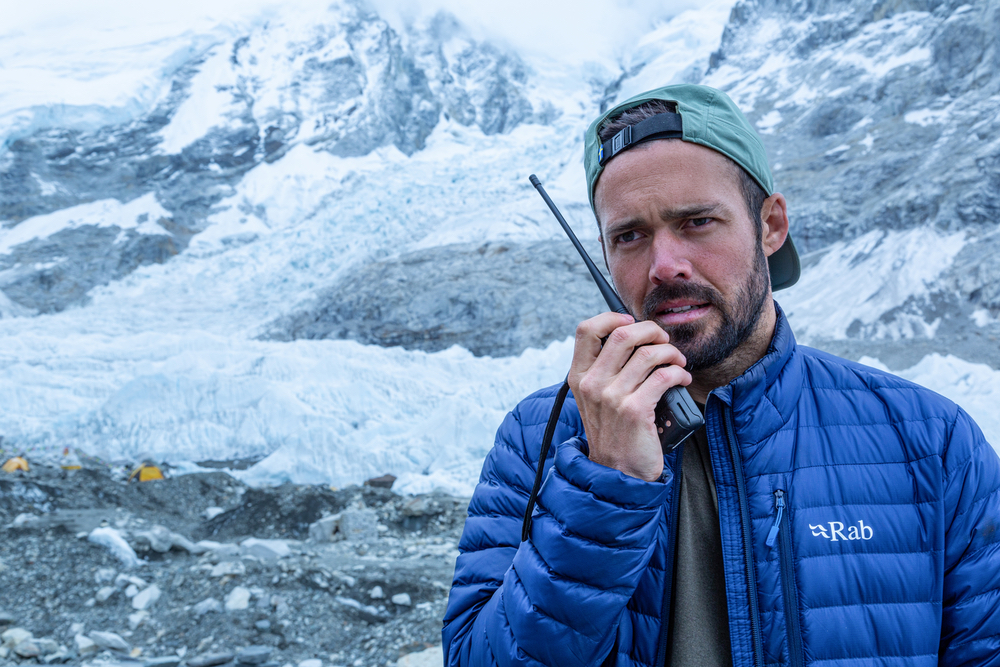 LONG LOST | Spencer Matthews travelled to Mount Everest with a team of experienced climbers and a documentary film crew
THROUGH THE LOOKING GLASS
Producing the required look and feel meant the crew had to think hard about lenses. Taylor says they initially wanted to use primes.
"Once [director] Tom Beard got involved, we shot some tests on primes," he recalls. "We realised that lots of what we were going to do was observational even if we were trying to keep it cinematic – after all, we were following a real, unfolding story, not creating something to our schedule. Primes, for most of the time, were not going to be sensible."
Taylor's friend and fellow DOP Justin Frahm loaned him some Angénieux EZ zoom lenses to use instead.
"You can change the back so they're either Super 35 or full-frame – they cover both sensors," he adds. "They're zooms, but have a cinematic prime look and are fast at T2 in Super 35 mode. For me, they're one of the most prime-looking zooms. We shot the first interviews on them and I immediately bought some."
The base camp team consisted of Taylor, Beard, Matthews, Andy Hoare (sound supervisor) and renowned Nepal-born mountaineer, Nirmal 'Nims' Purja.
"I always knew that Nims' high-altitude search team would be filming without me, so I held detailed briefing sessions with them, which began while I was still in the UK," says Beard. "The two people I particularly relied on were Suman Sherpa, an incredibly strong mountaineer with lots of drone and filming experience, and Scottish climber and mountain rescue expert Brodie Hood – who's filmed many challenging climbs. I discussed technical settings, camerawork and editorial choices in detail with them so they could work autonomously on the mountain and deliver great results. The rest of the search team also had a GoPro each, and I held a briefing session at base camp about how best to use it to cover the search process and anything they found."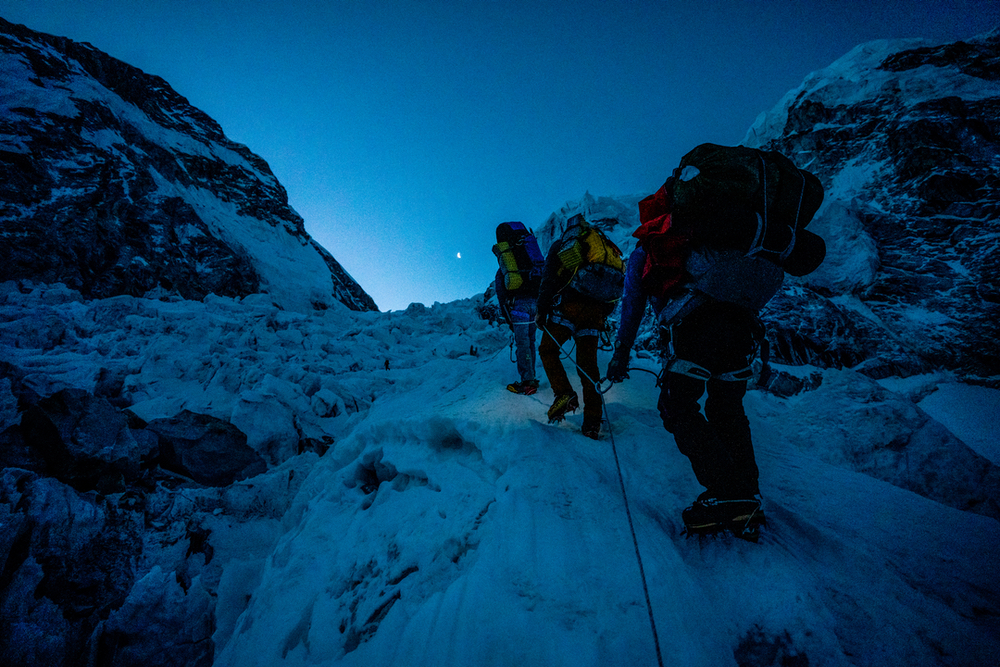 ASCENSION | The expedition team had to make the most of small windows of fine weather to conduct their searches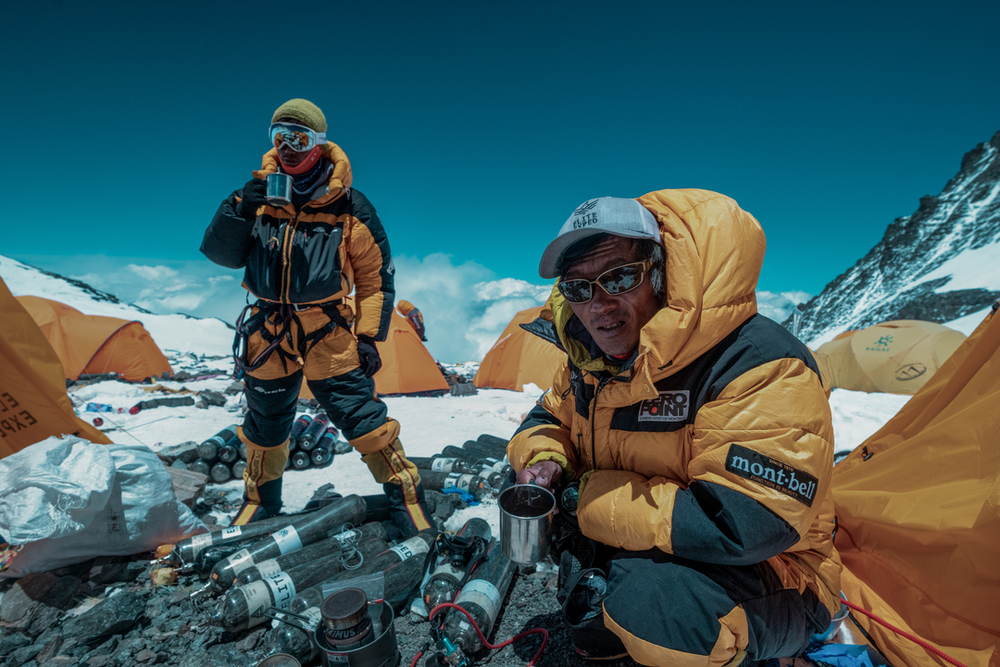 TALE OF TWO TEAMS | The main crew set up in base camp while the search and rescue team made expeditions up the mountain with smaller cameras
The search team consisted of around 12 people armed with GoPros, Sony A7S IIIs and two DJI Mavic 3 drones.
"On the mountain was the climbing team, which was fairly independent," says Taylor. "They were a team of altitude experts, but at over 8000m you're still dictated to by what's physically possible – so they used smaller cameras. What they achieved up there was remarkable. Spencer and my team stayed at base camp and liaised with the team on the mountain to tie things together."
Beard adds: "I was very keen to make sure we could tell every beat of the unfolding search from Spencer's perspective, as the person on location with the most emotional investment in the project. Nims and his team handled everything above base camp, including the camerawork to cover the search."
This is the cover story for the May 2023 issue of Definition. Read the full piece here.