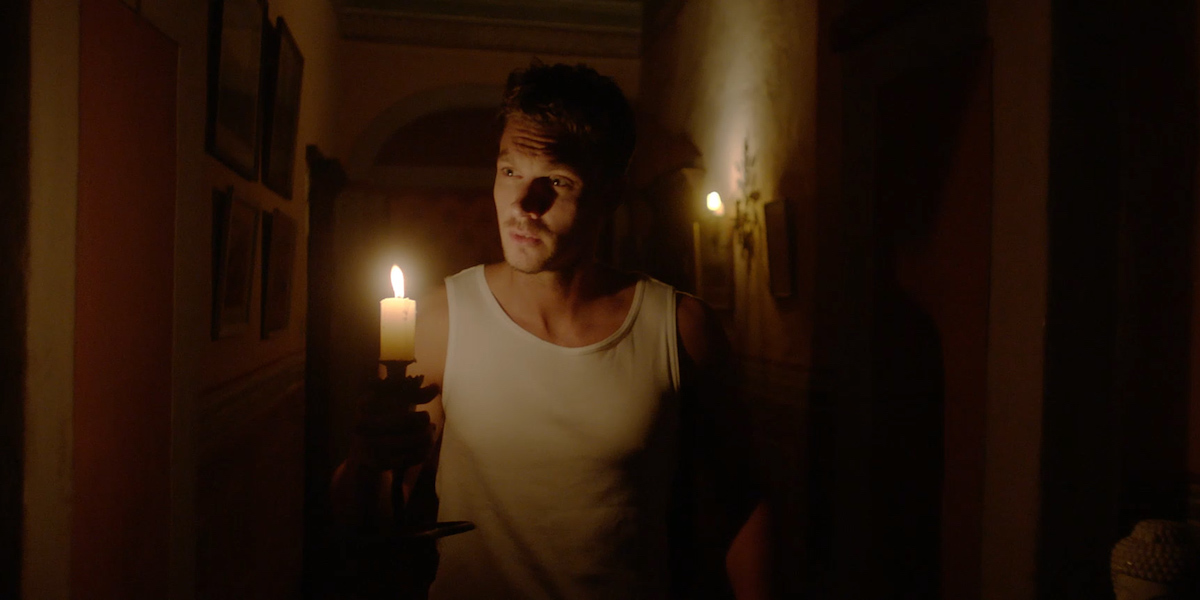 House Red: The Italian job
Posted on Feb 3, 2023
A movie of its own could be made about the filming of House Red. This horror, set in a Tuscan vineyard, was hexed from the start
WORDS Robert Shepherd | IMAGES Camilla Storey
If it wasn't for bad luck, the team behind recent horror film House Red wouldn't have had any luck at all. Initially, it was set to be a breeze. A beautiful Tuscan castello and vineyard; Tamer Hassan (Layer Cake, The Business), Clara Paget (Fast & Furious 6) and Natasha Henstridge (The Whole Nine Yards); legendary DOP Douglas Milsome, with the late Darius Campbell Danesh as executive producer – the film, on the surface at least, couldn't have looked much better.
But things started to take a turn for the worse when the truck carrying all the crew's equipment got stuck in Switzerland – the result of poor decision making by the driver. The situation was compounded just four days into what was supposed to be a 20-day shoot (later cut down to 16), when a call from producer Camilla Storey to Hassan almost brought House Red down.
"Camilla called and asked if I was sitting down," recalls Hassan. "That can mean good or bad news. She then told me that a key investor had pulled out."
The British actor had asked several friends and contacts to work on the film, so he desperately wanted to make sure he didn't let any of them down.
Instead of panicking, Hassan was pragmatic. "These things happen, people let you down all the time," he rationalises. "The problem was that we didn't have a backup. So, I called in some favours from actors and people in the industry I have known for years and handed Camilla my credit card. Something had to be done, because we had a hardcore landlady who had said: 'If you don't pay me, I'm calling my Sardinian friends to come and sort you out!'"
Hassan invested £200k of his own money, and the figure was matched by Storey's friend and property investor George Michael Georgiou.
It was a far cry from Bitter Harvest, the Storey-produced film Hassan had just finished shooting with Terence Stamp. "That was a £30m film," he says. "We had no runners on House Red, our line producer had to go on another job. I was delivering dialogue in character, then after a scene I'd run off and clean the car for the next scene. It was a labour of love."
PICTURE PERFECT
House Red centres on a couple going on a summer vacation to Italy to rekindle their relationship. They travel to a remote vineyard to spend the summer grape-picking, but soon discover there is more to the terroir than meets the eye, as their time descends to a hellish spiral.
Director Coz Greenop says he got the idea for House Red from his previous film, Dark Beacon. "I knew one of the things that had going for it was its location [La Corbière Lighthouse in Jersey]," he says. "I then had this idea to film a Sweeney Todd-style film on a vineyard. I started writing it and researching all the wines from the region, while looking back at Hammer Horrors and other slow-burning films, rather than the shock to your face or jump scare type. I wanted something like The Shining – a psychological film in which you don't know what's going on until right at the very end."
Watch House Red via Amazon Prime Video, Sky Store in the UK and Vudu in the US
This article appears in the February 2023 issue of Definition. Read the full story here.