CVP: Ransom demands
Posted on Nov 22, 2022
Advertisement feature
Joe Ransom is a director and cinematographer at Large Format Films who spent many years on the other side of the camera. Having been to drama school, he worked as a professional actor for several years, before deciding he should direct the action instead.
"I always wanted to direct, but I thought it might be quite hard to convince anybody to pay me to do that with no real experience, so I learnt how to shoot instead," he says. "I've been fortunate over the last few years to pick up more directing gigs, and feel now as though my experience to get me to this point has been integral to my journey."
Now a highly successful director and cinematographer, Ransom makes eye-catching promo films for some of the industry's biggest players.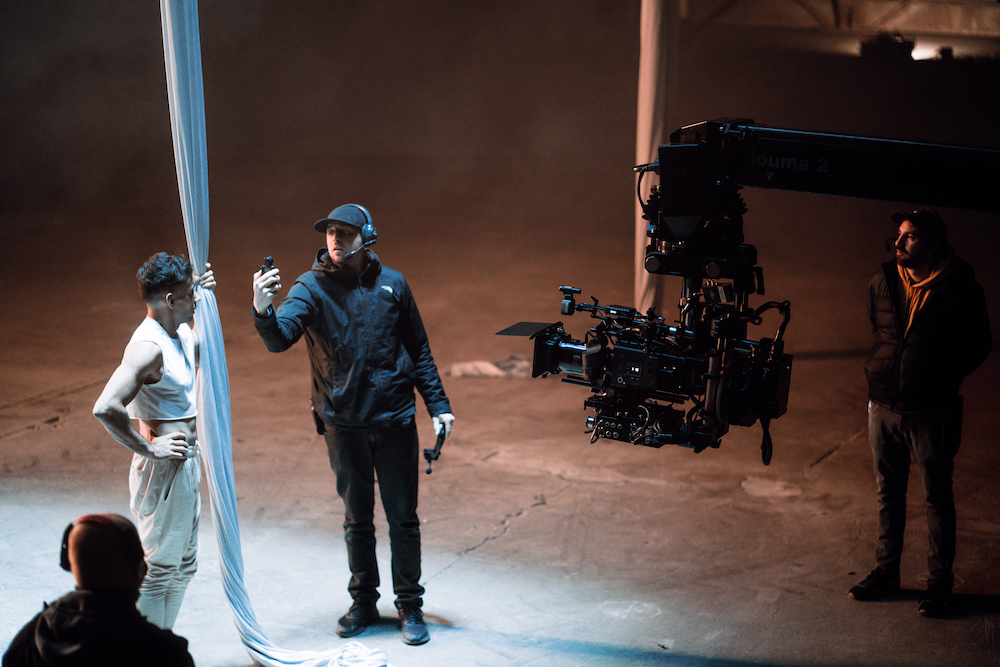 WORKING IN SPACE
Following the success of the Litepanels Gemini 1×1 Hard launch film, which he directed, Ransom was asked to pitch an idea for the new Gemini 2×1 Hard. The plan was to approach the film differently to the last one, as the product was meant to appeal more to the professional film world, as opposed to the consumer directly.
After winning the pitch, Ransom, co-director Arthur Lewin (Ecstasy of Gold) and the team went to Cardington Studios, an old airship hanger measuring 180ft floor to ceiling. "We wanted a big space to showcase the personality of the light," he says. "But in an area so vast, everything comes at a cost, and nothing is quick."
The team chose the Sony Venice with Cooke S7/is, because "the low-light sensitivity of the Venice was key" to making the commercial. "It was the right way to go," Ransom adds. "The full-frame look is something that I really like and have gotten used to over the last few years, while shooting on our Mini LF. I was always going to shoot large format, so if not the Mini LF, then the Venice was the obvious choice."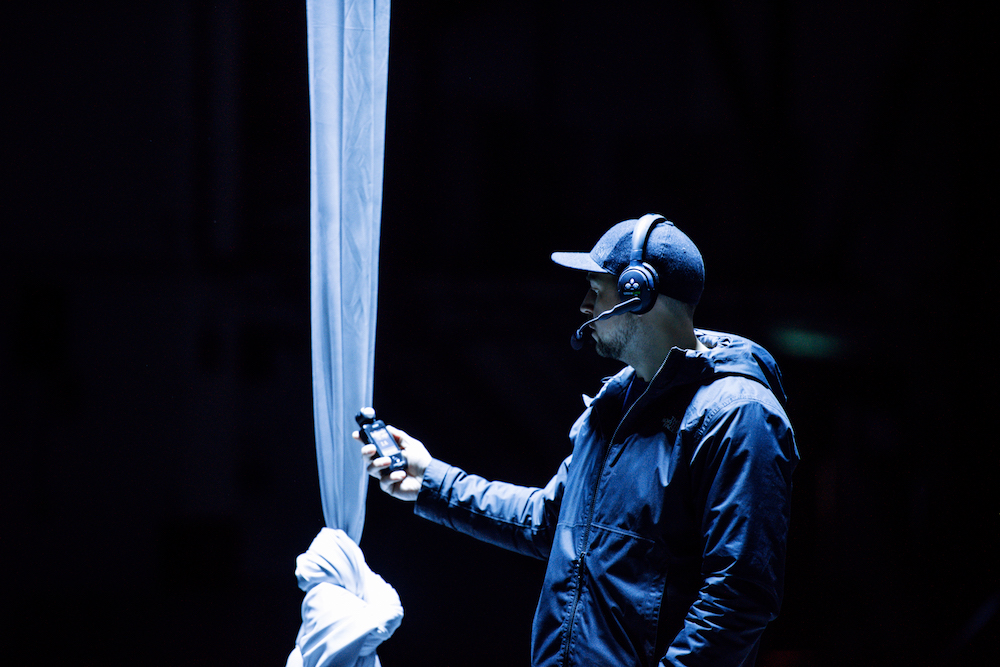 Ransom said he had to dig deep for this project. After all, how do you make something that looks like a movie without a movie budget?
"We wanted to play like the big players do, but to make it achievable for us – and our budget – we had to box clever," Ransom says. "We stripped back any set build or unnecessary budget spends and put all our effort into showcasing the light, choosing to make that the star of the show."
That sounds a lot easier than it is, because, as Ransom says, "high-end filmmaking and big budgets usually come hand in hand".
Ransom and his team decided to side-step the traditional use of an LED panel on a big film set, because "it's all been done". They wanted to think outside the box to show off some of the light's unique capabilities and highlight its key features.
"For example, one of the initial requests was to show a ceiling of light all controlled by a desk; this is something people have been doing for a number of years, so I steered us in a different direction," Ransom says. "We're talking to people who know their stuff, the film didn't need to show them things they understand – like how a hard light source works."
Ransom says he wanted to develop an idea that revolved around the light specifically, "so that when you thought about it, there was no light on the market that could achieve the same effect as the 2×1 Hard". The commercial features aerial silk artists in a dark space, performing in hard beams of lights – the 'hard tunnels'.
"We've seen soft boxes a million times, so my idea for this was to have 'hard boxes' to showcase the hard light produced by these Geminis," Ransom says. "The idea was to show we could get hard shafts of light in whatever colour we wanted from these RGBWW LED fixtures and they would be powerful enough, and more importantly directional enough, to give us those defined shafts. You can see in some of the BTS the lights are forming a sharp square on the ground of the studio with little fall off."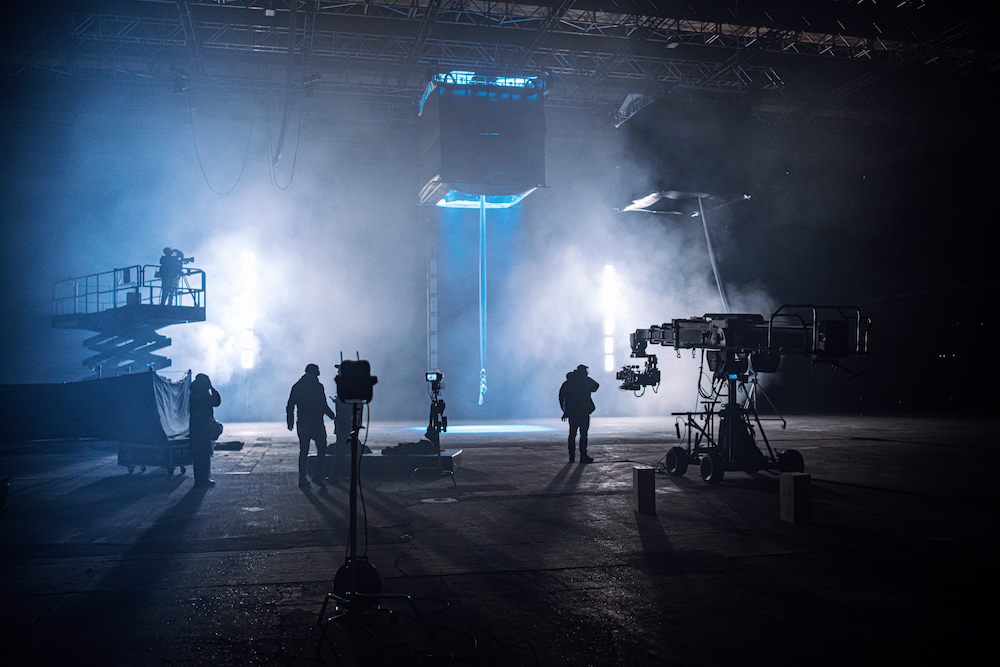 CVP SOS
This project was different to what Ransom had done in the past, as the kit was supplied directly from the client – and he was working with a product that hadn't been released. Furthermore, he was suddenly faced with an emergency, so he enlisted the help of CVP, which he says has helped him out of "many a sticky situation" in the past.
"For this job there was a real focus on the BTS cinematography, as Litepanels wanted to show the scale of the production," he says. "A gimbal went down quite late one afternoon, so I called CVP and we had one on set by the end of that day. You can't really argue with service like that."
Ransom praises the team for both its speed and efficiency on the Litepanels project. "I've had a great relationship with the company since I bought my first camera there almost a decade ago," he says. "My sales reps there are Joel and Lucy, who have always turned things around on the same day for me and are happy to get things delivered straight to set. I also like how they invite me to their talks and kit demonstrations – it's nice to be able to stay ahead of the curve with new products."
Although Ransom worked with a small budget, which meant a super-tight schedule, he says he wouldn't have done anything differently. "I sort of get a kick out of those challenges," he says. "If everyone isn't bringing their A game, the film won't get made. When the machine is so well-oiled and you're supported by an incredible crew and great talent, you all pitch in together for those few days and you're rewarded with the result. We left Cardington Studios after those four days feeling like we'd pulled off the near impossible."
Thanks to CVP, this commercial got to see the light of day.
Build your perfect kit with CVP
CVP is home to a full spectrum of production equipment that's ready to see, combine and evaluate. Its creative and technical staff are committed to finding the right solution for every production need. To arrange an online demo, or book a one-to-one consultation, call 0208 380 7400 or visit cvp.com.
This article appears in the December 2022 Issue of Definition. Read the full magazine here.