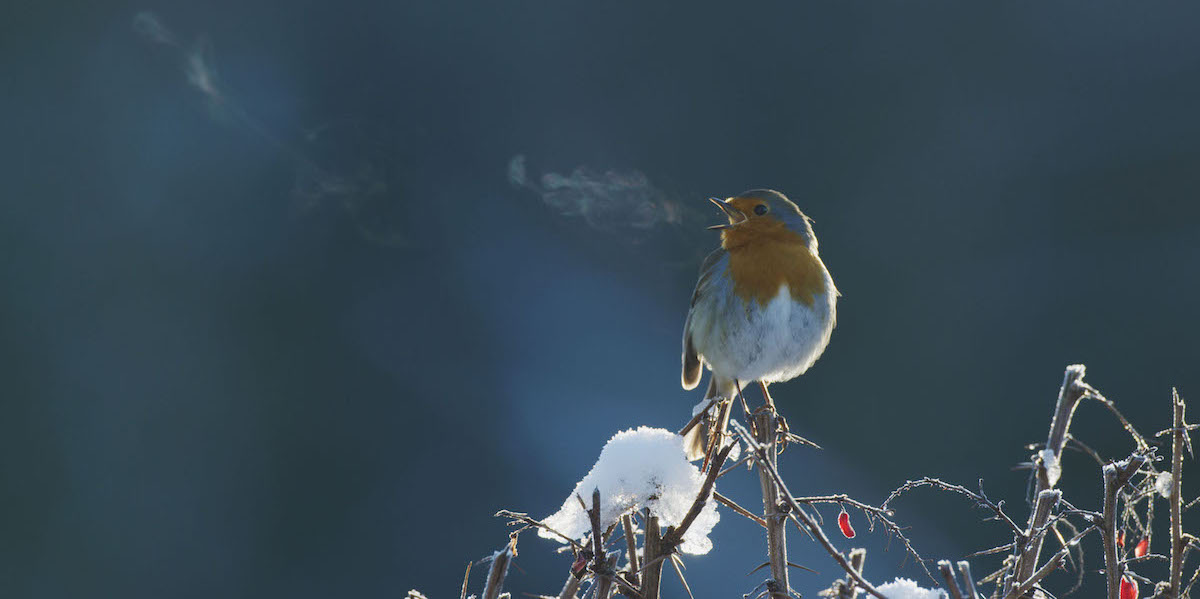 Singing through a pandemic: David Attenborough's Wonder of Song
Posted on Nov 22, 2022
WORDS. Robert Shepherd | IMAGES. Mike Birkhead Associates, George Woodcock and BBC
When BBC One ordered Attenborough's Wonder of Song in 2019, the word 'coronavirus' was limited to the lexicon of scientists and healthcare professionals. People commuted to the office (a bit more than they do these days), schools were open and hospitals weren't overrun. For the most part, nobody had any idea that the world was about to grind to a halt.
Following the success of Attenborough's Wonder of Eggs, which had premiered on BBC Two in 2018 (highly commended in the best science documentary category at the Grierson documentary awards), production house Mike Birkhead Associates had been rewarded with this follow-up commission.
The synopsis was beautifully simple: the beloved Sir David Attenborough selects his favourite songs from the natural world, all recorded during the 96-year-old broadcaster's lifetime, featuring animals ranging from lemur to humpback whale and lyrebird.
Human understanding of animal song has long been informed by Charles Darwin's theory on sexual selection; although singing is dangerous since it reveals the singer's location, males must sing to attract a mate, while females listen and choose their suitor. However, recent scientific discoveries now challenge certain long-held beliefs. Many females sing too, for reasons scientists still don't fully understand.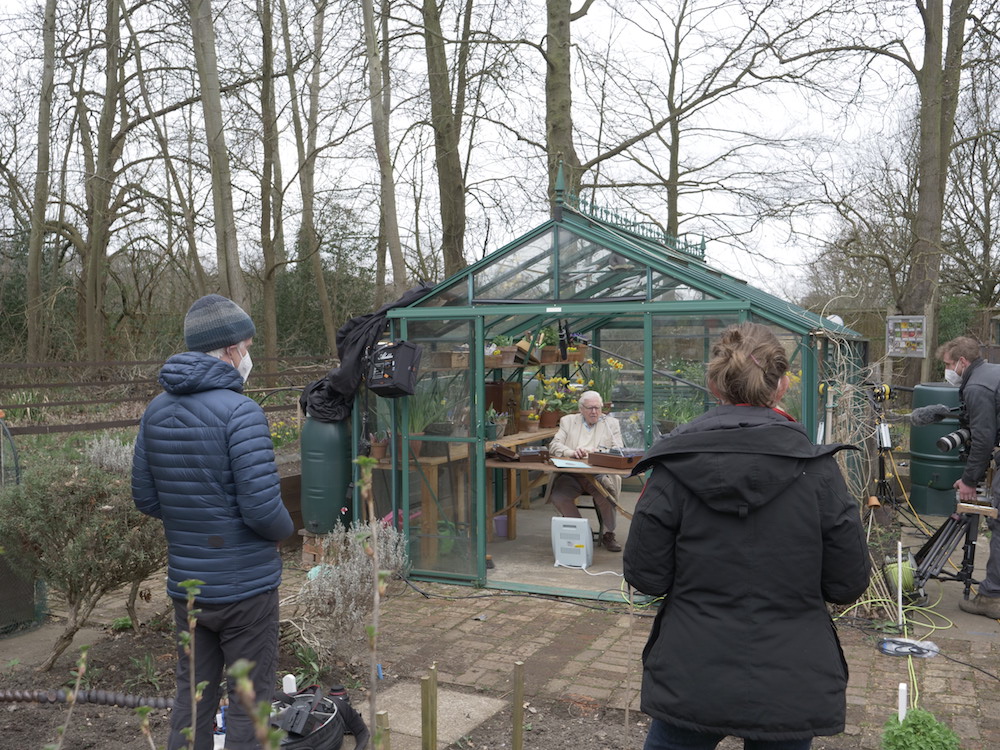 At the outset of the documentary, in the words of director Mike Birkhead, there was nothing on the horizon to suggest production would be anything other than plain sailing.
"Everything was in place," he says. "Funding, contracts and everything else was ready in early 2020, just in time for us to film in the spring."
All Birkhead and crew had to do was visit some beautiful locations on a project to film spring songsters. However, we all know what happened next; the Covid-19 endemic that was reported in Wuhan, China soon became a global pandemic. Flights were grounded, offices and later schools were closed – and unless you were going out to exercise, most people were all but housebound.
However, unlike many projects that didn't get off the ground for another year or more, it was a shorter hiatus
for Birkhead and his team. The rules prohibiting filming for the masses were soon relaxed enough to allow a solitary camera operator to work alone. All of a sudden, Attenborough's Wonder of Song was back on.
George Woodcock, principal photographer on the series, was the solo cameraman tasked with filming the UK scenes – but shooting with Attenborough was postponed indefinitely.
Woodcock was chiefly tasked with filming the dawn chorus as well as birds singing into the evening, in locations across the south of England. He would have no help – only himself, his kit and a series of long days ahead.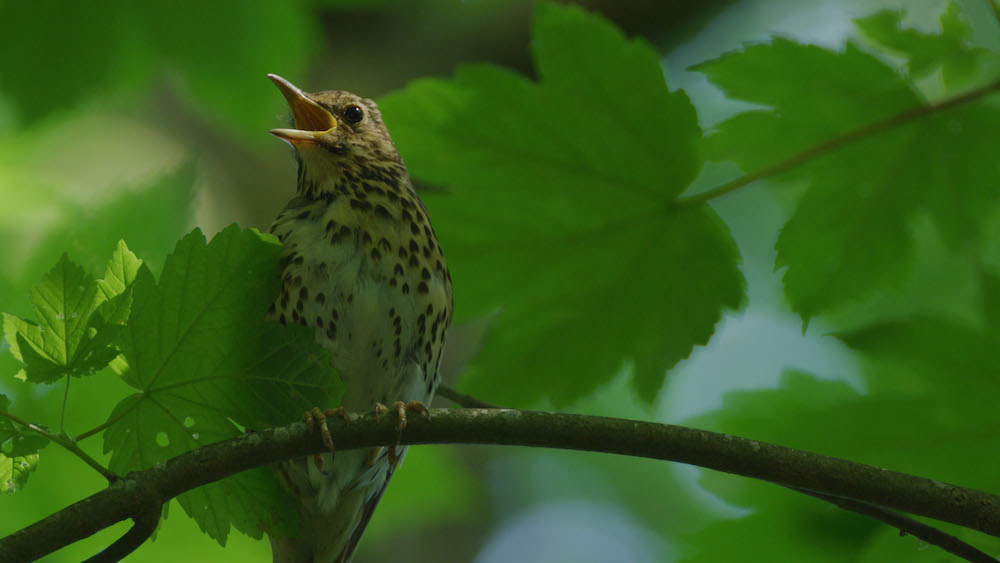 OUT ON LOCATION
Knepp Wildland is a 3500-acre estate situated near Horsham, West Sussex. As Woodcock explains, it was perfect for a project of this kind.
"We used Knepp Estate, a fascinating rewilding project in the grounds of Knepp Castle," Woodcock says. "It's a popular place because there's a rich array of wildlife and birds – they've got nightingales, storks and cuckoos."
Another key filming location was Penn Wood, in the heart of the Chilterns Area of Outstanding Natural Beauty (AONB).
It was there that Woodcock filmed other breeds of bird, such as skylarks, robins and grey tits.
Shooting took place during spring and winter – and for good reason, too, Woodcock says. "Spring is the best time to film birds singing because that's when they're getting ready to lay eggs and start mating," he adds. "In winter, I was going for icy breath shots. That involved getting up at ridiculous times in the morning, walking around with my tripod, camera and long lens."
Woodcock also filmed at the wetlands of RSPB Otmoor Reserve, where he looked for turtle doves and warblers.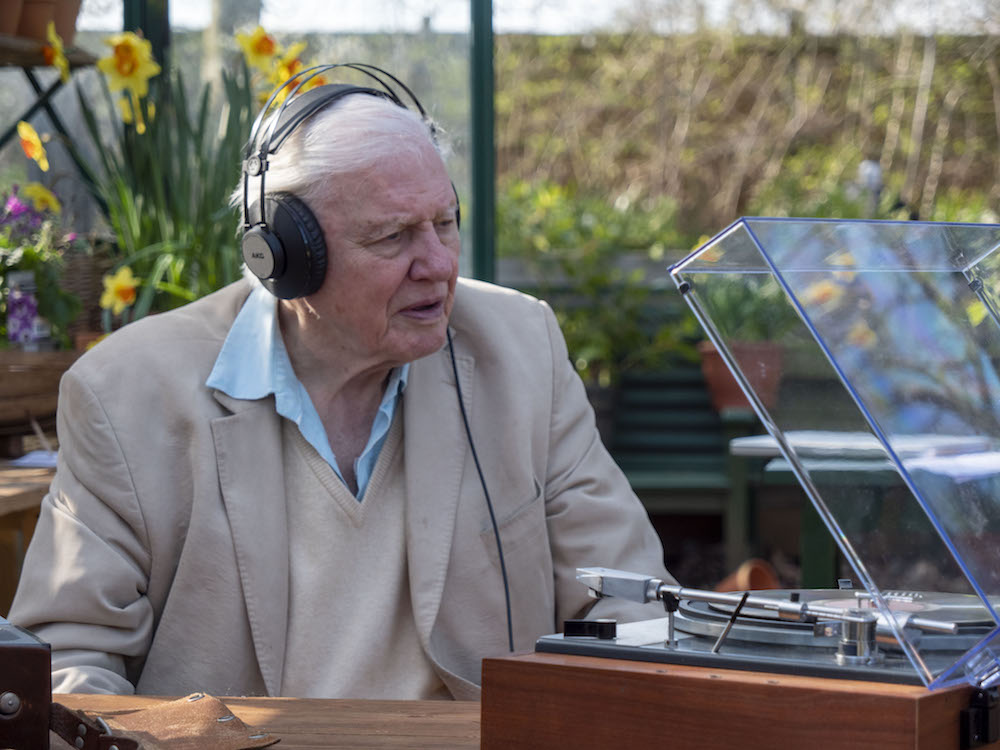 ROCKIN' ROBIN
Robin aficionados will know this already, but for those who don't, the bird is one of few British species that sing during the winter months. "It's also a rare example of northern hemisphere species in which both male and female sing," says Birkhead. "Females sing almost exclusively in winter."
Birkhead says catching a robin singing and then exhaling its cold breath was a primary goal for the series. "I remember an iconic shot of a wren doing the same thing in [Attenborough series] The Life of Birds around 25 years ago," he says. "David said he wanted us to recreate it in this series. George patiently waited for hours for the right weather conditions – and he got what was asked of him. I just tell George what I want and he delivers it every single time. That man is a genius."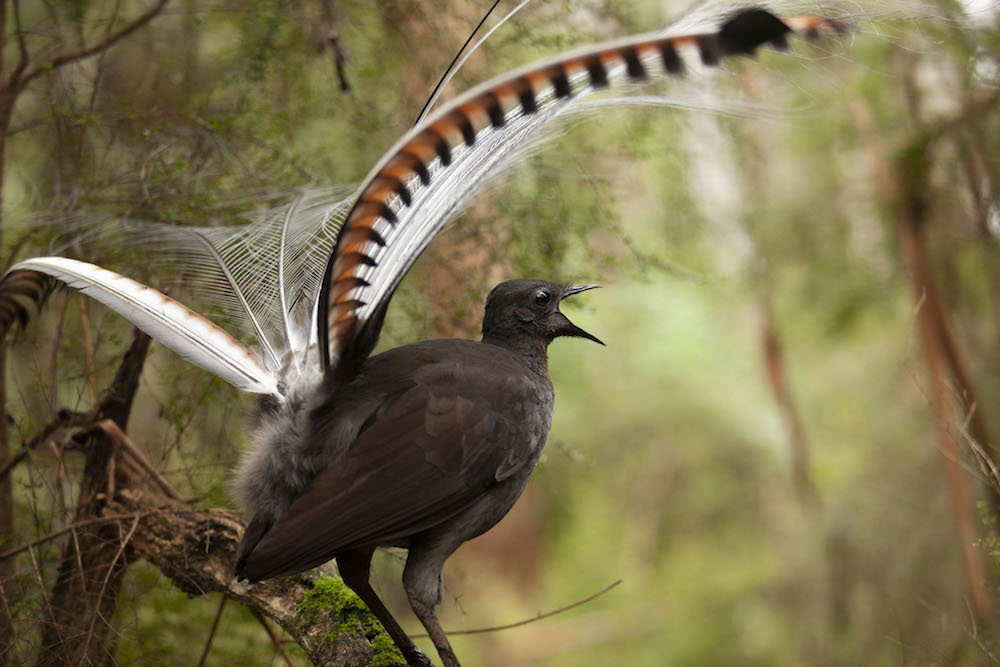 Woodcock wanted to travel light, but employed a couple of different cameras depending on where and when he was filming – and the light available.
"I filmed with a Red Gemini, which is good in the low light and particularly useful filming at dawn, when the birds are singing," he adds.
However, Woodcock had to change kit for shoots later in the day. "I was up from 4am until around noon," he recalls. "Then I would sleep for two hours, before filming again until dusk. Nightingales start singing in the evening around 6pm through the night, so for those guys we had to use a Sony A7S camera. They are also great in low light and you can go to ISO 125,000. Noise can be fixed in the grade when editing."
After that, Woodcock generally used Canon Mark III long lenses, 400mm and 600mm primes. "They're lightweight, so good for working by myself and having to carry long distances," he adds. "Also, f/2.8 is great in low dawn light."
After a day's filming, he would download the footage onto 3TB drives, each of which had its own duplicate. The data was then handed off to the Storm TV edit suite.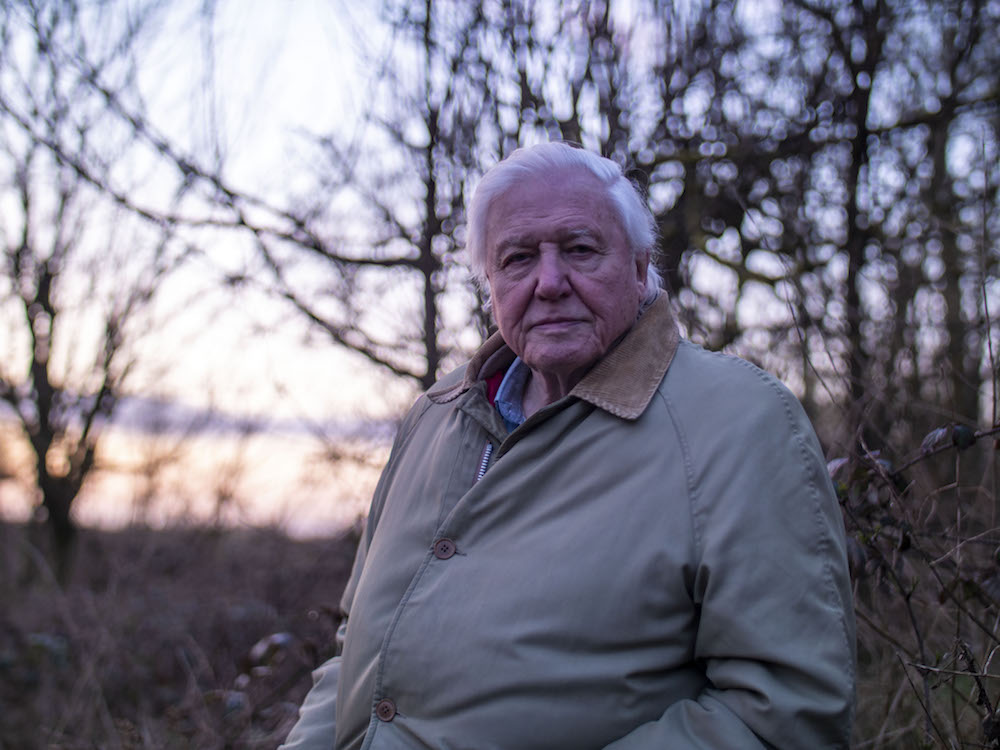 WORKING WITH A LEGEND
Filming with Attenborough had been shelved until August 2020. When the time finally arrived, it was possibly the only day they could shoot with him, despite budgeting for five more.
However, filming a nonagenarian who happens to be TV royalty in a pandemic meant a change of approach. For a start, no one could go near him.
"Covid-19 was no problem for me when it came to filming birds in the wild because I was on my own," says Woodcock. "I was very fortunate in that respect. However, when we had to film David Attenborough, it was suddenly very challenging because we had to take massive safety precautions. Usually, I'd be shooting close-up, but here I had to keep a big distance and change my style a little. For example, using longer prime lenses to film David within a greenhouse that I wasn't allowed in! I had to work around those parameters to still make it look as good as possible."
Audio was a problem, too. Not permitted to radio mic Attenborough, a boom was held through the greenhouse doorframe to record his voice on the other side. "That was particularly challenging for the sound man," Woodcock recalls. "For that day, we used a lot of slider action. We were able to get some footage of David walking around outside, but for that sort of stuff I needed a gimbal."
It wasn't until spring 2021 that the crew could film with Attenborough again. Covid-19 rules were still strict, and only permitted filming him from outside. The crew chose a greenhouse in Richmond Park, near Attenborough's home, and created a set with old audio technology such as tape recorders, old turntables and radios, which were used to play original recordings of songs from different animals.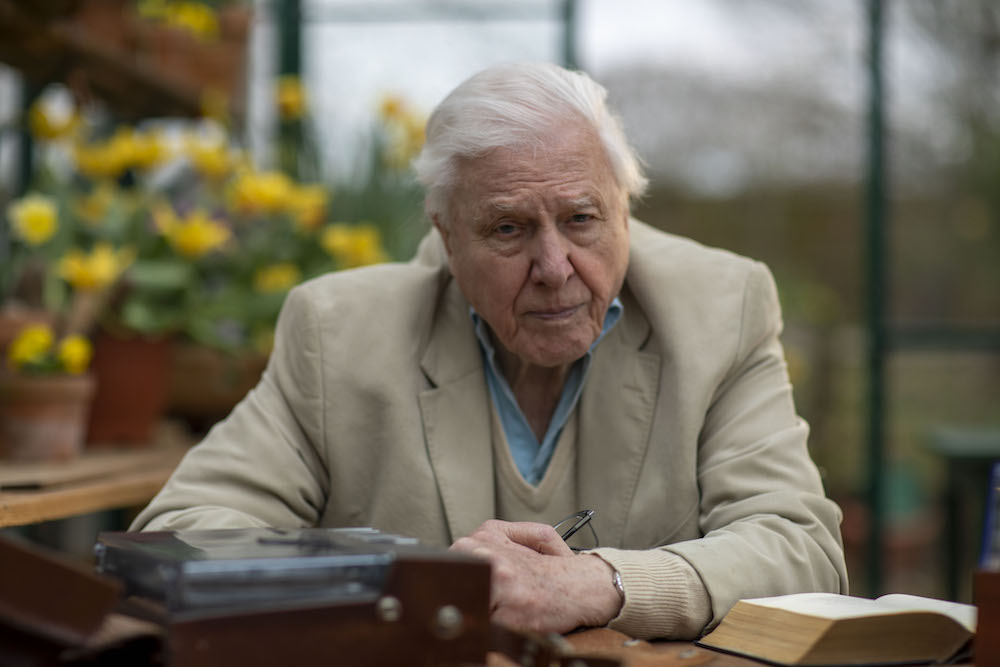 PRODUCTION WITHOUT BORDERS
The filming schedule wasn't limited to English locations, though. Birkhead explains how the team required essential filming to be carried out overseas, where there were important scientific stories to learn and relate.
"When lockdown struck on day one of our shoots, I knew things were going to be more than tough," Birkhead recalls. "George and I were due to film in Australia and Berlin as well as the UK. In fact, David Attenborough had agreed to shoot in Germany even though it involved an overnight shoot – much to his agent's amazement. We needed our lyrebird sequence in Australia and the nightingales in Berlin. The big challenge was finding alternative talent at very short notice – and as I discovered, this was a problem for every other production around the world." Birkhead says this is where 'experience and old age' come in useful. He managed to find talented alternatives within a month, whom he praises for their professionalism in what was an arduous period.
"We couldn't film in the traditional sense, but were very fortunate to discover local crews amid competition from other productions," he recalls. "In Germany, field producer Rosie Koch and principal photographer Roland Gockel managed
to capture the nightingales. Their low- light camera caught some unusual shots of the birds singing at night." The pair also filmed nightingale expert Conny Landgraf describing nightingale song behaviour in detail.
Although conditions were far from ideal, Attenborough's Wonder of Song was made, delivered, screened and picked up glowing reviews.
In the turmoil of a global pandemic, the team managed to accomplish an international production flawlessly, sticking to ever-changing guidelines, keeping all cast and crew safe – and avoiding ruffling any feathers.
Watch Attenborough's Wonder of Song on BBC iPlayer
This article appears in the December 2022 Issue of Definition. Read the full magazine here.