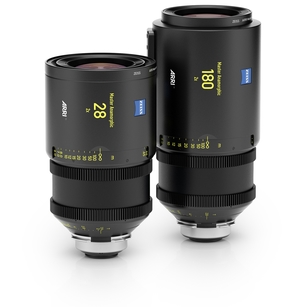 Duty calls
Line of Duty DOP Stephen Murphy breaks down his technique to capture Season 5 of this high-octane police drama
Season 5 was shot on Arri Alexa Minis with Ultra Primes and Hawk zooms
Words Stephen Murphy / Pictures BBC
The photographic style of Line of Duty has evolved over the years. Season 1 and 2 were shot with a lot of snap zooms, in a slightly more frenetic style; Season 3 moved away from that style, and by the time I joined the team, halfway through Season 4, the visual style had evolved to where it is now. I'd describe our visual style as a long-lens show, shot in a grounded, realistic way. It's almost documentary in its quest for realism but without the handheld, searching camera that some other police procedural shows embrace. We rarely use handheld cameras, but we do keep the camera moving almost constantly, using a combination of dollies, sliders, steadicam and car rigs. That style worked well for us on my episodes on Season 4 so everyone was keen for us to maintain that visual style for Season 5.
Guest world
Each season, the story is split between the world of AC-12 with our three principal cast members and what I guess you'd call our 'guest world', the world our principal cast is investigating. AC-12 has a functional reality to its visual style that is very important to maintain. It needs to feel real, and yet still have some visual interest to it. It's a bright, fluorescent-lit office space, which is appropriate to the reality of how that would be in that world. Then, when we travel outside of that space and into the world of our antagonists, I have the creative freedom to use more shadow, more colour; because again that is closer to the reality of what that world would be. That grounded, functional aesthetic is the show's style. Sometimes that means willingly embracing imperfect light, imperfect exposure, imperfect composition; but that's all part of the beauty of the show's visual style. It's not supposed to be a glamorous style, it's not glossy; it's a beautifully imperfect semi-naturalistic style.
Location heavy
Line of Duty is a challenging show to shoot. It's shot entirely on location, or occasionally on set-builds within a location, and some of those spaces are very small and or hard to access. That use of locations helps add to the authenticity of its visual style but it does present us with a few logistical problems. Added to that is the speed we have to work at and the amount of coverage we need to get. Part of the show's visual style is the pace at which the show is edited. Even though we do stage long tracking masters the show is cut at a very fast pace, and part of the energy of the show comes from that editing pace. One of the things we try to do to help that is to provide a lot of coverage, and that means working at a very fast pace with multiple cameras. The key to facilitating that shooting speed is how I light the show.
I love soft top-light; it's beautifully dramatic and it makes working with multiple cameras a little easier. When I joined Season 4 (episodes 4-6) I top-lit almost everything and I've continued to use that style for Season 5; it works incredibly well. By keeping most of the lighting apparatus off the floor and in the ceiling it helps give me (operating the A camera) and Jon Howard (operating the B camera) more freedom to design shots that will develop from one character to the next without fear of seeing the lights. It also helps me give the actors more freedom in where they want to play a scene, and I think helps them feel a little less distracted by the extra equipment on the floor. It helps us cross-shoot, which is something we also find ourselves doing from time to time, and it really helps when it comes time to shoot our infamous interview scenes, which are usually staged as one continuous performance for each and
every take.
I tend to adopt a 'light the space, not the shot' approach which becomes particularly helpful on this show. It gives the director and cast more freedom with their blocking and it lends a reality to the lighting. People walk in and out of pools of light. Sometimes they're in the shadows, sometimes they walk through a pool of light and are a little overexposed. It adds to the mood tremendously as well as facilitating the tight schedule.
Stephen Murphy sets up Episode one of Season Five
Night work
This year we had a lot of night work, both interior and exterior, with two very big night exterior set pieces, staged over some very large areas. Myself and my brilliant gaffer, Carlo McDonnell, wholeheartedly embraced grungy industrial sources as our key night exterior light source. We had several huge areas to light and I wanted a mixed colour palette of industrial colours – rusty-coloured sodium vapour and cyan-coloured metal halide. We tested several gel packs on different sources to come up with a colour palette we could replicate and control at any location, and mixed those with a large collection of practicals.
I usually prefer to stick to more traditional lamps, preferring an HMI/Tungsten/Kino lighting package, but on this job I knew I'd need to embrace LEDs both for their flexibility in colour temperature and their small size and weight.
We made extensive use of several types of LED panel throughout the shoot but the thing that really saved me was the Quasar Science LED tubes – another great recommendation from Carlo. I'd use those as a soft top-light source on night exteriors, usually rigged to a Z40 genie boom which I could arm out over the action as a soft top-light. I was very impressed with their colour, quality and flexibility as well as their fantastic output.
For our larger night scenes our usual approach would be to use a large array of tungsten ParCans rigged in either 24, 36 or 48 lamp combinations, mounted on large cranes, as our backlights. Depending on the size of the location we could have anything up to three or four of those on a given night. We'd then have our best boy Martin Cattigan lead a pre-rig crew to dress the locations with a combination of metal halide and sodium vapour practicals, LED tubes, fluorescent tubes, 1×1 panels and tungsten fresnels, all gelled with one of our many industrial colours. I got in the habit of dressing some of those 1×1 panels into shot in the deep background just to give some colour contrast and depth to some of our scenes. Then wherever the action was being staged we'd drive in a Z40 with either some china balls or some Quasar tubes rigged to them as a soft top-light, usually gelled to match the industrial colours.
The benefit to using Carlo's array of Parcan backlights was I could vary the spread of the bulbs in each row, so that the lower rows would have wider bulbs, which helped with the drop-off directly under the machine. And because we were shooting in winter in Northern Ireland, where it gets windy, the wind would just pass through the rig. It also meant I could gel the lamps individually avoiding the large piece of gel that always becomes a wind sail on Wendy lights.
Night for Day
For AC-12, which is a large dressed location approximately 12 floors up, Carlo and I used some consumer LED tek-tiles in the ceiling and supplemented those with a combination of Quasar tubes and Kino Flos as our soft top key-light. At a certain point in the schedule we were faced with shooting large chunks of the script 'night for day' which when 12 floors up is quite a challenge. We couldn't get any machines outside the building to light from outside, and even if we could, the size of the building would have meant the number of machines required would have been too expensive. Added to which our AC-12 set is filled with large panels and walls of glass which reflect any lights on the floor. So we had the art department build dozens of fake window frames for us, into which we placed four LED tek-tiles. All the power cables were hidden into a pre-built dressing that each window frame had so it was a self-contained clean rig. Each of these window frames would then 'plug' into the actual window and become a self-illuminated light source. When the camera panned across the windows it just looked like overexposed sky and the illusion meant we could extend our daylight shooting hours though the night.
DOP Stephen Murphy © Peter Marley
Camera package
We shot this season on Alexa Minis. It's a very flexible camera that gives great pictures in a very rugged body. We used a full set of ultra primes and made regular use of a Hawk 150-450mm zoom (used as a variable prime) with occasional use of an Angenieux Optimo 24-275 zoom as well. We always shot with two cameras and regularly shot three cameras. This year I designed two show LUTs at Yellowmoon in Belfast with colourist Scott Ferguson, one LUT for day, one for night. I kept the camera rated at 800ASA for day scenes but for the night scenes I wanted a bit more texture so I pushed it to 1600ASA.
I also used a combination of low-con, ultra-con and Smoque filters to alter the contrast curve of the sensor. Most of the time I was at a stop of between T2.8 and T4 for the night exteriors as I knew I'd needed to light for the bigger zooms and to help give the focus pullers a chance on the longer lenses. We'd usually start with the 24mm on A camera for our wide master and very quickly find ourselves swinging to much longer lenses so the deeper stop helped that considerably and gave the lenses a chance to perform at their best.
The famous interview scenes are their own special challenge. Staged in the interview room in the middle of AC-12 – the interview room being a glass walled box designed specifically to be as exposed as possible – each interview scene is shot sequentially with every take covering the entire length of the scene. Last year when we shot the brilliant Thandie Newton interview sequence we shot almost a 40-minute take, on almost every take. That requires an extra level of planning on our part, and we shoot with three cameras, which means hiding reflections within the glass box from each camera. Our glass interview room has some floating walls to help facilitate camera positions and because a lot of my brilliant camera and electrical crew were returning crew from last year we had our system down cold and could get set up very quickly. It's a thrill watching the scenes unfold in real time in front of you and this year's interview scenes were no different.
Behind the scenes on Line of Duty Season Five
Shout out
Special mention to my fantastic crew for keeping it all running so smoothly and doing stellar work: camera operator Jon Howard; focus pullers Noah Davis, Jason Cuddy, Sam Bell; clapper loaders Anthony Breen and Jenny Atcheson; camera trainees Gerard Donnelly, Jack Gourley, Pete Brown; key grip Nick Chester; dolly grip Donovan Gallagher; grip trainee Jacob Prescott; gaffer Carlo McDonnell; best boy Martin Cattigan; electricians Gaston Currie, Lee McFadden and Aileen Doyle; and a small army of day players including steadicam operators Danny Bishop and Dion Casey; camera operators John Beachum, Angus Mitchell and Ray Carlin; focus puller Chris Samworth and cinematographer Ruairi O'Brien ISC who shot our double banking unit.
LINE OF DUTY Season 5 is currently on the BBC iPlayer.