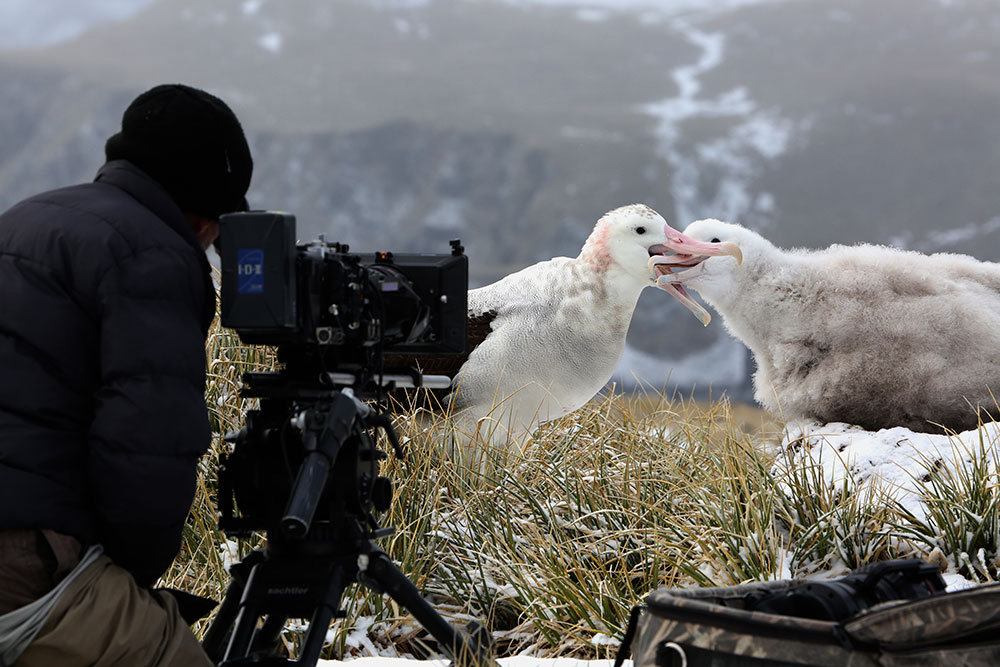 Posting Our Planet
For the first time, a major natural history series has been streamed; but what were the requirements to make it look better than traditional broadcast?
Words Daisy Dickinson / Pictures Netflix
The Extinct Rebellion in London was described by organisers as the biggest civil disobedience event in modern British history with more than 1000 people arrested at time of press, surpassing the anti-nuclear protests of 1982, the Poll Tax riots of 1993 and going further back to the suffragettes and their protests in the early 1900s. How many of those arrested in the latest riots had watched Netflix's Our Planet isn't known, as Netflix doesn't divulge any viewer stats, but there is an awareness of the fragility of our planet that is becoming a constant in our lives. Watching the wonders of Our Planet, with its inherent message, certainly does its part in keeping this creeping tragedy not far from our thoughts.
Our Planet is a groundbreaking, four-year collaboration between Netflix, Silverback Films and WWF. It explores the rich natural wonders, iconic species and wildlife spectacles that still remain, and reveals the key issues that urgently threaten their existence.
Silverback Films stated: "The ambitious four year project – the largest of its kind ever attempted – takes viewers into never-before-filmed wilderness areas, from the ice caps and deep ocean to deserts and remote forests, introducing them to the most precious species and places that must withstand the impact of humanity so generations to come can enjoy the bounties of the natural world. Using the latest in 4K camera technology, the series and a range of specially produced storytelling for multi-media platforms will bring millions of people into intimate contact with some of the world's rarest animals and most precious natural habitats."
Wildlife city
Bristol in the UK makes 40% of the world's wildlife programmes and is home to Silverback Films and famous post-production studio and rental company Films at 59. We talked with post producer Miles Hall, new business manager George Panayiotou and colourist and online editor Franz Ketterer from Films at 59 about their roles in this landmark series.
Our Planet was Films at 59's first Netflix-delivered show but of course also Netflix's first natural history show, so the pressure was huge to make it look incredible – especially as this was a new genre for the streaming giant. George Panayiotou says, "We've been delivering UHD projects for a while; our first HDR delivery was Planet Earth 2 which was three or four years ago for BBC Worldwide. That was a different flavour of HDR; it was HLG as it was for worldwide requirements. Following that we also delivered Blue Planet 2 and Dynasties as HDR programmes, but this was our first Netflix and Dolby Vision HDR delivery." But George stresses that the company was very well prepared for working with Netflix as it had invested very heavily in infrastructure "from a storage point of view, as well as HDR monitoring grading kit and online kit to be able to deliver the programmes.
"We've also upgraded one of our dubbing theatres to be able to deliver Dolby Atmos HE and we have two additional theatres that we were able to pre-mix in Atmos as well." Films at 59's Capex certainly holds it in good stead for the programmes to be made in the next 18 months; but another feather in their cap is their rental side, which was also used heavily by Silverback. "We managed a lot of the production camera channels and also advised on technical aspects of acquisition as well as maintaining and preparing kit for location shoots."
These landmark series don't rely on camera rental exclusively but it augments the channels, and Films at 59 maintains those cameras. The show was shot primarily on Red cameras; not surprising, as most recent natural history content is Red-based due to the camera's reliability and the vital off-speed element that natural history shooters need so much. There were obviously other camera formats for more specialist reasons – probably up to ten others – but the mainstay was Red.
Audio element
Graham Wild mixed the audio at Films at 59 with the tracklaying and sound design being done by Wounded Buffalo which also has a studio in Bristol. Films at 59 also mastered the Dolby Atmos element within their studios. Graham is a freelance dubbing mixer who uses the main theatres at Films for the final mix with the Atmos certification. Graham would then send all the sound deliverables to Films at 59 which were then sent to Netflix.
David Attenborough used the studios at Films at 59 to do the narration with a couple of sessions completed in London due to time pressures.
Films at 59 has seven dubbing theatres that are capable of helping with every production requirement, from webisodes to feature-length, international, 28-channel cinematic installations. Their main mixing stage is dual picture finishing suite and mix theatre – now offering Dolby Atmos home entertainment with a 9.1.4 set-up to meet the very latest Dolby specification.
Quality of image
If you look at the output from Films at 59 you'd agree that the picture quality standard is high and so it may be a surprise that the Netflix involvement took that picture quality requirement even higher. "Their expectation of quality of image is another step up," says George. Franz Ketterer continues, "The big change we were planning was that we had to adopt a DI workflow. We've posted a number of natural history feature films for theatrical so we're used to that workflow but I'm not sure we'd used it before on a TV series. It was necessary for many reasons but mainly because of the Netflix delivery requirements. That combined with the quality that they expected, you're almost posting a series of short feature films. The result was the team managed to make sure every shot worked as hard as it could."
In the traditional TV route, you conform the show after it has been edited, send it to the grade and then to further online edit work for any enhancement that's needed, then package it and send it out. But here, the grade happened at the very end of the process. "So, all the other work that had to be done for final post was fed through to the grading suite, which became the finishing suite. That's the normal approach in films, but adopting a DI workflow wasn't something we'd done for a TV series before.
"For us it needed a certain change in mindset amongst the producers as in terms of workflow, it turned things on its end; you're doing things in a different order from what you're used to."
Baselight conform
The core of the whole video post became the company's Baselight grading suite; when it was picture locked at the end of the offline edit it was conformed into Baselight and then shots came out of there into other software in different suites to do other jobs and then back in to Baselight to be colour graded and finished.
The grade itself was a huge undertaking and relied firstly on specific producers' needs for specific scenes, but overall the series brief was to make it look 'really beautiful'. Franz again: "There were two episodes in particular that were underwater, Fresh Water and High Seas. They definitely provided the greatest challenges in the grade. For all the normal reasons, the cameras were struggling to a certain
extent the deeper they went underwater, but the expectation was that those images would look just as good as the stuff shot above water. They needed the most work in the grade.
"For the majority of the work we used the phrase 'image enhancement' which included a great deal of image stabilisation, especially in certain environments – for instance anything that was shot in the arctic tended to be affected by the extremely windy weather and shot on a long lens which exaggerates any camera wobble. There was also a fair amount of noise reduction where things were shot in low light; for instance in the Jungles episode they were quite often filming under a dense canopy, with not enough sunlight coming through so those shots needed a lot of help in post. We did a great deal of that general cleanup work.
Post producer Miles Hall says, "There was also a lot of dirt which had to be cleaned up off the camera lens or off the sensor itself. Again, as the expectations were particularly high for this series, then we had to work harder than normal."
HDR is unremitting when you're talking about dirt and general location problems. "In the past when working in SDR we might have got away with certain issues.In HDR everything was there to be seen. Sensor dust for instance only became visible when you pushed the pictures in the HDR grade."
OUR PLANET is currently streaming worldwide on the Netflix platform.