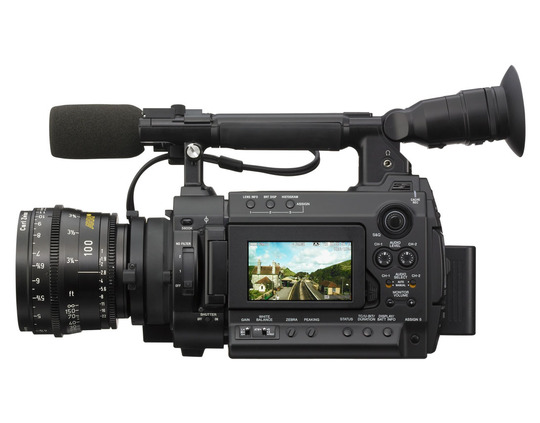 REVIEW: Sony PMW-F3 Kit
Posted on Mar 18, 2011 by Alex Fice
The new Sony F3, review by a weirded out Adam GarstoneThe new Sony F3 is weird. Fabulous – definitely. Groundbreaking – probably. But… weird.
Let's start with the good stuff. There has been justifiable excitement since the announcement of the PMW-F3 as it is, basically, a pro-camcorder but with a cinematography grade, Super 35mm size sensor.
At the front you get a proprietary lens mount with a supplied PL mount adapter. Electronic contacts on the mount and adapter allow the camera to read lens data from Cooke and Arri lenses, as well as Sony's own PL mount lenses that are available as a kit with the body. These are chunky primes (35mm, 50mm and 85mm, all at T2) and are manual focus and manual iris with proper follow focus rings. They feel budget but okay, though the iris ring on the 85mm supplied with the review model was a bit scratchy between T2 and T2.8. Sony are promising a range of zoom lenses that will hook straight onto the proprietary mount – presumably these will have a powered zoom, as the F3 has a (currently redundant) zoom rocker on the handgrip.
Behind the mount is that S35 format, 1920×1080, Exmor CMOS sensor. The resolution is actually quite low for such a large sensor, allowing each pixel to be big – and hence to gather lots of light. We measured a native ISO 800, though the mid-point of the exposure curve came out a stop faster, suggesting that the camera holds shadow detail slightly better than highlight detail. Of course, the big sensor means shallow depth of field at the T2 of those lenses, low noise and generally promises fantastic picture quality. Recording formats cover 1920×1080, 1440×1080, and 1280×720 as well as standard definition 480 and 576. Framerates include 23.98P, 25P and 29.97P as well as interlaced, if you are silly enough to want it. You can record overcranked and undercranked from 1 to 30fps at 1920×1080, and 1 to 60fps at 1280×720.
Behind the big sensor is a big camera. Although it's laid out very much as a traditional pro-camcorder, the F3 is a lump – roughly square in cross-section and not much smaller than a RED One, though it's about half the weight, being made mostly of plastic, rather than RED's tungsten, uranium and really-quite-heavium. The sensor's data is compressed using the same XDCAM EX CODEC as the EX1 and EX3 (it's straightforward MPEG-2 at either 35Mb/s or 25Mb/s) and is recorded onto Sony's proprietary SxS (pronounced "S by S") cards. These annoy me, frankly. If RED can get data from a 5k sensor onto a standard CF card, why do Sony always have to rip us off with their own card format which is expensive and hard to source? Case in point: Sony forgot to supply an SxS card with the review camera. Had it used CF cards I could have got one anywhere – as it is Sony had to bike a card from their HQ for me.
The F3 comes with a good range of professional I/O. There are a couple of HD-SDI outputs (there is a rumoured upgrade coming to allow 4:4:4 output), standard SDI, composite, genlock and timecode in and out, as well as HDMI out, Firewire and USB. There are a couple of 'spare' connectors, one a 10 pin and the other USB-A (perhaps to allow setups to be saved to a USB memory stick)? The body is scattered with a good array of threaded bushes for mounting accessories, but I would like to have seen power outputs available as well – this is a common problem with digital cinematography cameras – you need to hang extra batteries off them to power a viewfinder, remote follow-focus etc. so you end up with a rat's nest of cables and gaffer-taped battery packs. Power distribution is something that even 16mm film cameras have had for decades. There is, however, a proper, 4 pin, DC input socket.
Stereo audio input is available on XLRs (with phantom power) and there are a couple of RCA phonos for audio output.
The two viewfinders are both fine, though the flip out LCD looks curiously small on such a large camera body. The eye-level viewfinder is better than most, with high resolution and good tonality, though the optics leave a little to be desired, creating some chromatic aberration. Peaking is available for focus assist, as well as expanded focus . Whether these two displays are adequate for accurate focussing, given the shallow depth of field you have with the S35 sensor, is debatable – I found them to be quite usable, but other colleagues struggled.
The controls and software menus are very much as you would expect on a camera of this class. One advantage of the giant camera body is to keep the controls pretty well spaced – it takes only a few minutes of shooting to familiarise yourself with where each control is, and then you can find them easily by touch.
So, handling-wise, the F3 is a bit like a massive, PL mount PD-150 – and that's great as that class of camera is familiar to all of us. The problem is that adjective – 'massive'. You are never going to slip your hand through the wrist-strap, put the camera to your eye and shoot like you would with a 'normal' sized camcorder. Couple that with the manual, PL mount lenses, and you are probably going to want to add rails, a follow-focus and matte box. The rails would also allow you to add a pad to shoot shoulder-mounted, but then neither viewfinder is appropriate so you'll need to screw something suitable to one of those bushes.
So, as I said, it's just a bit weird! I guess the main market for the camera is going to be indie film-makers or TV drama. Add a follow focus and matte box, put the camera on a tripod with the LCD folded back for use as the monitor for the focus puller, and Bob's your uncle (and we'll just forget about the wrist strap and zoom rocker). It's like they couldn't really work out who the camera was for – the PD-150 and its cohorts were great for news gathering, documentary and as a second camera in the hands of a PA. The F3 doesn't really fit any of these markets (though I'm sure some will use it) so it's an odd form-factor to choose.
All of this is picking nits, of course, once you use the camera to shoot something. XDCAM EX imports quickly and easily into most, if not all, NLEs and the pictures are fabulous. That big sensor produces the most noise-free images I have ever seen from a camcorder. The Sony optics are easily good enough for HD, with no noticeable chromatic aberration (I don't know if there is any electronic correction going on in the camera) and plenty of resolution. Colours are rendered incredibly accurately, with smooth tonality (though don't forget we only have 8 bits per colour here). Our laboratory tests measured 8.5 stops between shadow detail and highlight detail, both of which degraded nicely, with none of the blocking artefacts you get in shadows with noisier sensors coupled to high compression CODECs. The only place we saw the effects of compression was a few 'buzzing insects' around sharp details – though you have to be a bit of a pixel-monkey to spot them. That said, the shallow depth of field you can achieve with this camera means that it's more likely that you will be shooting sharp detail against a blurred background. Also, remember that the F3 has a single, 1920×1080 sensor. That means that it uses a Bayer (or similar) colour filter and software interpolation, so absolute resolution isn't, perhaps, as high as you might expect. Overall though, the images the camera produces are stunning.
Are they more stunning than the big-sensor competition?
The F3 is on the 'net at about £9500 plus VAT, body only, so you can't really call Canon's 5D Mk II competition at about £1300 plus VAT. The pictures from the Canon are famously fantastic, though noisier than the F3 and subject to loads of Moiré (and compression artefacts, and limited dynamic range etc. etc.). Plus, of course, even though it's a bit weird, the Sony handles like a video camera – the 5D definitely doesn't.
The RED One (with the Mysterium X sensor) is currently $25000 (about £15,500), body only, though you'll need to add a viewfinder, storage device and batteries before getting close to the F3's functionality. As a result, you can't really claim that the One is competition either, though its sensor resolution trounces the F3 and, even if you are only shooting for HDTV, it's useful to capture at better than 1080p.
Sony have announced an NXCAM product with the same (probably) S35 sensor though, having seen compression artefacts starting to appear with the F3, I would be nervous of using a less capable CODEC (even though, in theory, NXCAM should be more efficient than XDCAM – in practice it isn't).
So it seems that the F3 doesn't really have any competition (yet). As such, it's pretty unbeatable at that price point, assuming you want that large sensor in a real video camera. It's a shame that we didn't have time to test the Sony PL lenses more thoroughly – my gut feeling is that they are price limited to being suitable only for 1080. I would probably buy the F3 body only and rent, or buy better glass – a PL lens is something you keep for life, so you might want it to use it on an Alexa, or RED Epic, or even a film camera.
Would I choose to shoot a low budget feature on an F3 over a 5D Mk II (assuming I could afford it)? Hell yes! – though I would have a 5D as a B camera if I could. Lens choice, proper timecode, dynamic range allowing latitude in the grade, a robust tripod mount… the list of benefits is endless. The F3 is a pretty compelling camera, packaging a fantastic sensor, in a useable body, with a sensible CODEC, at a niche price. Who wouldn't want one?