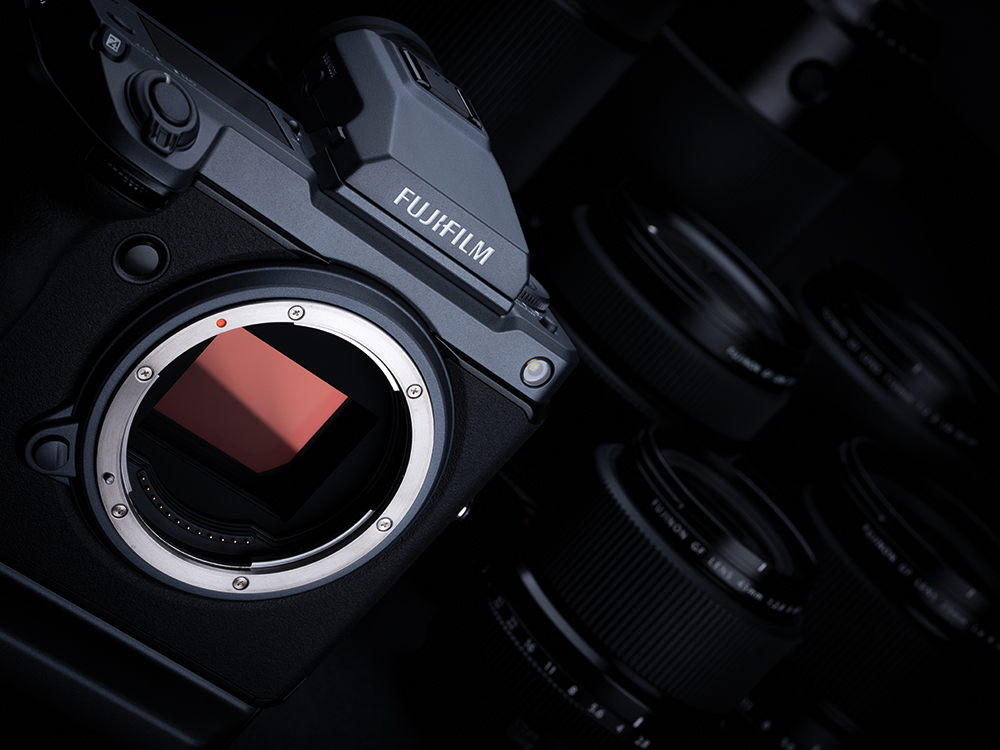 Fujifilm GFX100
Posted on Oct 16, 2019
Fujifilm's remarkable new stills camera has the still photography world in awe of its abilities, but does it have a place in the video world?
---
Words Adam Garstone / Pictures Will Cheung / Fujifilm
PRICE £9999/$9999
One hundred and two megapixels! That's a hell of a headline for a stills camera. It seems that Fujifilm has thrown everything at its new GFX100 – that huge pixel count on a back-side illuminated sensor that measures a whopping 43.8×32.9mm; 3.76 million phase detection pixels, spread across the sensor for super-fast autofocus; the 5.76 million dot EVF from the GFX 50S – all wrapped up in a lightweight but sturdy DSLR body with a built-in battery grip, featuring duplicate controls for vertical shooting. And it captures video.
The GFX100 is clearly not designed for use as a video camera, but has true abilities in this market
Features
Of course, everything captures video now right? The question is, how good is that video? Can it live up to the astonishing capabilities of the rest of the camera?
First things first, the GFX100 is a DSLR. It's in the class known as 'medium format' – a hangover from the good old days of 120 roll film – but it looks and handles like a normal high-end DSLR. Being mirrorless, it has some interesting features, like the removable OLED viewfinder, which is surprisingly good. In fact, this works better as a video viewfinder than it's 'primary' role – it has too high contrast and flickers annoyingly when shooting stills, but (other than a tiny bit of aliasing on near horizontal/vertical lines) it feels like a ground-glass screen in video mode.
There are flexible zebra settings and focus peaking, as well as a focus viewfinder zoom (with an on-screen tally to show you that you aren't seeing the full frame). The buttons on the camera are software mappable, so I assigned a couple to these video-specific functions. The user configuration of the camera is, in general, excellent.
The rear touchscreen LCD is on a two-axis mount, so you can flip it up for low-angle shots, down for high-angle and sideways… for filming round corners? The top-plate LCD is usually inverted (white characters on a black background) and is on all the time – when you click on its backlight, it flips to non-inverted. As well as the usual display of focus modes and aperture settings, this LCD can also display a full-screen histogram – nice if you prefer to keep the viewfinder uncluttered.
The G lens mount was developed by Fujifilm for the medium format sensor size
Lens mount
In general, the controls are all well laid out and logical. In fact, I enjoyed using this camera more than any previous Fujifilm DSLR. The GFX100 does away with the manual setting rings of previous cameras which, bizarrely, I prefer – I always found these a little confusing, as it seemed you could override them in software, making them worse than useless.
The G lens mount was developed by Fujifilm for the medium format sensor size. The wide throat and short flange-to-focal-plane distance should enable plenty of third-party lens adapters. Indeed, Kipon makes one for Arri PL. Fujinon's own lenses have an excellent reputation (I have a beautiful 135mm large format Fujinon for my MPP Mark VII) and, of course, their broadcast box lenses are legendary. The review camera was supplied with a 63mm prime and a 32mm-64mm zoom, both of which were excellent.
The autofocus is quick and reasonably accurate for a mirrorless camera – particularly in 'single shot' mode, but I just wouldn't use it for continuous focus… except I might use the face recognition for doing a to-camera walking piece in documentary filming. It's notoriously difficult to walk backwards as the talent walks towards you and keep them in focus, and the Fujifilm system works well enough to handle this – though it isn't quite as on the money with a spectacles wearer, and it loses lock if the presenter looks down at their feet!
The body weighs in at about 1.3kg with battery and viewfinder.  The battery tray, sitting in the (non-removable) vertical battery grip contains a pair of NP-T125 Li-ion batteries. The camera will run on a single battery. There is a weather seal on this compartment, as well as on the lenses (so using a lens adapter without the seal might allow water ingress). Fujifilm calls the camera 'weather resistant', but there is no IP rating specified.
THERE ARE FLEXABLE ZEBRA SETTINGS AND FOCUS PEAKING
Capture spec
The GFX100 captures full DCI 4K (4096×2160) and UHD (3840×2160) down to 1080, at frame rates from 59.94P (HD only) to 23.98P. There are no interlaced modes. The camera supports both H.264 and H.265 (HEVC) 4:2:0 codecs, with long-GOP or intra-frame coding, at 50, 100, 200 and 400Mbps (depending on frame size) with 10-bits per colour in HEVC and 8-bits in H.264.
So, that's not too bad. The codec choice is a bit limited, but with UHD and HD, you can get a clean 4:2:2, 10-bit feed from the onboard HDMI and record externally should you wish. With DCI and 2K, however, you are stuck with internal recording to a pair of UHS-II compliant SD card slots.
Image data is taken from the whole sensor width, with just the top and bottom of the 4:3 image cropped to the selected output ratio. Obviously, with this massive sensor (11648×8736 pixels) some data must be discarded to achieve the 4K, UHD or HD output format. This suggests the camera may exhibit moiré, though I didn't spot any in my tests.
The sensor captures full DCI 4k (4096×2160)
What it does mean, of course, is that you get a tiny, tiny depth-of-field with wide apertures. The sensor window is a smidge smaller than the Alexa 65 (at 54.12×25.59mm) but it's close enough that the GFX100 might make a useful B camera to Arri's monster. Rolling shutter isn't bad, at 0.6º per 1000 pixels per second – meaning if you pan at 1000 pixels per second, vertical lines will lean over at a 0.6º angle. That's pretty much along the lines of most DSLRs, but about three times the current class winner, the Canon C300 Mk II.
The GFX100 doesn't have a Raw codec, but it includes a Log capture mode (called F-Log) and some nice simulations of Fujifilm's positive and negative film stocks. I used F-Log and the Eterna setting, which gave over 12 stops of true dynamic range in our tests. This test looks for the difference between rich detail in shadows and rich detail in highlights, so it's a real-world value that is useful once you get into the grade. Twelve stops is very impressive – up with the best cameras out there – and usually equates to around 15 stops in manufacturers' tests.
SUBJECTIVELY, IMAGES FROM THE GFX100 ARE REALLY EXCELLENT
Interestingly, the camera features in-body image stabilisation, so it'll work with your PL mount lenses! It works very well, making the GFX100 perfectly usable handheld.
TIMECODE WORKAROUND
There is an onboard microphone, and a mode that disables all the physical controls and maps them onto the touchscreen LCD to prevent clunks when changing settings. Of course, you aren't going to use the onboard mic (are you?), so there's a 3.5mm jack for an external mic, as well as a headphone jack. There is limited time code support (you can set a time code and use record-run or TOD) but I simply used Timecode Systems' excellent UltraSync units to record LTC to that microphone input, which kept an external audio recorder in perfect sync.
The sensor window is slightly smaller than that of the Alexa65 camera
Image quality
So much for all the objective tests. Subjectively, the images from the GFX100 are really excellent. Native ISO for video is 800, and there is little to no noise visible. Of course, noise increases up to the maximum ISO of 12,800, but it's quite usable at a pinch. There is, of course, excellent image sharpness at all recording resolutions. By sticking to the higher bit rates, and 10-bit HEVC, the camera produced lovely, creamy images with good shadow and highlight detail.
Colour rendition was also excellent, though I found that reds can be a little flat with that Eterna emulsion simulation. It was easily fixed in the grade, and the rendition of other colours and tones was so lovely, I stuck to this setting. I am sure the footage from the GFX100 would cut with any 'real' video camera perfectly well. It's very hard to believe that you are seeing pictures from a DSLR.
This is a beautiful camera. It's well made – built for the professional market – handles well for a DSLR and produces excellent images. I did manage to get it to crash once – rebooting involved removing the battery sled. I was recording very short clips and changing aperture manually between each (for the dynamic range tests). This was using the latest firmware (v1.01), but I couldn't repeat the crash.
The only real problem I see is the price. DOPs may keep a DSLR in their bag for grabbing B roll or to give to an assistant as a second camera, but at £10,000, the GFX100 is too expensive for that role. However, it may find a place in higher-end productions, for example as a second camera to an Arri Alexa 65 – where the large sensor and good dynamic range should match Arri's flagship well. Similarly, there's a growing market for photographers capturing a mix of still and moving images, for which this camera would be an excellent tool.