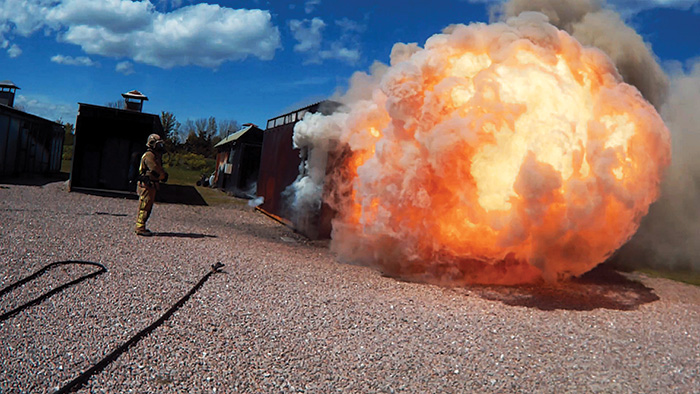 REVIEW: OLFI Action Camera
Posted on Jun 15, 2016
The £149.99 OLFI cam, 4K if you want it but offers many more choices.  OLFI feature tour – click for bigger view.
As GoPro struggles with the expectations of share holders and financial worries, you might want to look elsewhere for your action / lifestyle camera. OLFI is here to potentially fill the void.
Action cameras, crash cams, 'effect' cameras, call them what you like – which is usually GoPro. They are used all the time in professional settings, mostly broadcast but do pop up in movies like The Martian and for seconds in action movies to give flashes of POV before a wipe out.
The new OLFI is from the company HEDCAMz who deal with action cameras and drones but also made their own Ten80 camera – they have been in action camera manufacture for around five years.
OLFI is their first entry in to a wider market and one that has a recognised leader, GoPro. OLFI looks like a GoPro but then all DSLRs and compact cameras look the same as well so there is no opportunity for copyright lawyers here.
There have been many pretenders to GoPro's domination of the market and usually these cameras are obviously not up to the task. Immediately with OLFI you notice that it's well made, the buttons are reassurringly solid, the body is rubberised and soft and the protective case does it's job – yes we dropped it a couple of times on concrete to test it.
As we're only interested in the video modes we didn't test the stills, but it does 16MP and lower, has an 11 images a second burst mode and a timelapse mode. Video wise you have from 4K 24fps down to a VGA setting.
OLFI's designers have obviously indulged in a wish list round of features as you can use it for a dashcam with a loop features, for evidential reasons with a time stamp and auto power-on feature and then there is videography.
We shot in high contrast, indoors and overcast settings. You will experiment with the various settings to find a sweet spot for what environment you're in – OLFI has mentioned perhaps supplying a preset menu in an update.
You can see that OLFI is not as sharp asthe latest much more expensive GoPros (apart from the Session). This shouldn't worry you as the footage is perfectly usable and you can play with sharpening in your editor. The menus are very quick to get used to and the codec is pretty solid.
But the best thing is the price of only £149.99. That's less than half the Hero 4 Silver which only does 4k at 15fps for£329.99. OLFI will sell well to consumers but should also be attractive to the pros who might have got bored with searching GoPro forums for their cameras problems. Amazingly when you call OLFI someone picks up the phone.
AN HD frame grab from the OLFI action cam.
Our Test
How do you test an action camera? A bit of action seems the way to go. Part of the UK Fire Service training wing invited us down to their HQ to start some fires and film them.
They also wanted to create a 'back draft' (see pic above, HD grab from OLFI and video below). This is when shut doors create a vacuum in certain circumstances and when a door is then opened watch out!
We used OLFI to film the fire starting in a 'hot box' and it dealt with 250˚C temperatures which melted the fireman's helmet but left OLFI unscathed. They were impressed.
Filming UK Fire Service Creating Backdraughts from Mabel Media on Vimeo.