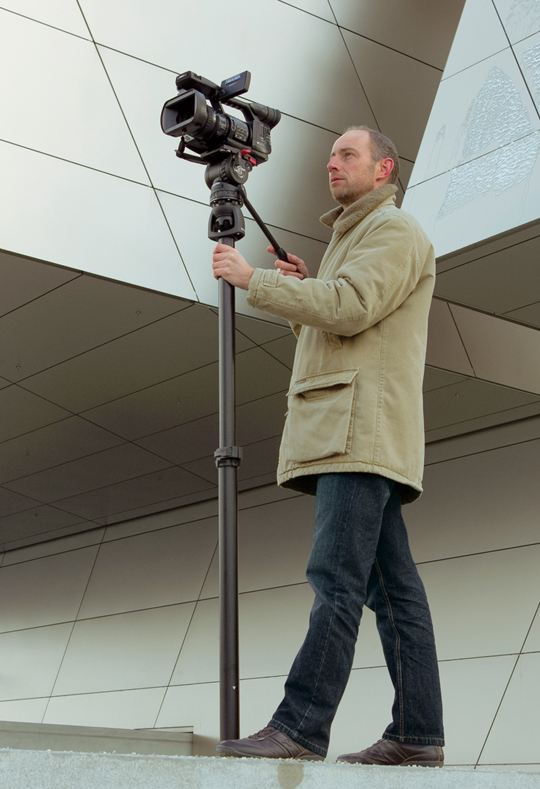 REVIEW – Sachtler Soom
Posted on May 6, 2010 by Alex Fice
The Sachtler SoomAt a glance Soom looks like a typical medium sized, two stage Sachtler tripod, but with a monopod descending from its 75mm ball and protruding below the mid-level spreader. In fact, this tube drops through the ring bowl of the mid-level spreader, but is secured to it with a locking pin for added stability. The legs themselves are two stage carbon fibre, and secured by locking clamps. When fully extended they measure 57in overall or up to 54in from the floor to ring bowl when spread for use. 
There is also a removable carrying handle that snaps onto the upper length of any of the legs for balanced transport. When properly positioned the 5.2kg Soom can be comfortably carried from setup to setup. For convenient use indoors and on the street, round red rubber foot pads are fastened to each of the claw toed feet, for rock solid footing on floors and on paved and other smooth surfaces.
But for the aforementioned 35in plus vertical tube and the high hat bracket atop it, Soom would be similar to other mid-range Sachtler tripods. But, with it, its maximum lens height is around 3ft higher than it would be otherwise. The 'tube' is also a self-contained monopod when removed from the tripod by loosening two locking bolts, one on the main ring bowl atop the tripod and the other fastening it to the spreader.
Then both are loosened, the tube can be pulled out from the top ready for use as a fluid head-monopod. The fluid head functionality distinguishes Soom's tube from other monopods, few of which have truly functional fluid heads. Panning and tilting are usually problematic with monopods that lack the stability needed for really smooth camera moves. Soom's secret solution is a simple foot stabiliser pedal which lies flat against the tube when not needed and which flips out perpendicularly, so that it can be stepped on to steady the pod for a shot, particularly a pan or tilt. With the stabiliser, one foot can hold the monopod shaft securely in place enabling the fluid head to pan and tilt much the same as when integrated with the tripod. This makes it feasible to utilise the FS6 fluid head for panning and tilting. It also makes it plausible to move the tube in an arc at various angles much like a mini boom or jib arm. This is helped by the hard round ball at the base of the shaft, which makes it smooth and easy to move in any direction. When not needed, the foot pedal flips up and lays flat against the tube, out of harm's way.
Baby legs
Another unique Soom feature is that once detached from the tripod the mid-level spreader (tri-spread) becomes a two stage mini-tripod with baby legs, with rubber-tipped spikes for use on floors, on the ground or other irregular surfaces.  There are two leg positions for the 'mini', low and high, selected by rotating the adjusting ring counterclockwise or clockwise as indicated. In the low position lens height is only 8.4in while in high it is 19.3in.
Another mode for SOOMThe same clamping bowl (tie down) secures the FS6 head to the baby legs as to the ring bowl atop the tube. In both cases it must be inserted carefully from below to fit and operate properly. Soom's mid-level spreader is sturdier than most, as the upper section has a pair of rods, while the lower has one. All are permanently attached to a ring bowl that encircles the tube when in use and is also where the fluid head fastens when the spreader becomes a mini-tripod.
The head packaged with Soom is actually a Sachtler FS-6 fluid head that features three grades of pan and tilt adjustment and ten step counterbalance with a 75mm ball. It also features Sachtler's Snap and Go sideload mechanism for fast loading. It is also available with Sachtler's classic Touch & Go camera plate. The FS-6 is designed to support cameras (with a 6in centre of gravity) weighing up to 20Kg.   When used with Soom, rather than sitting in a typical cradle atop the tripod, the FS-6 sits five inches higher up, fastened to a ring bowl/mounting bracket atop the mono-pod, with just enough space beneath it to fasten and loosen the clamping bowl tie down. The head and cradle can be elevated by loosening the clamping lever on the outside of the collar atop the tube. The tube can then be pulled or pushed upwards, slowly but smoothly, up to a maximum lens height of 94in plus.
The Soom unit I tested arrived ready for use, except for the FS-6 fluid head, which was packaged and shipped separately. The fully assembled, but compressed for travel, Soom tripod system came in a padded case with just enough headroom to accommodate the FS-6 as well once mounted. It took just a little trial and error to figure out how to use the so-called clamping bowl (tie down) that secures the fluid head to the ring bowl on the tripod. It is designed to fit snugly on the inside of the ring and hence there is only one correct way to insert it, from below. Once installed and bolted to the base of the FS-6 head, it was secure, yet adjustable. The procedure is identical when mounting the fluid head to the mid-level spreader when drafted for use as a mini-tripod as well.
With the tripod ready for use, I snugged up a single fastening screw on the camera adapter plate beneath a Canon XH-A1 camcorder and was ready to shoot. I grabbed Soom by the handle and loaded it in my vehicle for a shoot. There was even a bit of room to spare on the backseat floor of the Ford Explorer after loading it. On my first few outings with it I mainly used it outdoors and in urban settings for which the rubber 'toe-pads' were well-suited. In fact, they provided a very stable base on both even and uneven surfaces even those covered with frozen snow and ice. It was a bit tough to loosen the clamping bowl with gloved fingers at first, but I quickly found a sweet-spot which kept the head secure, but also enabled me to quickly level the head if needed.
Stable support
In general Soom provided exceptionally stable support, partly because of its sturdy construction, but also due to the support added by securing its mid-level spreader to the centre tube. Moreover, the dual rod-lower legs of the tripod and also of the upper 'legs' of the spreader added more rigidity to the tripod when set up. This proved essential when raising the 'inner tube' for higher angle shots. The higher the camera, the more prone it was to shake or even to slight vibration due to wind – having a solid base helped minimize that. With a larger camera and a longer lens this could have been a bit problematic.
Monopod from SOOMConversely, I was impressed with how long I was able to keep the image steady when using the XH-A1 on the monopod. This was helped partly by the stabilising pedal and partly by the mass of the tube and head per se. For tripod-smooth pans and tilts, I preferred to have my back against a wall or vehicle, for extra stability. When this was not feasible, I used my free leg for balance, usually by panning towards it. The best counter balance measure was to shoot as wide angle as possible without compromising the shot, which I did while covering a parade, and also a dance performance. Both situations where wide angle shots are often desirable. With the monopod, I was able to grab more shots, from more angles and to miss less between shots, than I would have with a tripod. It also enabled me to weave through crowds faster, and more safely than with a tripod.
Cat's eye view
From my perspective, the mini tripod is the most ingenious aspect of the Soom system as it improves its value as a mid-level spreader by beefing it up for use as a mini-tripod. The difference in lens height when using Soom as a standard tripod and when using the spreader as a set of baby legs is dramatic. With the baby legs, in the low mode, a minimum lens height of 8in is feasible on a level floor, and lower yet on the ground where it is feasible to dig the legs into the ground for a lower angle shot and with more stability. Although I didn't have a lot of time to experiment before this evaluation, I can see the potential for some dramatic, virtually vertical low angle shots. The possibilities are endless – once you begin imagining the world from a cat's perspective.
At the start of this millennium there was a limited selection of tripods for smaller cameras and many of those lacked 'beef'. Sachtler's Soom corrects that deficiency without adding too much weight while also adding versatility and value. At minimum, it is three products in one package: a fluid head tripod, but with exceptionally high reach, a monopod with a fluid head, and a set of interchangeable baby legs/ high hat. It has been described as a 'Swiss Army Knife of tripods', an apt characterisation of its multi-functionality. Equally important, each component is designed with Sachtler's trademark reliability and ruggedness. For the most part it performed as advertised in its various capacities. One caveat, assembling and disassembling the monopod and baby legs can be tricky, even with the manual. I had some expert phone coaching and perhaps a better illustrated manual or video on the website would make it easier for newbies to get up to speed and to use it correctly.
Overall it is well-designed and is one the sturdiest tripods for smaller cameras on the market. However, it can also be used to support large 2/3in cameras, even though it was not designed with them in mind. Given its versatility Soom could also prove invaluable for news and sports as well events coverage. It is also offers lots of bang for the buck for features and documentary productions and could save the skillful user a costly extra bag when travelling by air. Soom is truly a breakthrough camera support product and offers users of all stripes versatility, value and new avenues for exercising their creativity.