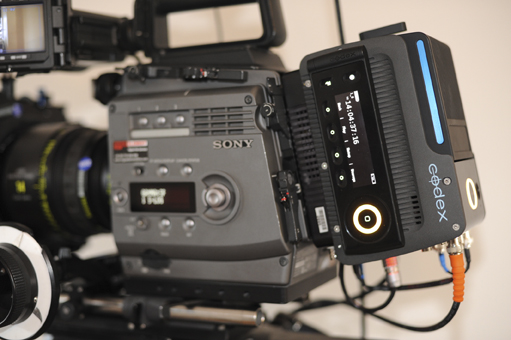 REVIEW – Codex On Board Recorder
Posted on May 13, 2010 by Alex Fice
Sony F35 with On Board dockedDigitally acquired images for Cinema release are increasingly looking on fully uncompressed data capture for the photography for both their quality and the clean images it produces. Up until recently most data recorders have been quite cumbersome, until now with the release of lighter and more compact onboard recorders.
Codex Digital, based in Soho, London, have just released the latest addition to their digital data product line with the Codex On Board and we at Rogue Element Films had the good fortune to test the first fully operational unit for its F35 digital camera.
The recorder is a very small and compact unit and uniquely has a direct mount onto the F35s internal multi-pin connector. This allows the recorder to be powered from the F35 direct and affords some local communication to take place. The flash media is small and light and is removable, allowing for easy swapping once one 'magazine' is full.
On Board undressedWorkflow is then completed with a dedicated transfer station that allows archiving to LTO4 and offline copies can be generated from the master media. Its a very lightweight and compact unit and now takes fully uncompressed image capture to the next natural level.
Size and Build
The first thing you notice about the recorder is its compact size. Its extremely light and portable and the chassis weighs in at only 2.5kgs/5.7lb, a big bag of sugar. The solid state media packs are small and add very little to the overall weight ranging from 128-512Gb in capacity, giving 11–43 mins of uncompressed 4:4:4 at 1080 25p, more when initialising the wavelet compression options. The On Board can also record simultaneously from two 4:4:4 cameras, for A&B or 3D stereo shoots or from two 4:2:2 cameras.
Sony F35 with On Board dockedThe look and design is first class and feels extremely solid to the touch. Its construction is strong and the media locks into place solidly. In addition Codex have included a control panel that magnetically locks into either side on the recorder or can also be controlled via a cable for remote operation.
This unit also has the ability to lock onto and connect with the F35s internal multi-pin connection. The connection itself is not unique but the communication Sony passes through it is. Codex can now talk to the camera and offers both power supply, which enables the recorder to be powered on and off via the F35 negating the need for extra power, and some internal commands direct to the recorder including full recording trigger from the camera, quadlink HDSDI for full 4:4:4 50p recording and recording of Sony metadata packets.
Media, Workflow and VFS
Each recorder will most likely be completed as a system for every F35 with one chassis and perhaps five media flashpacks for your days shooting. Each media pack, as mentioned, can record for up to 42 minutes each fully uncompressed or visually lossless wavelet compression, with compression ratios from 3:1 to 8:1. This also significantly reduces the storage requirements of a production so you can decide your shooting ratio up front and use the required media as desired. The On Board also delivers immediate real time full-frame playback and review and allows the viewing of files over a network for on location quality control.
CODEX's transfer media stationAudio inputs are allowed for both digital and analogue as well as SDI embedded and full timecode generated internally or an external source can be used.
Once you have shot and finished with your media, the On Board allows you to exchange the full magazine with a replacement empty unit to carry on your shooting. The full magazine is then taken to the transfer station to be archived and off-lined. Naturally the VFS system allows a number of ways in which these tasks can be completed but LTO4 will provide full back up/archive of your DPXs once generated
The Codex VFS allows DPXs, as mentioned and offline copies to be generated and it can deliver shots to editorial in various flavours including native support for Apple ProRes for FCP and Avid MXF DNxHD. By using the supplied Media/Transfer Station all your requirements for archiving/offline tasks can now be completed on site.
Conclusions
The Codex On Board recorder is a small and compact file based recorder that allows for much more mobile recording. By attaching a recorder to the camera itself full freedom is now allowed to shoot in a much more nimble and faster fashion.
With established workflows, removable media, ease of use and solid build quality those productions looking to shoot their images at the highest possible quality for such systems now have the tools to shoot quickly and thus meet the demands of a modern time conscious schedule while maintaining the best possible imaging and workflow standards.
Daniel Mulligan Rogue Element Films
F35 data rental specialists