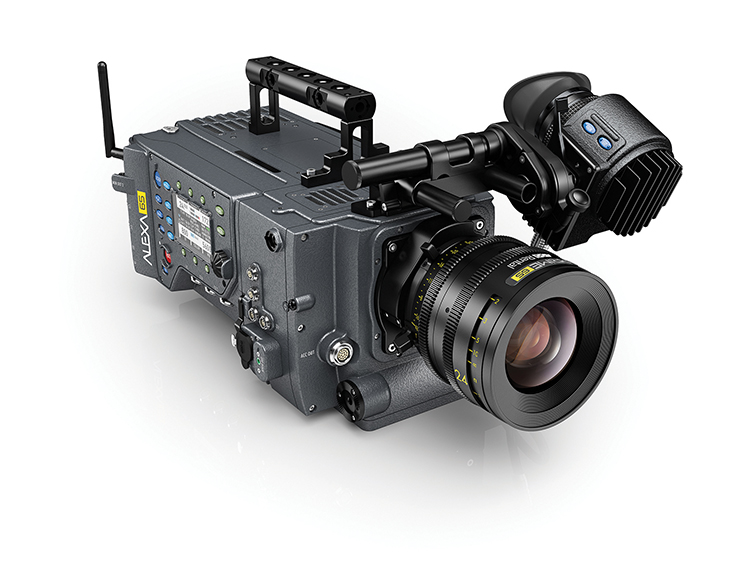 Large It
Large format cinematography is in its infancy but these cameras are at the forefront of the new techniques.
Words: Julian Mitchell
ARRI Rental
Alexa 65
ARRI's Alexa 65 is the original large format cinema camera, initially produced by ARRI to help rejuvenate the appeal of going to the cinema with its widescreen 65mm aesthetic and sensor size. But could ARRI have dreamed of the success that the camera has had since then?
As of the end of 2017, 48 major movie productions have used the camera for main unit cinematography; movies such as Fantastic Beasts: The Crimes of Grindelwald, Han Solo: A Star Wars Story, Avengers: Infinity War and Bohemian Rhapsody. In fact Newton Thomas Sigel, DOP of that Queen biopic, commented, "The Alexa 65 is a remarkable camera. It has this giant sensor that delivers exquisite picture detail. Not sharper, just more detailed. I don't really care about the number of pixels – I care about their quality. The Alexas are quite large, which allows for this tremendous breadth of colour and dynamic range. They call the camera ASA 800, but I think it is so much more than that."
Verdict:
TV drama is also picking up on the Alexa 65, even if the full sensor isn't always used. There are now also enough large format lenses suited for this huge sensor.
SENSOR SIZE – 54.12×25.88MM
PIXEL PEEPING 6560×3100
LATITUDE 14+ STOPS
ARRI
ARRI LF
Introduced to the market in March this year, ARRI's LF camera was the missing piece in their camera line-up – this is a true 4K camera, with a sensor that is slightly bigger than full frame (commonly referred to as 'large format' cinematography). The German company now has cameras to cover 2K, 4K and 6K resolutions. This larger ALEXA LF sensor has the same optimal pixel size as other ALEXAs, resulting in a 4448×3096 image.
The first Australian television commercial captured with an ALEXA LF has been shot by DP Stefan Duscio for Target. Explaining his choice of camera, Duscio said, "I'd seen test images of the ALEXA LF matched with their Signature Primes and believed it would be a perfect fit for fashion and beauty work. I think the introduction of larger sensor cameras like the ALEXA LF and ALEXA 65 go some way to achieving that beautiful three-dimensional rendering of medium format stills cameras that I also love to shoot on."
Verdict:
ARRI's LF camera answered questions from companies like Netflix and Amazon who demand 4K HDR. Now we wait to the see the results.
SENSOR SIZE – 36.7×25.54MM
PIXEL PEEPING – 4448×3096
LATITUDE – 14+ STOPS
Canon
EOS C700 FF
Earlier this year, Canon took the C700 body and electronics and added a brand new full frame sensor, with a 17:9 ratio. This is their first full frame cinematography camera.
For existing C700 owners, you could and still can send your camera back to your Canon service centre and have the S35 sensor swapped out for the FF one. The camera records a 5.9k image and downsamples to 4K, but you can also record 5.9K Raw direct to the optional CODEX recorder, recording up to 60fps.
DOP and company owner Jonathan Jones of Ember Films recently used an FF to shoot a trailer for a possible Netflix production: "For portraiture and people, the full frame look is stupendous. Obviously, if you're doing CG work you just have more sensor size to play with as well, and ultimately more resolution.
"We went full frame with Canon CN-E primes, then for Super35 shooting we used the Canon 30-300 zoom lenses."
Verdict:
The Canon EOS C700 FF is Canon's drama camera with a choice of EF or PL mounts. A sensor ratio of 17:9 encourages anamorphics.
SENSOR SIZE – 38.1×20.1MM
PIXEL PEEPING – 5952×3140
LATITUDE – 15 STOPS
CANON
EOS R
To include the new EOS Canon R in this group may be a little unfair, but we all remember that Canon started all this full frame excitement back in the day.
The 'R' is their first full frame mirrorless camera and for Canon not just a fresh model, but the introduction of a new system. The camera's sensor is a 31.7-megapixel CMOS unit giving an effective 30.3-megapixel resolution, with an optical low pass filter to defeat moire patterns and false colours. It is very similar to that in the EOS 5D Mark IV, but the EOS R sensor has been updated and works with the new DIGIC 8 processor.
The EOS R gives Full HD at up to 60p and 4K at 30p, although with the latter there is a significant 1.7x crop that makes shooting in tight confines an issue. It pretty much turns the camera into a Super35 size mirrorless camera, so does away with some of the benefits of full frame. Shooting also shows some rolling shutter issues you need to be aware of. It can output at up to 480Mbps, which is why the 4K quality is good, with great colours typical of Canon's high-end video cameras. There is very little noise at up to 3200 ISO and the Log footage grades as beautifully filmic, especially as you can output it as 10-bit 4:2:2 via HDMI.
The image quality may be filmic, but it's disappointing if you want to shoot slow motion. There is no slow motion in 4K, only 60p in full HD. Around 120fps is becoming the norm for super-slow HD in mirrorless cameras.
Verdict:
The 'R' isn't Canon's top-of-the-line professional model, which will be coming later. That version may well have faster frame rates and 4K without a big crop.
SENSOR SIZE – 36x24MM
PIXEL PEEPING – 3840×2160
LATITUDE – TBA
Cinemartin
FRAN 8K
As is becoming customary with our Gear Groups, we regularly provide a 'left field' entry. Here it is, the Fran 8k from Spanish company Cinemartin, previously known for their low-cost monitors. Moving from very cost-effective small monitors to an 8K camera is quite a leap, and the basic specs bear this out.
The Fran 8k is roughly the size of a RED DSMC camera, a little smaller perhaps. It's a 50MP 8K camera with a global shutter, VistaVision-sized sensor with a claimed 15.5 stops of latitude, and a data rate of 2.8Gps. Out of the 4:3 8K sensor you can extract 6K, 4K, 4K WS and 2K. Supported formats include Raw, ProRes 4:4:4:4 and 4:2:2, also .DNG. Frame rates are 24, 25 and 30fps for 8 and 6K; 4K is up to 60fps.
Fran records internally to a user replaceable m.2 NVME certified SSD. 1 and 2 TB units. There is an HDMI output that can be set up up to 4K, and the output is uncompressed so external recorders can record up to 4K.
Interestingly, there is a face detection mode that is based on the image coming from the sensor, not from the lens. This includes object detection, where users can set their preferred form (oval, rectangle, etc) and many parameters, such as size. The new Fran 8K camera comes in three models and pricing starts at €7920. The models available to order now are the Fran LT, Fran (STD) and Fran Plus. All record at 8K, and the Fran Plus is made of carbon fibre.
Verdict:
As of now the Fran 8k records up to 6K in colour; 8K is achieved in monochrome until next year when a firmware and hardware update will bring colour.
SENSOR SIZE – 37x27MM
PIXEL PEEPING – 7920×6024
LATITUDE – 15.5 STOPS
Panasonic
LUMIX SR1
With new full frame mirrorless cameras from Nikon and Canon revealed in the past couple of months, joining established players Sony and Leica in the market, the march to a whole new world of professional low-end cinematography is clearly underway.
Panasonic's big reveal at Photokina was two full frame cameras, the S1R and S1, that would feature Leica's L-Mount – perhaps not such a huge shock given the relationship between the two companies – which means that there's already a selection of good quality optics out there ready and waiting. What is more surprising is that Sigma is also included, in an alliance that will see the Japanese lens maker producing L-mount versions of its own well-respected glass.
Regarding the cameras themselves, alongside the fact that we know the sensors will be full frame and stabilised, Panasonic would only reveal at launch that the S1R will feature 47 megapixels and the S1 24 megapixels – a similar scenario to Nikon's 45.7-megapixel Z 7 and 24.5-megapixel Z 6, or Sony's 42.2-megapixel A7R III and 24.2-megapixel A9. We were told that the S1 and S1R sensors have been newly developed.
Other facts revealed at Photokina included that these cameras would be what Panasonic claims are the world's first full-frame mirrorless ones to support 4K 60p/50p video recording. Also included is a welcome double slot for XQD and SD memory cards.
Verdict:
Panasonic's GH range has been a favourite for professionals mostly in broadcast, where their bulletproof build and non-stabilised sensors make sense.
SENSOR SIZE – 36x24MM
RANGE – TBA
LATITUDE – TBA
Panavision
DXL2
The Panavision Genesis camera was introduced in July 2004 and contained a single Super 35mm format CCD developed by Sony. The image sensor had a native resolution of 12.4 million pixels.
Panavision's new DXL2 captures images using a sensor built by RED Digital Cinema. This one-of-a-kind sensor has both a high pixel density coupled with a large sensor area size. In fact, in the motion picture market, it's the combination of these two characteristics that makes it unique from every other sensor available. In total, the DXL's sensor has an active area of 8192 horizontal pixels and 4320 vertical pixels, producing images that are over 35 megapixels. What's more, DXL is able to capture this resolution at up to 60fps, another feature only RED has been able to achieve.
The sensor offers over 16 stops of dynamic range and has 1600 native ISO. Light Iron, part of Panavision, has also released Light Iron Color 2 for the DXL2 (optimised for HDR using RED Wide Gamut) using RED's IPP2 processing.
Also new is ProRes 4K, 24-volt power and a built-in Preston MDR. ProRes 4K is perfect for episodic, and still gives the full 8K large format field of view. Tying the new Preston MDR into DXL2 is also important because its large format sensor makes it more of a challenge to pull focus. Panavision is now making T1 lenses and
in large format – that's a challenge, and this system helps ACs find focus and maintain control.
Verdict:
Panavision's use of RED's sensor technology melded with Light Iron's colour science and Panavision's mighty lens offering is quite a force.
SENSOR SIZE -40.96×21.60MM
PIXEL PEEPING – 8192×4320
LATITUDE – 16 STOPS
RED
MONSTRO VV
Californian company RED has a newish cinematic CMOS sensor for its Weapon cameras, called the Monstro 8K VV. It is said to offer the best image quality, dynamic range and shadow detail of the range. It captures 8K full format motion at up to 60fps, shoots 35.4-megapixel stills, and has data speeds up to 300 MB/s. In addition, it can simultaneously record Redcode Raw and either Apple ProRes or Avid DNxHD/HR.
Panavision has an agreement with RED to provide them with sensors and so Monstro is also appearing in their DXL2 camera (see the Panavision entry, left, for more info).
The sensor is 8192×4320 pixels and measures 40.96×21.6mm, so is slightly wider but shorter than the traditional 35x24mm full frame sensor. Although this is close to the same area, it means some full frame lenses may vignette.
RED claimed to offer more than 17 stops of dynamic range, with maximum frame rates of 60fps at 8K, 120fps at 4K and 240fps at 2K, all at the full format size. If a 2.4:1 cropped format is used, these figures increase to 75, 150 and 300fps respectively. The camera is made of carbon fibre, magnesium and aluminium alloy and weighs just 1.5kg with its media bay.
Instead of shrinking the sites as they did with Helium, RED made the Monstro sensor the pixel pitch of Dragon, which was five microns. A larger photosite means a bigger bucket that light can fall into. That increases sensitivity and dynamic range.
Verdict:
The engineering of RED cameras now is fabulous – just ask the wildlife crowd. Even their Hydrogen phone bodes well for the future.
SENSOR SIZE – 40.96×21.60MM
PIXEL PEEPING – 8192×4320
LATITUDE – 16 STOPS
SONY
VENICE
The Venice is the first full frame cinema camera from Sony and replaces the bulky F65, which had the option of a global shutter to stop the dreaded rolling shutter effect. The Venice uses a conventional shutter but is said to control rolling shutter effect well, thanks to its much faster processing speed.
Compared to the RED, it's around half the price for the body alone but doesn't output in 8K. Instead, Sony has focused on making the camera better at low light by increasing the size of the pixels on the 35x24mm full frame sensor rather than increasing the resolution wildly.
The camera also has lots of different anamorphic capabilities, and the sensor will be interchangeable so it can be upgraded if a new chip becomes available in future. With talk of 8K TV broadcast in coming years, especially around the 2020 Olympics in Japan, this would make it a prime candidate for a sensor upgrade.
The camera comes with a PL mount but E-mount can be fitted, and the lens mount includes contacts that support Cooke/i Technology for recording data, which can be used in post processing. There are user-selectable areas of the image sensor to allow shooting in Super35 size, while future firmware upgrades will unlock even more options.
The sensor is said to handle 15 stops of exposure latitude and the camera offers 16-bit Raw/X-OCN and XAVC workflows using the portable memory recorder AXS-R7 (£7483/ $6236).
Verdict:
You just have to look at the huge increase in drama to know that Sony's Venice will be in huge demand for large format television and for movie production.
SENSOR SIZE – 36x24MM
PIXEL PEEPING – 6048×4032
LATITUDE – 15 STOPS