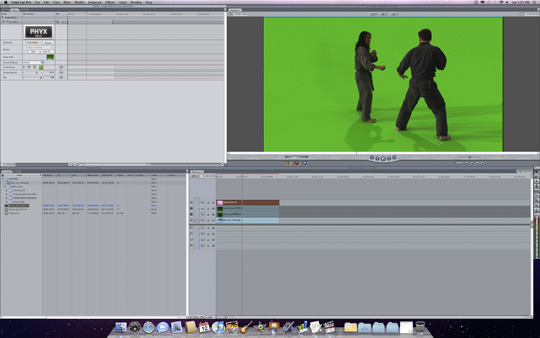 REVIEW – PHYX Keyer
Posted on Jun 2, 2010 by Alex Fice
PHYX Keyer in FCP windowSometimes, when you see green-screen footage, you feel a bit like a plumber. You suck in your cheeks and say something along the lines of, "Well, the thing is guv, it's going to be tough to pull a decent key off that."
PHYX Keyer, through Noise Industries FxFactory, is a great, cost effective, plumber's wrench, hammer, blow torch and one of those clever pipe bender things all rolled into one. In the package, which is $199 and compatible with FCP, Motion and After Effects, you get a very competent chroma keyer which includes a chroma deartifactor, designed to reconstruct the low chroma resolution of most digital video. The keyer features three different algorithms (YUV Difference, 3D and Channel), there is a DeSpill function to neutralise the green or blue light reflecting off the screen onto your foreground action and a great LightWrap function which uses your background plate to 'shine' appropriate light onto the foreground layer.
These alone would make PHYX Keyer a pretty good package for the price, but two extra packages really put the icing on this cake. DiffKeyer will use a clean background plate as a reference and then extract any new details from it. So, shoot an empty room (you'll have to lock off the camera) and then put some actors in it – in post you'll now be able to use DiffKeyer to create a matte of the actors. With some limitations you'll never need a green-screen again (if you like static camera shots!).
ScreenCorrector uses a similar technique to clean up green-screens. If you shoot a plate of the empty green-screen, ScreenCorrector will remove garbage, such as tracking markers, correct for unevenly lit screens and so on.
In comparison to other keyers on the market, I was worried at the lack of controls. In fact, this turns out to be a massive benefit – instead of spending hours, endlessly tweaking sliders to get exactly the optimum setting for my key, PHYX seemed to be able to extract just as good a key in two minutes with two controls. The chroma deartifacting works really well, reducing those blocky keys that are inevitable with green-screen shot on DV. Of course, there are more subtle uses for the keyer – I was able to use this chroma clean-up function to pull great keys off blue sky, originated on DV, maintaining the subtle, feathered clouds. DeSpill and LightWrap produce subtle benefits in just 'sitting' your foreground layer more cleanly into the background plate.
PHYX Keyer is a great keyer package at a fantastic price. A demo version is included in the latest version of FxFactory, available for download at www.noiseindustries.com.