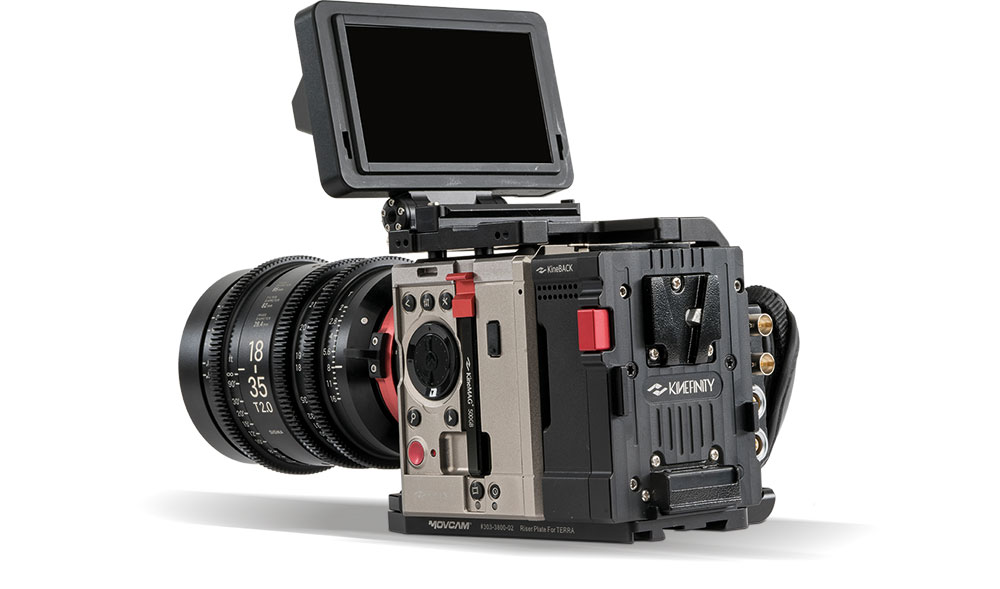 REVIEW – Kinefinity Terra 4K
With US and UK distribution, this Kinefinity camera is now on terra firma
Words Adam Duckworth
It's fair to say Chinese cinema camera firm Kinefinity got off to a shaky start in the global market. Although its cameras looked interesting, there was slow supply, lack of a worldwide service network and certainly none in rental. You don't want to be stranded with a broken or failing camera thousands of miles from any support.
But now that may be about to change. Kinefinity is getting serious about developing and promoting its cameras to an international audience. Word is the firm has had a huge injection of government money and is using it to build a new factory and set up international partners.
With a major stand at the NAB show in Las Vegas as well as a US distributor, and well-respected British firm ProAV now handling distribution and service in the UK, Kinefinity is a brand with big plans. And that includes more modular cameras, in both Super 35 6K and full-frame 8K guises, very soon. That should give potential buyers the confidence that there are local service centres and tech help, as well as a road map of future products.
For now, the first camera to arrive is the TERRA 4K. Looking every inch like a scaled-down version of a RED or even an ARRI ALEXA Mini, the TERRA 4K has a smaller sensor than either of those but a price tag that's a fraction, too. A body only is £3834/ $3999 while the Pro Package with everything you need and Movcam shoulder support and Canon EF KineEnhancer lens mount, as we tested, is £7662/ $10,735.
The lens mounts fasten onto the body's own KineMOUNT using a PL-style locking lever. There are three different mounts for a Canon EF: standard; a KineEnhancer which reduces the focal length by 0.72 and increases the lens speed by a stop – similar to a Metabones Speed Booster; and one with a built-in electronic ND filter which can be varied from two to ten stops. There are also mounts for Nikon, PL and Sony E.
The beauty of the TERRA 4K is that the body may only be made of a titanium-coloured metal but it's actually small and light at 990g/2.1lb. Add on a lens, and a standard 7mm SSD and you can shoot like this, so it really is ideal for gimbals or drones. You'd have to feed power in to the camera and have some sort of remote monitoring, though.
Add on the multifunction side grip and five-inch screen and suddenly you have a very light and compact unit that looks and feels like a medium-format stills camera, and is about the same size. The grip has a standard BP30 battery and can power the camera and five-inch screen for around 90 minutes.
There's an internal mic, but no XLR or SDI connectors. For that, add on the KineBACK, which also includes a Wi-Fi unit to allow you to control the camera, but not stream footage. The back has a V-mount, so you can use a large-capacity battery.
Set up like this, the TERRA 4K handles like a real cinema camera. Add on the specially-made Movcam shoulder-mount kit and screen relocator, then it can be used on the shoulder like an ENG camera.
That's up to a point, as the camera is purely manual. There's no autofocus or autoexposure mode, and no built-in ND filters. You control everything manually, which can be just as fast as fiddling around with buttons and dials.
The camera has very few buttons, with everything controlled from a scroll wheel on the left of the body, with a second version on the handgrip. Settings are altered via the screen, like on a RED. But the screen isn't touch-sensitive, so you have to scroll and click. The wheel can be overly sensitive, but you soon get the hang of it. The text on the screen itself is a little small; though it can be expanded.
A useful option allows you to store up to eight presets in terms of codec but also the frame rate and a corresponding shutter speed, rather than having to mess around every time you want to alter settings. And it's ready to shoot again almost instantly.
The heart of the camera is its sensor and it has a dual native ISO feature, like the latest Panasonics. Native sensitivities are 800 and 3200, and the camera automatically switches between them. So it performs very well in low light, especially considering the sensor isn't that big. It's bigger than Micro Four Thirds as found in a Panasonic GH5S, but smaller than Super 35. Where a Super 35 crop is typically 1.4 or 1.5x compared to full frame, the TERRA 4K is 1.85x. Smaller sensors aren't known for their noise control, but the TERRA's dual native ISO helps and noise was not an issue at all at ISO speeds up to 6400 or higher.
This is helped by the quality of the signal from the sensor. It's 10-bit 4:2:2 and always records in Log for lots of dynamic range. There are built-in LUTs in neutral and flat versions, or you can upload your own 3D LUTs. These are not baked into the footage, so can be easily changed in post.
Using an ARRI-C LUT on some out-of-camera Log footage showed a very ARRI-like colour palette – no bad thing. Experiment and the footage has lots of meat in it to allow you to push it around in post as much as you like.
The TERRA 4K records ProRes422 in up to HQ, as well as 422LT all in 10-bit MOV, and will record compressed lossless KineRAW format in 12-bit with an upcoming firmware upgrade.
In terms of file sizes and frame rates, the headline figure is that at DCI 4K and HD it shoots up to 75fps, in DCI 4K cropped to 2.39:1 Cinemascope and cropped HD up to 100fps. In 3K it goes to 120fps, or 150fps in Cinemascope.
In 2K it shoots at 196fps, or crop the sensor and it goes as high as 240fps. And the dynamic range is 14 stops. The footage is very detailed but not overly digital like some cameras, and has a very natural colour palette. It looks, feels and makes films like a much more expensive camera.
Other nice touches include every shot having a folder of information stored with it, along with two audio files which are good quality thanks to decent preamps in the camera back. And you can add lots of extra info in the slate option, which will be even better via the app – available soon for the latest iOS phones and tablets.
Of course, not everything is perfect. There is no autofocus, no built-in ND filters and the HDMI currently only outputs an HD signal. Perhaps a future firmware upgrade will see a Raw signal out through the SDI connectors, which then would need someone like Atomos to develop a firmware for their recorders.
Once Kinefinity gets more established as a global player, and its products become more popular so demand for accessories and new firmware increases, then little quirks like this will get sorted.
The bottom line is that if you are in the market for a rugged, modular camera that shoots Raw and ProRes in 10-bit 4:2:2, you have very few options. The Kinefinity TERRA 4K increases those options, at a price that nothing else comes close to.
Kinefinity recently announced the 6K Super 35 model, Mavo, and the full-frame Mavo LF. These cameras will have slightly different bodies than the TERRA 4K but the same form factor. The Mavos, due to go on sale soon in 6K version for £7074/ $9910 body only, will offer ProRes, Cinema DNG in 3:1, 5:1 or 7:1 compression, or Kinefinity's own Raw formats, and shoot 6K wide up to 66fps, 4K wide up to 100fps and 3K wide up to 196fps. They will also include a slot for a wireless card for wireless video transmission.
Both the Mavo and full-frame Mavo LF will also have a 6K 3:2 aspect ratio, in addition to the conventional 16:9 and 17:9 standard aspect ratios. The sensor can also record in 4:3 and 6:5 S35 anamorphic. There's no price announced for the Mavo LF yet.
Chinese filter company Nisi is making a Kinefinity-branded set of full-frame primes including the 25mm T2.1 and 35mm, 50mm, 75mm and 100mm optics with a maximum T2.0 aperture for just £10,795/ $15,125 for the whole set. Shipping is set for May.
Nisi says the lenses are not based on any rivals' optics, have 12-bladed apertures for smooth bokeh and the PL mount can be changed for Sony E or Canon EF. Nisi also revealed some special filters to give flare a horizontal streak, similar to an anamorphic lens.