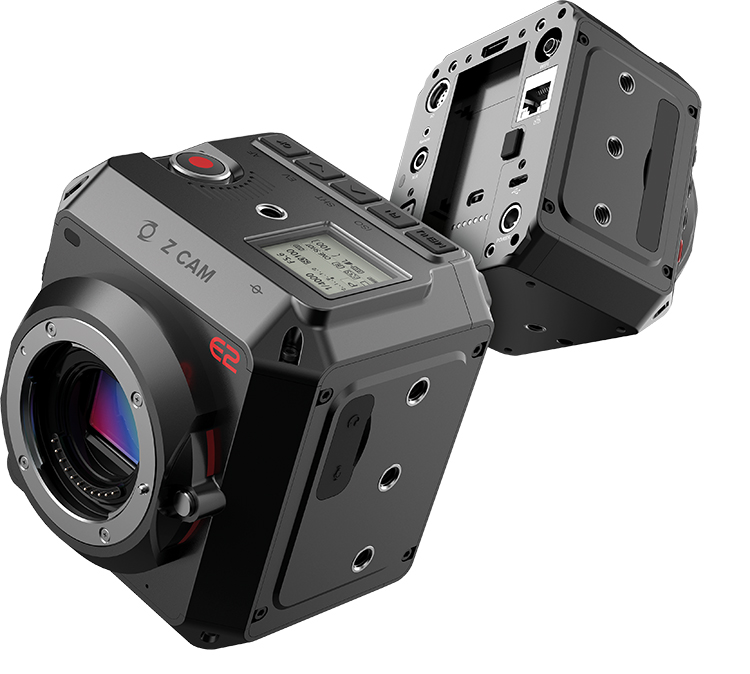 REVIEW – Z Cam E2 Camera
Posted on Feb 18, 2019
Interview: Julian Mitchell / Pictures: Z Cam
A couple of years ago Z Cam launched their E1 camera through Kickstarter: the new E2 has had a more traditional birth. Z Cam is a Chinese company with previous links to GoPro (its chief designer used to work for chip designer Ambarella which populates many GoPros). In fact, one of the chief engineers Jason Zhang claims to have had 'deep involvement in GoPro camera development'. With around 40% of Ambarella's revenue coming from GoPro this claim might be true.
Creokinetics is a specialist broadcast company probably best known for installing and managing the in-car camera systems for shows like The Grand Tour and Top Gear. To keep ahead of the curve, owner Jon Shepley will look out for gear that looks promising for his shoots, then deep testing ensues before any pieces to camera get recorded. He saw the new E2 and pre-ordered one immediately, mainly from the impressive specs. "I got one several months ago when they did their first run – I think I was one of the first people to pre-order one. We actually ordered six of them, Z Cam was really helpful in fulfilling our order."
As he has previously with cameras like the Panasonic GH5s, Jon fed back some ideas that Z Cam might want to incorporate into future updates. "It's an interesting little camera and the fact that it can record 4K at 120fps is amazing at the price, and at 10 bit as well. I think as a result of being a small camera company, it has the freedom of allowing others to build their own interfaces into the products – the protocols are all open source and anyone has access to them through their website. Getting that information out of bigger and more established companies means going through a lot of hoops and signing plenty of NDAs. A
"it's an interesting little camera and the fact that it can record 4k at 120fps is amazing, and at 10 bit as well."
I/Os
"The camera has a lot of inputs and outputs; it's got the Wi-Fi which is quite common on cameras now but I wouldn't use it because of its unreliability. But it has Ethernet which allows you full remote control and even monitoring of the image. You could get six cameras and plug them all in to an off-the-shelf Ethernet hub, you can do all that through their software from anywhere as long as you have an Ethernet link.
"For me it means that I can write software to send it commands via Ethernet. For example I could change the white-balance, shutter speed or activate start and stop recording. Even seeing what is remaining on the media – you can do all that quite easily remotely. There's also an RS232 serial data comms on it and it's got LANC as well. They've literally put everything they can think of on the camera.
"It's kind of ideal and what I want out of a camera. I'm hoping to use it for in-car shoots; so where you might have three cameras, one for piece to camera, one over the shoulder and one POV. You can have them all rigged in to the vehicle and all going back to a controller brain and then from the tracking vehicle if I need to I can interrogate the cameras remotely. You can find out what they're doing, what their status is, like the battery voltage, how much is left on the memory cards… in fact do anything, just as if I'm standing next to the camera. They could be driving at 150mph and I could still be able to tweak or change any settings I need to.
"So you then could extend that network to three cars and have all six camera set-ups on a screen in front of you. You can then change any camera in any presenter's car at any time." The fact that Z Cam is using all professional media in the camera is also a bonus for Jon. "The read speeds on these cards are massive and are also the same cards that are used on the main cameras," he says.
Because Z Cam is a small company, all its protocols are open source and can be accessed through the website.
Specifications
Sensor: 4/3" WDR CMOS Sensor – 17.3x13mm
video: 4096×2160 @ 59.94 /50/29.97/25/24/23.98 fps
Frame rates:
120 fps for 4096×2160,
120 fps for 3840×2160, 240 fps for 1920×1080.
Max Bit rate: 230Mbps for 4096×2160/230 Mbps for 3840×2160/230 Mbps
Storage: cfast 2.0
Mount:
Micro Four Thirds
i/o: HDMI 2.0/USB 3.0 Type C /10-pin LEMO port/DB-9 connector, supports RS-232/LANC
COLOUR BIT DEPTH:
10 bit (H.265)/8 bit (H.264)
Weight:
757g (without lens)
Form Factor
The E2 is about the size of half a Canon 5D camera and sits nicely in the palm of your hand. "It's smaller than a Panasonic GH5 but deeper. On the body there are a few threaded mounts but you don't want to use those on a camera like that because it will get scratched too much. I have pre-orders for cages for my cameras and Z Cam are again helping me with those."
Jon's company is shooting the new Top Gear series over the course of 2019 and so the E2's off-frame ability might come in to play, especially with 240fps on offer in HD; Top Gear is only an HD show. "You've got a quite inexpensive camera here that you can mount on a car right down next to wheels and so get some nice slow-motion shots."
Image Quality
Jon was instrumental in some development for the Panasonic GH5s and was more than pleased to find the same sensor in the Z Cam E2 mainly because of the great image and the dual native ISO feature. "So it's effectively a GH5s in a different form factor," he says. "The native ISO is all at chip level but I'm not sure at this stage whether it's automatic like the GH5s, I've got to do some more shooting with it to work that out. But Z Cam is very good at taking feedback from users so every time there is a firmware update things can change a fair bit."
At just under US$2000 the E2 is attracting the prosumer shooter as well as pros like Jon. For monitoring there is something immediately useful for the iPhone generation and that is the use of your phone as a viewer monitor through the USB host feature. "You can just plug your iPhone in to the back and you've got full control and a live video image from the camera. So if you don't have an external monitor you can still shoot and monitor until you do.
"You can also use the USB as a network point so you can plug it in to a computer and it will actually speak to it as if it was plugged in to a network. Everything on there has multiple uses so there's a lot of effort going on there. Another thing you can do with the USB ports and something they are marketing quite heavily is recording to these little Samsung thumb drives, it's like a mini SSD and is really small and almost looks like a memory stick. You can get them in one terabyte sizes and then plug it in to the back of the camera and record to it.
"So if you have a cage like the one from SmallRig they've actually got a holder built in to it to clamp one of these SSDs. They're pushing that as their cheaper media option. It's a really good idea and I've not seen that any other system. If you had one built in to a fully waterproof enclosure for instance, then you could effectively remotely record to one of these devices in a separate case that you open and then you can swap your media around without having to access the box with the camera potentially risking fogging it up."
Pro Spec
"Another big plus point for the camera is the professional connectors on board especially if you think of the potential prosumer customer base. It may be a shock for a lower-end user to order a LEMO synch cable for instance, which is about £20. There is a LEMO I/O and also a LEMO port for a dual channel XLR microphone but you'll need a separate XLR audio connector. Power included, these are the three most important connectors on there and they are all of professional standard. "The camera is also exceptionally well made with an all-metal construction apart from a few robust plastic bits."
Z Cam with its latest firmware claimed 15 stops of dynamic range and also more with what they call WDR which is a post process that Jon isn't really interested in. "As far as I'm aware you take an underexposed frame and an overexposed frame and you put them together but as a post-processed feature I'm not really interested in it. You have to be careful with that kind of feature as in high motion you can end up with a bit of ghosting, it is just merging two frames.
"But with the new Z-Log2 feature you can get real 15 stops out of it which is very impressive. A lot of this is testament to that sensor which is what made the GH5s so good, too."
The E2's near all-metal construction makes it very robust.
"it's everything you would ever want in a little camera"
MFT mount
Jon's shooting is predominately with mini cams which means using MFT lenses; Creokinetics now have around 100 of these lens types. "All of those lenses work on this camera. Also if you wanted to do a really compact rig even the Olympus Pen lenses will work nicely, the image from them is really nice as well. You can control the lenses through the camera and even remotely so again you could even do remote iris change and focus change from a tracking vehicle too, if you wanted to.
"There's even a passive synch mode on the camera with a switch on the back which has three positions: M, I and S. You can turn one of the cameras into a master by switching it to M and then as many cameras as you want to S which will just slave off that master camera – so press record on that one and they'll all run. So for shots like a timeslice, for instance, you could potentially have 200 of these cameras in a big array and plug them all together, making one of them the master, and away you go."
Recording
The E2 doesn't have a Raw recording mode and at the moment records in .mp4 and .mov. "On the .mov you can choose between H.264 and H.265 for the 10-bit performance, but Z Cam is at approval stage with Apple at the moment for ProRes. I think that will be quite a gamechanger for them, with that, many pros will be looking to buy this camera as for some it's a deal breaker. It's an industry standard that people are comfortable working with, and .mov is a little bit of a headache to work with.
"I'm still doing a lot of testing with this camera but at the moment I'm kind of waiting to find out what the catch is because it does seem a bit too good to be true at the moment. It's everything you would ever want in a little camera. There must be a downside somewhere. We're not even on V1 of the software yet so there are bugs in there but I'm not worried about them."