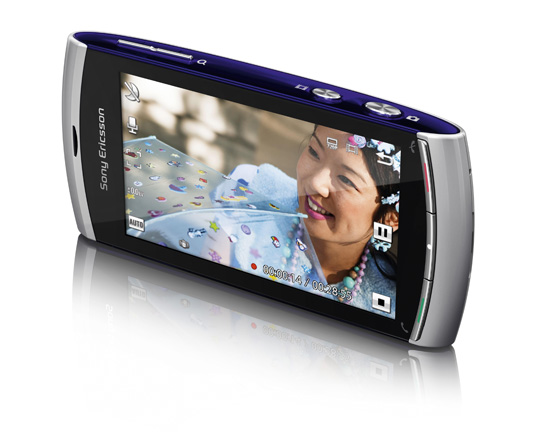 Mini Reviews – Sony Ericsson VIVAZ Mobile, MPC Data App
Posted on May 31, 2010 by Alex Fice
The Vivaz Mobile Phone – promotes video as a means of communication not as an art formSONY ERICSSON VIVAZ MOBILE PHONE
When you work for a publishing outlet to do with the making of video content and you're offered a product that shoots 720 or 1080 lines of resolution on to SD cards you usually say, "Yes send it over". Recently we have looked at the fastest growing camcorder market which is personal SD-card based camcorders like the FLIP HD. But even more recently these 'one-use' products (or two if you include stills) are being superseded by 720p performance from mobile phones.
The most recent being the Sony Vivaz phone whose feature set is a 'tick box' of marketing features derived from the gargantuan phone moment that was the introduction of the Apple iPhone. That product made companies like Sony realise that their feature set road map needed electronic Viagra to beef it up. And so we have a bevy of social networking features, a radio, wifi connectivity, Google maps and of course photography and video.
Both of course are a massive disappointment to anybody who cares about either discipline and you realise quite quickly that the 'Top Trumps' style of marketing is at work here.
An eight (we counted six) megapixel sensor shoots muddy, noisy snaps at a uncompressed 17Mb a go to sit on and populate your hard drive. It will then shoot H.264 files at around 720 25p (although there was a lot of dropping of frames) which equal about 160Mb per two and half minutes. I know hard drive space has never been cheaper but the problem becomes one of housekeeping all those files and how actively you want to do that.
The low light video ability is so bad that Sony have included a video light which covers a few inches in front and isn't useful for anything but close ups. You have to choose to switch on the light which I would suggest you do because at the sign any lowlight the Vivaz will open that little aperture like a rabbit's eyes in the headlights and no light will turn your content into a smear-fest!
They also include some effects which are really only good for when the kids get hold of your phone (did you really want them to do that?).  The effects are black and white, negative, solarise and sepia. There are some choices for white balance from auto to Fluorescent and daylight and also different resolution from 720 to QVGA (320×240).
Modes are automatic or adjustments made with focus – to infinity – increasing and decreasing exposure through steps and a night mode which isn't anything but the sensor's low light performance being heavily ramped up along with the noise.
All control is through a touch screen which seems to react best with fingernail and not finger touch which is annoying if you haven't got fingernails.
All the other camcorders on this page offer more than the Vivaz, through 1080p performance (60fps with the Kodak). But the Sony is quick to use which is essential because it's really for the instant hit enthusiasts who increasingly use video to speak for them when clips are sent from their phone. This is why phone based camcorders will continue to evolve more as a form of video communication than as an art form.
THE MPC DATA RATE CALCULATOR APP – FREE
Helps estimate data amounts for all stages of the shooting and post production pipeline. All commonly used high end digital camera formats are supported including RED, Phantom, SI-2k, EX-1, AVC and Canon 5D/7D.
Select a camera, frame rate and running time to give the amount of data this will produce. Alternatively select the data amount to give the running time.
The storage tab enables you to calculate the amount of uncompressed media (TIFF or DPX) from a given running time. Switching to this tab from either the Digital or Film acquisition tab allows you to convert between formats.
In the Film Acquisition tab you select a film gauge, frame rate and running time to give the footage used. Or select the footage to give the running time.