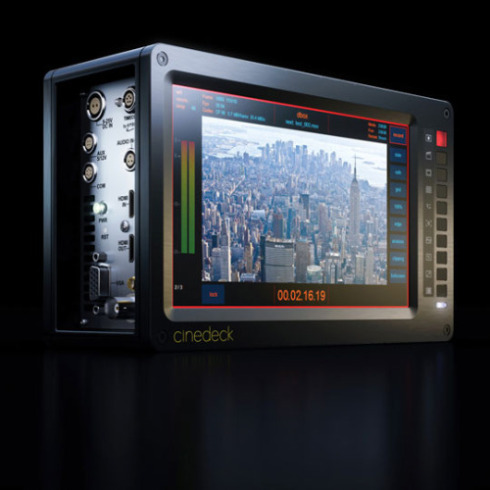 REVIEW: Cinedeck Extreme v2.0
Posted on Nov 5, 2010 by Alex Fice
Cinedeck is one of a new wave of recordersDuring the last year or so the rise in external file based recorders has grown considerably. From one or two options four years ago we now have over a dozen ways to record and deliver our HD rushes.
Not so long ago we had for tape the SRW1 deck and for file based capture uncompressed recorders from Codex and S.two to record our images as either Mpeg4 or DPXs. Now we have new flavours to choose from such as Cineform, H.264, ProRes, DNxHD and more. With this naturally comes an increase in recorders for capturing these images, such as AJA ProMini, NanoFlash and more.
One of this new wave of recorders is the Cinedeck. It records many flavours of codecs to industry standard SSD drives and allows a level of versatility along with price that's breeding a new wave of cost to performance equipment which will only increase through 2011.
Cinedeck is roughly the size of an Astro monitor and has various input/output options based on BNC connectionsCinedeck – The recorder and its options
Firstly the Cinedeck is a standalone recording system that utilises SSD drives for recording your chosen codec. It is roughly the size of an Astro monitor and has various input/output options based on BNC connections. This allows both 4:2:2 and 4:4:4 inputs from cameras such as the Sony F35 and Arri's Alexa
The Cinedeck is capable of recording the now standard 4:2:2 and 4:4:4 outputs at the usual frame rates of  23.98/25/29.97/59.94 at full 1080P. Codecs employed in the recorder include Cineform/ProRes/DNxHD and fully uncompressed, a new feature for Extreme v2.0. The Cinedeck is currenty the only device on the market that supports all those three industry popular standards and can now also record ProRes at 4:4:4:4. Codecs are recorded to removable SSD drives allowing for swapping of drives during recording while the master drive is transcoded and archived.
Customer workflow examples
At Rogue Element Films we're having been pioneering uncompressed DPX workflows for a number of years, so we saw the Cinedeck as worth testing for our F35s, SI2K, Vipers and Alexa cameras and seeing if indeed it would suit our workflows and imaging equipment.
In December last year we were provided with the opportunity to use the Cinedeck on a 3D shoot. For this we employed 2 x SI2K camera heads recording to a single Cinedeck recorder, which gave us a nimble little 3D rig that was extremely portable and easy to use. The Cinedeck took the two feeds for the SI2K cameras (via their Ethernet outputs) giving us instant playback with A&B feeds/overlay and all from the internal SSD drive.
Testing the Cinedeck for this shoot we wanted to get a feel for its compact size hence mobility. The SI2K cameras proved extremely compact and to achieve the size of rig we were looking for we needed a small mobile recording system. 3D can be cumbersome due to the size of the rigs employed but by marrying a Cinedeck to the SI2Ks we achieved a small, mobile 3D rig, all powered by custom battery blocks (IDXs) which allowed us to be completely cable free and extremely mobile and quick on set. For Post we archived the rushes via eSata to external drives, which were then dispatched for Post Production.
Since then we have been experimenting even more with the latest version, Cinedeck EXTREME, which incorporates new additional codecs (ProRes, DNxHD, Cineform) and especially uncompressed, allowing for maximum flexibility when shooting for either live action or for VFX plates and gives us added flexibility when choosing which recording codec best fits the Productions workflow.
"The Cinedeck EXTREME V2.0 is undoubtedly the most economical and best value digital recorders available today". Sam Nicholson, Stargate StudiosSTARGATE STUDIOS
Sam Nicholson, CEO and Chairman of Stargate Studios in Los Angeles, is a distinguished cinematographer and special visual effects supervisor and producer, has taken the Cinedeck onboard for VFX work. Sam has seen the Cinedeck fulfill their exacting requirements for client led in house VFX work.
"The Cinedeck EXTREME V2.0 is undoubtedly the most economical and best value digital recorders available today.  It excels in recording multiple compression formats, is very rugged, compact and affordable. With the new uncompressed HD 4:4:4 recording option we can now capture clean images for our VFX plates, Cinedeck EXTREME is proving unbeatable value. 
"The HD touch screen together with the virtual I/O patch panel has allowed us to replace our expensive Astro monitors on the cameras allowing for less clutter around the camera and as the operation is very straight forward, simple and fast it affords wonderful turnaround times."
Sam continued, "The new Cinedeck timecode module compliments all our workflow options for transferring to Avid and Final Cut editorial projects as well as data layoffs for complex visual effect work. The timecode module is absolutely essential when recording stereo 3D cameras or our proprietary nine camera circle vision rig.  We are also using Cinedeck EXTREME exclusively on both the F35 and our new ARRI ALEXA cameras.  The incredibly diverse record options of Cinedeck EXTREME greatly expand the ALEXA on board ProRes recorder.  And the fact that you get a great camera monitor in the same package is terrific.  Cinedeck EXTREME has quickly become an essential piece of equipment on all our shoots, its economy, ease of use and price/performance leaves the Cinedeck as a permanent part of our inventory."
Conclusions
The Cinedeck is clearly aimed at cost conscious productions but is backing this with high-end capabilities. Uncompressed, Cineform, ProRes and DNxHD give the unit maximum flexibility and allows the user to construct a workflow that's applicable to the Productions needs at hand.
Having worked with them and renting them out we are extremely happy with their performance and as the Cinedecks are now being used more and more I'm sure it's a product that will excel in 2011.
Dan Mullligan, Rogue Element Digital