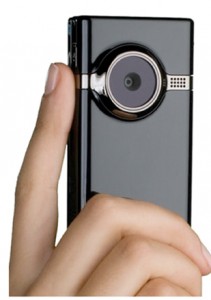 Mini Reviews – Canon Xeed Projector/Voltaic HD Converter/Zoom H4n audio recorder/FX Factory Pro/Flip HD
Posted on Mar 30, 2010 by Alex Fice
 Canon XEED HD ProjectorWe all harbour dreams of owning our own home cinema and Canon's Xeed WUX10 multimedia projector brings that dream closer, for some. Yes the price is quite high but Xeed uses a technology that has up until now only been seen in 'pro' and high-end consumer products – that is LCOS (Liquid Crystal On Silicon).
If you remember the Sony Qualia HDTV a couple of years ago and the extraordinary contrast range that unit had, that was down to LCOS. It has a higher contrast range than CRT, up to 4000:1, so higher than any LCD or Plasma device. The Sony SRXD 4K projector is based on LCOS but that's quite a bit more expensive.
Armed with this knowledge you know that Xeed has some valuable credentials and certainly feels like something special when you un-box it. Xeed caters for resolutions up to 1920×1200 which is WUXGA – inputs include DVI, Component and HDMI. Obviously styled for office use with its grey exterior but with inputs like HDMI included its far too tempting not to connect a Bluray player, put the popcorn in the Microwave and pull out one of those Blu discs.
One of the best films to test with projectors is The Dark Knight as much of the film was shot with 65mm film and needs to be seen on a larger than HDTV screens to be appreciated. Which was duly done and wow what a picture! Supreme contrast with cinema-like imagery.
For: Uses a technology that finally beats the contrast of CRT.
Against: Probably too expensive for anything but work use.
Voltaic HDWhen HDV compression came along we all marvelled at how high definition could fit on such a small tape, we were at the cutting edge. Little did we know that AVCHD compression would soon put HD on an even smaller piece of media, SD cards.
As we have said elsewhere in this issue (page 24), we don't think AVCHD is ready yet as a mass market compression scheme although it's digit quashing abilities are impressive. Here is where Shedworx' Voltaic HD comes in to it's own. Like other standalone conversion programmes like Roxio's Crunch or the free Handbrake you are converting flavours of files to other flavours, the big difference is that Voltaic HD will take in raw AVCHD .mts files and spit out whatever you need the other side. Yes you can do this with Final Cut Pro and even edit natively with some other programmes but here is a 'prep' station for your AVCHD files. Pick your preference and get on with your shooting or editing while Voltaic does it's magic.
www.shedworx.com for the download
Holding the Zoom H4n audio recorder feels a bit like I would think holding Mr Spock's Tricorder was like, in fact that would have been a great name for the Zoom H4n as you can record in three distinct modes, stereo, four track mode and multitrack mode. Those Trekkies might have something yunno!
Shoving the Zoom H4n in to somebody's face at a press conference or in a press scrum might be overkill for this product but you can still do it. Those crossed stereo condenser mics on top are sturdily placed for getting sound bites. But use the Zoom in this way and it's only really ticking over. Flip the rugged plastic body over and you'll see two more inputs, XLR/TRS combos, that beckon more involvement and tracks. So try four track mode and you can use your on-board stereo condenser mics with two other inputs which could be other mics or instruments, tone generators or drum machines.
Then move on to the Multitrack mode and you're able to arm single tracks, drop in to tracks in various modes and bounce down tracks to enable more overdubs. You can even add effects on the way in and tune your guitar before you play with it's on-board Tools.
The audio spec for the Zoom goes up to 96KHz 24 bit on an uncompressed .wav file but you can also record various modes of .mp3. Everything is recorded on to SD cards and if you want to, Zoom turns in to an USB interface to record directly onto your computer. What it won't do is read alien life forms on far away planets, but give it time…
FX Factory Pro Plug-ins
I'm always a bit nervous about plug-in filters – most of them don't seem to be terribly useful unless you're producing budget game shows for the Far East. You know the kind – pink neon glows and exploding stars made of orange chrome. FXFactory Pro from Noise Industries, however, contains quantity and quality. Compatible with Final Cut Studio (FCP and Motion), Final Cut Express and After Effects, Pro includes 145 customisable filters, generators and transitions along with a maintenance application. Particular favourites of mine from the package include the flash transition – a great way of getting into and out of archive footage – led lights, just 'cos it looks cool, and upscale, which resizes video but also has some edge detection and sharpening built in. There are far too many plug-ins to list here, but check out the website at www.noiseindustries.com. You can download and try FXFactory Pro free and fully operational for 15 days too.


Rock stars, pop personalities and movie stars all seem to love Flip Video camcorders, judging by the snaps on their websites. They're just so simple (the camcorders, not the celebrities…) with a minimal user interface and a funky little flip-out USB connector for getting the footage into your computer and straight up to YouTube. Flip have now released the Mino HD, which ups the original's VGA video capture to 1280x720p. There is 4GB of internal memory (no option to add any, simplicity is the key here) which gives you about an hour of recording. There is a miniscule, low res screen, simple transport controls and tiny, tinny speakers – disappointingly there isn't a headphone socket.
Neither is there any form of image stabilisation or optical zoom, though there is a limited digital zoom. You hold the Flip very much like you use a mobile 'phone's camera – in fact, the capture technology is basically the same as a 'phone and mobile manufacturers like Samsung are starting to integrate the same 720p capability into their products. Image quality of the VGA res Flip was pretty comparable to mobile 'phones and the HD unit is better, though it's still, basically, 'phone quality'. You'll need plenty of light and a steady hand to get anything usable. Personally, I'd put the £170 purchase price towards a high-end mobile phone and suffer the indignity of having to plug in a USB cable to off load the footage, but then maybe Hugh Heffner's, er, 'girlfriends' know something I don't.