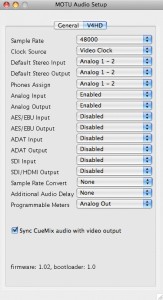 REVIEW: MOTU V4 HD Audio & Video Interface
Ah! – the early 1980s. Bands had silly, Fragglesque haircuts and names like The Teardrop Explodes and A Flock of Seagulls. In Cambridge, Massachusetts some people wanting to start an audio company decided on the name Mark of The Unicorn. Given their choice of names, it's quite possible that they wore large, colourfully rimmed spectacles and looked like they had a Persian cat on their heads. Now, however, I'm sure they all have very sensible haircuts, as the company has shortened its name to MOTU and has an enviable reputation in the audio world of producing feature rich, relatively cheap audio interfaces and software.
It was only a matter of time before they built on their audio successes by making an entry into the world of video, initially with the V3HD and now with its successor, the V4HD, a Firewire audio and video interface with some interesting features.
The 2U, 19in rack unit has pretty much every video I/O you can think of. There's HD and SD SDI, HD and SD Component, S-Video, composite and HDMI (out only – shame). You also get LTC, genlock, RS-422 machine control and eight channels of audio (analog, AES/EBU and optical) along with wordclock. The analog audio has four channels of I/O on XLRs and a Tascam standard 25 pin D with all eight balanced channels on. Similarly, the AES/EBU is two stereo pairs (i.e. 4 channels) on XLRs, but with all channels on the 25 pin D-type. Firewire comes in both 400 and 800 flavours (with a loop though on the 800) – you are encouraged to use Firewire 800, of course.
The V4HD will take a standard definition video signal and allow you to record it, uncompressed, to your Mac or PC hard disc – though you'll need a RAID as the data rate is pretty high. More interestingly, it will also allow you to record an HD signal in Apple's excellent ProRes compressed format or DVCPro-HD. The DVCPro-HD compression is done in hardware in the MOTU box, but ProRes is 'hardware assisted'. The Mac has to do a lot of the work, so you'll need at least a four-core Intel machine, which means it won't work on any current Mac laptop – you'll need a Mac Pro. It's perhaps unsurprising that MOTU have priced the V4HD several hundred pounds below AJA's IO HD, which handles the ProRes CODEC entirely in hardware and hence works very well with a MacBook Pro.
The V4HD's Video Set Up
Audio Set-Up
The front panel of the V4HD beats the AJA unit though – everything is there at a glance. There are useful, if not detailed audio meters – one set dedicated to the analog inputs and another set which can be programmed to show any of the other sources, both input and output. There are also status meters, showing activity on the digital audio inputs and outputs, an eight digit timecode display, some LEDs showing the video status and an LCD which provides the user interface (along with some buttons and a rotary encoder) for stand alone operation. Most users, however, will use the supplied Mac or PC control applications to set up the unit.
Control Applications
With the emphasis on using ProRes in Final Cut Pro, we looked at the Mac version of the control applications. There are three stand alone bits of software that control the V4HD – a video control application, one for the audio I/O and an interesting application called CueMix.
The Audio Setup is very straightforward – a set of drop down boxes allow you to set sample rates, clock sources and enable and route the various inputs and outputs. Here, also, you can enable sample rate converters and add an additional delay to the audio outputs – up to 2.5 frames – to maintain sync if you have further video processing.
Slightly more complex, and certainly graphically more interesting, is the Video Setup utility. The main settings are all shown in a clear signal path diagram in this application. It's worth noting that all outputs are active simultaneously – effectively providing you with conversion from HD to SD and vice-versa whether you are connected to a computer or working stand-alone. You even get cunning motion adaptive deinterlacing in the up-converter though, frankly, the consumer Panasonic plasma TV I use as a client monitor does a better overall job of up-converting SD material.
There are six panels in the Video Setup utility. The first, Setup, covers general settings, Firewire speed, timecode format and so on. Input setup is limited to brightness, contrast and hue of the SD composite/S-Video input – the component and digital inputs don't have, or need, any adjustments, but output settings include broadcast 'legalizers' for both 480 and 576 line standards and RGB/YPbPr settings on component outputs. There is a tiny on-screen preview monitor and the Playback section allows control of clock source (internal, genlock or video in) as well as timecode format for 29.97fps. You can generate an offset in the output timecode – handy for instance, if your timeline starts at zero but your output tape needs to start at 10 hours.
CueMix DSP is intended to allow a stereo monitor mix to be made of any or all of the audio inputs. It also allows you to create a talkback/listen-back I/O pair. The application has a cute graphical mixer interface or can be linked to a control surface, such as Mackie's Universal Pro, or anything conforming to the Mackie standard (like the Behringer BCF2000).
For Final Cut use, the software installer loads your computer with a set of Easy Setups which makes things very, er, easy. Once installed, there is little to say about the interaction between FCP and the unit – RS-422 machine control options are excellent so everything just works. The quality of Apple ProRes CODEC is well known, and the MOTU unit will capture uncompressed SD, but if you want uncompressed HD you'll need to look at a PCI Express system, like the Blackmagic Multibridge.
The MOTU V4HD provides a lot of functionality in a cost effective unit. It isn't the prettiest thing in the world – the front panel is rather haphazardly laid out – and it's obviously made to a price. Oh, and the fan whines annoyingly. However, these are all minor gripes in comparison to the V4HD's biggest problem – the need for a powerful Mac Pro if you want to capture ProRes. That puts the MOTU in the same market as units like the aforementioned BlackMagic Multibridge Pro and Eclipse, which are cheaper (significantly, if you can make do with the Pro) and will happily capture ProRes in much the same way as the MOTU. With the addition of a faster RAID, you can also use the Blackmagic products to capture uncompressed HD, giving your suite an easy upgrade path to full on-line HD.
For: Lots of info on the front panel. Great audio options
Against: Needs 4-core MacPro to capture ProRes.