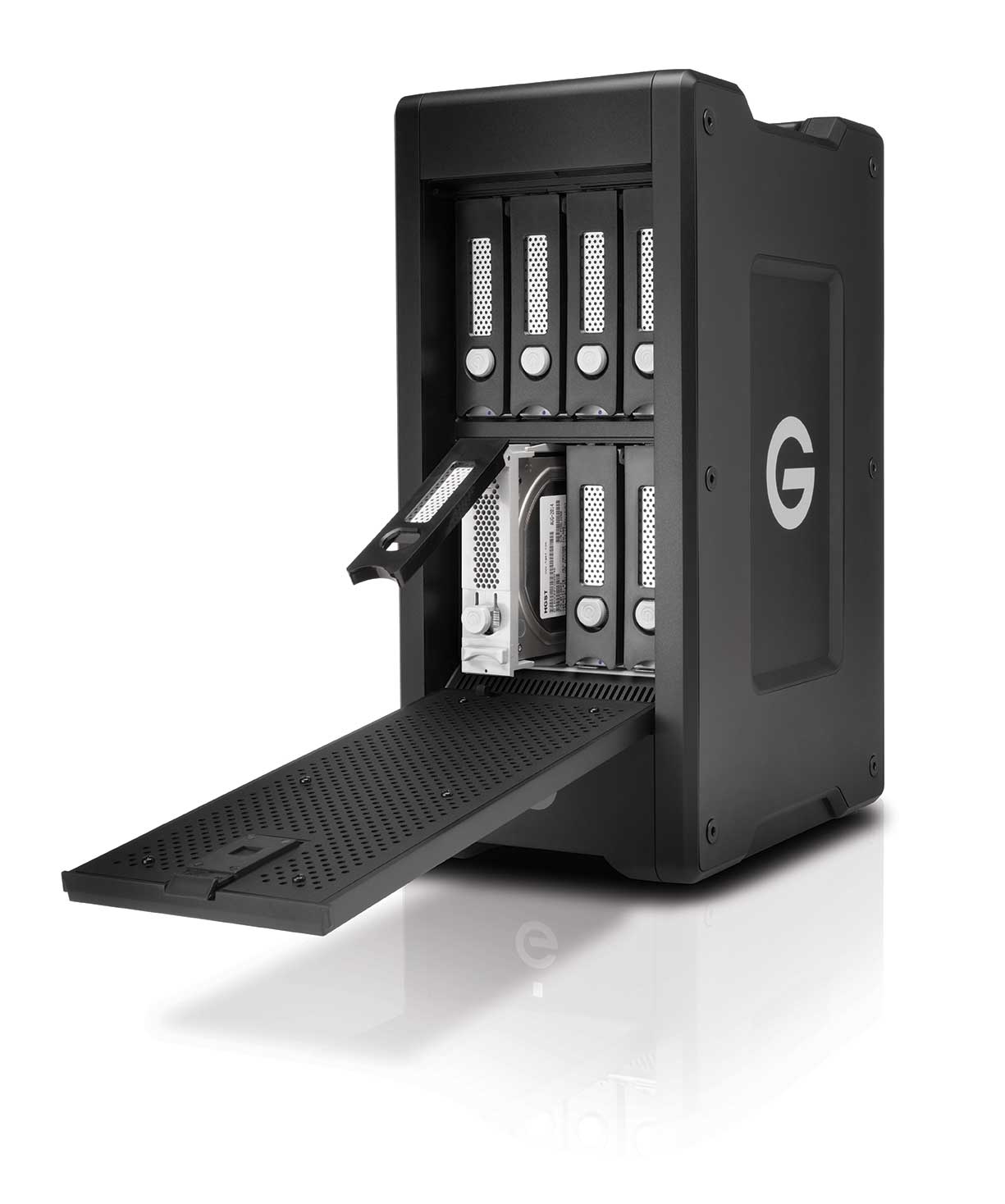 G-Technology G-Speed Shuttle XL
Posted on Dec 23, 2016
Ember Films reviewed the G-SPEED Shuttle XL and found the perfect field partner for RED DRAGON 5K rushes
WORDS Jonathan Jones & Justin Hunt, EMBER FILMS
Ember Films is a full service production company in the UK, but it's known worldwide for its natural history shooting. A storage product like G-Technology's G-SPEED Shuttle XL is a timely arrival at the company's studios.
Ember already uses G-Tech drives but were looking for something that could handle RED DRAGON rushes on location. Their usual workflow uses G-RAID drives on location, to which they also back up. Creative director Jonathan Jones says, "The first thing that we noticed was the physical appearance, the Shuttle XL has a great tough case and the handle is a great add-on from the G-SPEED Studio XL drives. It just makes transporting between edit suites, grading suite, a set and location feel safer and more secure. The case feels tough as does the handle, which gives you confidence in transporting. I can't overestimate the importance of this when you're in the middle of a production. On the Studio XL case there is little hook so you can carry it to all the locations but you always do it with extra care.
"Another good feature is being able to install an ev Series adapter into the case. This is a great idea and I can see that really streamlining DIT and data wrangler roles. More often than not having the option of multiple backups and then being able to remove a set of rushes is great. Also having the SSD reader permanently installed gives extra peace of mind that you have a backup reader if you need one.
"We have a few of the G-SPEED Studio XL drives and think that this would be a great update, easing the 'set to post' workflow. We've been working as normal on these drives as we have on our own; they have moved easily in to our workflow.
"Shooting on DRAGONs, mainly in 6K and 5K, means that we are churning through a lot of data for each shoot. Having the option on-set of fast simultaneous backups, but in a RAID 5 configuration is great. Also having such a large 'reserve' of storage means that on longer and international shoots, there's less fear of running out of storage space.
"We have been using G-Tech drives for a long time and this drive really carries on what we like about their products. Reliable. Simple. And works without having to read the manual! It's plug and play really.
"Downsides? The fan does sound slightly louder on the Shuttle compared with the Studio, but that might just be my ears!
"Overall I think that so far it's a really fantastic product for field use."
Picking up the story, Justin Hunt, Ember's post-production supervisor and also one of their cinematographers, says, "I found no issues in setting up the drive. We already have the Studio XL drives and some of our workflow is to physically move those drives to the edit suite and sometimes it can be a little bit nerve-racking moving a whole lot of rushes in to the next room and not having a sturdy handle on it. On location the Shuttle's even better because of the much sturdier case.
"The way we're running it is exactly the same as we run the larger studio drive, the XL, in the same configuration. The Shuttle was quite happy working in Premiere Pro with After Effects doing 4K comps with 6K rushes and also Photoshop, all drawing from the drives. We had two of the G-RAID studio drives, the smaller ones, and we backed up on those and then ingested everything in to the Shuttle.
"We backed up some footage just to see what the read/write speed was and copied across from one of Studio XL drives to the Shuttle. 850GB took an hour. Having that ability as a RAID and in the field is really useful. All the G-Technology stuff we've had has been good and has all worked out of the box really, with just a little bit of configuration. It's not a complex set-up to create a RAID system.
"It's also very interesting to be able to use the Shuttle as a Mag reader for the RED MINI-MAGs. We don't have any of the RED MINI-MAGs here, we've got the larger ones but it's a great option," concludes Justin.