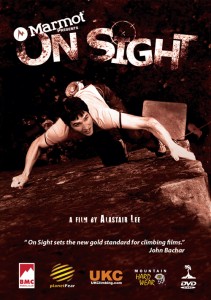 DVD Review: On Sight
Posted on Mar 29, 2010 by Alex Fice
Making a climbing movie is traditionally about technique and the endurance of making it to the top. For non-climbing folk these films can be, quite frankly, boring as sometimes these ascents take hours. How then to make a documentary that would appeal to non-climbers while keeping the purists happy?
Like any sport climbing has it's own language and the term On Sight refers to climbing a face for the first time at the first attempt and without checking it beforehand – this is pure climbing and its very dangerous although you do have one rope that you are attaching as you climb. When you watch the film you'll realise how necessary this rope is.
The film that Alastair Lee has made doesn't necessarily rely on showing the intricacies of technique but follows the drama and the intensity of the climb.
Alastair Lee "On Sight is probably the fifth climbing DVD that I've made, I do about one a year. Production wise it's the best thing that I've done. There was a very significant film made in 1997 called Hard Grip which was very much based on the style of climbing where you pre-practice the route first, so you do it on a safety rope before you try. That film set the style for climbing films for the next ten years. There has hardly been any On Sight climbing films just these pre-practise ones.
"There are several good reasons for that, the climbs are much faster because people know the route and know the moves. They're not having to think to work anything out. Some of these short routes can be over in two or three minutes. It's also much easier to arrange, they go out practising, they get better and better and feel more confident. It's also much more of an arranged day, so you can get your camera crew there and your photographer.
"So pretty much all climbing films have been done this way from the half dozen companies who make this kind of thing. Hard Grip also captured the kind of characters who were knocking around then, it had a kind of 'Brit pop' feel to it.
"I'd kind of reach a point where I had seen enough really. It was all getting a bit predictable and no way near the kind of scary films climbing films should be. So that's why I set off to make a film about On Sight climbing."
Ironically On Sight has done what Hard Grip did ten years ago and has become the climbing film of the moment and one which has had an influential effect on climbers and non-climbers alike.
Budgets And Friends
Alastair readily admits that his budgets for these films are very low so he has to, by default, adapt a guerrilla mindset to his filming. Ultimately that means shooting much of the footage himself but at the same time trying to consistently present a high production value. (Read about the importance of production value in Stu Maschwitz's The DV Rebel's Guide – reviewed on page 68).
The guerrilla's philosophy says that you can make use of your friends but try not to kill them! With that in mind Alastair asked cameraman Ian Burton to help him film. This was to be on a favour basis when Ian was in between paying jobs. Inevitably Ian was drawn in to the subject matter and filmed more than he thought he would.
"I was the camera operator mostly for the wide shots where Alastair would be dangling on the ropes in the climber's face. Working with Alastair is great because being a cameraman himself he knows what he wants and tells you clearly what he is after."
If Ian wasn't available it was up to Alastair to prepare the three cameras that they usually used for shooting. He might have help with someone who could press a record button  but that was all. Here is a tape versus tapeless scenario that most shooters will recognise. Alastair's main camera was a Sony EX1 which records to SxS flash media, the other cameras were HDV Canon cameras. On one shoot the nightmare scenario did happen when he didn't have enough time left on his cards and had to start wiping scenes from the cards to free up some memory. Worse than that he only had time to look at the thumbnails while deciding which ones to delete. With a tape based camcorder just pop another in!
Falls Make Films
Alastair had a very clear vision of his film, he wanted to ignore the hours of struggle that usually takes place with On Sighting, he would at least imply it, but concentrate on the drama of the climbs. This meant identifying where the climbers were most likely to fall and fail. Once you've fallen the On Sight is over even if you try and climb it again. Within this expectancy of failure Alastair created drama by personalising the climbs with the characters who passionately want to achieve the ultimate.
By positioning himself and his camera yards from where he thought a fall might take place Alastair was able to capture the full emotional range that these athletes go through. Any health and safety office would shut the shoot down but this he knew that the drama that would ultimately make the film.
There is a climb in Northern Ireland where the climber is so 'pumped' that he tries to achieve the climb by an audacious jump from one hold to another. Alastair is right there shooting waiting for the fall. "If he falls I'm right there. If he falls he will fall away from the camera so it will look big, not that it wasn't big to start with. That was a formula that was going to work, find the route with the defined crux (crucial climbing point) rather something that was more stamina orientated and basically just wait there.
"I build relationships with these climbers but with Ricky in Northern Ireland we'd met him the day before. He was very keen to be involved and he helped us out on the day. So I had no trouble filming them falling but a lot of the climbers don't like being interviewed so I always leave that to the end."
Ricky failed his climb on the first day but came back on the second because he wanted it on film. Alastair built the scene up beautifully in the edit and Ricky succeeded in the most awe inspiring bit of climbing you've seen since Spiderman 3.
"A top American climbing producer and one of my idols, Pete Mortimer, saw the footage and said it was the craziest thing he had  ever seen and the longest fall ever captured.
"The whole direction of the film was to capture the keys moments. There are no two ways about it, climbing isn't a spectator sport. It's too boring, I can't watch most climbing films, there are not cut tightly enough. People will complain about my films, that there isn't enough climbing in it. I say if you want to watch an animated guide book go and sit and watch the climb, I'm interested in making a film.
"Falls are good, they're spectacular and visual and get your heart beating. A lot of people say falls make films so I wanted falls in it but at no point was I ever willing them to fall. Whether the camera is there or not they are going to do these things."


Shooting On Sight
Mini Dramas
The involvement like most documentaries in centered around the characters. Ultimately for Alastair it was better to shoot a lot of different climbs with different climbers than one ascent.
"It's like a series of small stories really. You could have put the climbs in lots of different orders and it wouldn't have really mattered. I just put them in the order that I thought suited the rhythm of how I was trying to direct and edit it. I swapped a few things around and I think it has a lull in the middle when we go to Ben Nevis.
"I did toy with more of a structure narrative with a voiceover but I abandoned that really because it's just not my style and it wasn't working when we tried it. It felt like I was being a bit contrived and was trying to make links where they weren't any. It might be a bit raw for some people, there are a few jump edits in there, you may wonder where you are at some points.
"But I did wonder 'Can I pull this off with just interview footage?' it is a risk I guess."

A Fairhead jib arm was used for more dramatic shots
Editing
Alastair came away from shooting On Sight with 150 hours of footage because he had to shoot everything just in case anything happened lower down to mountain. But Alastair was to edit the film himself and he took six weeks alone to load up the footage to his Final Cut Pro system. It was a beautiful job and made better when he asked Nik Coombs to compose sound music to accompany the visuals.
'I found the edit quite hard for this film because there was so much stuff. Also I had never edited in HD before. I used to do it all in Premiere on a PC so I had a few learning curves to get through as well. I was learning Final Cut Pro and getting my head around the whole HD thing.
"The orchestral music was also something I'd never tried before. This guy called Nik Coombs, a professional composer, used this software that has orchestral samples you can compose with. He was desperate to get involved and at first I thought he was too good for me. I thought it would embarrass the footage because it was far too like Planet Earth. Eventually I sent him this scene and said go one have a try. He sent it back and of course it was brilliant and completely added a new dimension to everything.
"It's hard to get across how long it takes to get a scene right. I had time pressures on me as I had to get it ready for October in order to start selling the DVDs. It did take me six weeks just to get everything on the computer in folders before I even started to cut. Normal productions will have six offline editors who'll do all that.
"It all boils down to desire. When you've done all that are you still fired up to edit it? You most likely want to switch it all off and go and do something else!"
Alastair's film is a classic example of Guerilla film making and a great one. Good enough to win Best Film at the highly regarded Mountain Festival in Kendal for 2008. He was up against some highly budgeted films from America but still won.