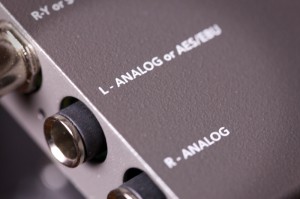 REVIEW: Black Magic Design Small Converters
Posted on Mar 29, 2010 by Alex Fice
Close up of one of the convertersEvery studio, big or small, has one – a drawer or toolbox or such like crammed with adapters that plug something into something else. Jacks to XLRs or BNCs to phonos or whatever.
Now you can have another drawer crammed with Black Magic Design's new Mini Converters – a range of five little boxes that are useful (and relatively inexpensive) ways of connecting gear together.
The five boxes are:
Analog to SDI
Converts analogue video to digital, embeds audio and generates two identical channels of 3Gb/s SDI.  The analogue video can be HD or SD component, PAL, NTSC or S-Video and audio can be balanced analogue or AES/EBU. The audio connections are balanced ¼ inch jacks (so you'll probably need one of those XLR-jack adapters from your drawers). Obviously, this is a handy box, not the finest A-D in the land, but it does a pretty presentable job. It even managed to lock to a dodgy old VHS deck which is great – I could digitise all my old Star Trek tapes. Oops, did I say that out loud?
SDI to Analog
This converts SDI to analogue video (HD or SD component, PAL/NTSC composite and S-Video) and extracts embedded audio (as analogue on balanced ¼ inch jacks again, or AES/EBU). Basically the opposite of the Analogue to SDI converter (unsurprisingly).
HDMI to SDI
One of the simplest (in a range of very simple boxes). This unit produces two identical SDI outputs from an HDMI (v1.2) input. You can embed audio in the SDI, either from the HDMI or from stereo analogue or AES/EBU inputs on those balanced ¼ inch jacks. The unit won't pass video from an HDCP protected signal, but is a fantastic way of getting SDI from all those budget camcorders out there with HDMI outputs.
SDI to HDMI
Yup – you guessed it. Takes SDI and converts to HDMI, stripping out the embedded audio. This appears on the HDMI connector (as you would expect) but is also available as AES/EBU or analogue.
Sync Generator
Plug it in and you get six sync outputs on BNC. Formats supported are PAL, NTSC, 1080i/59.94, 1080i/50, 1080psf/23.98, 1080psf/24, 720p/59.94 and 720p/50 which covers most requirements.
Each Mini Converter comes with a universal wall-wart mains adapter – the metalwork has a handy hole so that you can firmly attach the power cord. They also have a USB port for firmware upgrades, should any be necessary, and include a redundant SDI input – you run two identical SDI signals to the unit and if one fails the unit will automatically switch over to the other one. I can imagine location AV setups which convert HDMI to SDI for a long cable run and then back to HDMI again for the stage screens – redundancy in this situation is very handy. Each unit with an SDI input also has a re-clocked loop through SDI output, so you can daisy-chain units together.
The setup of each unit is very simple – there is a set of DIP switches on the side of each unit and screen printed instructions on the underside. Interestingly, the end switch turns 'Processing' on or off – this is currently unused by may do something in a future firmware update.
Lock Nuts
A minor gripe is that the SDI BNCs don't have lock nuts fitted. BNC cables tend to be stiff and heavy and can break the soldered connection between the connector and the circuit board if the strain isn't taken by the metalwork. You could always fit your own if you were worried about it though. Blackmagic's manufacturing quality is generally pretty faultless and the Mini Converters are no exception – I took a couple of the review units apart to look at their handiwork.
OK, so they're not the sexiest products in the world, but at £287 plus VAT for the converters and £160 plus VAT for the sync gen, we'll forgive them a lack of flashing lights (actually, they have a few), full colour, high-resolution displays and Bluetooth connectivity. They just do a job, do it well, and don't cost much. I wonder if Blackmagic would like to run my local council.